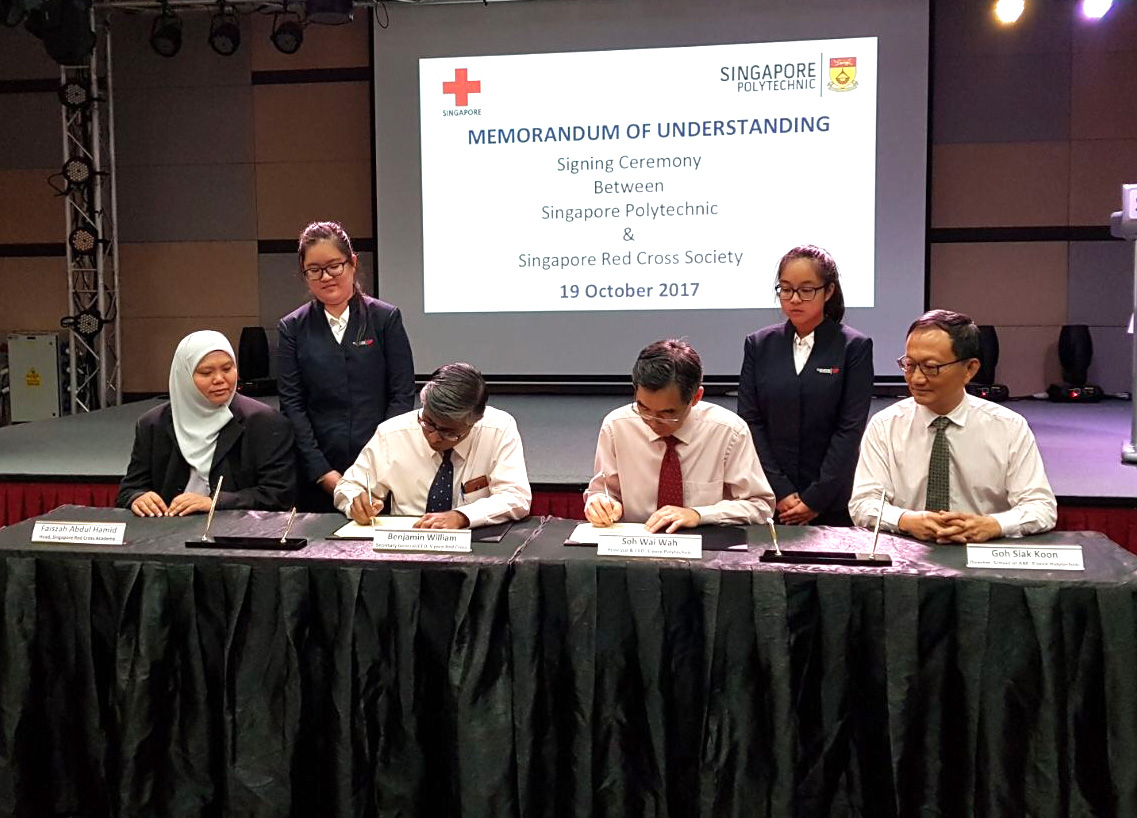 Diploma-Plus Certificate in Humanitarian Affairs commences today; promotes interest and understanding in humanitarian activities amongst youths
Singapore, 19 October 2017 - Singapore Red Cross (SRC) and Singapore Polytechnic (SP) today inked a two-year Memorandum of Understanding (MoU) to collaborate on the development and provision of courses in Humanitarian Studies and its related programmes. The MoU signing ceremony took place at the commencement of the Diploma-Plus Certificate Programme in Humanitarian Affairs offered by SP.
Jointly developed and taught by SRC humanitarian workers and lecturers from SP's School of Architecture & The Built Environment, the course aims to provide students with an understanding of the operations of the humanitarian aid and relief industry. It will also inculcate in students a sense of civic-social responsibility, while providing opportunities to facilitate collaborative learning amongst students. The first intake saw applications from 120 students from SP.
The role played by international humanitarian aid in disaster response, as well as resilience building and recovery of communities hit by disasters or crisis is immense. Addressing the significance behind the partnership, Mr Benjamin William, Secretary-General and CEO of SRC, said, "Through our overseas community development projects, SRC has come to realise that young people possess the exceptional potential to change mindsets and break down barriers. Those who have been involved in community service at home also tend to grow into the role of a global humanitarian more easily. Besides contributing to the humanitarian cause, our youth hold immense potential to become great ambassadors for the country. Partnering a well-established Institute of Higher Learning like Singapore Polytechnic enables us to reach out to a bigger community of socially-conscious young people, and in turn, hopefully inspire another generation of humanitarians."
The MoU also complements the overseas community service trips organised by SP, which see students making a difference in a vulnerable community overseas, through infrastructure building and the teaching of English. SP students are also given the opportunity to co-develop innovative solutions using what they have learnt in their classes to meet the challenges of these communities.

Some of these challenges include access to clean water, increasing food production through technology and innovative means, healthcare and enterprise issues. The immersive experience of embarking on an overseas community service trips for each student, as he/she works closely with the local community, is crucial to nurturing a sense of purpose through the social contributions that one can make to society. As students interact with the communities they visit, they also uncover new insights into different communities and their cultures.

Over the last four years, the number of students signing up for overseas community service trips has increased by almost 60%. In 2017, so far, more than 850 SP students have ventured beyond our shores to assist the less fortunate. One disaster-affected location that SP students have visited often is Sichuan, China, where they have had the opportunity to interact with locals who were handicapped as a result of the 2008 earthquake. Besides learning about the local culture, students also learned to develop empathy and resilience from the handicapped locals who continue to live life to the fullest.

Mr Soh Wai Wah, Principal and CEO of SP, said, "The partnership with Singapore Red Cross is a reaffirmation of Singapore Polytechnic's commitment to developing our students into global citizens who are sensitive and responsive to the needs of Singapore as well as those of our neighbours. Through the Diploma-Plus Certificate Programme, students will be more aware of the issues facing humanitarian workers in Asia."

The course also builds on the knowledge and technical expertise of SP's lecturers from the School of Architecture & the Built Environment. In the aftermath of a disaster, humanitarian workers will often need to design and build shelters, rudimentary roads, as well as drainage and water supply. This critical knowledge and skillsets are important so as to prevent and minimise further injury and harm to those living in disaster-prone areas.
The Diploma-Plus Certificate Programme in Humanitarian Affairs comprises three modules delivered over a period of three semesters, amounting to a total of 150 hours. Modules include "Introduction to Humanitarian Assistance", "International Relief & Development" and "Stakeholder Relations & Fundraising", all of which serve to foster a deeper understanding of the intricacies of humanitarian work and inspire students to consider careers that support the sector.
The course curriculum also includes an Overseas Humanitarian Project component that will see students embarking on an overseas community service trip in 2018 to Surabaya, Indonesia for a truly immersive learning experience. This visit to SRC's project location will provide students with the chance to carry out humanitarian work through practical and effective means.
At present, the Diploma-Plus Certificate Programme in Humanitarian Affairs is offered exclusively to current SP students with an accumulated GPA of 3.0 and above. Moving forward, both SRC and SP have plans to offer the course as a Continuing Education and Training (CET) programme that will be made available to members of the public.
Detailed information on the MoU and the Diploma-Plus Certificate Programme in Humanitarian Affairs is available in here.
Speech by Singapore Red Cross Secretary General/CEO Mr Benjamin William
Speech by Mr Soh Wah Wah, Principal/CEO of Singapore Polytechnic