Story by Juan Sufyan and Photo by Eryka Rojas, Republic Polytechnic's Diploma in Mass Communication
My first task was to carry boxes of sorted goods to their allocated rooms. It felt pretty routine at first until I was told that all the items were handpicked through a set of guidelines. Personally, I balked at going through used items containing un-sanitised clothing or mould crusted items.
No, I wasn't working as a flea shop assistant. I was at the Red Cross House to get a first-hand experience of what the volunteers of SHOP+ go through every week. In my six hours there, I wanted to learn as much as possible about the inner workings of SHOP+.
I went there with an expected portrait in my head. I anticipated piles of carelessly stacked second-hand goods that effortlessly made the use of the phrase, "one man's trash is another one treasure". Besides the mountains of waste, I imagined hordes of people swarming the piles like those in Black Friday videos you see on the Internet. It turns out that my expectations were nothing but a concoction of pop culture and lucid fantasy.
Volunteering at a thrift shop is really all about method and patience. Volunteers at SHOP+ typically spend Mondays sifting through the items. I admire how they wholeheartedly sacrifice their time and possibly their comfort zone just to ensure that the items are safe for retail purposes.
On Wednesday morning at about 9.30am, fashion wear, bags, and electronics were placed in a meeting room when I was there. High-end goods, including luxury bags, shades and amusingly, a couple of Barbie figurines were placed in a smaller and more compact room. Everything else was placed in the main holding room. Ranging from toys to books and cutleries. Each placement had its own rhyme and reason. Outside, there were apparel going for a dollar per four pieces. Deeper, you can find food products including airport-quality chocolate. However, the canned beans and sardines stole the show that day. I observed whispers of how affordable the canned goods were. The whispers seemed to beckon customers, and even office workers to drop by at the food section, taking one or two cans with them as they left.
Finally, there was the shoe section where shoes were categorised according to genders. The table was divided to allow space for both the male and female shoes while the shelves were used for kids' footwear made apparent by the glowing lights that emitted from some of the shoes. I operated there with the guidance of Raquel, a Portuguese volunteer who has been volunteering for a good four months. She never failed to greet anyone with a smile and was open to enquiries. In fact, the warmth and service she exuded was better than at some retail outlets.
When the doors opened for customers at 11 am, the sense of community kicked in. It was akin to a routine friend visit, the kind where you would call them by their nickname and ask for a verbal check up on their lives since you last met. That was perhaps unsurprising, considering how the patrons were regular customers and staff of the Singapore Red Cross office. The questions I faced were mostly "What size is this?", "Price?" and, my favourite, "Is there a discount on the shoes?"
At times, I would tread to the other sections, greeting and smiling at volunteers and customers; a trait I learnt from Raquel. I saw boxes of wires expertly foraged by keen-eyed customers, young adults scouring through the racks of clothes, probably looking for that pivotal vintage item that would make the trip worth it.
The sense of time only returned after I noticed the crowd thinning and the empty patches on the food section. It was past 3 pm. I was instructed to pack the items – clothes in boxes, shoes back in their bags, and the large showcase of clothes wheeled to the main room. It was reminiscent of ants transporting food back to the nest. With that, the once bustling thrift shop resigned to silence and it was finally time to call it a day.
SHOP+ is located at:
Red Cross House
15 Penang Lane
Singapore 238486 (nearest MRT Dhoby Ghaut)
Opening Hours: Wednesdays, 11am - 4pm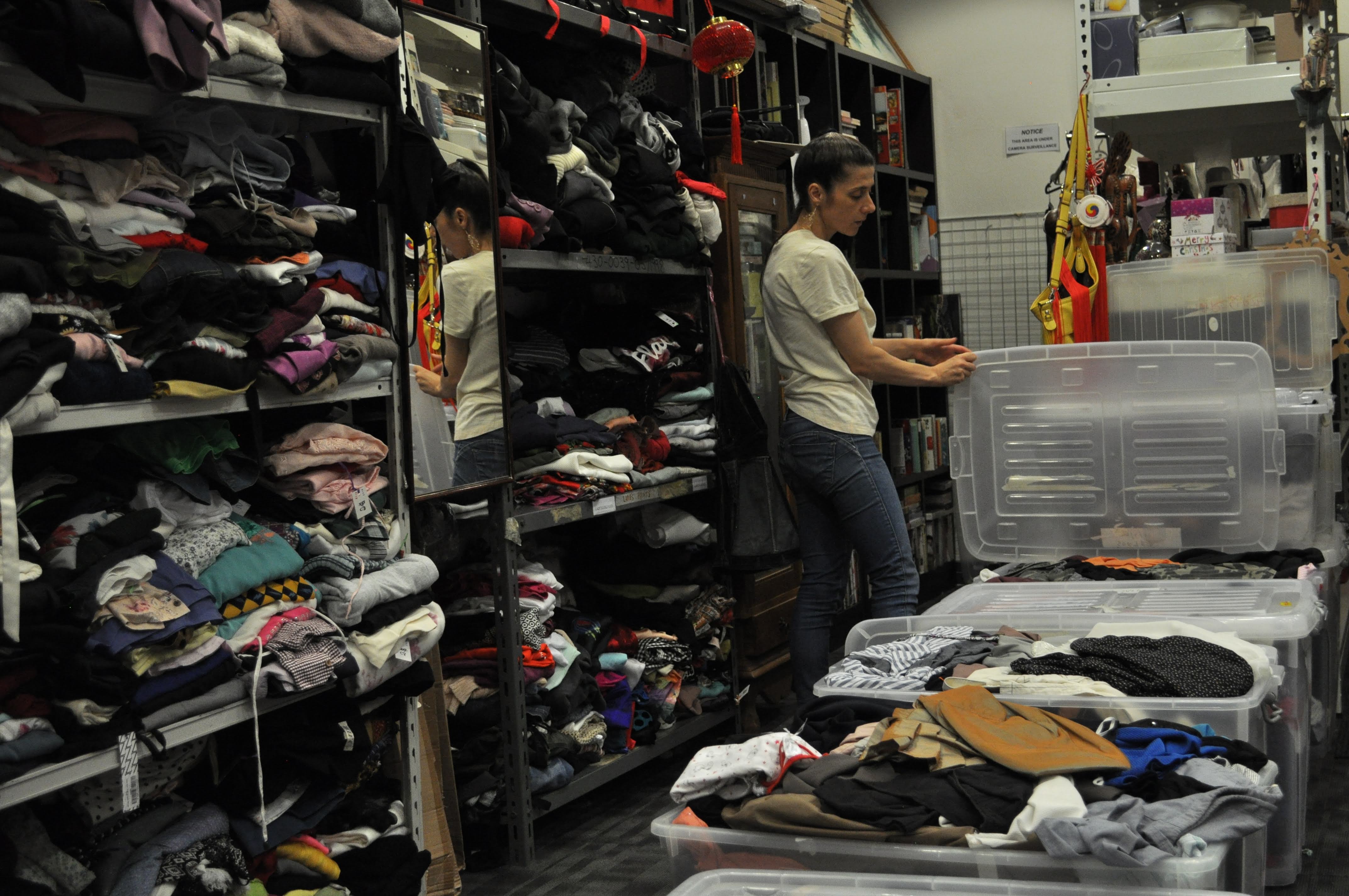 Priceless dedication: The volunteers themselves have committed their Mondays to meticulously inspecting the goods, from articles of clothing to pre-owned gadgets, before they are retailed on the shelves. (PHOTO: Eryka Rojas)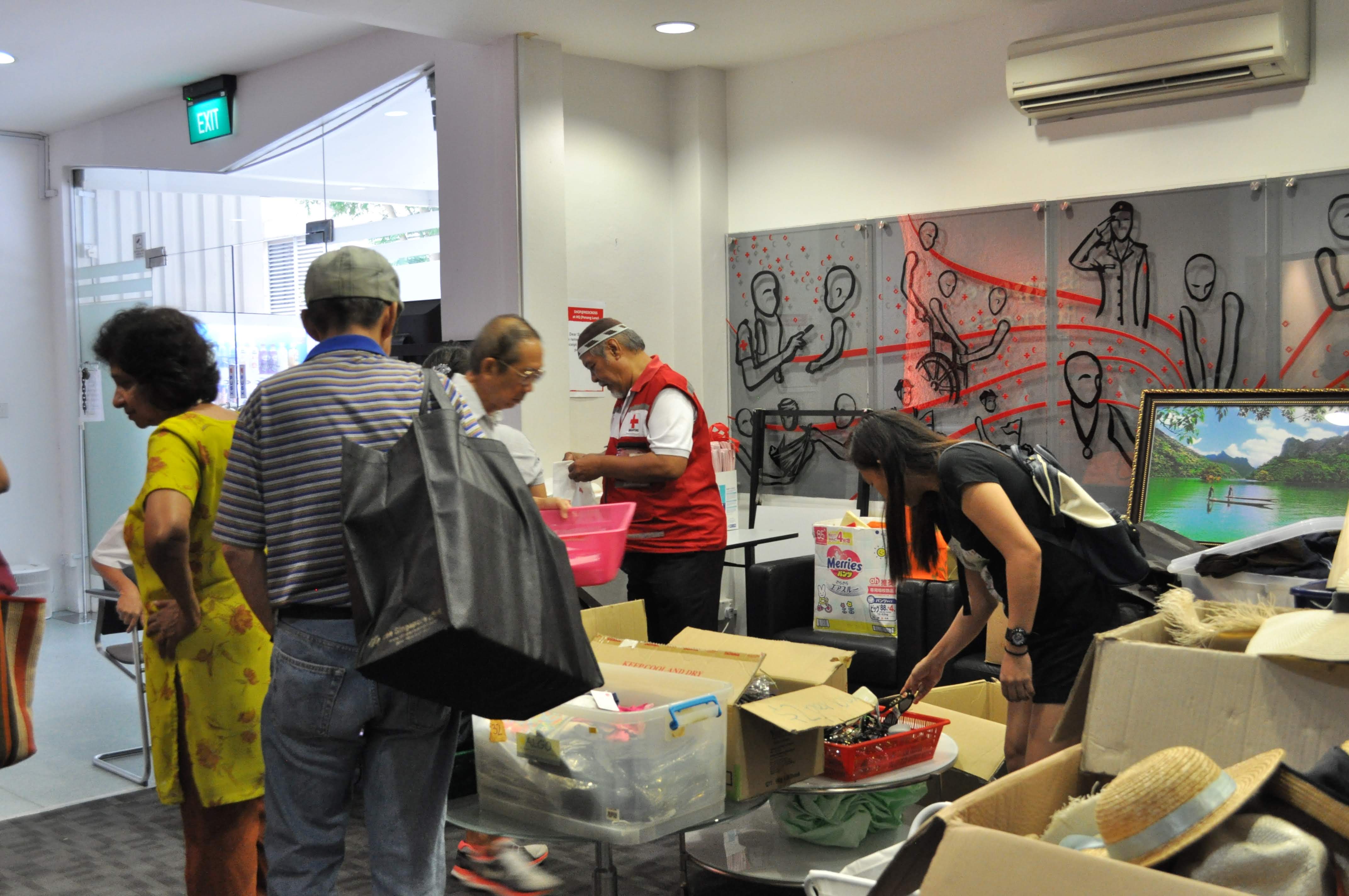 Gadgets and Gizmos a Plenty: Some of the customers have acquainted themselves to the culture of the shop, habitually scouring through familiar displays of trinkets while catching up with the volunteers. (PHOTO: Eryka Rojas)