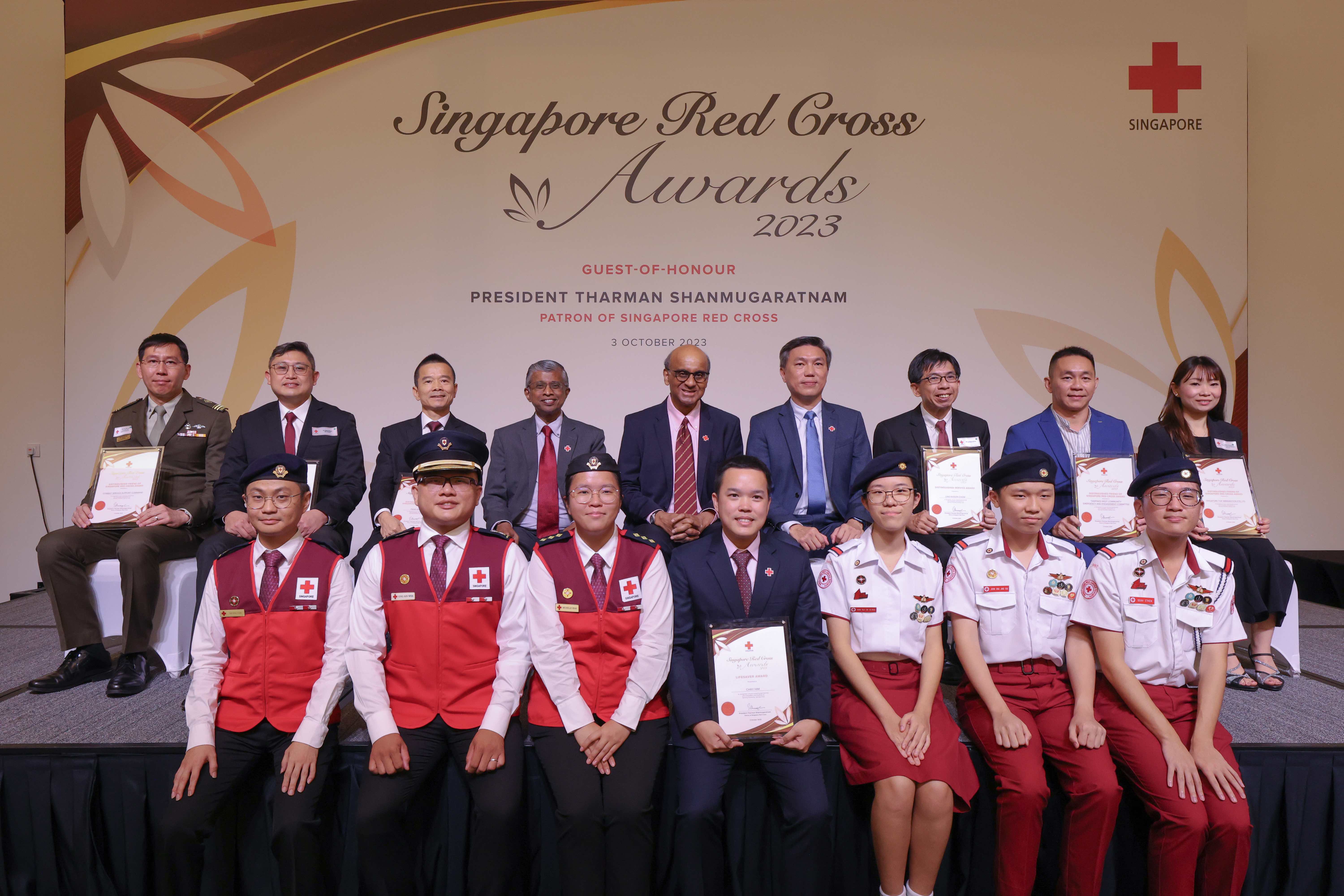 President presents Awards; opens refreshed Red Cross House
Singapore, 3 October 2023 — The Singapore Red Cross (SRC) recognised 116 volunteers, donors and partners at its annual Awards Ceremony today, for selflessly giving their time, expertise and resources. Guest-of-Honour and Singapore Red Cross Patron, President Tharman Shanmugaratnam graced the Ceremony and presented the Awards. He also opened the newly refurbished Red Cross House at Penang Lane.
To serve the needs of the vulnerable and to foster a more resilient Singapore, SRC launched the Responder for Resilience movement, with the aim of mobilising 1,000 well-trained and response-ready volunteers. The Singapore Red Cross Academy will provide training to empower individuals to respond effectively in emergencies, and they will in turn be deployed across the humanitarian organisation's community programmes.
President Tharman Shanmugaratnam, Patron of the Singapore Red Cross remarked, "The Singapore Red Cross embodies qualities that we want to develop as part of our national character: a constant effort to uplift the disadvantaged and to advance solidarity, within and beyond our shores. The launch of the Responder for Resilience movement will empower more individuals as skilled volunteers in the service of humanity."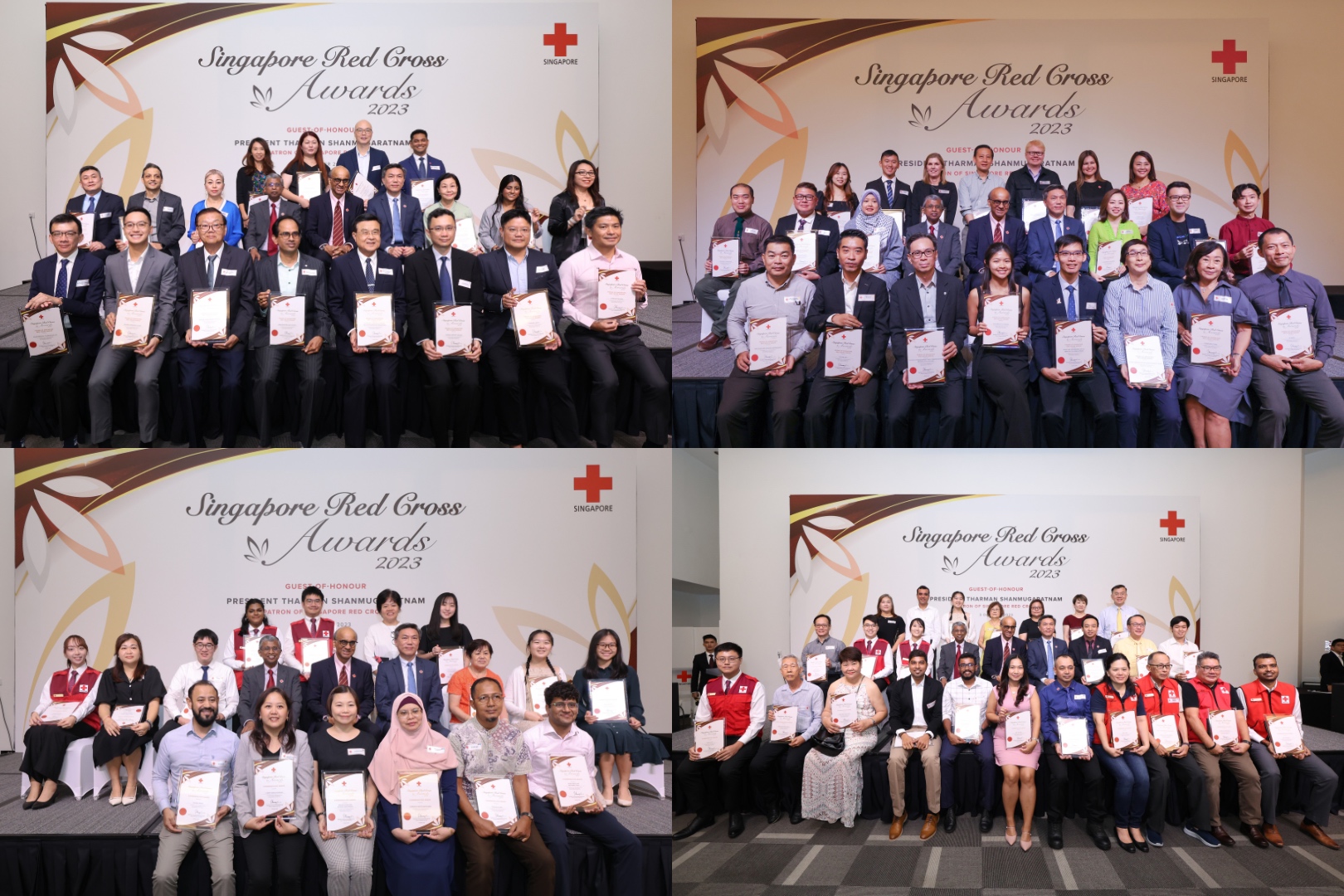 The SRC introduced a new award category - the Singapore Red Cross Lifesaver Award, at the 10th Singapore Red Cross Awards Ceremony, on top of the other seven award categories (see List of Recipients). The new Award is presented to two volunteers, Mr Chay Him and Mr Huang Siyu who played a crucial role in saving someone who suffered a cardiac arrest, through their cardiopulmonary resuscitation (CPR) and use of an automated external defibrillator (AED), when they were on first aid duty at a sporting event earlier this year.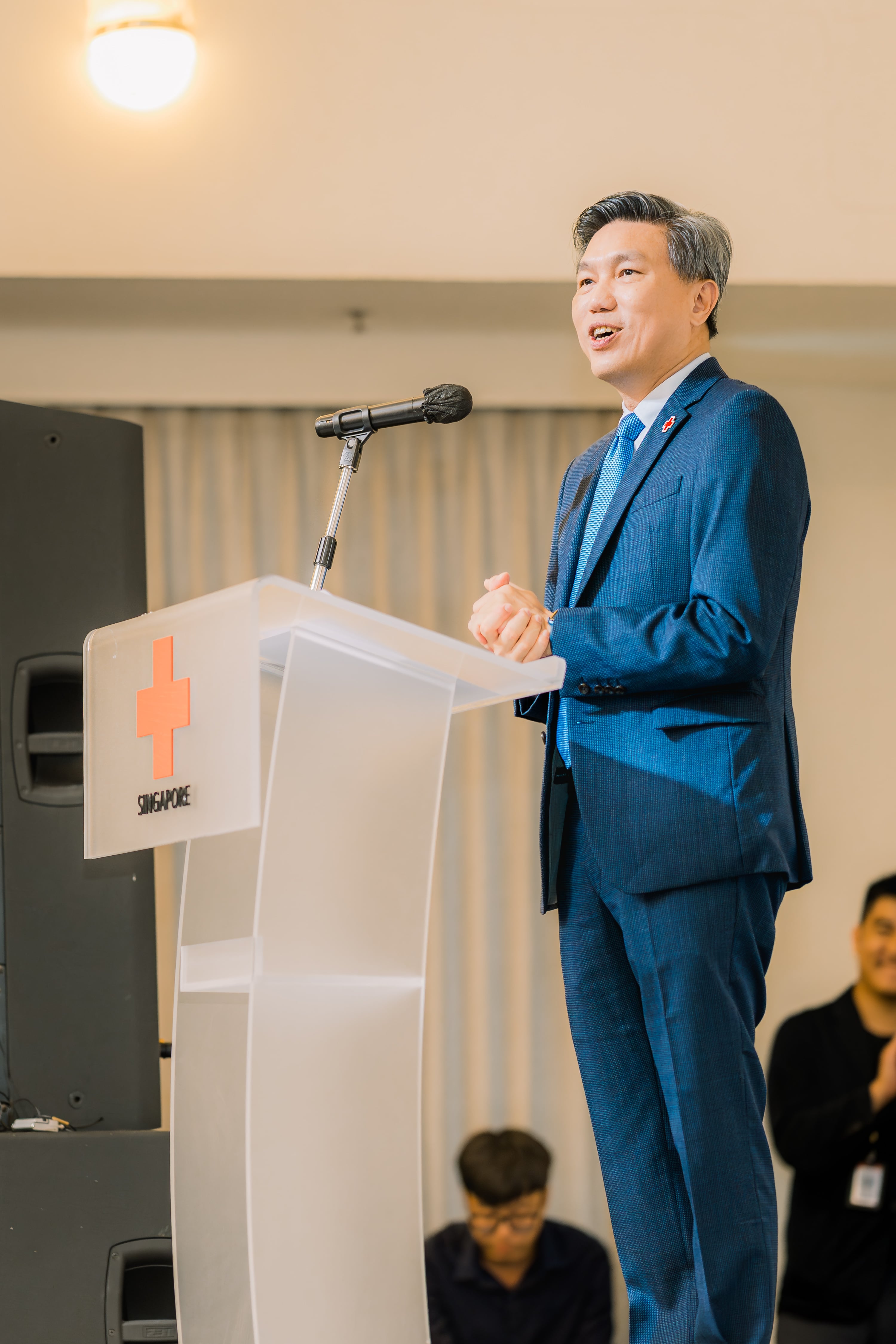 During the ceremony, Mr Tan Kai Hoe, Chairman of the Singapore Red Cross shared, "In Singapore, we will face critical social challenges in the coming years, in particular, shrinking family sizes and the fast ageing population. These necessitate a shift in our response, as we pivot our services to meet the emerging social needs and gaps. Our priority will be to further strengthen the outreach of our humanitarian services in Singapore - scaling up our programmes for single seniors and children and youth from lower-income homes, as well as training and mobilising response-ready volunteers to forge a stronger and more resilient Singapore."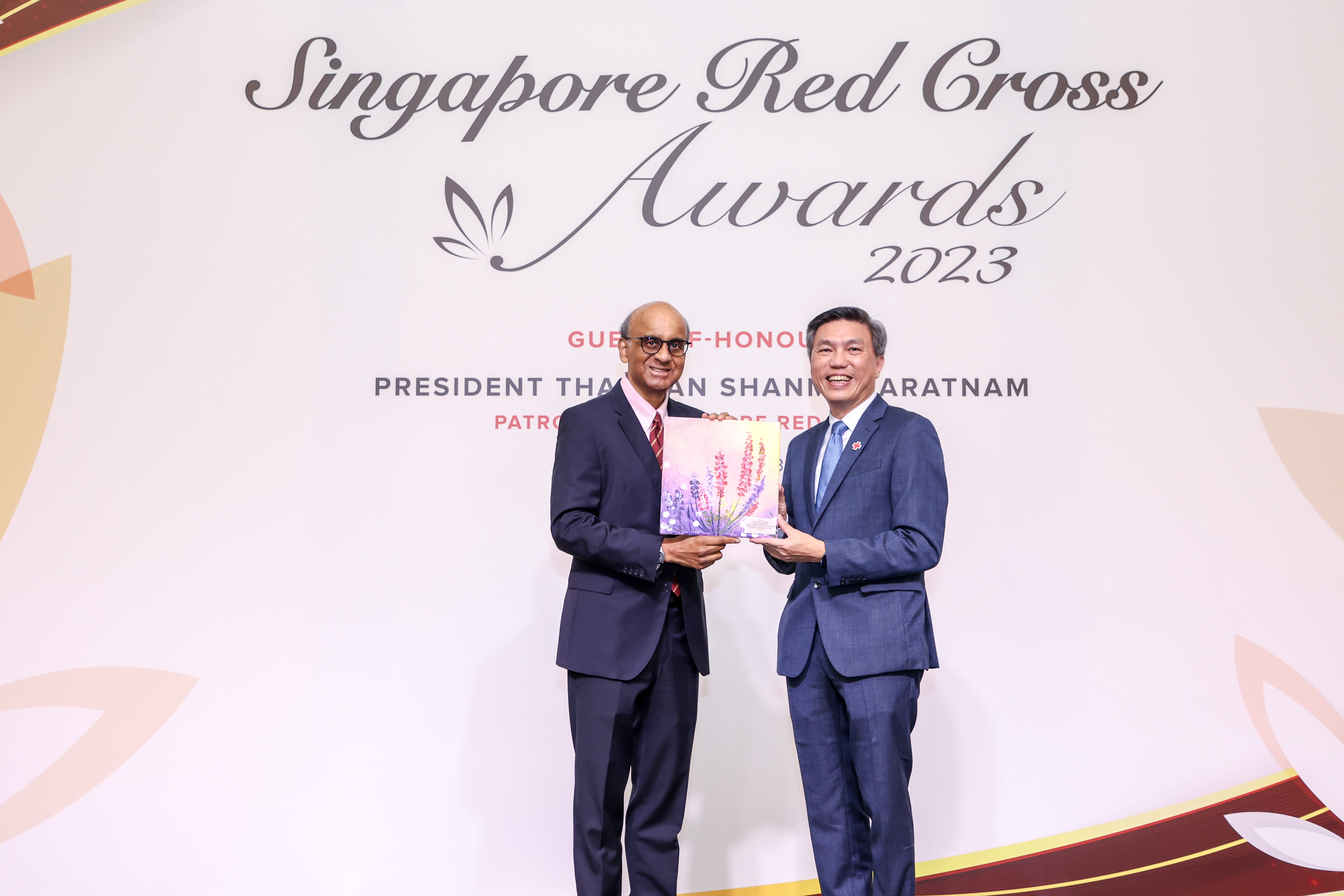 The Art Piece presented to the President is titled "Towards Hope". It is created to inspire a bright, inclusive future where corporate volunteers and the disabled residents worked hand in hand to form this beautiful piece. It symbolizes the supportive foundation upon which hope can flourish. (The background was created by employees of Easmed and the detailed flowers were painted on by the residents, guided by the team.)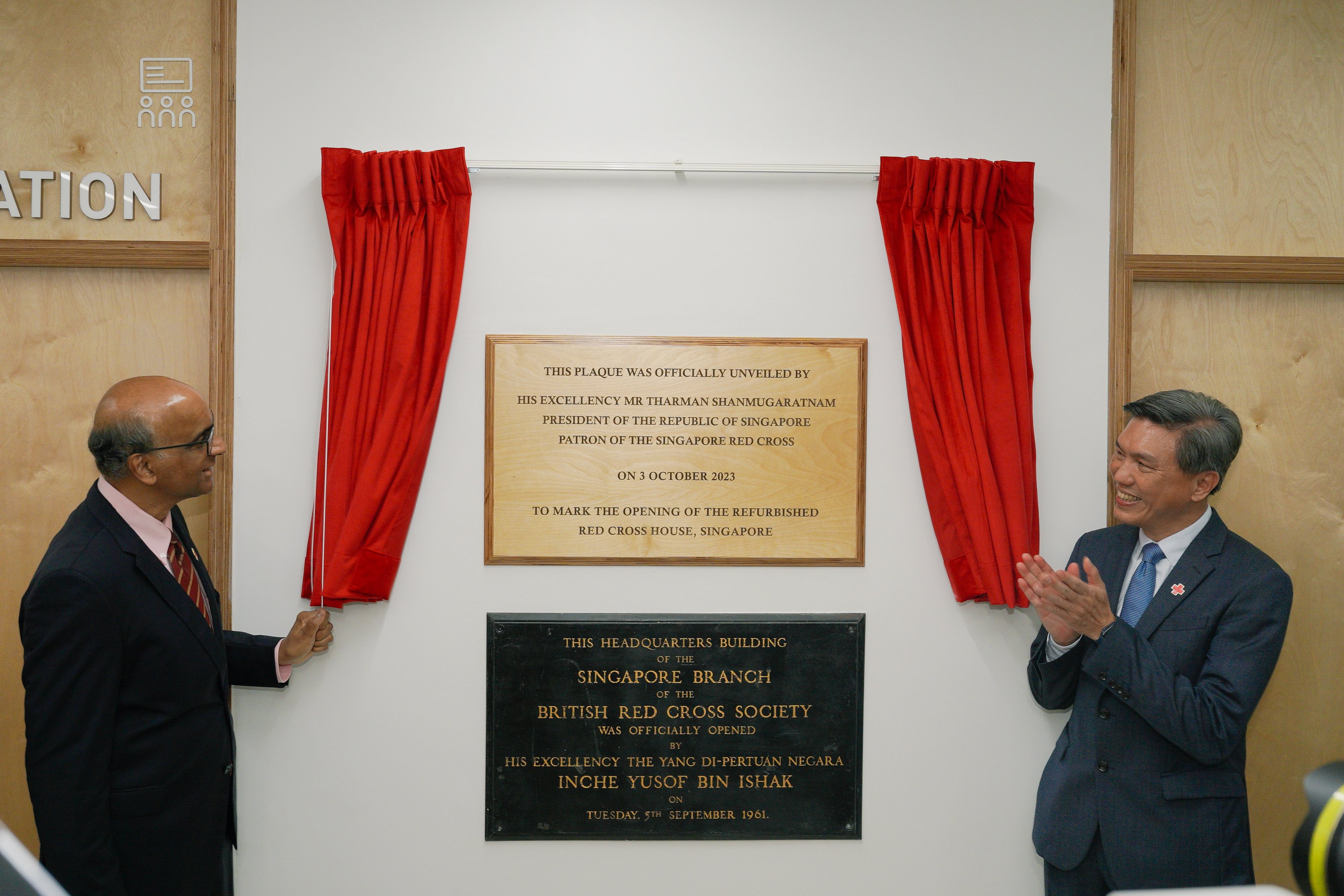 At the Red Cross House, the President unveiled the plaque marking the opening of the refurbished Red Cross House, and visited an exhibition which showcased SRC's efforts in strengthening community resilience, and in uplifting vulnerable communities in Singapore and beyond. He interacted with community volunteers and partners whose contributions sustain essential services for single elderly; persons with disabilities; lower-income families, and their children/youth. One of them is Mdm Sarbanun Binte Ab Rahman, who has been a Medical Chaperone for the past five years. Beyond her task of accompanying the elderly to their medical appointments, she goes the extra mile by checking in on them regularly, and bringing them on errands or haircuts in her free time. For her dedication, Mdm Sarbanun was presented the Commendation Award. Other award recipients include volunteers with SRC's Young Hearts programme, who give tuition and mentorship to the children of less fortunate families, and community befrienders, who bring warm companionship to elderly residents who live alone.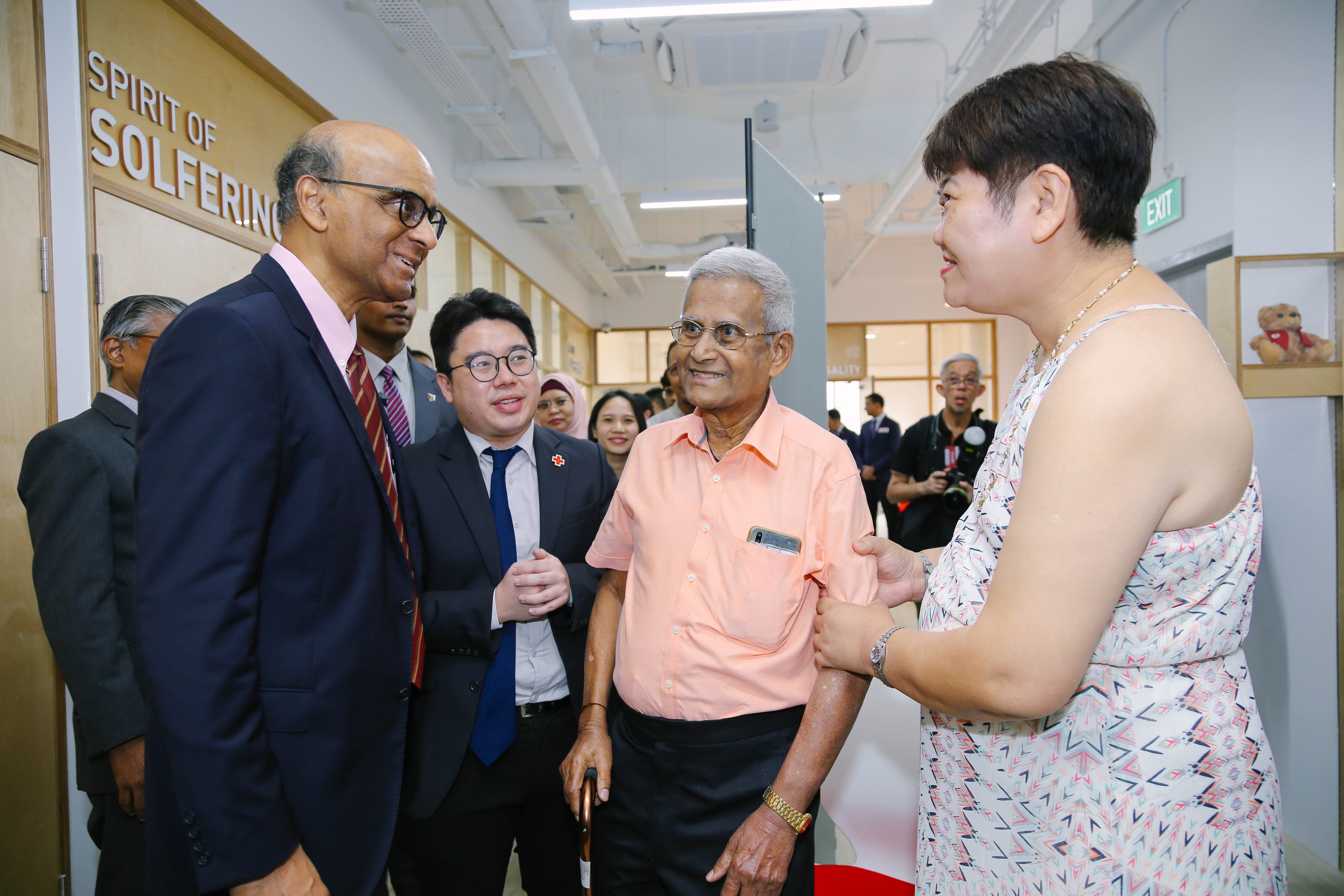 The President also met with Mr Rajoo Shanmugan, 82, who is on SRC's Home Monitoring and Eldercare (HoME+) programme. Leveraging technology (motion sensors) and a community of volunteer responders, HoME+ is a monitoring, alert and response solution for home safety and community ageing-in-place. Mr Rajoo shared that he feels more assured as HoME+ enables him to have peace of mind whilst he lives at home independently.
Speech by Mr Tan Kai Hoe, SRC Chairman
Photos by Wong Leong Jeam and James Tan, volunteer photographers