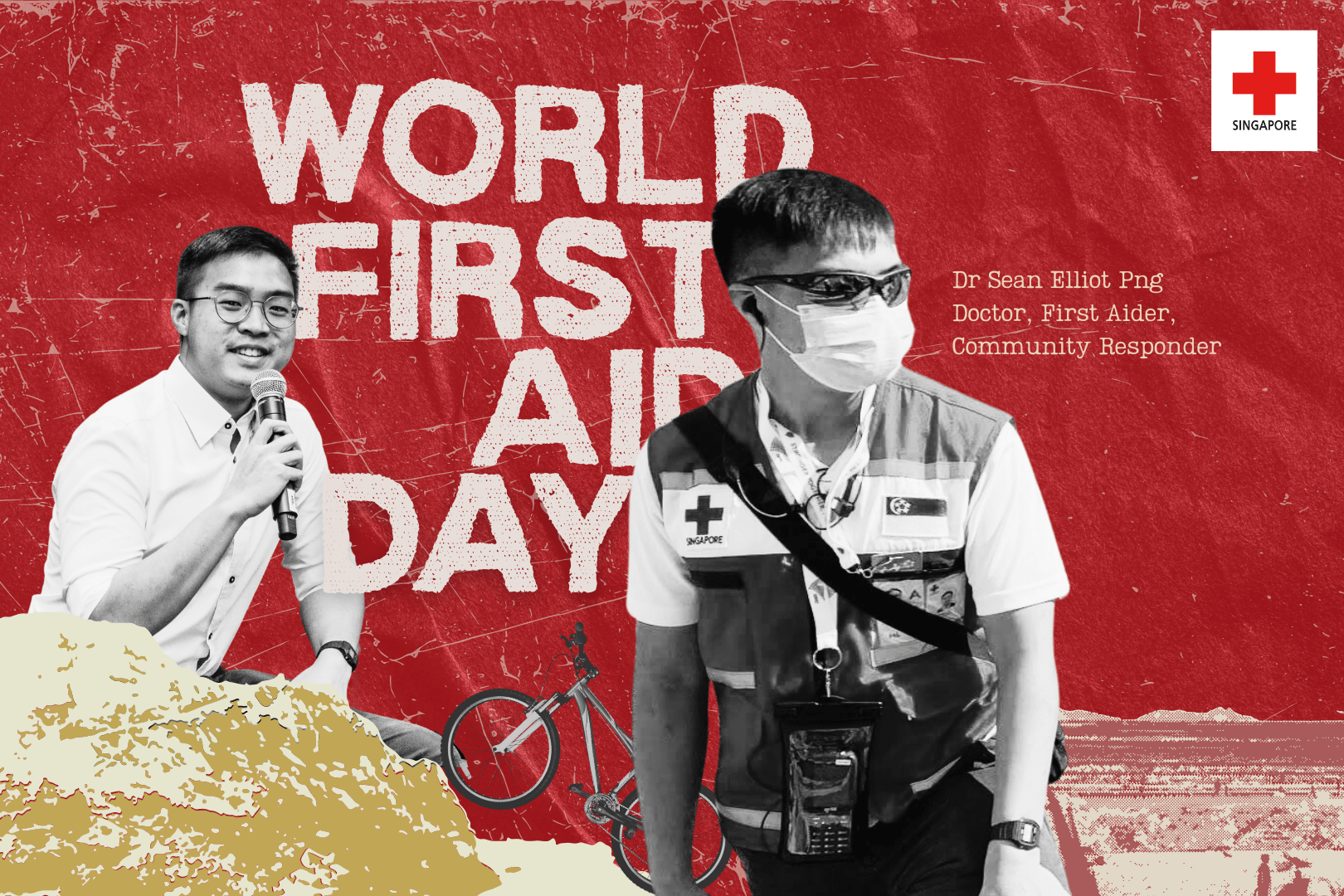 As we commemorate World First Aid Day, we cast the spotlight on a first aider. Having been trained in first aid, Dr Sean Elliot Png Yipin volunteered as a Community First Aider and First Aider on Wheels (FAOW) with the Singapore Red Cross in 2019. When outdoor events ground to a halt amid the precautionary and restrictive measures at the height of the COVID-19 pandemic, Dr Png remained undaunted. He channelled his first aid knowledge and skills to a good cause by volunteering as a Community Responder with SRC's Home Monitoring and Eldercare (HoME+) service, a non-intrusive monitoring system which safeguards the well-being of seniors living alone. He has also taken up leadership roles in Community First Aid (CFA) and HoME+.
Dr Sean Elliot Png Yipin, 23, could be perceived as one of a handful of trailblazers who have been volunteering in different capacities with the Singapore Red Cross, paving the way for more crossover opportunities for volunteers in the future. Through these volunteering experiences, Dr Png gains exposure to different facets of humanitarian work, garnering invaluable experience while fostering greater engagement for the benefit of society. Through his varied volunteering experience, he exemplifies his indomitable spirit, tenacity, resourcefulness, versatility and unwavering dedication in enhancing resilience in our community.
Enhancing Community Resilience Through First Aid Coverage
Dr Png joined as a Community First Aider in 2019 while he was still pursuing his medical studies at Nanyang Technological University's Lee Kong Chian School of Medicine. He had been providing first aid coverage at community-wide events such as the OCBC Cycle, Chingay, and the National Day Parade (NDP). For the uninitiated, Community First Aid extends beyond providing first aid coverage to encompass a significant area - emergency response.
Besides volunteering as a Community First Aider, he also volunteers as a First Aider on Wheels (FAOW). Dr Png works closely with his team to provide park-goers with first aid treatments along East Coast Park and Pulau Ubin during weekends.
However, the precautionary and restrictive measures amid the COVID-19 pandemic put the brakes on his outdoor volunteering.
Safeguarding the Well-Being of Seniors through HoME+
Undeterred, he put his first aid skills to good use by volunteering with the Home Monitoring and Eldercare (HoME+) service, a non-intrusive monitoring system that safeguards the well-being of seniors living alone.
Leveraging sensors placed around the home, the HoME+ system tracks active movements, sleep patterns, heart health, and also offers a built-in GPS option. When unusual patterns are detected or when the user activates the panic button in distress to seek assistance, a call centre and a Community Responder will be immediately notified to check in with the senior.
"Recognising the mammoth responsibility associated with being a Community Responder with HoME+, I volunteered as the last responder covering the unpopular "graveyard shifts", while providing 24/7 support," he said.
He recounted responding to an incident as a HoME+ Community Responder in the wee hours, at 2 am with another Community Responder. An elderly man experienced breathing difficulties and was quickly conveyed to the hospital. Subsequently, he was diagnosed with COVID-19 and received prompt treatment. After that incident, Dr Png isolated himself and alerted the other Community Responder who responded to the incident to isolate himself as well.
Dr Png was heartened that he helped the elderly man in need when the senior needed it most.
Volunteering as a Volunteer Leader
Dr Png, who graduated from medical school in 2023 and is now a House Officer with the General Surgery Department of Khoo Teck Puat Hospital, has risen through the ranks to become a Volunteer Leader for both HoME+ and CFA. He undertakes the indispensable role of recruiting, retaining, deploying and training the volunteers, which is undeniably challenging. Yet, he takes it in his stride.
"The time that volunteers contribute is invaluable. To encourage their continued involvement, I provide them with the exposure to various volunteering opportunities," he says.
With the easing of restrictive measures, CFA and FAOW activities have since resumed. As a Volunteer Leader with the CFA service, he is responsible for collaborating with the secretariat to ensure the adequacy of volunteers for each shift, scheduling the roster for volunteers, while overseeing that the facilities and equipment are functional.
Volunteering since early day of life
Dr Png's passion and steadfast commitment to helping people and saving lives is exemplified by his medical profession, and his volunteering experience within CFA, FAOW, and HoME+.
He recounted an incident that occurred during this year's NDP, where a spectator experienced an epileptic fit. As a seasoned first aider, Dr Png promptly escalated the case to the medical team of the Singapore Armed Forces and timed the seizure.
"Incidents like these remind me of the importance of learning first aid. Volunteering as a first aider empowers me to make a tangible difference in the lives of others," he says.
Yet, his dedication to helping people and saving lives began long before. Little known to others, Dr Png is also a trained lifeguard. Having been serving as a lifeguard for several years till today, he is cognisant of the quick decision-making required during emergencies to save lives.
Contributing Back to Society
Dr Png's steadfast commitment to volunteering shines through.
"It has been a meaningful journey volunteering as a Community First Aider, First Aider on Wheels and Community Responder. Volunteering provides opportunities for me to put my first aid skills to the test while making a positive difference in the community," he says.
Inspiring Others to Volunteer
He urges people with the passion to serve to volunteer.
"I strongly believe that if people possess the skills and have the heart to help, they can volunteer for a good cause, by uplifting the lives of people in need, while enhancing resilience in the community," he says.
He encourages people equipped with first aid skills to follow in his footsteps by volunteering as a first aider or Community Responder.
"I encourage people who have been trained in Standard First Aid to leverage their first aid skills to volunteer as a Community First Aider, First Aider on Wheels, or a Community Responder with HoME+ with the SRC. These platforms enable volunteers to safeguard the well-being of seniors with their life-saving expertise while honing their first aid proficiency, and bolstering their confidence in administering first aid in emergency situations," he says.
By Mohit Agarwal, Volunteer
Copyedited by Nitisha Venkatachari, Volunteer, and Sondra Foo, Marketing Communications and Partnerships