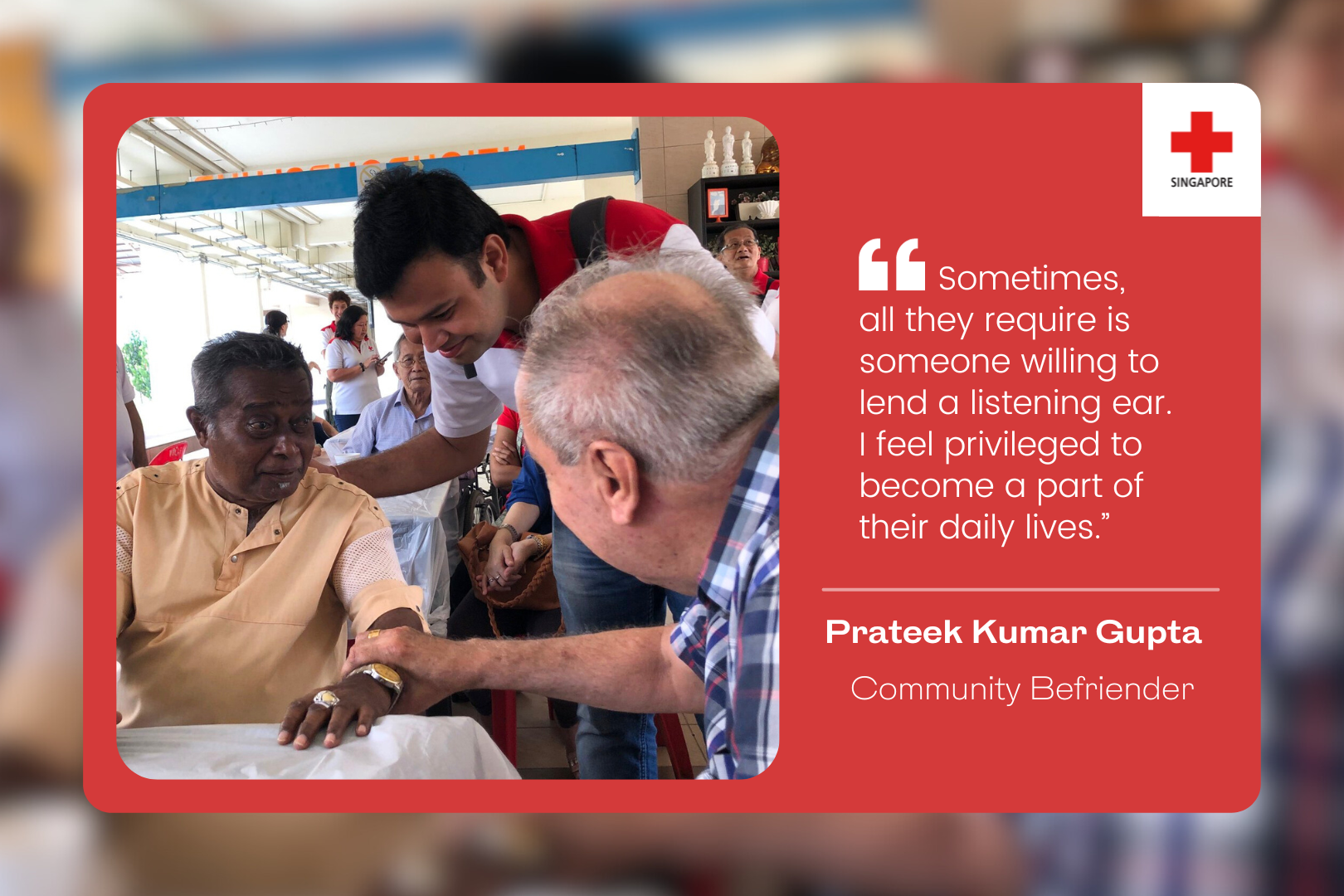 Prateek Kumar Gupta, a 31-year-old software engineer at VISA, has found fulfillment in volunteering with ElderAid, an initiative of Singapore Red Cross focused on befriending seniors living alone. With a humble background, Prateek's journey began with the Red Cross in India before he continued his mission in Singapore. As an ElderAid volunteer, he befriends and builds meaningful connections with the elderly, providing them with companionship and happiness. Prateek's dedication enriches the lives of seniors and offers him a unique perspective on life, illustrating the profound impact of giving back to society and spreading joy.
"Volunteerism is an ultimate act of giving back to society," a conviction deeply held by Prateek Kumar Gupta, a 31-year-old software engineer at VISA. Coming from a humble beginning, he keenly perceived the societal inequalities, particularly associated with the isolated seniors. In 2018, upon his arrival in Singapore, he embarked on his volunteering journey with the Singapore Red Cross (SRC). With an unwavering commitment to service, Prateek devoted three years to working with multiple organisations, engaging in a wide spectrum of volunteer endeavours, including blood donation drives and outreach programmes.
Uplifting the Lives of Seniors
It was during this period that he chanced upon ElderAid, which left him deeply impressed by the organisation's laudable efforts. This discovery ignited his desire to contribute to community resilience, setting the stage for an extraordinary volunteer journey.
In his capacity as an ElderAid volunteer, Prateek takes on the role of befriending the elderly.
"I engage them in heartfelt conversations, fostering meaningful relationships that enrich the seniors' lives, and my life as well. Through my interactions with the seniors, I gain insights into their living conditions and do my utmost to ensure their well-being and contentment," he says.
Additionally, he meticulously arranges outings to attractions such as Gardens by the Bay and Singapore Zoo, enhancing their social lives—a crucial aspect of elderly care.
One of the most special moments for Prateek was when he organised birthday parties for the seniors. He arranged these celebrations with enjoyable games and quizzes, which brought much joy to the elderly. Seeing their joy and knowing that someone cared about their birthdays filled him with great happiness. These gatherings not forged closer bonds among the seniors but also enabled them to make new friends, creating wonderful memories for everyone involved.
Overcoming the Barriers to Bring Joy to the Elderly
Throughout his volunteer service, Prateek encountered a few challenges. Communication proved to be one hurdle, as some elderly individuals spoke languages other than English. Consequently, there was a need to pair volunteers with multilingual capabilities, such as Mandarin, to bridge the communication gap. Additionally, Prateek observed that the elderly did not immediately open up at the beginning, as it required time and patience to nurture a social connection.
When queried about what kept him going as an ElderAid Volunteer with SRC, Prateek says, "It's simply about making a positive impact in people's lives. Sometimes, all they require is someone willing to lend a listening ear. Even if it's just for a week or two, witnessing their joy when they greet me and our hour-long conversations, I feel privileged to become a part of their daily lives. It's what fuels my motivation."
Prateek's journey as a volunteer with ElderAid has not only broadened his perspective of life but has also enriched his life with a wealth of meaningful experiences to share. His altruistic efforts are driven not only by the joy they bring, but also by the deep sense of inner peace and satisfaction derived from making a positive impact. Furthermore, his participation has provided invaluable training in eldercare and interpersonal skills that prove invaluable in our day-to-day interactions with family. Ultimately, Prateek's unwavering commitment exemplifies a profound sense of responsibility and dedication to giving back to the very core of our society.
By Arshad Shiju, Volunteer
Copyedited by Dr Nguyen Kien Truc Giang