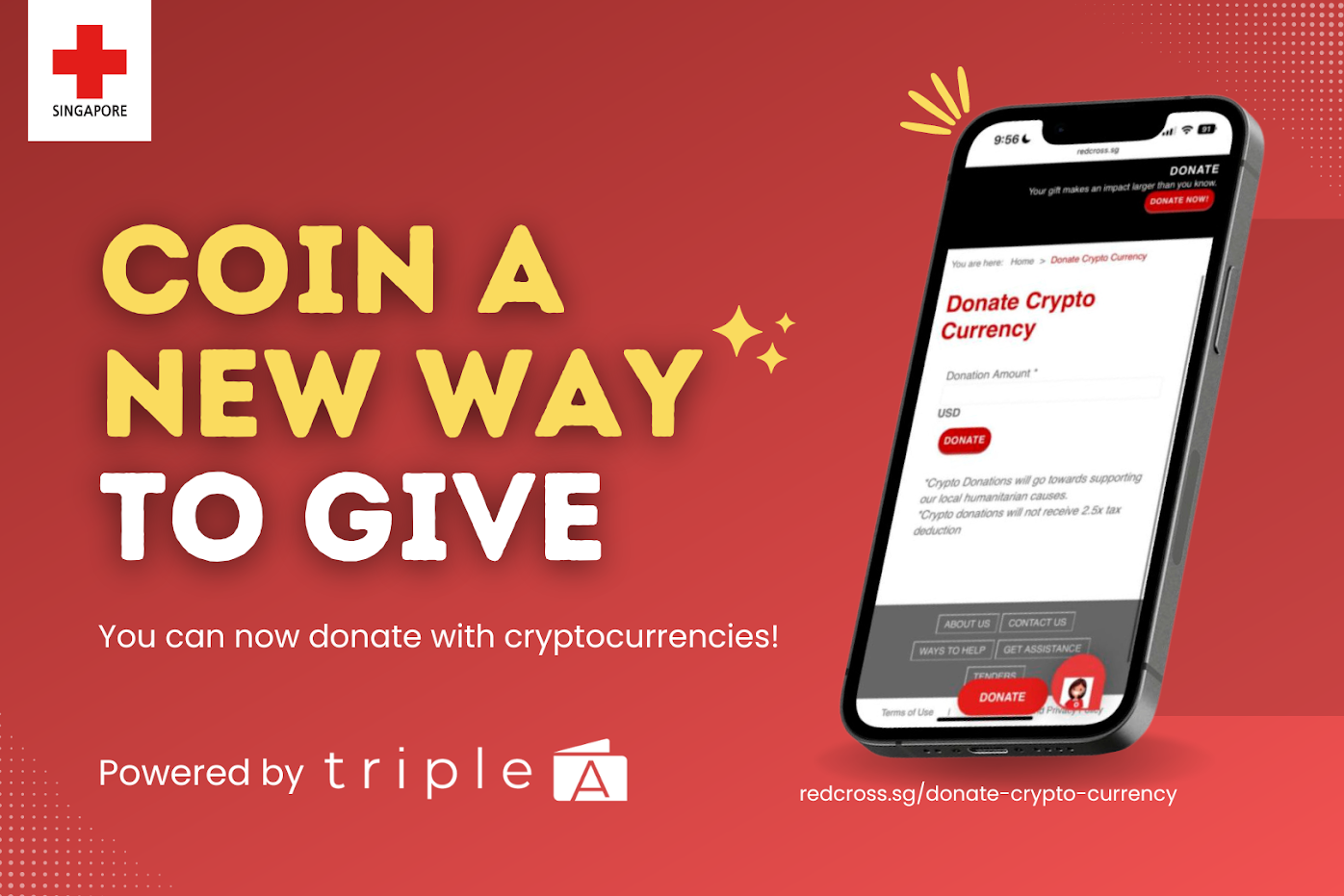 Singapore, 7 August 2023 – Homegrown humanitarian organisation, Singapore Red Cross, has included cryptocurrency as a newly-accepted form of donation, partnering with Triple-A, the first crypto payment gateway licensed by the Monetary Authority of Singapore (MAS), ahead of Singapore's National Day.
With Triple-A's white-label crypto payment solutions, the Singapore Red Cross can now receive cryptocurrency donations from supporters, to deliver humanitarian services to uplift the vulnerable, particularly in Singapore. All crypto donations will be converted into fiat currency and settled via bank transfer within one business day, ensuring the funds are readily accessible to support the organisation's humanitarian initiatives.
Singapore Red Cross will accept donations in various cryptocurrencies, including Bitcoin (BTC), Ethereum (ETH), Tether (USDT), and USD Coin (USDC). The process is simple, as all crypto wallets are supported through Triple-A.
Mr Benjamin William, Secretary General and CEO of Singapore Red Cross enthused, "Cryptocurrency donations have become increasingly popular due to the efficiency of processing them and their global accessibility. By accepting digital currencies, we open our doors to a new segment of donors who are tech-savvy and wish to make a difference through their digital assets. Enabling cryptocurrency donations also opens up more opportunities for the new generation of donors who are au fait with digital currencies to consider philanthropy and helping the vulnerable."
"We're honoured to partner with the Singapore Red Cross in enabling cryptocurrency donations and empowering donors to support humanitarian causes with digital assets," said Mr Eric Barbier, CEO of Triple-A, "Crypto payments offer faster, more secure transactions, reduce administrative overheads, and ensure that the funds reach those in need promptly,"

The new payment option is now live on the Singapore Red Cross website, allowing donors from around the world to contribute using their preferred cryptocurrencies. Donations can now be made through the Singapore Red Cross' website.