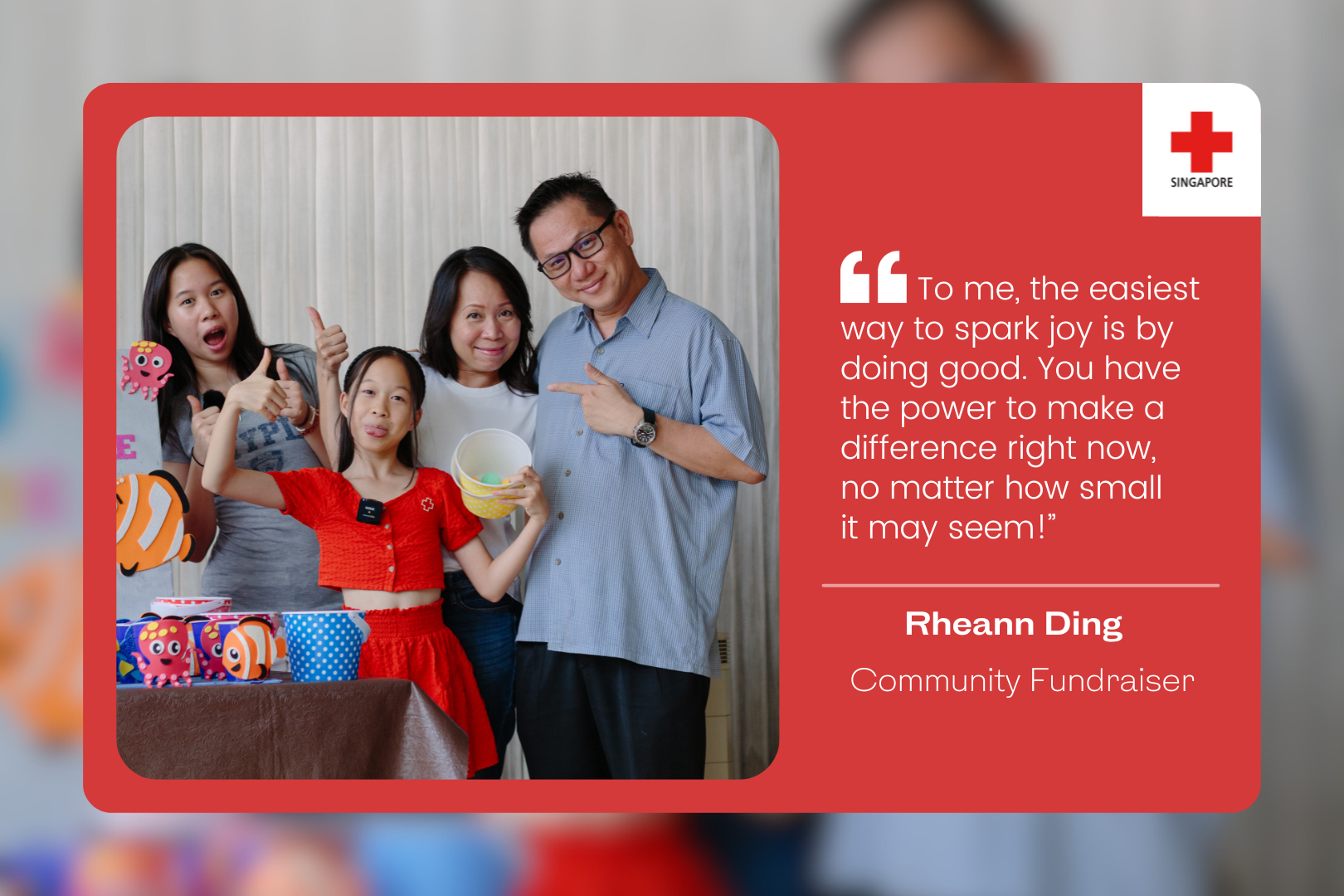 Rheann Ding, 11, a Grade 5 student of St. Joseph Institution International Elementary School, exemplifies that one is never too young to make a difference. She has been volunteering and fundraising for charitable organisations. Playing a role in her social media campaign championed by her sister, they showed appreciation to delivery riders and waste collectors amid the height of the COVID-19 pandemic. Her school organised a fundraising effort to collect funds for the survivors of the Turkey-Syria earthquake. She expanded the initiative by selling trendy and irresistibly cute 'squishies' to raise funds for the communities affected by the Turkey-Syria earthquake through the Singapore Red Cross. She inspires others to follow in her footsteps.
Founder of the Red Cross Red Crescent Movement, Henry Dunant had a notable quote about humanitarian work, "Everyone can, in one way or another, each in their sphere and, according to their strength, contribute to some extent to this good work." It encapsulates that everyone can do his or her part for the good of the community.
Never Too Young to Make a Difference
However, not everyone has the drive and dedication to volunteer, especially at a young age. Yet, it is inspiring to come across someone such as Rheann Ding, 11, a Grade 5 student of St Joseph Institution International Elementary School (SJIIES), who, despite her young age, embodies the spirit that one is never too young to make a positive impact.
Rheann's story about her contribution to the community through volunteerism is not just remarkable but also inspirational, making her a role model for many aspiring young volunteers to emulate.
Rheann's passion and desire to make a positive difference in the community began early. Her older sister, Megan, played a significant role in nurturing her empathy and compassion for others. Together, they participated in various charitable activities both locally and internationally, whether frequently volunteering at local charitable organisations, fundraising for charities or donating school supplies to a village in Africa while on holiday. During the challenging "circuit breaker" period, Megan spearheaded an initiative #SJIIGivesThanks to show appreciation to delivery riders and waste collectors for their labour of love. Rheann rode on her sister's campaign. The social media movement rallied support and gained traction among her school and friends. Their shared experiences instilled in Rheann a strong sense of empathy, which has spurred her to continue volunteering.
Fundraising for Survivors of the Turkey-Syria Earthquake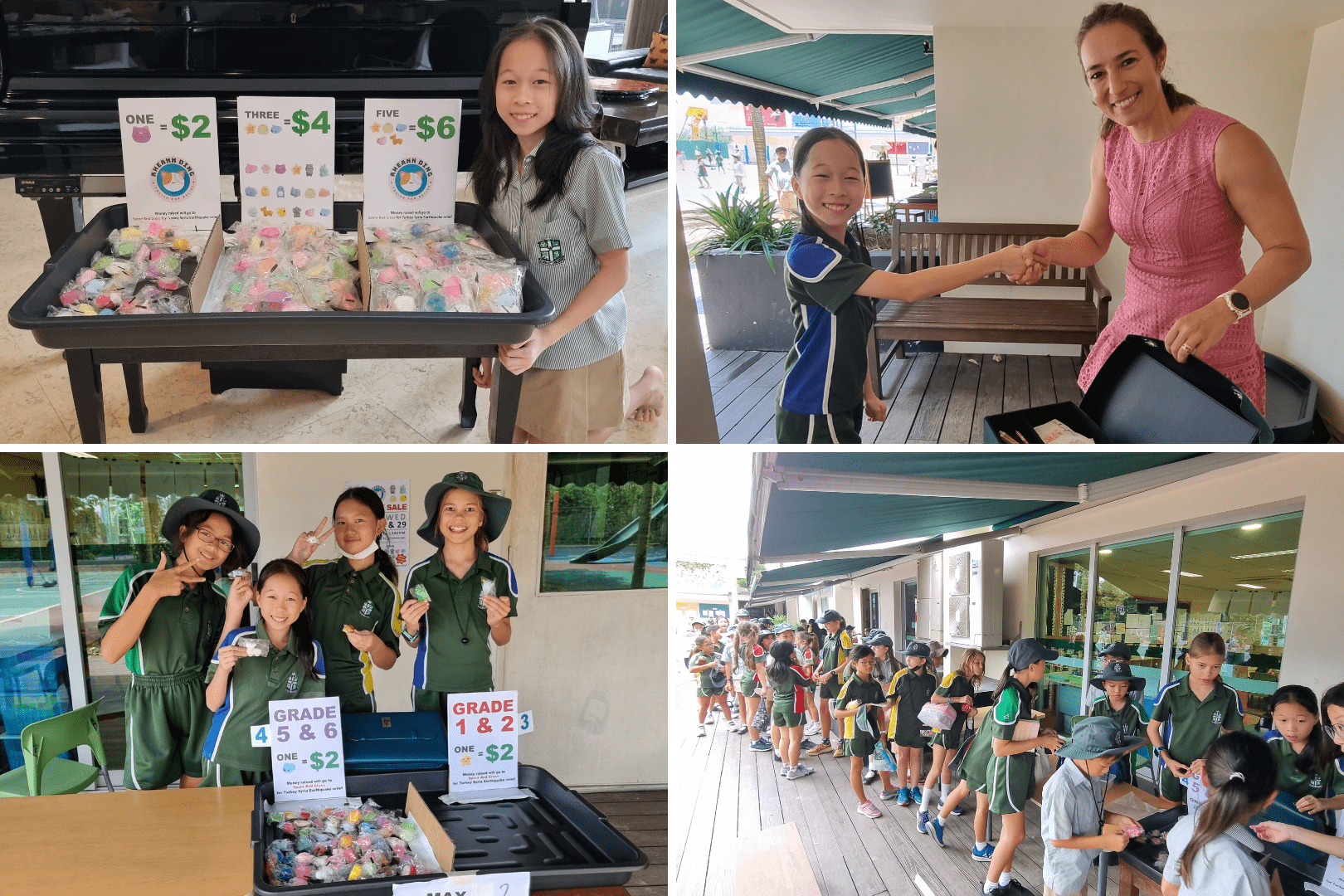 In February 2023, her school, in collaboration with the Singapore Red Cross (SRC), organised a fundraising initiative to raise funds for the SRC's relief efforts for the survivors of the Turkey-Syria earthquake. Moved by the survivors' harrowing pictures and stories, Rheann took it upon herself to expand the cause by leading the sale of trendy and irresistible adorable 'squishies'.
Little did she know that her challenge with her 'squishies' sale would be that she did not have enough for everyone! Her booth was swarmed with huge crowds and snaking queues. Having sold all the 'squishies' in merely 20 minutes on the first day, Rheann rationed her 'squishies' so everyone could get their hands on one, exercising prudence on the second day. Exemplifying community spirit and selflessness, her teachers and some classmates stepped in to manage the crowds and her booth.
Subsequently, Rheann's squishy sale raised over S$650 for the SRC Turkey-Syria Earthquake Relief Fund. Her dedication, effort and passion inspired and catalysed others to jump on the bandwagon and support the good cause. It also made a positive difference in the lives of affected communities halfway across the globe.
For Rheann, helping others is a way of life, and she has proved by example time and time again that small acts of kindness can make a significant impact. Her passion for volunteerism and charity work has not only transformed the lives of the people she has helped but also her own, instilling in her values such as empathy, compassion, gratitude and the importance of giving back.
"To me, the easiest way to spark joy is by doing good," she recalls.
She adds that having a friend or family member supporting her makes the experience more gratifying.
"Grab a friend, put on your superhero capes and just go on an adventure of spreading joy. You have the power to make a difference right now, no matter how small it may seem!" Rheann quips with enthusiasm.
Rheann's story serves as a reminder that no matter one's age, circumstances, or resources, we all have the power to give back to the community in our own way. Whether it is through volunteering, donating or small acts of kindness, we can all play a part in making a positive change. Although her stature might be small, Rheann has raised the bar very high.
By Yatin Pawa, Volunteer
Copyedited by Michael Bernardo Gutierrez, Volunteer