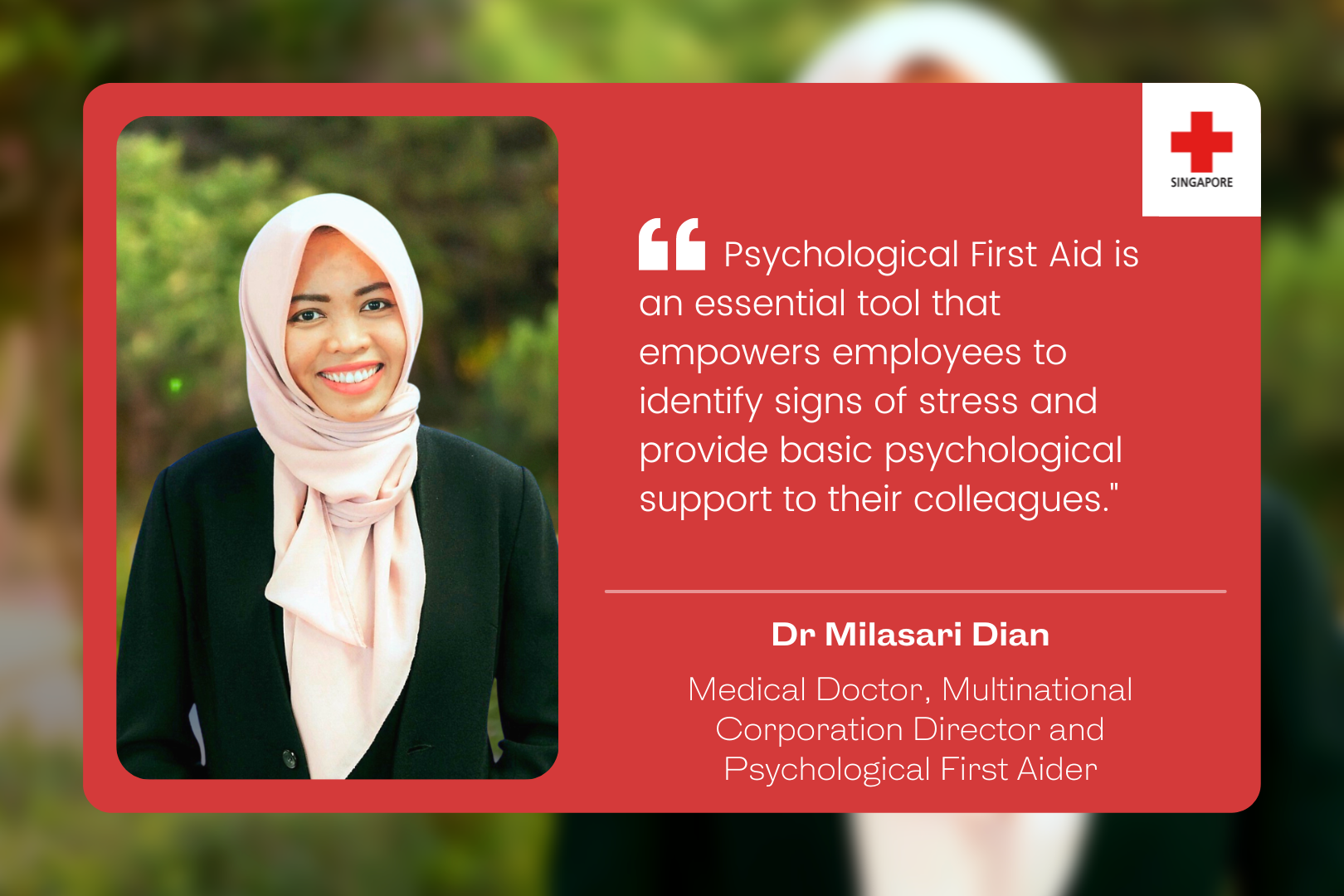 Dr Milasari Dian, Medical Doctor and Occupational Director at Procter & Gamble (P&G), is a strong advocate of mental wellness in the workplace. She and her colleagues recently attended the Singapore Red Cross' Psychological First Aid course to arm themselves with the skills and knowledge to transform workplaces into inclusive spaces that prioritise the mental well-being of employees.
Dr Dian and her colleagues at P&G are committed to cultivating a "culture of well-being" at work. They believe that a forward-looking and uplifting workplace is one where leaders, managers and colleagues are aware and supportive when dealing with mental health challenges.
One of the mental health initiatives Dr Dian spearheaded, was a network of staff volunteers, who would play the role of Mental Health First Aiders, otherwise known as "Healthy Mind Champions" at her workplace. To ensure they are equipped with the skills and knowledge to provide psychological support to their colleagues, Dr Dian enrolled them in the Psychological First Aid (PFA) Course at the Singapore Red Cross Academy because it provides participants with techniques to demonstrate care, compassion, and empathy towards a colleague who is in mental distress.
The Importance of Psychological First Aid
For Dr Dian, Psychological First Aid is an essential tool that empowers employees to identify signs of stress and provide basic psychological support to their colleagues. She strongly believes that the course is instrumental in promoting conversations around mental health, which ultimately contributes to a healthy workplace.
"It is important to cultivate a culture of well-being" so employees can be authentic about their mental state at the workplace instead of having to mask their struggles with mental health due to bias and stigma around mental health issues," Dr Dian says.
The Future of Workplace Mental Health
Looking ahead to the next five years, Dr Dian predicts a growing recognition among companies regarding the significance of prioritising employees' mental well-being.
"I forsee a paradigm shift where mental health issues are seen on par with physical conditions. Both companies and societies will embrace the mindset that "it's okay to not be okay", cultivating a safe and inclusive environment for all," she says.
According to Dr Dian, the establishment of sustainable and mentally healthy workplaces can only be achieved through collective effort to show empathy and support for colleagues who may be facing mental health challenges. Organisations should actively foster a culture of understanding and support, as it ensures the well-being, productivity, and success of their employees.
​​Dr Dian's Advocacy for Mental Health
Dr Dian's advocacy for mental health extends beyond her role at P&G, as she is actively involved in promoting mental health awareness in the community. She has been a vocal advocate for mental health education and has spoken at various events and conferences about the importance of prioritising mental health.
By challenging societal norms and raising awareness about mental health, Dr Dian is actively working towards breaking down the barriers that prevent open dialogue on mental health. The shift towards destigmatisation of mental issues empowers employees to seek assistance and access the resources they need to thrive.
Dr Dian's dedication serves as an inspiration for organisations and individuals alike, encouraging them to focus on mental health and embrace a holistic approach to well-being. With her vision, there is optimism that workplaces will transform into more inclusive spaces that prioritise the mental well-being of employees.
By Arshad Shiju, Volunteer
Copyedited by Adele Tan and Stella Lim, Marketing Communications and Partnerships