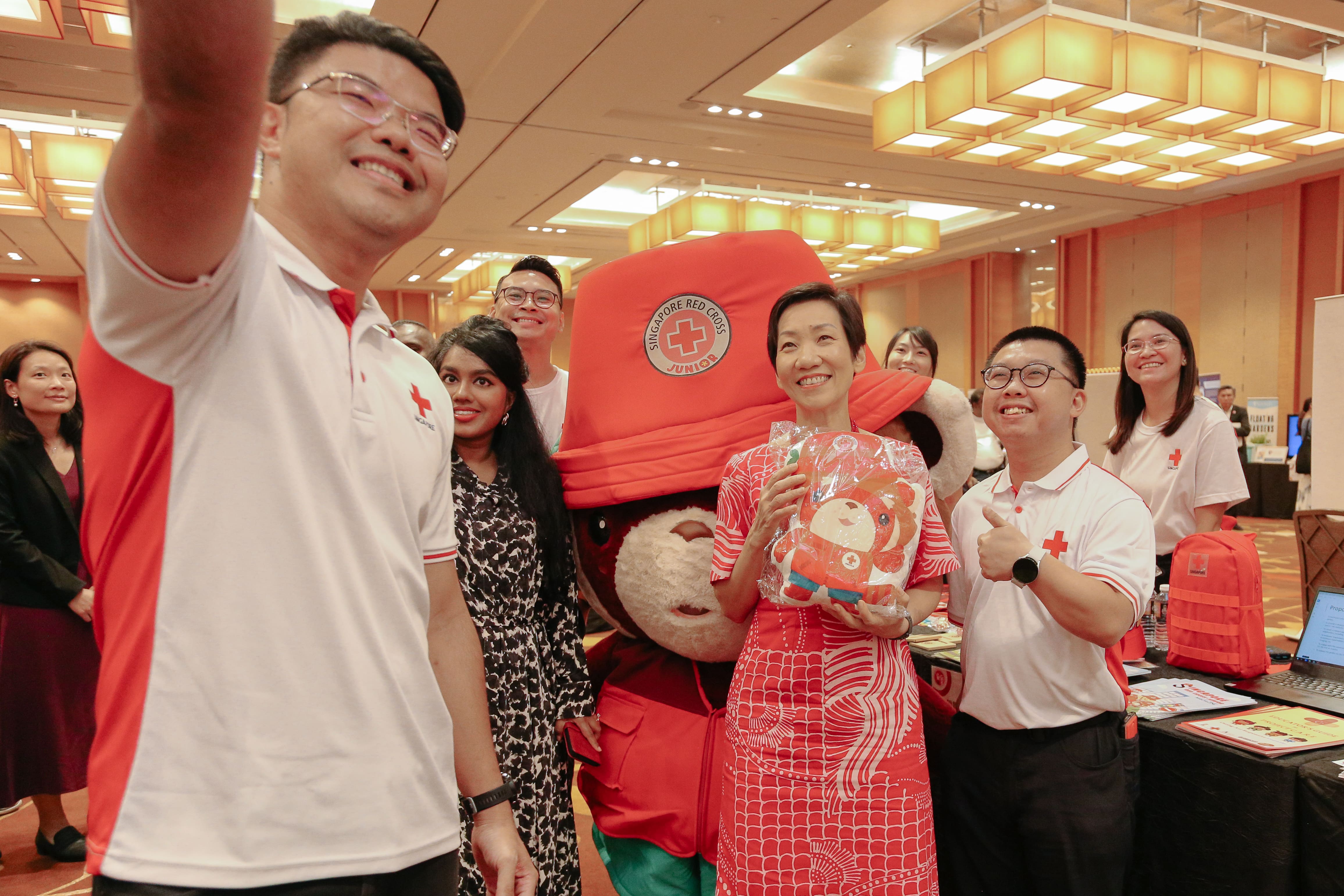 Held at Marina Bay Sands on 19 August 2023, the theme of the 8th Singapore Humanitarian Conference centred on some of the most pressing issues we face today - climate change, sustainability and humanitarian efforts. Attending the Conference were more than 300 delegates from the Red Cross Red Crescent Movement, as well as advocates of climate change, humanitarian actors, volunteers and members of the public.
The conference kicked off with welcome remarks by Mr Nicholas Ionides, Vice President, of Communications for Marina Bay Sands, which had kindly sponsored the venue for the conference.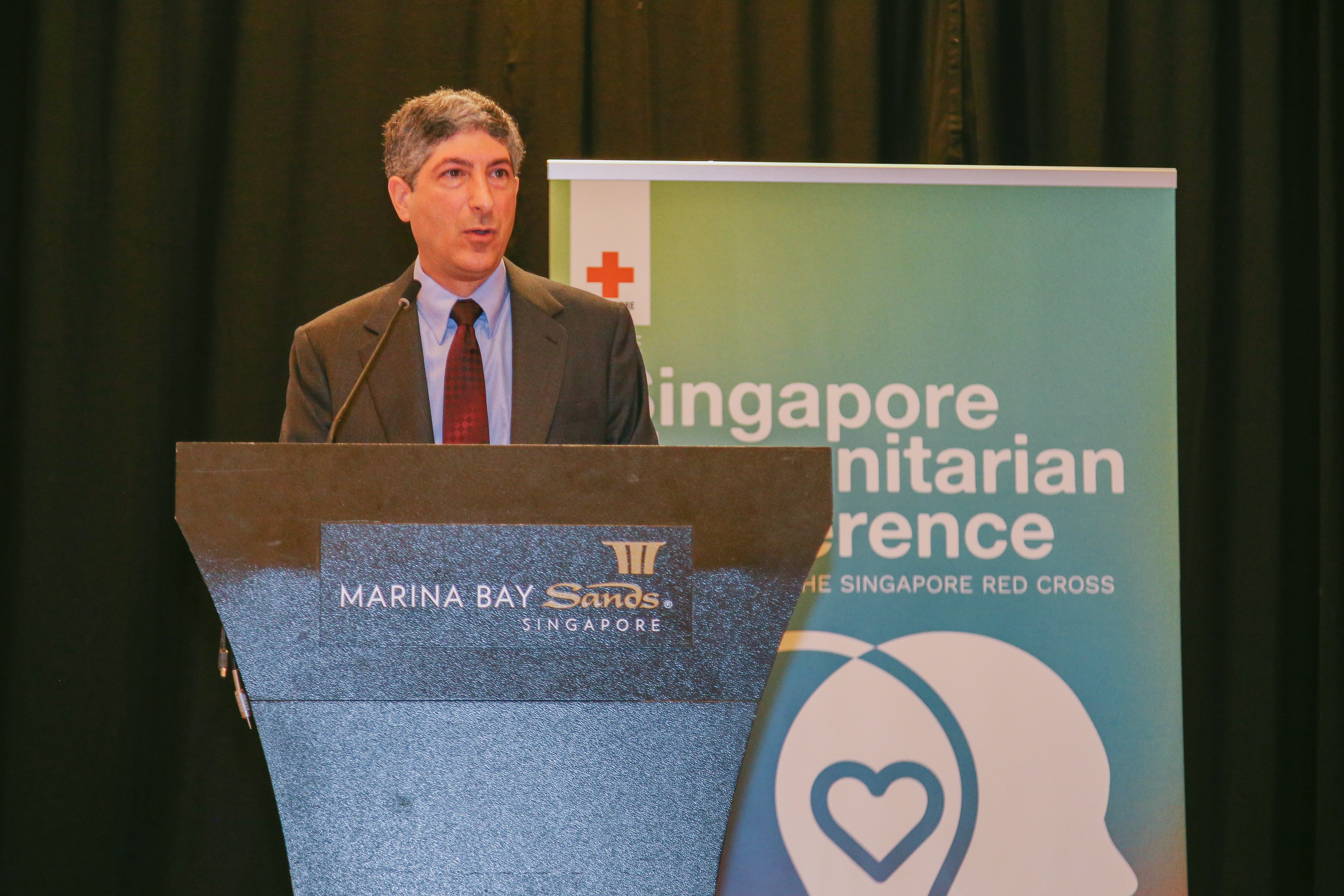 Mr Ionides shared that Marina Bay Sands' corporate social responsibility efforts are focused on hardship relief, education, culture and heritage, as well as disaster response, relief and preparedness. He highlighted the Singapore Red Cross (SRC) as a key partner in the integrated resort's corporate social responsibility initiatives. Besides donating unclaimed lost and found items to SRC, Marina Bay Sands also supports blood donation drives and has donated ventilators to hospitals in response to the COVID-19 Pandemic.
Since 2010, Marina Bay Sands' employees have clocked nearly 100,000 volunteer hours annually - a testament to its strong culture of volunteerism. Marina Bay Sands also organises the annual Sands for Singapore Charity Festival. Held in August, the recent festival was a multi-day outdoor extravaganza that recognised the contributions of its charity partners and cast the spotlight on social enterprises.
Thriving Sustainable Humanitarian Action for Climate Resilience
Next, Mr Benjamin William, Singapore Red Cross (SRC) Secretary General / CEO delivered the opening remarks.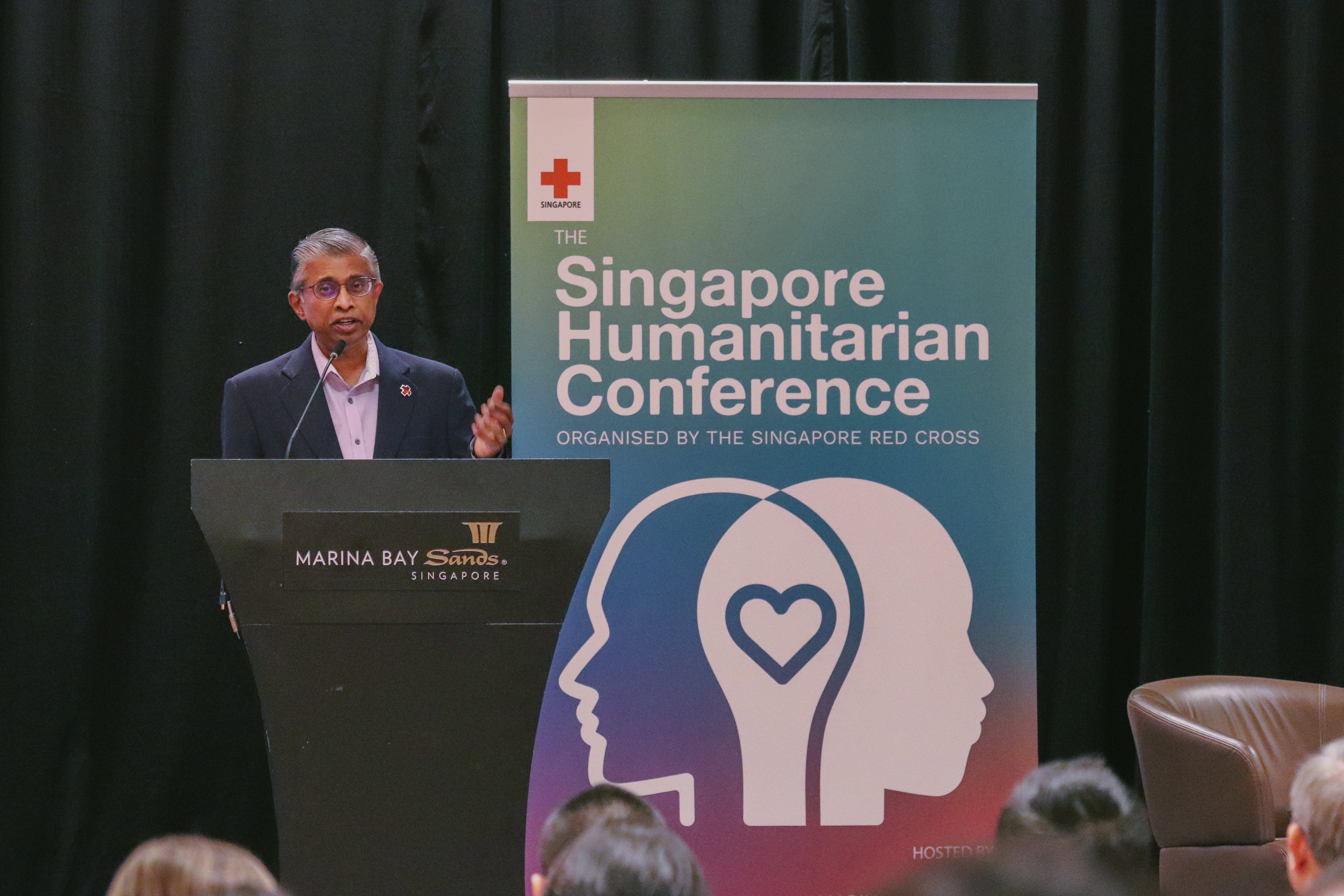 Themed 'Thriving Sustainable Humanitarian Action for Climate Resilience', this year's conference is timely against the backdrop of recent natural disasters that have devastated homes and buildings, and claimed lives and livelihoods in countries globally. In the months leading up to the conference, a series of devastating natural disasters struck America, including tornadoes, hurricanes and wildfires. Simultaneously, the Asia Pacific region experienced a surge in floods, landslides and cyclones. These catastrophic events underscored the need for urgent sustainable humanitarian action to build climate resilience on a global scale.
To attain sustainability, Mr William emphasised the crucial role of communities in harnessing their social and economic resources to develop curated humanitarian actions that address present needs, while safeguarding the ability of future generations to meet their own.
"We strive to empower communities to withstand the challenges posed by climate change and to flourish in the face of adversity. Thriving sustainable humanitarian action represents an investment in the future, fostering the development of resilient communities capable of innovating when confronted with emerging environmental challenges," he said.
This call to action highlights not only the significance of sustainability but also accentuates the importance of fostering thriving sustainable humanitarian initiatives.
However, thriving sustainable humanitarian action is a mammoth task that no organisation, government or country can manage in isolation.
"Recognising that no single organisation, government, or sector can tackle this immense challenge in isolation, our gathering here today reaffirms our shared responsibility to embrace collaboration and harness our collective resources, knowledge, and expertise for the greater good. Let us approach this endeavour with a sense of urgency, recognising that time is of the essence as we explore innovative solutions, forge new partnerships, and inspire actionable change to build a more resilient world for future generations," said Mr William in his speech.
In a landmark move, Mr William highlighted the significance of a recently inked Climate and Environment Charter for Humanitarian Organisations. It serves as a testament to SRC's unwavering dedication to forging meaningful partnerships with local, national, and international organisations with the aim of prioritising environmental and ecological concerns in response to the ongoing climate and environmental crisis. This Charter was crafted by the International Committee of the Red Cross and the International Federation of the Red Cross and Red Crescent Societies.
Rallying Support for Proper Sanitation Around the World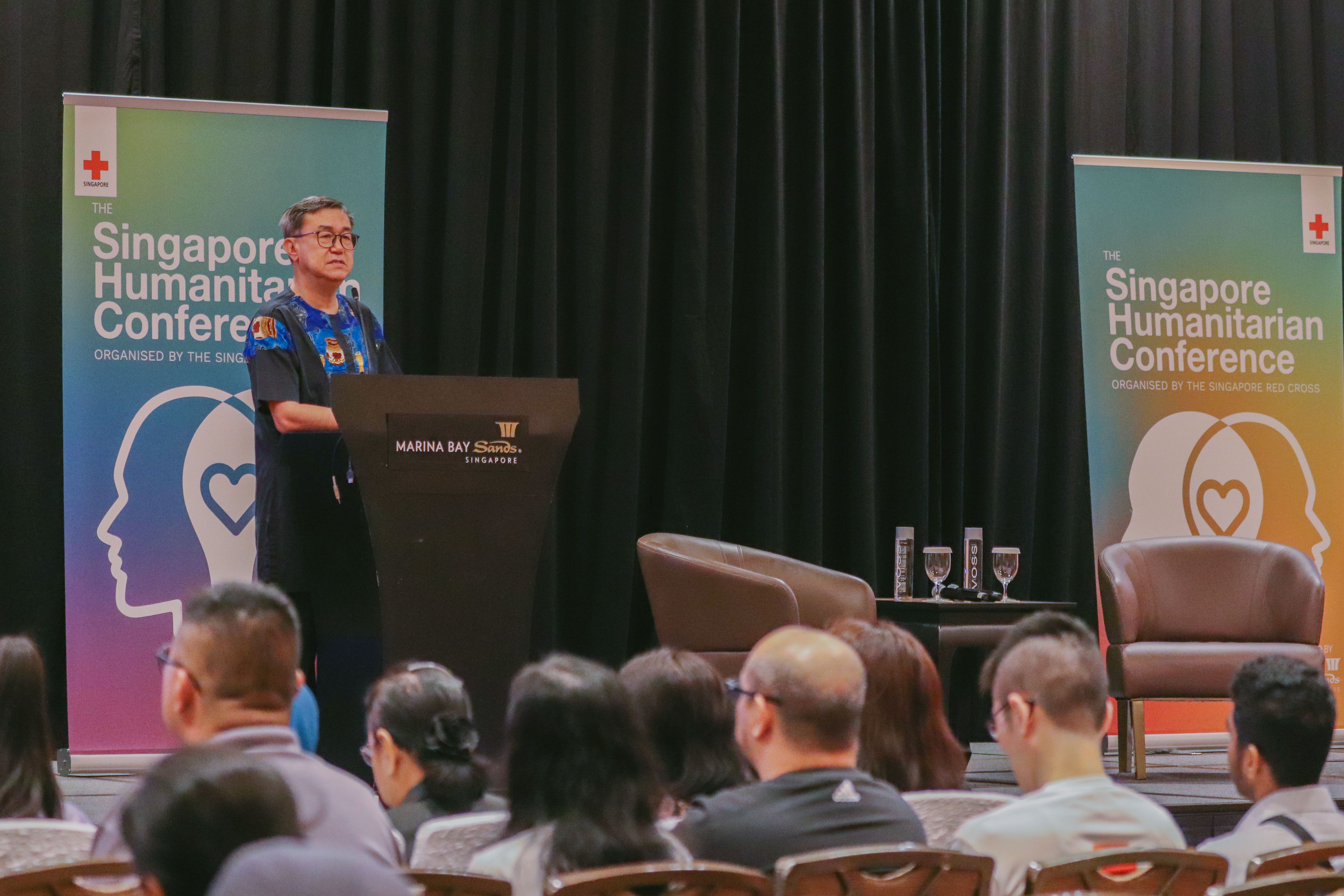 The first speaker at the conference, Mr Jack Sim, Founder of the World Toilet Organisation, shared about how he lobbied for support from politicians, celebrities, and even royalty to embrace and champion clean toilets around the world. His speech, replete with interesting personal anecdotes and stories, and candid humour, enthralled the audience.
Recounting his motivation for setting up the organisation back in 2001, he shared that in some countries, people were still defecating by the roadside, which has heightened the risk of rape especially for females. With mosquitoes feeding on human waste, and subsequently on food, many people had diarrhoea as a result. Mr Sim highlighted that each year, 2 million people around the world die of diarrhoea, and more than 40 per cent of the world's population lacks proper sanitation. Floods spawn water-borne diseases such as cholera, typhoid, hepatitis, diarrhoea and other illnesses.
Mr Sim established the World Toilet Organisation in 2001 to mobilise expertise, authority, resources and networks to build clean toilets around the world. He inspired governments and stakeholders to embrace mindset shifts, as well as policy and behavioural changes for proper sanitation.
Mr Sim turned his vision into reality by leveraging the priorities of his stakeholders. He was cognisant that the media's focus is on readership, while politicians focus on soliciting support. Policymakers rely on evidence while celebrities focus on lending their superstar power. This paved the way for effective collaboration and substantial contributions to the betterment of humanity.
When Mr Sim met former Minister, Mr George Yeo at an event in Philadelphia, he shared his vision of building toilets around the world with Mr Yeo. As a result, Mr Yeo garnered the United Nations' support to designate 19 November as World Toilet Day. This move has been instrumental to the success of Mr Sim's efforts to build toilets around the world.
To address these, countries worldwide have embraced water, sanitation and hygiene, commonly known as WASH, in their sanitation regimes.
Since the World Toilet Organisation's establishment in 2001, 2.4 billion people have gained access to sanitation, including Brazil, China, India, and Nigeria, a testimony that Mr Sim's labour of love, and tireless efforts to champion clean toilets around the world have paid off. Once considered taboo, the rhetoric about toilets is presently advocated by many. Even politicians espouse the benefits of clean toilets during their election rallies.
Summing up his journey of collaborating with partners, he said, "Instead of mutual exploitation, it becomes mutual collaboration. Instead of selfishness, it becomes selflessness. Instead of working for a personal agenda, it becomes working together in solidarity for the common good of all."
Indeed, his story underscores that environmental and sustainability activists can leverage the power of storytelling to inspire the media, authorities, celebrities and even royalty to embrace and champion sustainability initiatives, to curtail the adverse impacts of climate change. Through the power of humanity, different stakeholders stand in solidarity to uplift lives around the world, through collectively incorporating environmental sustainability into our daily lives.
When asked about the biggest challenges he faced, Mr Sim cited stockpiling, training, and rehabilitation as issues that the World Toilet Organisation, comprising one full-time staff - himself, and one part-time staff, had to navigate. However, thanks to technological advances, toilets can now be designed more swiftly at a fraction of the cost. He calls for the public and authorities to prioritise sanitation and toilets and expressed his interest in collaborating with the Singapore Red Cross and the International Federation of Red Cross and Red Crescent to provide toilets for refugees in the wake of natural disasters.
Impacts of Climate Change and Embracing Sustainability as a Way of Life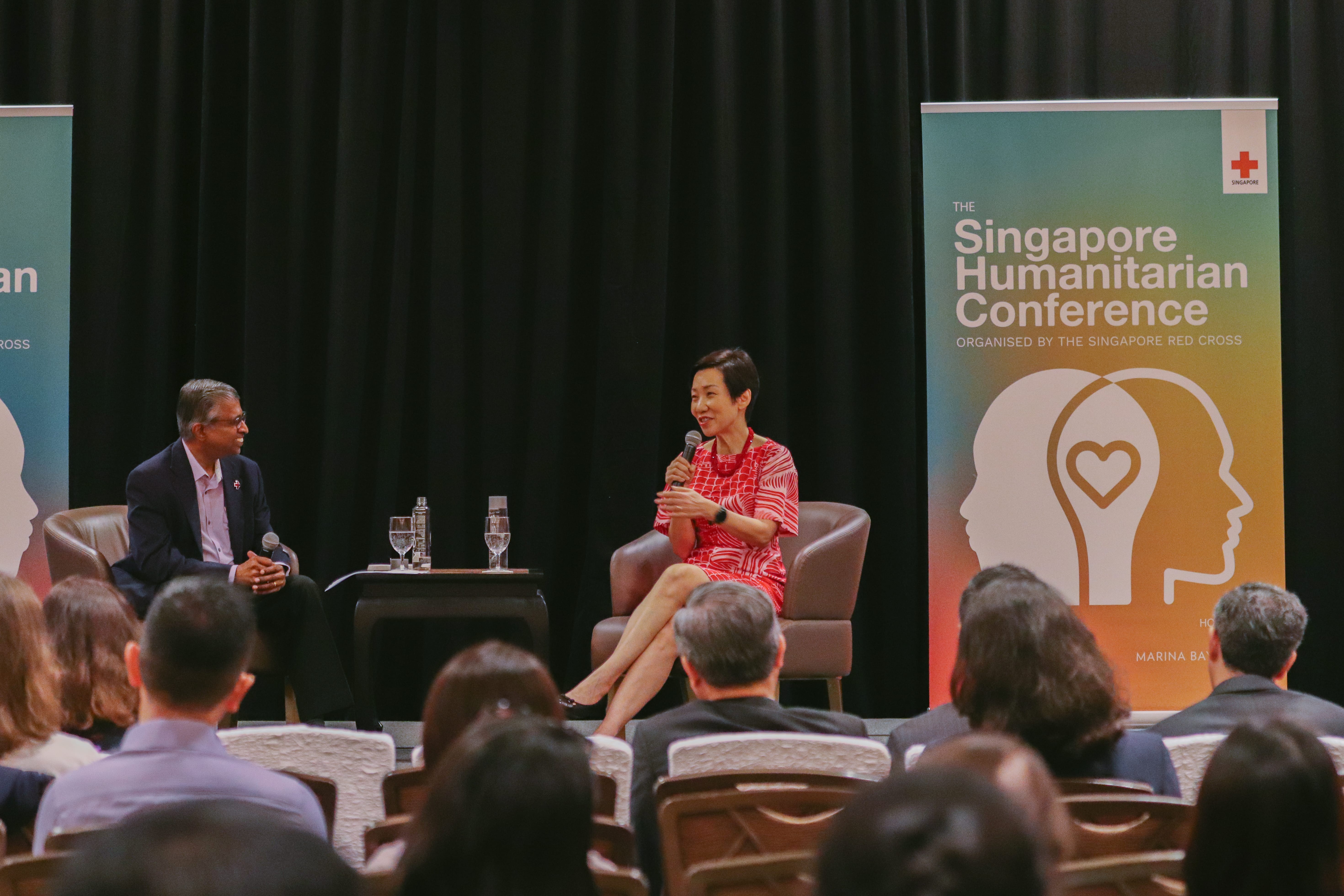 The highlight of the conference was the dialogue session between Ms Grace Fu, Minister for Sustainability and the Environment of Singapore, and Mr Benjamin William, Secretary General and CEO of the Singapore Red Cross.
Ms Fu spoke about Singapore's multi-pronged approach to dealing with the challenges brought about by climate change. Below are some of the examples she mentioned:
Under the landscape replacement policy, developers must replace greenery lost from the site due to development with greenery in other areas within the development.
The placement of solar panels on rooftops and the top of car parks to generate electricity.
The "30 by 30" vision, working with Singapore's agri-food sector to build capability and capacity to produce 30 per cent of our nutritional needs in a sustainable manner by 2030.
To strengthen Singapore's water security, especially in the face of climate change, Singapore adopts water recycling and desalination as climate-resilient sources of water.
Ms Fu encouraged people to embrace environmental sustainability in their daily lives by:
Committing to the Green Nation Pledge to help make Singapore a green, liveable, and climate-resilient nation
Applying for the SG Eco Fund to support projects that advance environmental sustainability and involve the community
Reducing their carbon footprint by using less electricity and packaging, among others
Setting the temperature of air conditioning to 25 degrees Celsius
Purchasing and consuming locally-produced food
Reducing, reusing, and recycling
Spearheading Sustainable Innovation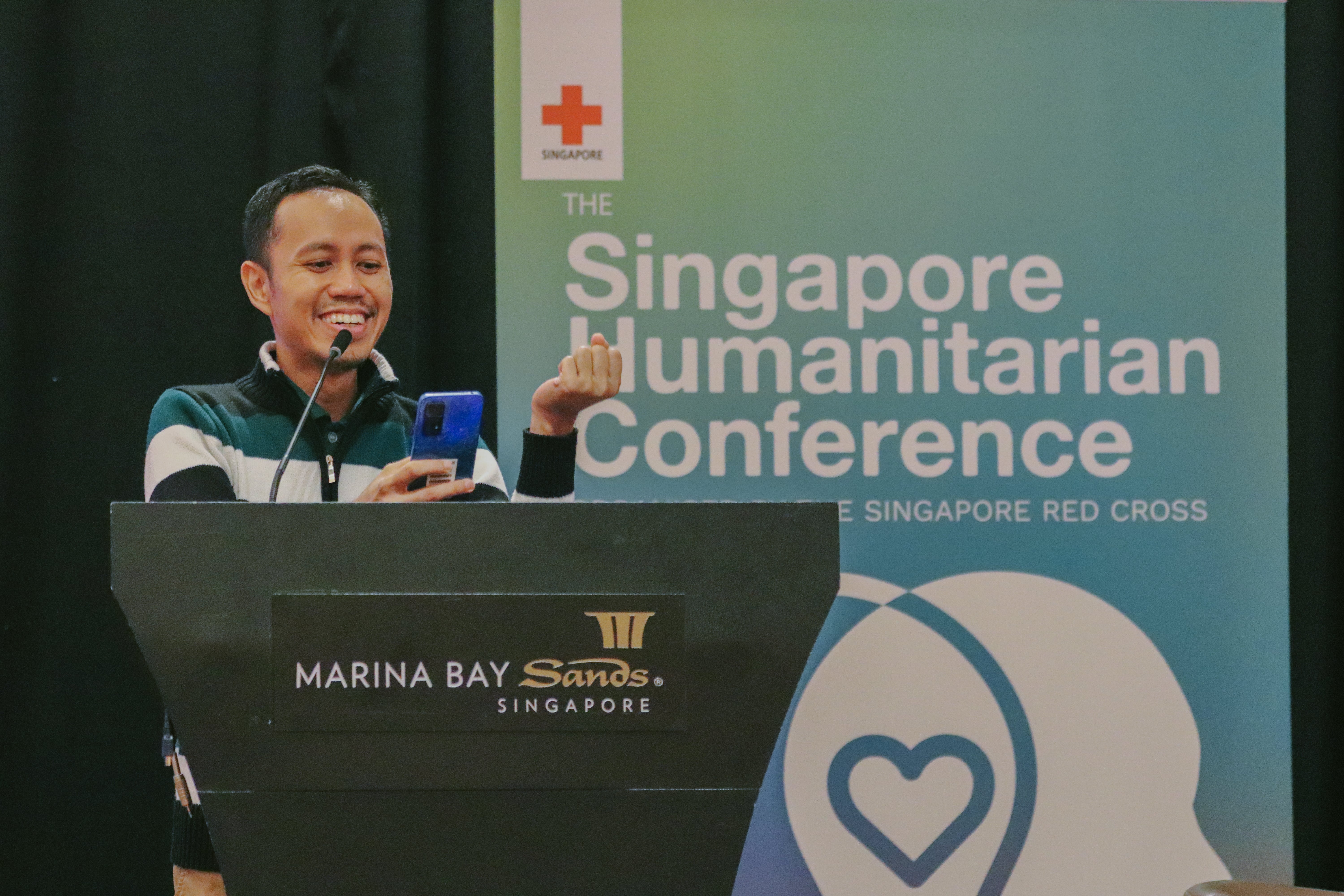 The next plenary speaker was Mr Ibnur Rashad, Founder / Chief Innovation Officer, Ground Up Innovation Labs for Development (GUILD). He shared an alarming and poignant circumstance little known by others - that farmers in India were committing suicide. Having cultivated too many vegetables, the prices of vegetables plunged by 50 to 60 per cent. As these were perishables, the vegetables could not be kept for long and farmers incurred substantial losses. It underscored the plight of the farmers and the challenges they faced.
Having met two volunteers who were grappling with eco-anxiety, he holds the conviction that the everyday struggles of people should chart the way for mitigation and adaptation within society. Through the establishment of GUILD, Mr Ibnur strives to develop a pool of innovators who care and contribute to the betterment of nature and the community. Mr Ibnur champions innovation and firmly believes that research and development could be tapped to develop functional and innovative products with the magnitude and reach to resolve problems that people face.
To build a sustainable future, Mr Ibnur suggested that people leverage creativity, inventions, and innovations, to solve problems. The differentiating factor between inventions and innovations is that inventions are novel and tangible. Innovations, on the other hand, help to solve problems, add value, and bring about positive impact, while yielding financial gains. Either way, thinking out of the box helps. Mr Ibnur cited the usage of solar panels, and the development of a drying system to preserve vegetables as innovations.
Committed to the millennial goals of eradicating extreme impoverishment and hunger, achieving universal primary education and ensuring environmental sustainability, GUILD partnered with the Central Singapore Community Development Council and UOB Bank on a project to enhance digital literacy amongst students. Their collective efforts provided digital devices that supported the learning needs of vulnerable students in Singapore.
Mr Ibnur also spoke about how GUILD trained humanitarian actors and innovators keen on leveraging innovation to cultivate kang kongs, mints and pods through hydroponics and the Chinampa technique, a small, stationary floating garden built on a freshwater lake for agricultural purposes. Mr Ibnur suggested that we utilise the ponds and lakes in Singapore to grow our food.
Marina Bay Sands Champions Sustainability Initiatives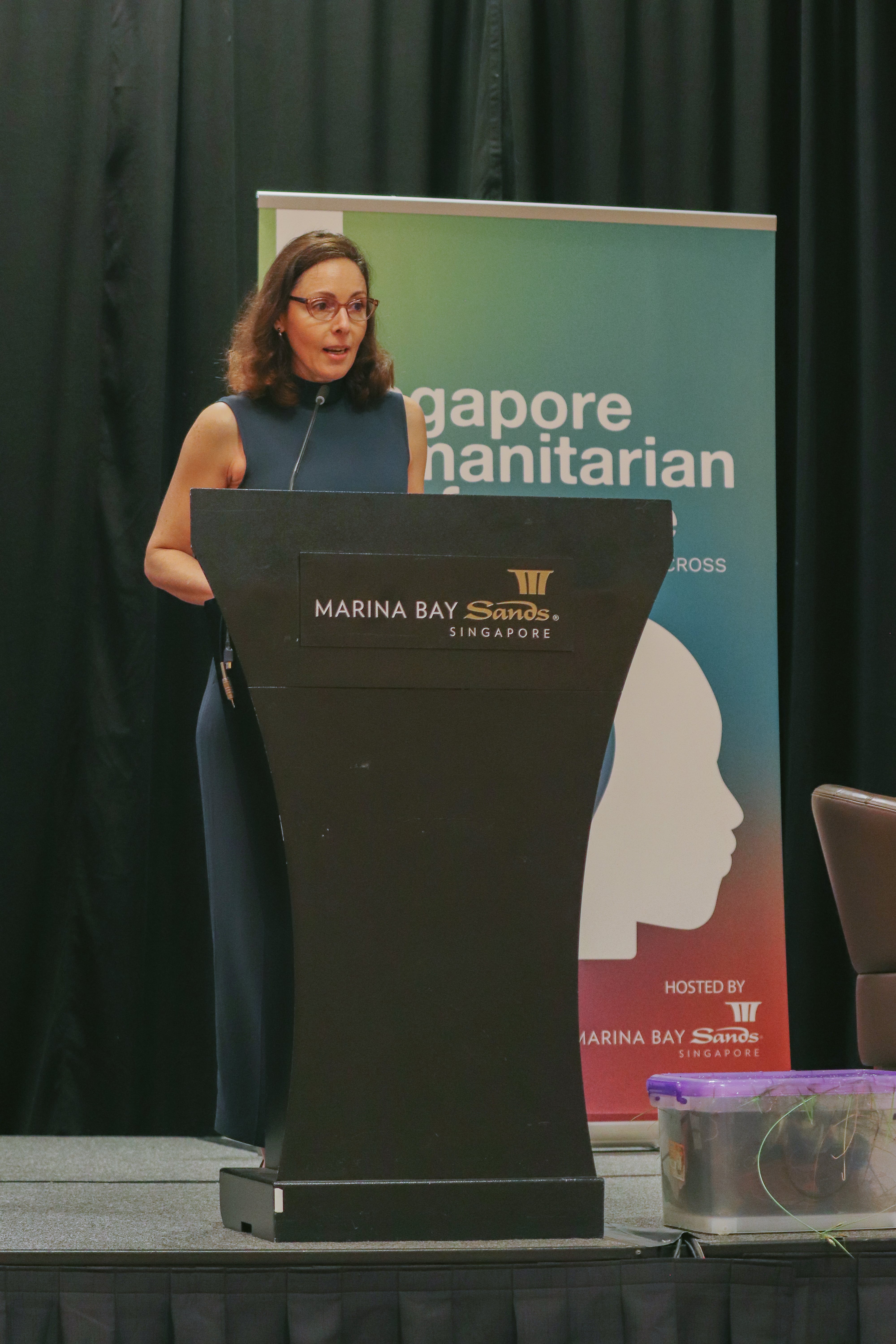 The next plenary speaker, Ms Meridith Beaujean, Executive Director, Sustainability at the Marina Bay Sands spoke about the sustainability initiatives championed by the Marina Bay Sands.
Dedicated to reducing its environmental impact, Marina Bay Sands has lowered its carbon footprint by over 50 per cent since 2012. The integrated resort is committed to reducing energy usage, recycling waste, saving water, reducing the usage of plastic and packaging, sourcing for sustainable products and embracing biodiversity. To ensure environmental sustainability, Marina Bay Sands has also incorporated best practices, cutting-edge technologies and methodologies to mitigate environmental impact. A triple platinum-certified venue, Marina Bay Sands is the first carbon-neutral MICE venue in Singapore.
Ms Beaujean pointed out that Marina Bay Sands has collaborated with non-profit organisations to share knowledge, bolster innovation, and amplify its impact to support more communities in need. Since 2018, Marina Bay Sands has been collaborating with the Singapore Red Cross to donate lost and found items on its property which were not claimed after 60 days, to the Singapore Red Cross. Marina Bay Sands has donated over 37,000 kg worth of items, including clothing, accessories, and toiletries to the Singapore Red Cross.
She also shared that Marina Bay has partnered with The Food Bank Singapore to collect and donate surplus food to organisations and communities in need. Since 2016, Marina Bay Sands has donated over 40,000 kg of food to vulnerable communities through the Food Bank, supporting its 370 beneficiary organisations. Marina Bay Sands also donated 700 items such as mattresses, beds, lamps and sofas to families in need through the Food Bank and its charity partners in Malaysia.
Besides reducing waste, Ms Beaujean highlighted that Marina Bay Sands has also worked with partners for food sustainability. As part of a landmark partnership with the World Wide Fund for Nature Singapore, Marina Bay Sands contributed close to S$1 million to augment Singapore's seafood supply chain resilience and advocate responsible seafood choices in the Asia Pacific. It banned shark fins in 2014 and red garoupa in 2017. It continues to consult sustainable conservationists on species to avoid. Today, around 45 per cent of seafood on the property is sourced responsibly.
Regional Sustainability Efforts by National Societies, and the IFRC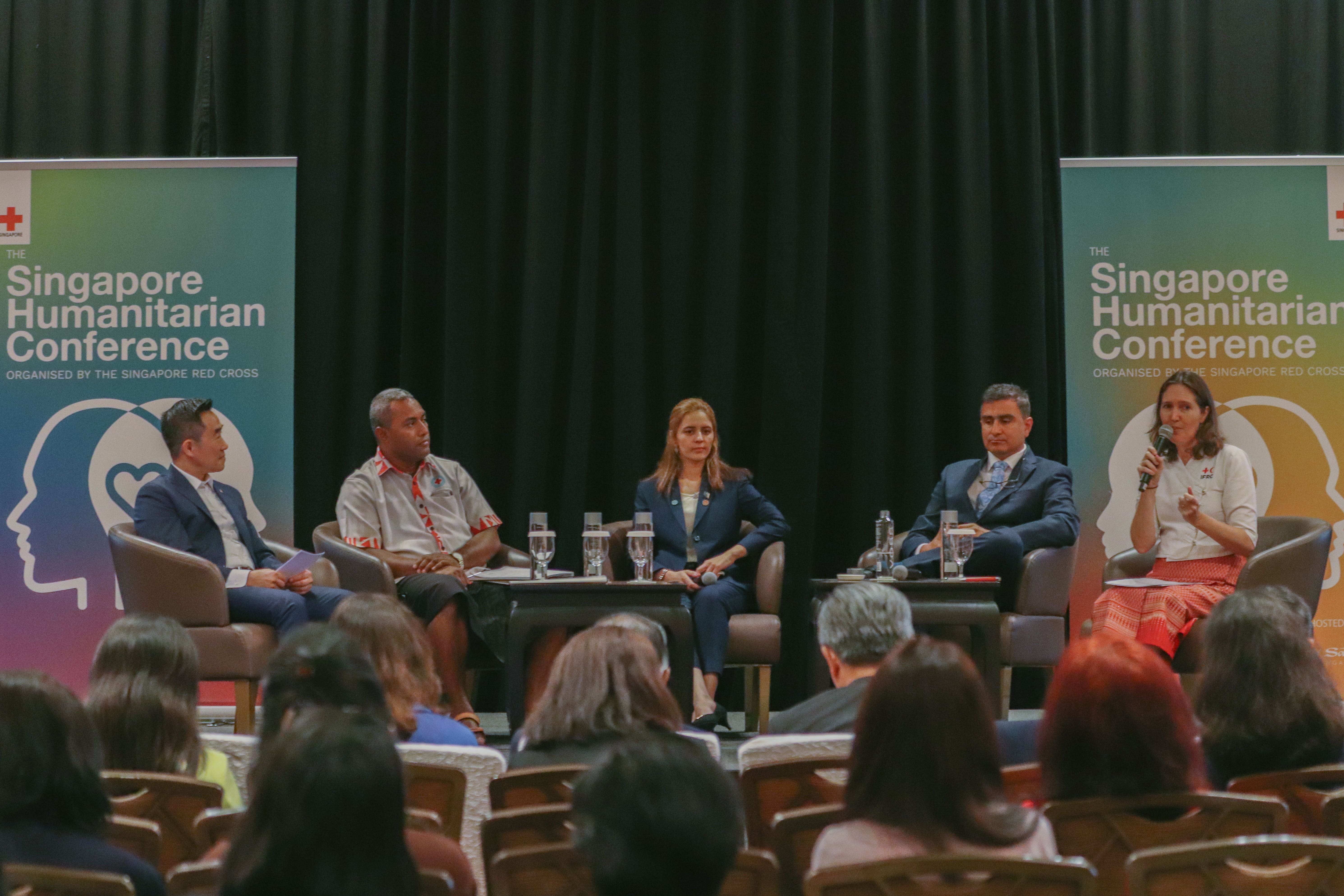 Last but not least, delegates from the International Federation of Red Cross and Red Crescent Societies, Pakistan Red Crescent Society, Viet Nam Red Cross Society and Fiji Red Cross Society spoke about their climate change and sustainability efforts.
Mr Luis Rodrigurez, who is the Regional Thematic Lead for Climate and Resilience at the International Federation of Red Cross and Red Crescent Societies, highlighted the ways to catalyse direct, pressing climate action through adaptation, mitigation and climate finance. Mr Rodrigurez said that the goal was to drive actions to support vulnerable communities and people in the Asia Pacific to confront climate and environmental crises while reaping financial gains from these efforts.
To accelerate systems transformations, policies and plans are put in place, as well as the development of climate diplomacy.
Ms Majida Sultan, Associate Director at the Pakistan Red Crescent Society, shared that their climate change policy and legislation were developed by the authorities, academia and stakeholders in Pakistan. They advocate climate change at all levels across the country, raising awareness of climate change in targeted community areas. She also spoke about floods which affected 33 million people in Pakistan, the emergency relief operations, and flood response, which involved the collaboration of the authorities and societies.
Mr Nete Logavatu, who is the Resilience Programme Coordinator at the Fiji Red Cross Society highlighted that they have been training people in community first aid, Cardio-Pulmonary Resuscitation, evacuation drills, community emergency response training, vulnerability capacity assessments, and early warning systems to prepare for typhoons. In Vio Island, there was a focus on clean water and sanitation, and disaster risk management, which included first aid training, and evacuation drills. They also collaborated with the Ministry of Health to train and screen villagers and health workers and provide shelter infrastructure and services where solar power grids were retrofitted.
Mr Nguyen Hai Anh, Vice President of the Viet Nam Red Cross Society shared about coordinating and collaborating with ministries, provinces, and cities on climate change initiatives and the implementation of projects. He cited the cash transfer programmes, shelter programmes, Water, Sanitation and Hygiene, and forecast-based financing. Viet Nam Red Cross Society trains people in National Disaster Response Training, which focuses on disaster reduction, climate change, adaptation initiatives and plans. Volunteers have also been collecting plastic waste along beaches and coastal areas, to process the plastic waste into bricks.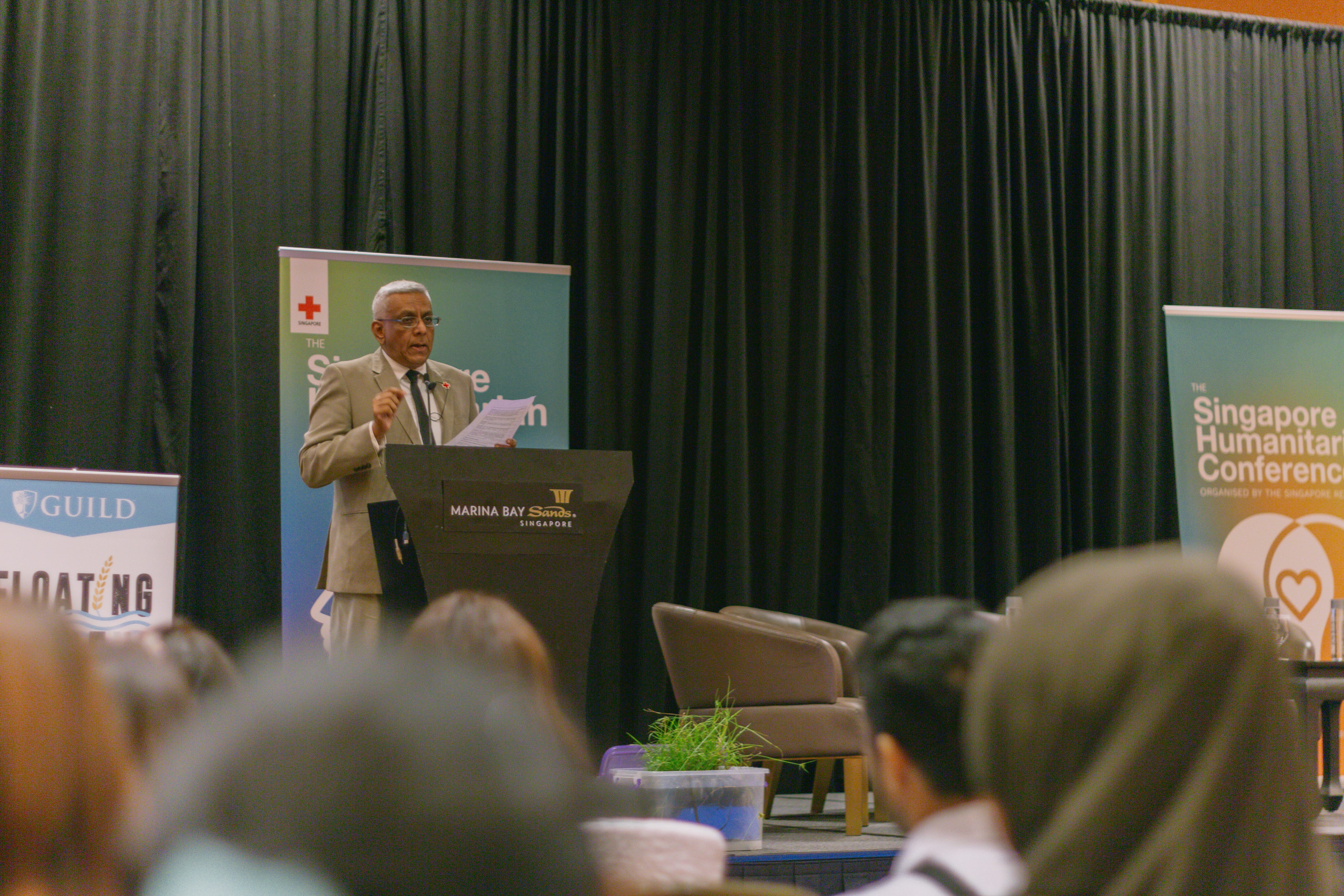 Mr Augustine Anthuvan, a media trainer and former ChannelNewsAsia editor served as the Master of Ceremony for the conference.
By Sondra Foo, Marketing Communications and Partnerships
---
Stepping up to Volunteer
At the back of the conference hall, booths showcased different humanitarian services. These booths were manned by volunteers from Red Cross Youth, Blood Donation Programme, Singapore Civil Defence Force, and Ground Up Innovation Labs for Development.
These volunteers worked tirelessly behind the scenes to ensure the smooth running of the event.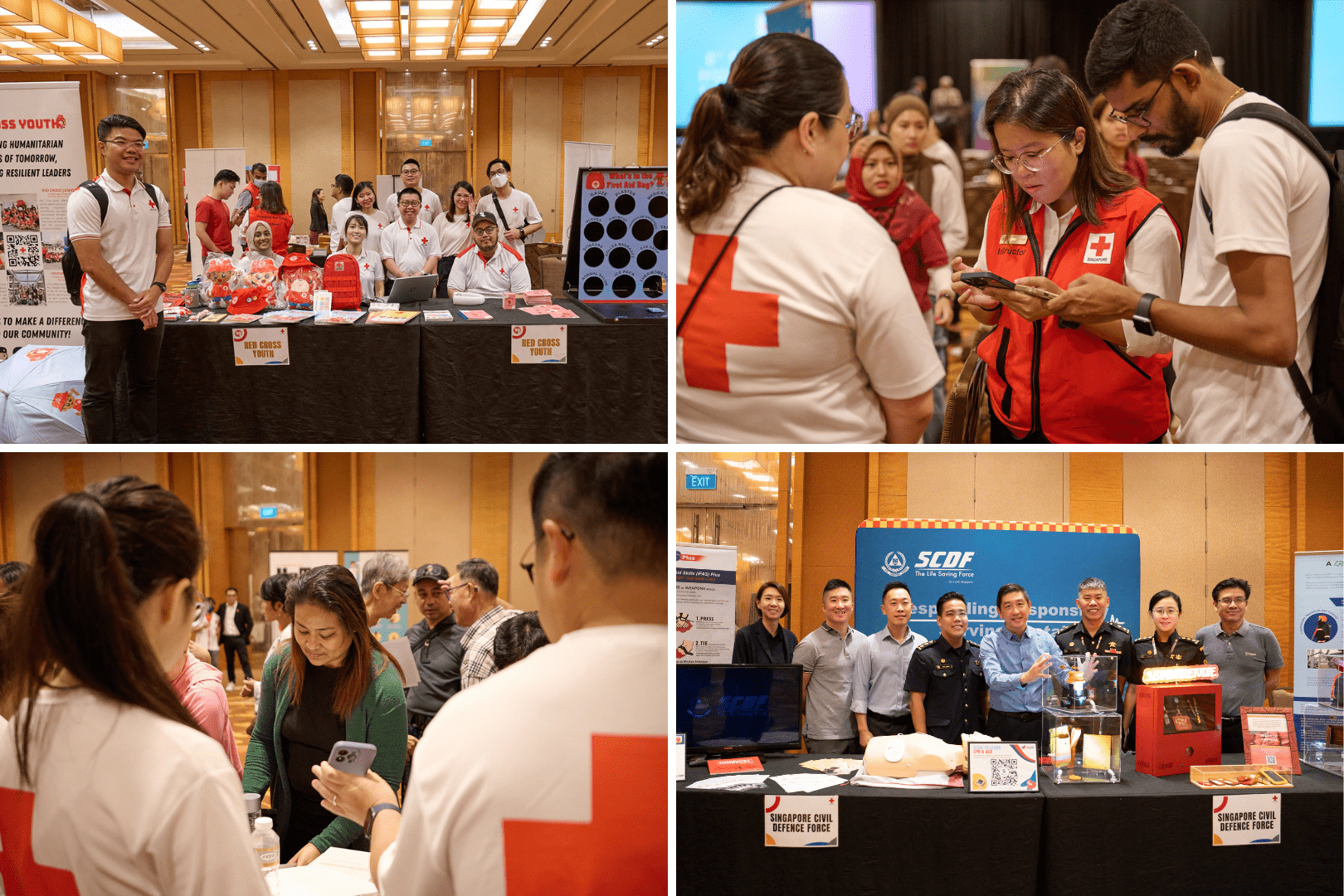 "Volunteering is a way to give back to the community and encourage people to garner new experiences," said Ms Jacqueline Ching.
She encourages youth to volunteer.
"Youth should give try volunteering at least once. If they have any concerns or have any questions, the organisations they are volunteering for will help them and ease their experience," she said.
The Singapore Red Cross offers several volunteering opportunities for people with varied interests, and expertise.
"Volunteering offers a break from our regular routine thus it should be enjoyable and rewarding, Additionally, it has the power to impact the programme, beneficiary and the community at large," said Mr July De Leon, 45, Head Of Volunteer Management at Singapore Red Cross.
Mr De Leon added that regardless of the role one undertakes in the volunteer assignment, it will give the volunteer satisfaction in the knowledge that it was time well spent contributing to a greater cause.
Embracing Sustainability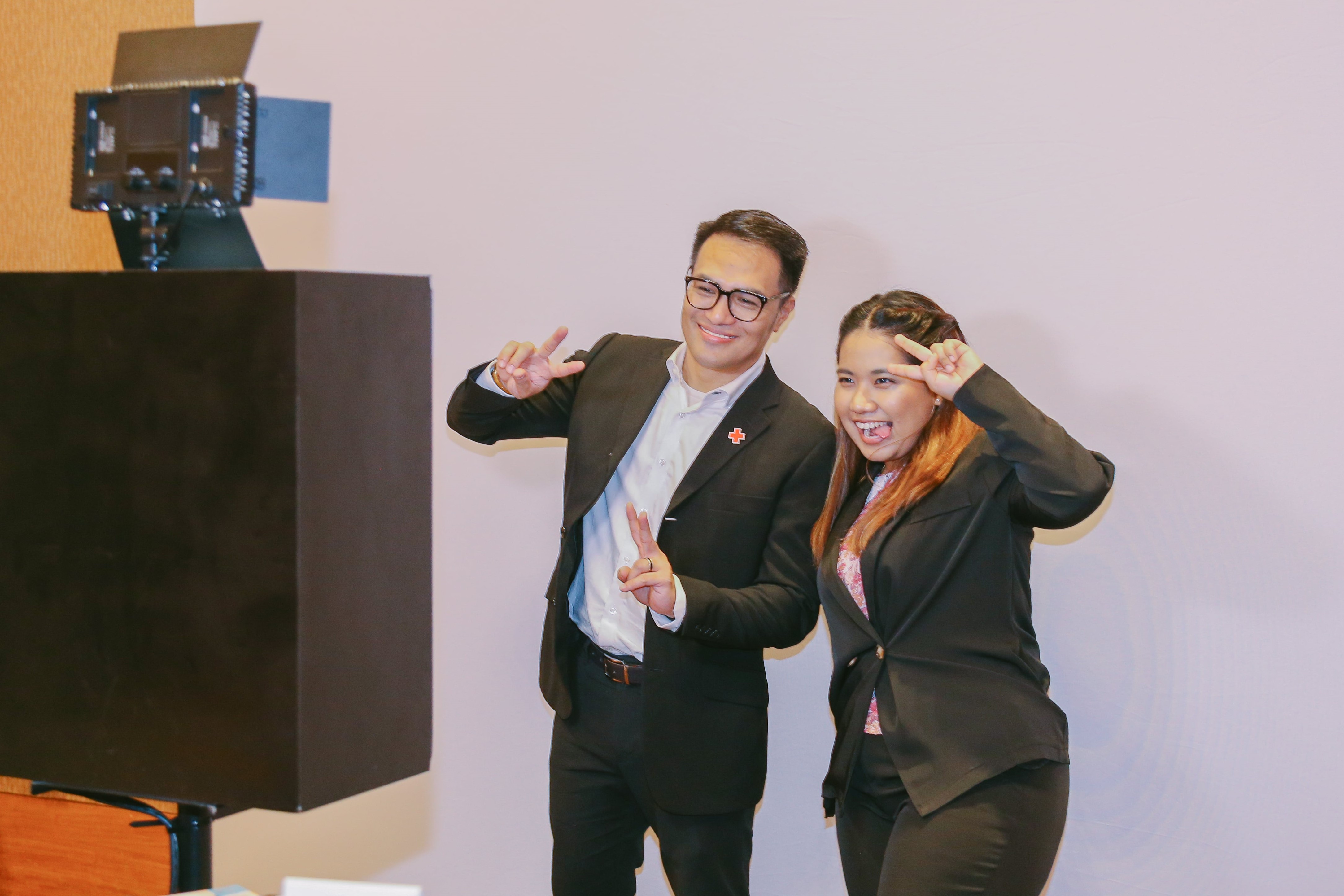 In line with the topic of the conference on sustainability, Mr De Leon shares the ways more people can embrace sustainability in the SRC.
"All of us can contribute to sustainability. While you may not be involved in a programme that is directly related to sustainability, we can incorporate some of these ideas on sustainability into the events that we organise and engage the public to do their part for the environment," Mr De Leon said.
"Singapore Red Cross teaches the youth to embrace the 3Rs - Reduce, Reuse and Recycle. By introducing sustainability to them from a young age, we make the world a better place.
This makes the world a better place by teaching them practices like this since young, further supporting sustainability," said Ms Maria Princess Dianne Gayeta, a volunteer at the humanitarian conference.
Another employee, Ms Keerthiga Ashwini added that while not everyone can be involved in sustainability as part of their day job, all of us as a community can contribute to sustainability.
As a parting shot, Mr De Leon advised, "No matter the scale of the volunteer opportunity, take heart that you are doing good. Start small, start somewhere. You can start at any stage of your life, as long as you are contributing. In other words, volunteering is for everyone."
By Noor Aaryan, volunteer writer from Republic Polytechnic, Diploma in Design For User Experience
Photos by Wong Leong Jeam, Stefan Wermelinger and Jorge Rosario, volunteer photographers