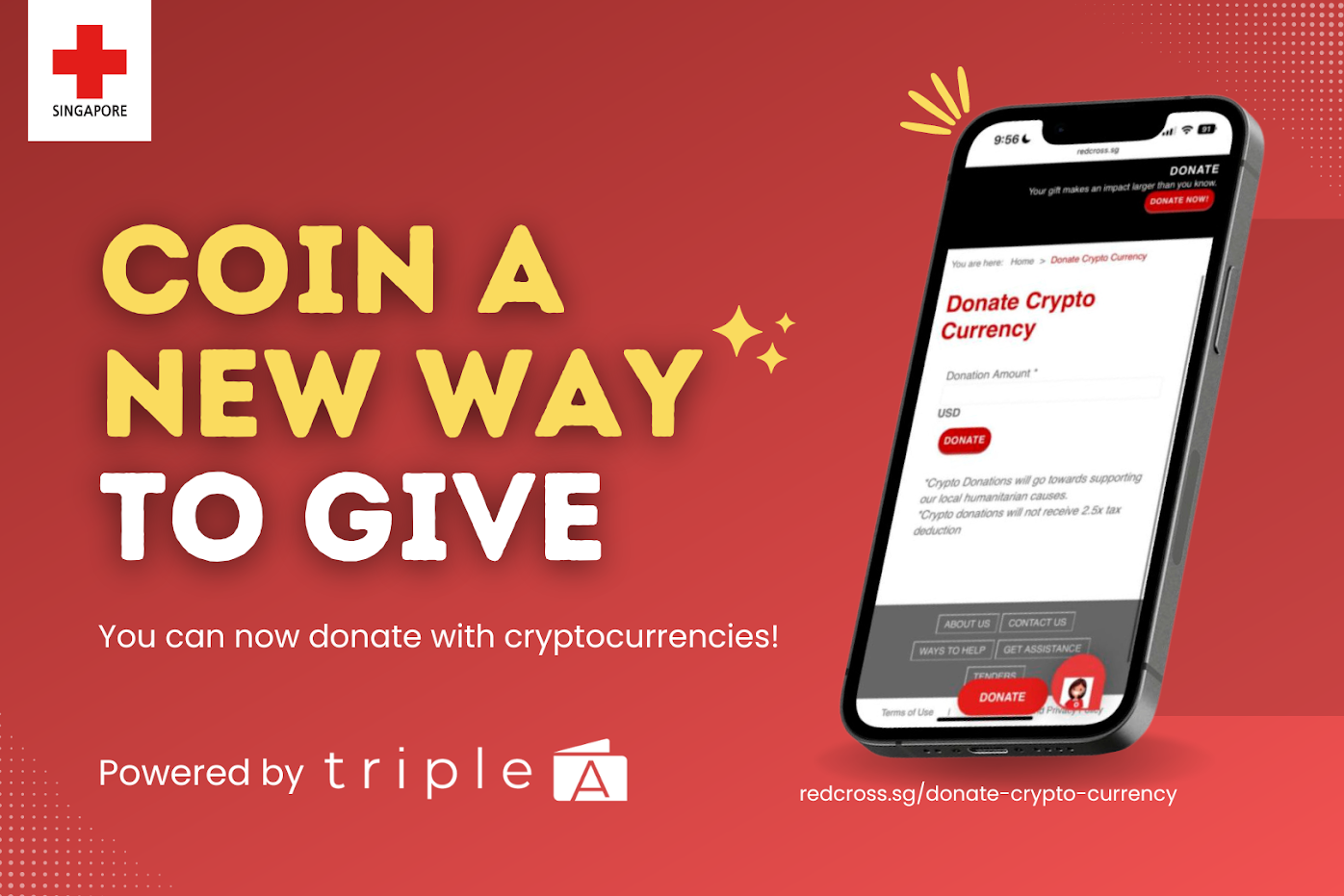 Show your support for the Singapore Red Cross by donating via cryptocurrency, powered by Triple-A.
Your cryptocurrency* donation will go towards funding our local humanitarian work, which supports isolated seniors, persons with disabilities, as well as children, youth and families from disadvantaged backgrounds.
Coin a new way to give today, your support will go a long way!
Make a Cryptocurrency Donation!
*Donations are not eligible for tax-deduction.
Frequently Asked Questions
Q: How does donating via cryptocurrency work?
Powered by Triple-A, payment is compatible with all wallets and provides locked-in exchange rates. You can pre-define an amount (in fiat) that you would like to give and the system will automatically do the conversion for you.
Q: Which cryptocurrencies does the Singapore Red Cross accept? Are there any preferred ones?
At the moment, we are able to receive Bitcoin (BTC), Ethereum (ETH), USDC and USDT.
We do not have any preferred cryptocurrency and we accept any of the cryptocurrencies stated above.
Q: Is my crypto donation tax-deductible?
Unfortunately, donations via cryptocurrency to the Singapore Red Cross are not tax-deductible at the moment. Donations will be channeled toward the Singapore Red Cross' local humanitarian services.
If you would like to receive tax-deduction for your donation, you may instead make a donation via credit card here.
Q: How do I know if my donation has been successful?
You will receive an automated email confirmation at the email address you provided, when the donation is successful. If you do not receive the email, please contact us via fundraising@redcross.sg!