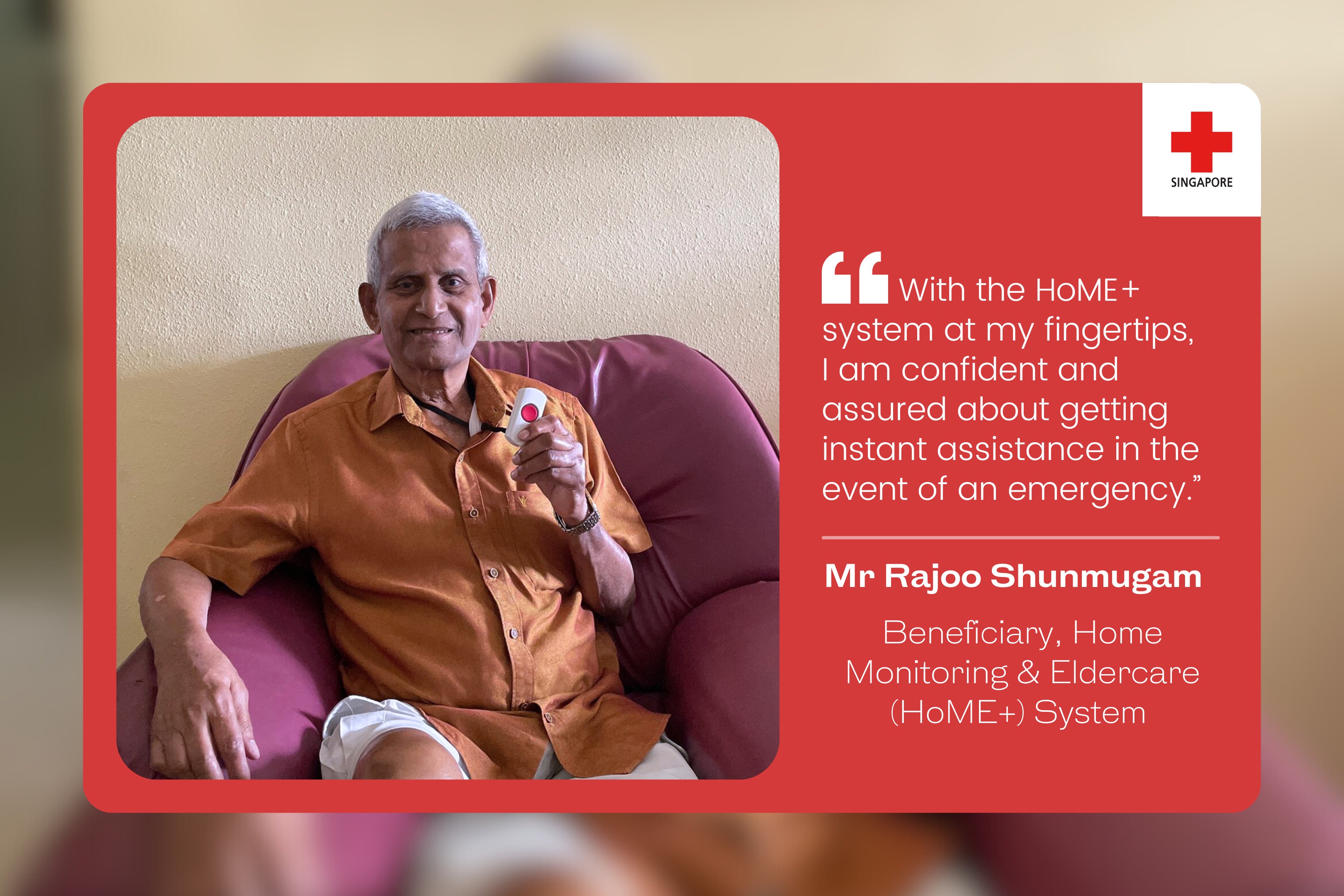 Old age comes with its share of adverse health events, and older adults living independently might want to consider a home monitoring device that can offer 24/7 assistance. Singapore Red Cross' (SRC) Home Monitoring and Eldercare (HoME+) system can provide seniors living alone and persons with disabilities with instant support.
Read on to learn more about how SRC's HoME+ system is a blessing for Mr Rajoo Shunmugam, who lives alone at the age of 84 and grapples with multiple illnesses. He is an inspiration to others as he lives life to the fullest with positivity, despite his challenges.
Ageing can be both physically and mentally daunting. Just as each of us is different, so is our ability to cope with the challenges life throws at us. Common factors such as lifestyle, heredity and personal circumstances significantly impact our physical and mental health as we age.
While most of us struggle to gather strength and positivity to navigate the challenges of old age, there is a lot to learn from someone like Mr Rajoo Shunmugam, 84, who perceives life as God's precious gift - one that he cherishes every moment.
Overcoming Adversity with an Indomitable Spirit
Mr Shunmugam's story is immensely inspiring, as he was someone who overcame the odds in life. Born with a spinal disorder, with no formal schooling and little family support, life was challenging for him from the word go. He could not walk until he was nine and had difficulties passing urine. Though he could not attend a formal school, his desire to get educated did not falter. Undeterred, he attended private night schools initiated by the government for students from vulnerable families, where he learnt fluent English and Mathematics. Subsequently, Mr Shunmugam worked as a clerical staff with Singapore Power.
Life has not been easy for Mr Shunmugam. He was diagnosed with cancer, diabetes, and kidney problems in addition to his existing spinal disorder. At 28, he underwent an operation, but he did not let that surgery affect his zest to live. For the braveheart that he is, he lives by his mantra, 'Never ask why, but always find a solution.'
He shared that he found inspiration from Helen Keller who triumphed over visual and audio impairments, and a blind boy whom he wanted to help cross the road when he was young. The blind boy asked him when he intended to offer assistance and if he would be there the next day to help him cross the road. Mr Shunmugam's response was negative. The boy replied that he would rather be independent and learn to cross the road himself. That boy was an inspiration for Mr Shunmugam.
Mr Shunmugam's positive outlook empowered him to achieve many milestones in life such as purchasing his own flat and taking off on solo vacations to Australia, Europe, India, New Zealand, and Sri Lanka by himself after his amputation albeit with prosthetic legs. He took the significant step of tying the knot which eventually did not unfold as planned. He has been living alone for several years now.
"My disability is not a barrier. I am the architect of my life. Happiness or sorrow lies in my hands. Despite the challenges I face in life, I am determined to look on the bright side of life. I don't want to be pitied and a nuisance to others. I want to be independent, and I try not to trouble my siblings," he says.
His tenacity to live life to the fullest signalled his indomitable spirit, fortitude and resilience to overcome adversity.
Safeguarding the Safety and Well-being of Seniors
During one of his health checkups, the doctors realised that it was time for Mr Shunmugam to receive special support and assistance, as he was no longer capable of managing on his own. They provided feedback to the social ward that assessed his living and health conditions. Upon learning of Mr Rajoo's situation, the SRC sprung into action and provided him with the Home Monitoring and Eldercare (HoME+) system.
The HoME+ system, comprising four motion sensors and two panic buttons, was installed in his home. Four motion sensors, which are non-intrusive and without CCTV, are installed in the living room, kitchen, bedroom, and bathroom to track his daily movements and detect any inactivity.
Mr Shunmugam shares with pride that panic buttons were installed conveniently and accessibly; one was mounted on the wall beside his bed, and another is a portable panic button that he carries around with him in his home. He simply needs to press the panic button whenever he requires help. When he activates the panic button, he would receive a call from the call centre to check on him. Even in the event that he is unable to pick up the phone calls, he is rest assured that Community Responders will be deployed to render assistance.
"With the HoME+ system at my fingertips, I am confident and assured about getting instant assistance in the event of an emergency," Mr Shunmugam says.
For Mr Shunmugam, the SRC's HoME+ system turned out to be a blessing. He cites George E. Mueller's quote, "The beginning of anxiety is the end of faith, and the beginning of true faith is the end of anxiety. I am very appreciative of the efforts undertaken by the HoME+ team in addressing my needs," he says.
He recommends the HoME+ system to seniors and persons with disabilities.
"I am grateful to be a beneficiary of this HoME+ system. Now my home is safe and secure, with caregivers merely a click away. I strongly believe that seniors and persons with disabilities living alone who need a strong and reliable support system can benefit greatly from SRC's HoME+ system," he says.
By Shweta Musale, Volunteer
Copyedited by Pooja Ranjan Kumar, Volunteer, and Sondra Foo, Marketing & Communications