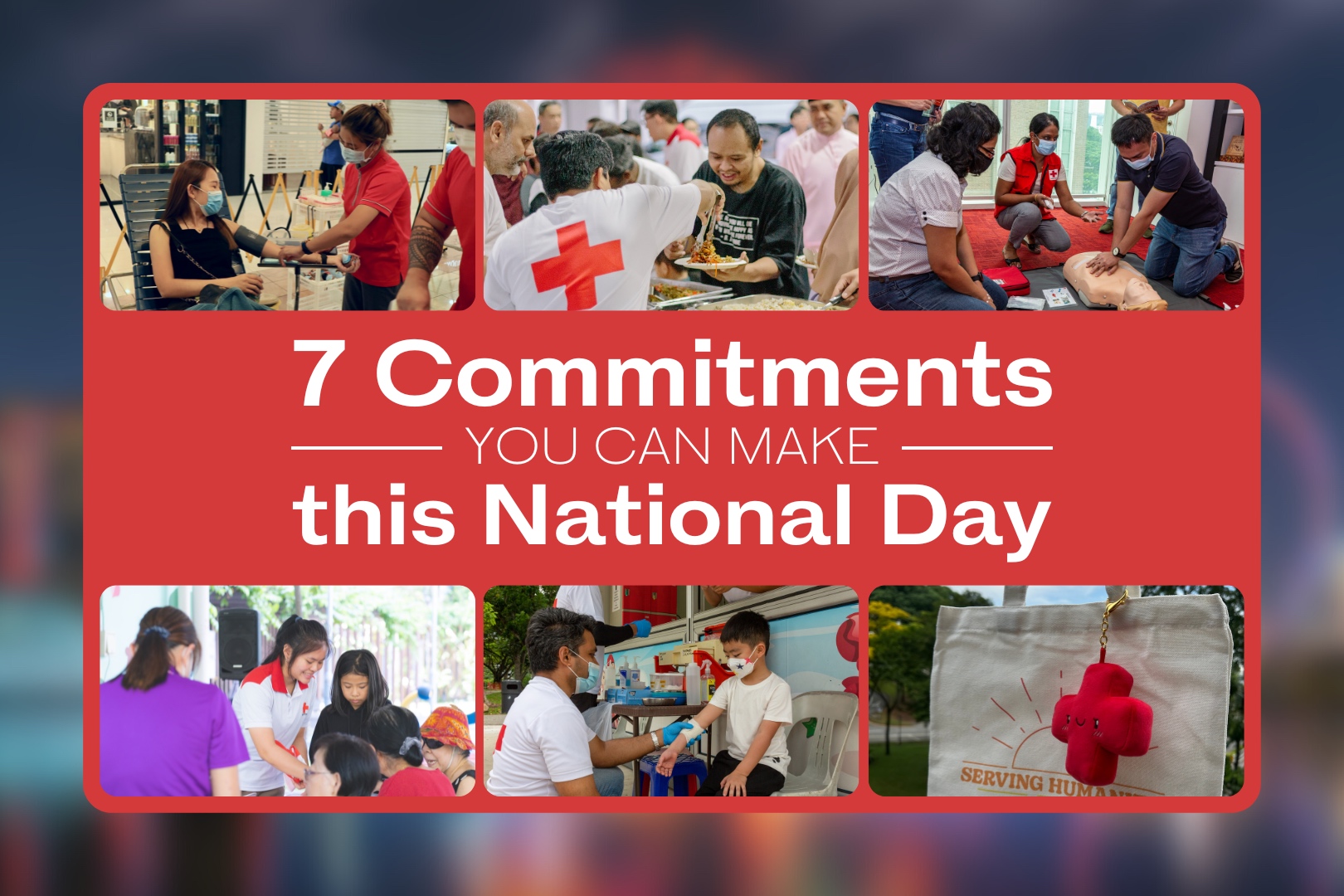 As we commemorate National Day on 9 August, here are seven ways you can contribute to our nation through the Singapore Red Cross (SRC). Do your part for Singapore by learning first aid or psychological first aid, advocating blood donation or becoming a blood donor, volunteering, fundraising, or making a monetary contribution to the SRC's community services.
1. Learn First Aid
Watch: Singapore Red Cross Goodwil Ambassador Eunice Olsen gets first aid certified with her parents
Learning basic first aid is an invaluable skill that enables you to help someone in need during emergencies. With first aid skills, you can help to save lives, prevent injuries from worsening, promote recovery, and provide comfort and relief to the casualty.
Check out our website for the range of first aid courses we offer. You may find one tailored to your needs.
You can also advocate first aid in the community by becoming a Qualified First Aid & Life Support Instructor.
2. Learn Psychological First Aid
Have you ever thought of providing a listening ear and support to people in distress but do not know how? Psychological First Aid equips the learner with essential skills to help reduce emotional distress.
Learn researched-based techniques to support psychological well-being in persons in distress,
Find out more about our Psychological First Aid course.
3. Donate Blood & Become a Blood Donation Advocate
Watch: Follow along as Emma takes you through the blood donation process as a first-timer!
Blood saves lives during emergencies, and sustains the lives of those with medical conditions such as leukaemia, thalassaemia and bleeding disorders, and patients undergoing major surgeries.
For many patients, blood donors are their lifeline. One unit of blood can save three lives!
Every hour, 15 units of blood are utilised in Singapore. We need about 120,000 units of blood to meet the transfusion needs of patients every year, equivalent to over 400 units of blood a day.
The demand for blood is expected to rise with an ageing population, more advanced life-saving medical procedures, and the establishment of new hospitals.
Learn how you can donate blood.
4. Volunteer with the Singapore Red Cross
Do you aspire to help others in need? Volunteering enables you to do so. Singapore Red Cross works with volunteers who provide community services to support seniors, persons with disabilities, children and youth, and individuals and families facing challenging circumstances. You can also volunteer to be trained and deployed for overseas disaster relief missions or join our Disaster Surveillance team. Join us as a volunteer to brighten the lives of those in need while enhancing community resilience! Check out our volunteering opportunities!
5. Shop for a Good Cause at Shop+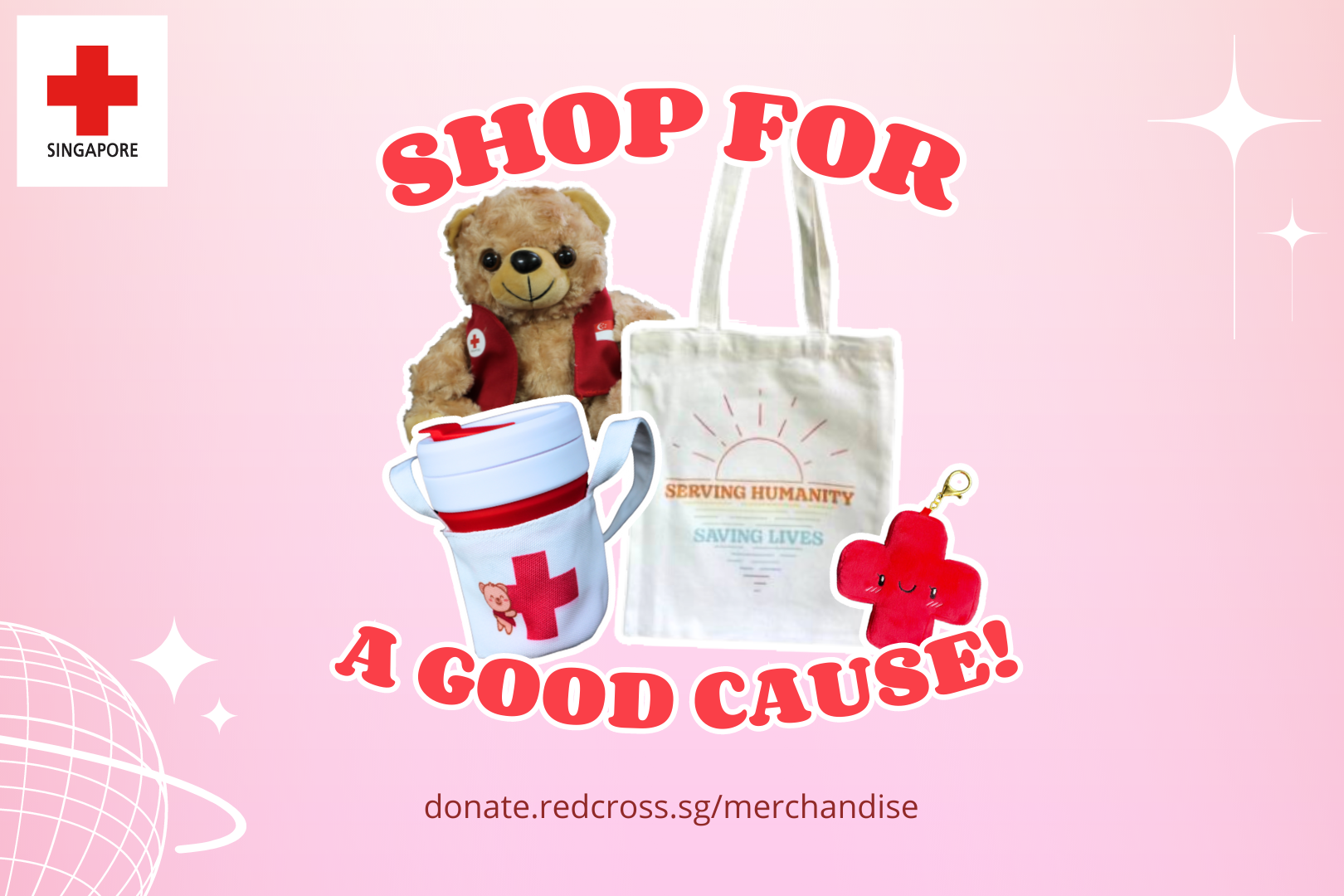 If you are always on the lookout for good deals, head down to our Shop+ @ Khairuddin for fantastic items at affordable prices. All for a good cause! There are also mega-sale events, so follow Red Cross Shop on social media to be in the know. Take a virtual walkthrough of our Shop+ on TikTok!
You can shop for Red Cross merchandise online.
6. Fundraise for the Singapore Red Cross
Watch: Young volunteer and community fundraiser Siyona Saini shares about her Red Cross journey and what keep her going.
Have a fantastic fundraising idea? Whether you are setting up a fundraising page, organising craft sales, virtual runs, bazaars or online streams, the Singapore Red Cross welcomes corporations/individuals/groups interested in fundraising for our local humanitarian services. Your fundraising efforts will go a long way to uplift the lives of those we serve and enhance resilience in our community.
Create your fundraising page, or share your ideas with our Resource Development team at fundraising@redcross.sg.
Visit our website for ways you can fundraise for those in need.
7. Make a Monetary Contribution to the Singapore Red Cross
Every contribution counts. Your donation will go a long way to provide food for families facing challenging circumstances and tuition for young children from less privileged families. It will provide transportation and medical chaperones to persons with disabilities, enabling them to get to and from their medical appointments and support our residential and daycare services for persons with severe disabilities.
Find out more about our various donation channels and learn how you can give.
By Nico Basalamah, Marketing Communications and Partnerships Intern