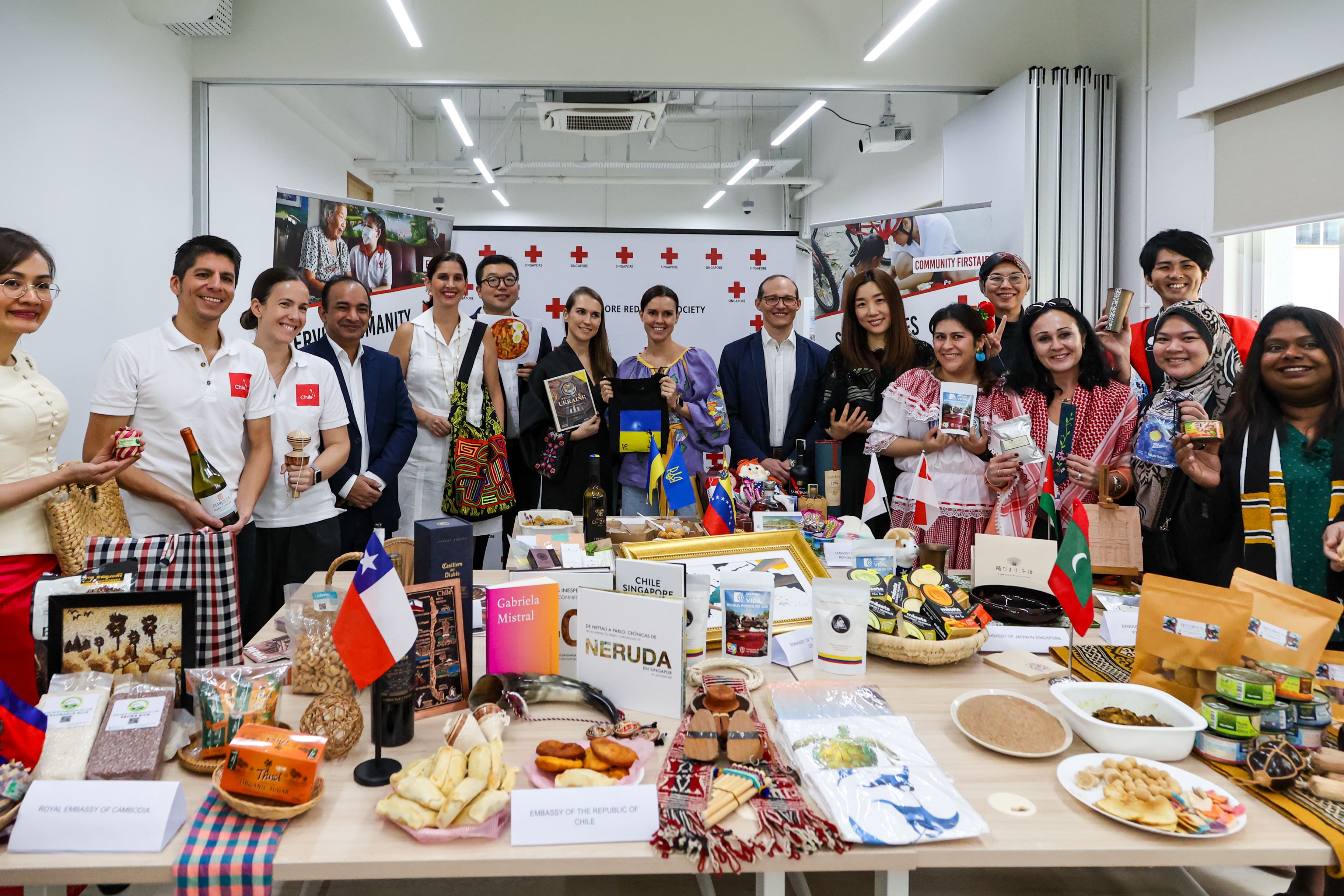 As we are counting down to our International Bazaar, we give you a glimpse of the items that you can look forward to, check out or purchase at the bazaar. There is something for everyone! Bring your family and friends with you, and shop for a good cause!
Highlights
More than 80 stalls; local and international enterprises, civic groups, schools and 19 diplomatic missions rallied together in solidarity
Immerse in a cross-cultural exchange at a venue
Take a glimpse into the rich culture, heritage and traditions of different countries
Check out their cuisines, country-specific memorabilia, souvenirs
Regale in their traditional song or dance performances
Cultural Immersion
At our media preview early this month, 11 embassies presented their heritage items and culinary delights that will be on sale at the International Bazaar.
We share some of the things you can look out for at the International Bazaar!
Food
At the International Bazaar, whet your appetites with a myriad of exotic gastronomic and delectable cuisines, steeped in indigenous traditions. Whether you are into saccharin or savoury culinary delights, there is something for everyone.
For those into savoury dishes, savour the appetising
Bento meals by So Deliciouz (Diamond Quek)
Chicken biryani (mixed rice dish) from Pakistan
Chinese Herbal soup from Pei Wan
Dumplings by So Deliciouz (Diamond Quek)
Empanadas (flakey, crispy puffs filled with savoury curried potatoes, beef and onion) from Chile
Harees (wheat porridge) from Qatar
Madrouba (rice) from Qatar
Osmos from Jordon
Raclette (cheese with boiled or steamed potatoes, vegetables, and various types of meat) from the Swiss Association of Singapore
Snacks from the Democratic Republic of Timor-Leste
Snacks from the Maldives
Sri Lankan food from the Mahakaruna Buddhist Society
Tteokbokki from South Korea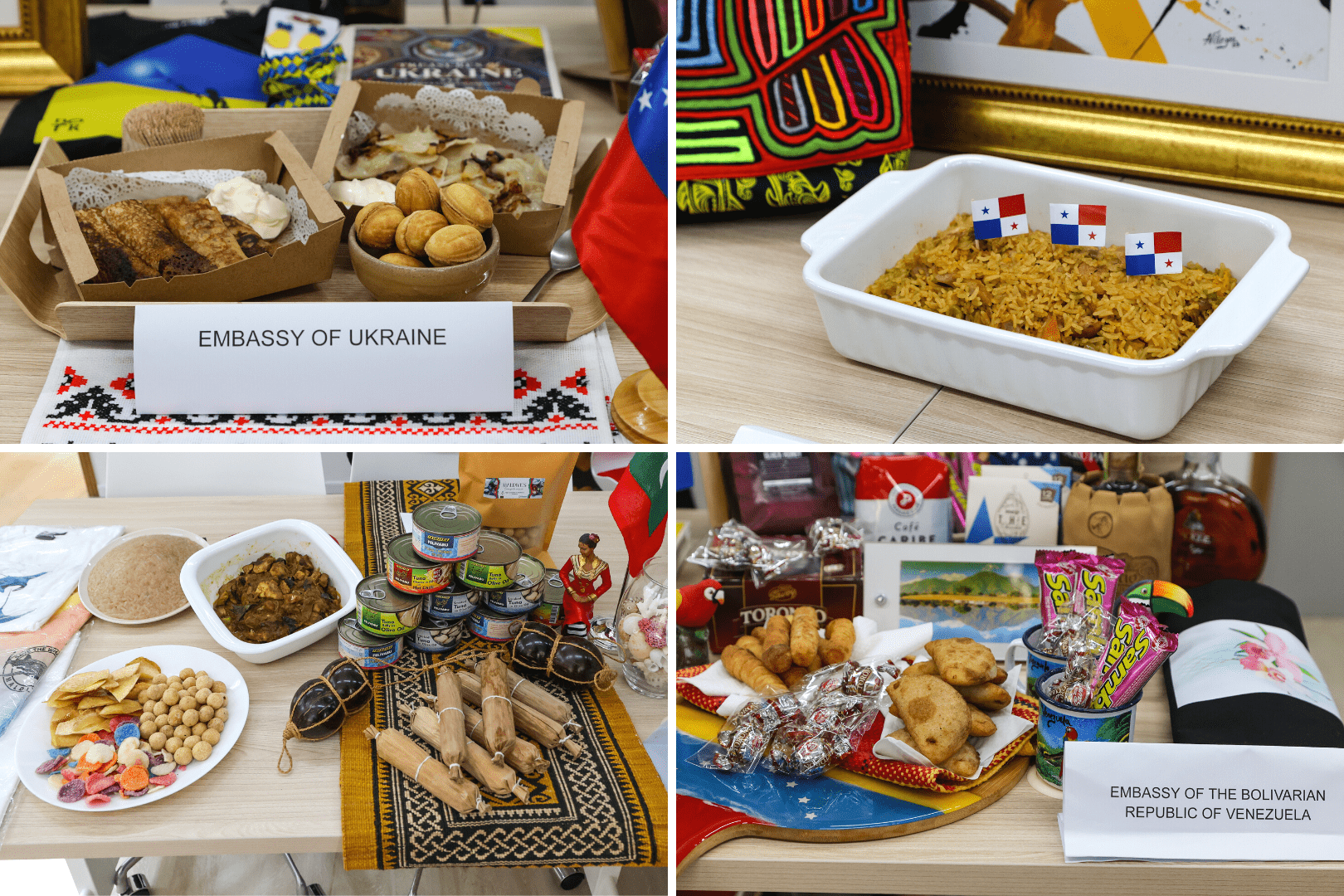 For people with a sweet tooth, tantalise your tastebuds with the scrumptious saccharine delicacies at the International Bazaar such as the
Aseeda (cooked wheat flour with butter or honey) from Qatar
Biscuits by Lee Siew Ping (Picket Ball Association)
Biscuits by Mahakaruna Buddhist Society
Cakes locally flavoured by Bryan Tay
Caramel biscuits from Ukraine (reminiscent of their childhood)
Chiffon cakes by Lee Siew Ping (Picket Ball Association)
Cookies and cakes from the Czech Republic
Delicacies from Malaysia
Fruit from Colombia
Fruit cake by the Malay Focus Group
Iced Jelly by Lee Siew Ping (Picket Ball Association)
Pineapple tarts from Bee Leng
Snacks by Lee Siew Ping (Picket Ball Association)
For dry food and staples, check out
Cashew nuts from Cambodia
Fish (canned) including tuna in olive oil from the Maldives
Palm oil from Cambodia
Rice (Jasmine or brown) from Cambodia
Sugar from Cambodia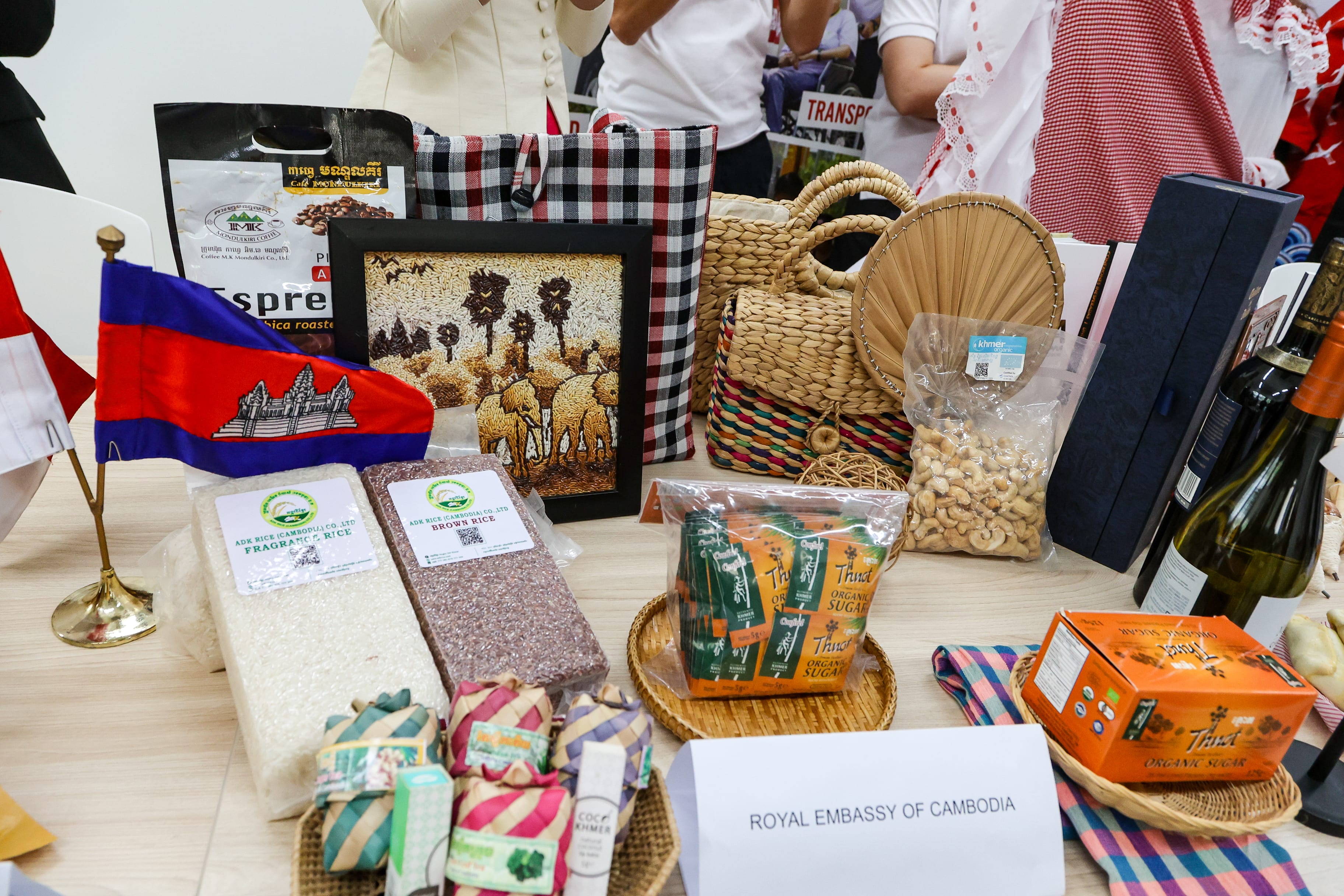 Chocolate lovers can check out Chocolates from
Wine connoisseurs, check out the
Alcohol from Ukraine
Craft beer from LeVel 33
Rum from Venezuela
Sakae from Japan
White wine from Switzerland
Wine from Angela
Wine and beverages from Chile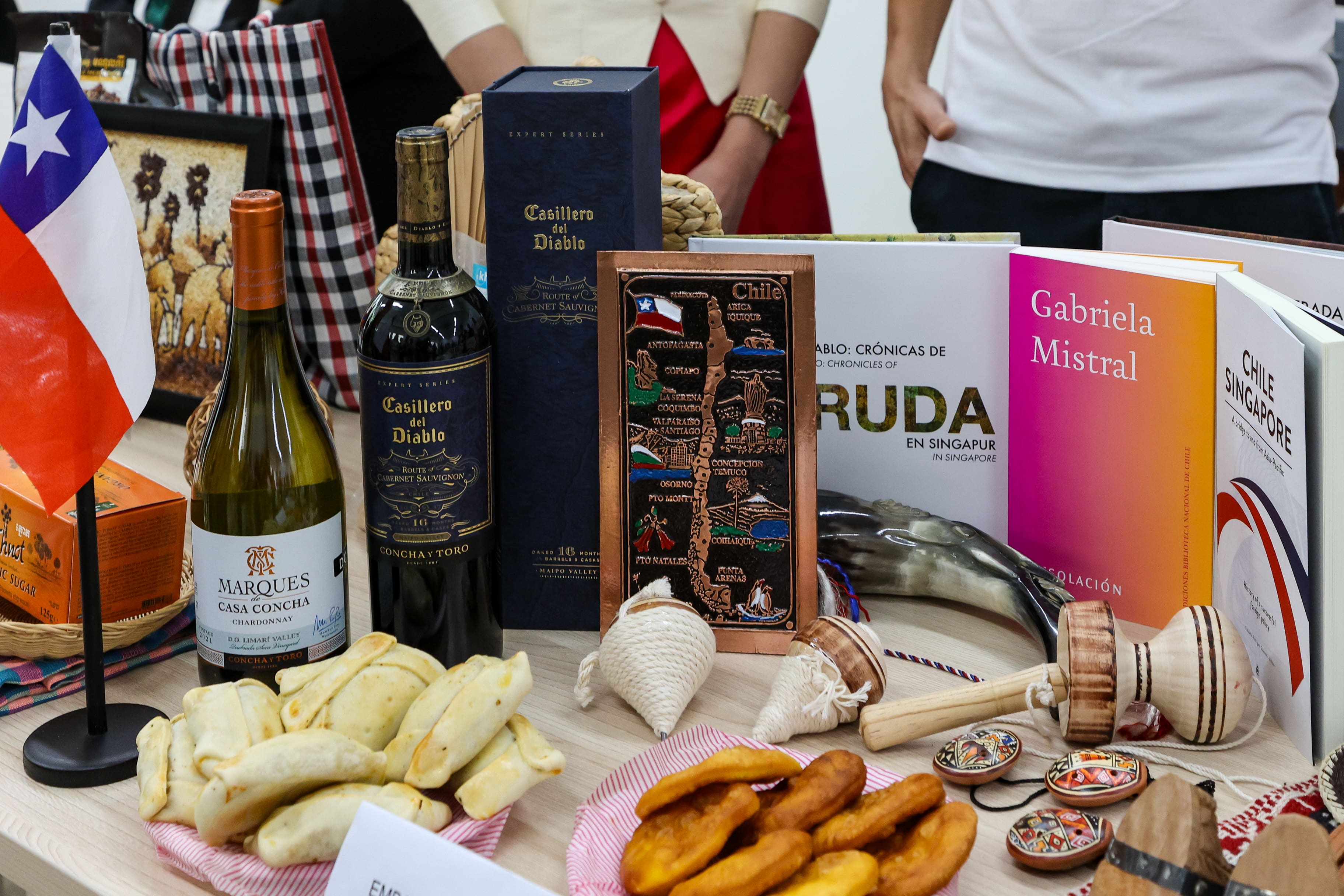 Coffee lovers can look forward to a wide array of coffee available;
Coffee (flavoured) from Colombia
Tea lovers can look forward to tea from
Timor Leste
Venezuela
1872 Clipper Tea Co (Gerald de Silva)
Beverage
Cordial by the Mahakaruna Buddhist Society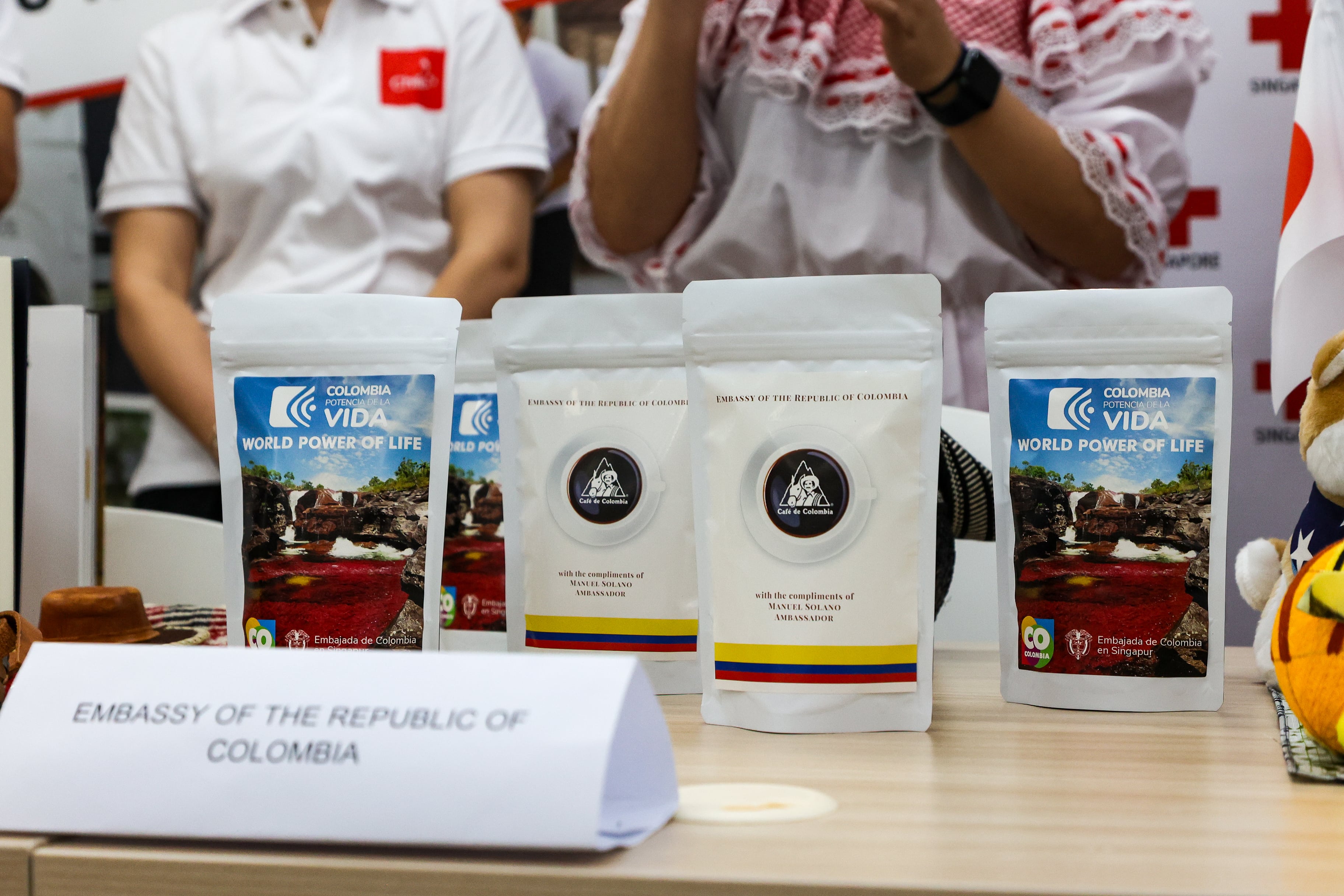 Activities to Participate in
Balloon sculpting by Nancy Kuah
Crochet from Zhuo En Ru (Meredith)
Face painting
Games from Sam Mealy, Nagomi artwork from Nagomi Pastel Art
Magician at Little Magician Big Heart
Tattoos (temporary) by Temasek Polytechnic
Pet Lovers, check out these items for your pets
Accessories from Zumvel
Vitamins from Zumvel
If you are looking for cultural or heritage memorabilia or souvenirs, check out
Arts and Crafts by Tyanne Choo
Artefacts from Sri Lanka by the National Children's Educational & Benevolent Foundation (Rev Kassapa)
Bookmarks from Japan
Coasters (resin) by Angsana Primary School
Ceramics from Japan
Ceramic pots from Ms Hanol Lok
Crochet Shop by Zhuo En Ru Meredith
Cups (glass) from Japan
Dolls from Venezuela
Handicrafts from China
Handicrafts from the Democratic Republic of Timor-Leste
Handicraft (Japanese) by Sashiko for Therapy
Handicrafts by Knots with Love
Handicrafts from the Republic of Korea
Lacquerware from Japan
Merchandise from the Philippines
Nagomi artwork by Nagomi Pastel art
Paintings from Venezuela
Pens from Japan
Pillows, cushions, earrings, decorations by Ad (Bells Books & Candles)
Souvenirs from the Czech Republic
Tote bags (orchids) from Venezuela (Orchids are the national flowers of both Singapore and Venezuela. The tote bag has illustrations of both orchids of the two countries.)
Clothing / Scarfs, check out
Attire (upcycled fashion) from Arthur Davies Roxanne Davies
Tee shirts from the Maldives
Tee shirts from Venezuela
Accessories, check out
Earrings by Ad (Bells, Books, and Candles)
Jewellery from Bryan Tsao
Jewellery (Paper quilted) by A Nu Purpose
Phone charms (handmade 3D printed) by A Nu Purpose
Necklace (handcrafted) from Liow Qiwei
Aromatic Scents
If you indulge in aromatic scents, check out the
Aroma infusion from Angela
Soaps (uniquely flavoured) from Jordon
Check out the Preloved Items and Merchandise
Books by Nobel Laureates from Chile
Merchandise from our Shop@RedCross
Pre-loved items from our Shop@RedCross
Stationery by Arshad Shiju
Storybooks by Arshad Shiju
Textbooks by Arshad Shiju
Silent Auction
As a prelude to the Singapore Red Cross International Bazaar 2023, to be held on 18 November, we are pleased to unveil our Silent Charity Auction featuring exclusive one-of-a-kind items, generously sponsored by our esteemed partners including 2Quilters, TheGoodBurger, and Genark & Co. The online auction is open from now till 25 November 2023. Don't miss your chance to contribute to this meaningful cause, as we bring together "One World United in Humanity".
Visit redcross.sg/ib-auction to find out more and place your bid today! All the funds raised through the auction will go towards the Singapore Red Cross' local humanitarian services; to support vulnerable families, children and youth, isolated seniors and persons with disabilities whom the Singapore Red Cross serves.
What are you waiting for? Mark your calendars, and see you at our International Bazaar at Ngee Ann City on 18 November!