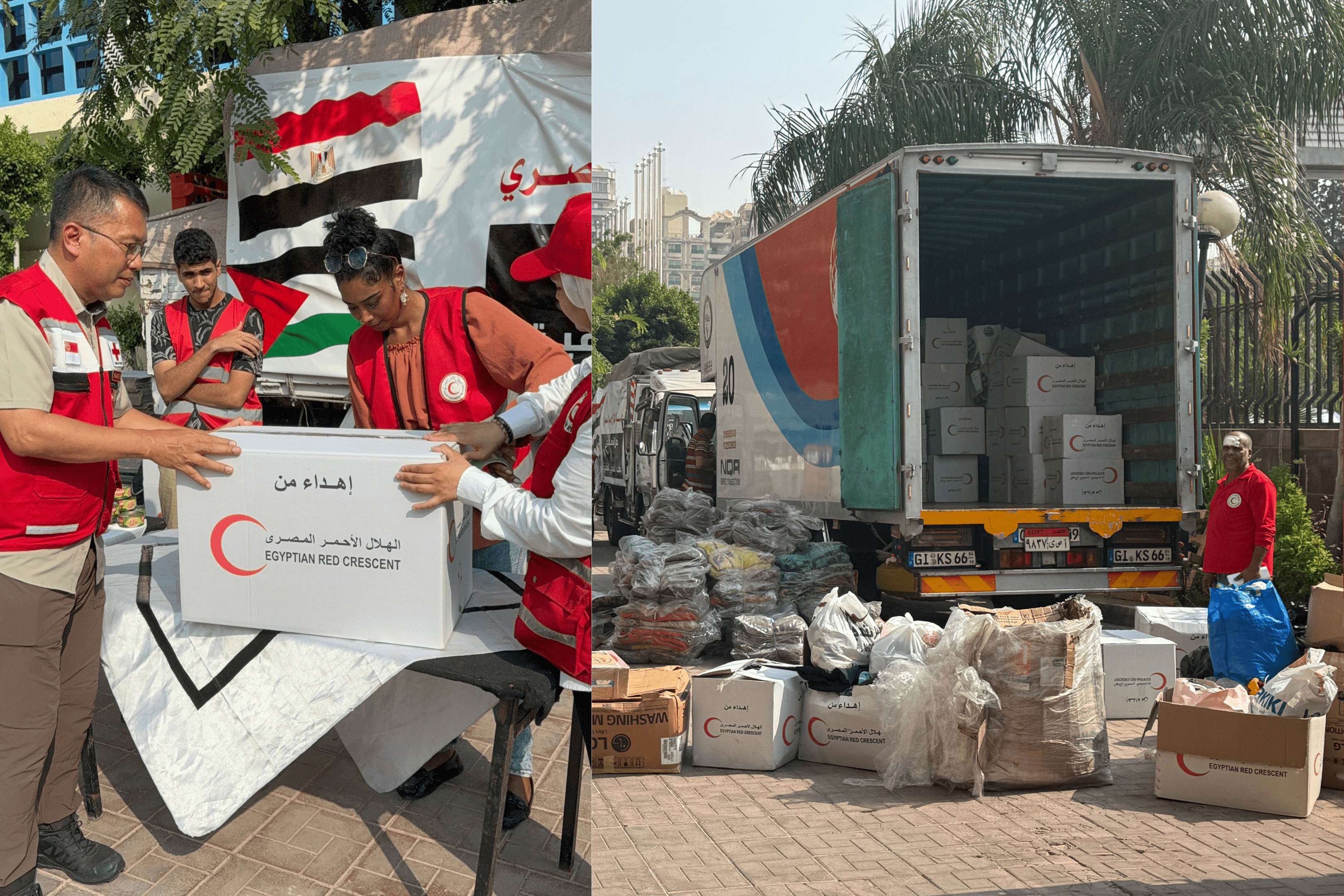 • Medical supplies, clean water, food provisions worth USD 200,000
• Staff deployed to Egypt to coordinate aid delivery and distribution
Singapore, 30 October 2023 – In response to the ongoing humanitarian crisis in the Gaza Strip, the Singapore Red Cross (SRC) is sending USD 200,000 worth of relief supplies to provide crucial assistance to the affected. This tranche of support will primarily comprise essential items to address basic and critical needs, including medical supplies such as medication, medical consumables and equipment, wheelchairs, as well as hygiene kits, clean water, and vital food provisions.
SRC has been working closely with the Egyptian Red Crescent (ERC), which has been pivotal in coordinating numerous humanitarian aid into Gaza through the Rafah Border Crossing and is ramping up its efforts to channel in more humanitarian assistance. Last week, SRC deployed one of its staff members to Cairo, Egypt. Working with ERC, he is tasked with helping to identify the immediate and critical needs in Gaza and to facilitate the delivery of relief supplies to Gaza in the coming days.
"We are deeply concerned about the suffering and anguish experienced by the people in Gaza. Families, children, women and the elderly are enduring unimaginable hardships. Many have to walk for kilometres to reach safe areas, often with no access to shelter, water, or the most basic necessities. Damaged infrastructure, the lack of information, and communication paralysis exacerbate the crisis, leaving people disconnected from the outside world," said Mr Benjamin William, Secretary General/CEO of the Singapore Red Cross.
"We continue to urge all parties involved to uphold their responsibilities as outlined in international humanitarian law, and prioritise the protection of civilians. It is important that civilian lives are protected, as well as hospitals, doctors, nurses and humanitarian workers. It is essential that all parties recognise and enable unhindered critical humanitarian aid into Gaza for all the affected communities, including those who have been displaced."
In the Palestinian Territories, the humanitarian situation in the Gaza Strip has significantly deteriorated, with limited humanitarian aid reaching affected communities. Palestine Red Crescent Society (PRCS) teams are working diligently under challenging conditions to deliver emergency assistance, including ambulance and healthcare services.
Meanwhile, there are severe shortages of essential necessities, such as fuel, water, and food, while medical supplies are depleting rapidly. While some humanitarian aid has arrived in Gaza, with support from the Egyptian Red Crescent and Palestine Red Crescent Society, it remains insufficient to meet the extensive needs.
Earlier on 16 October, SRC had launched its public fundraising appeal for the relief and recovery efforts of our Red Cross Red Crescent Movement Partners who have been on the ground responding to the immediate needs of civilians affected by the crisis. The SRC continues to be in close contact with our Red Cross Red Crescent Movement Partners and stands ready to deliver humanitarian assistance to communities with the most pressing needs.
Response to Humanitarian Crisis in the Gaza Strip
1) Make an online donation - Donation Portal
2) Fundraise for SRC
Register as a third party fundraiser and email us the completed form.
Or
Set up an online fundraising campaign on Giving.sg.
3) PayNow
Go to "PayNow" > Click "PayNow to UEN" > Key in "S86CC0370ERF1" > Key in the amount you would like to donate > Input "Gaza Response" under Bill Reference.

Or

Go to "Scan & Pay" > Scan QR Code below > Key in the amount you would like to donate > Input "Gaza Response" under Bill Reference.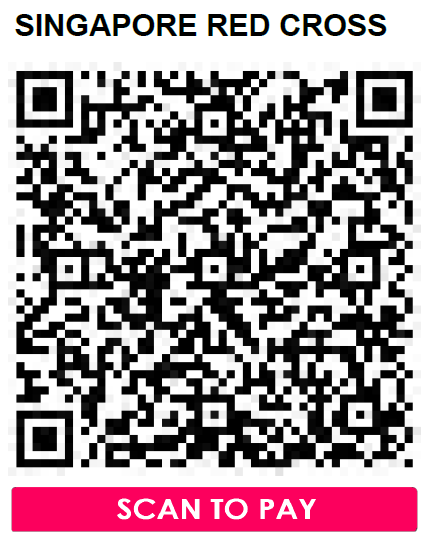 4) Cheque donation
Please make cheque payable to 'Singapore Red Cross Society', to be posted to Red Cross House, 15 Penang Lane, Singapore 238486. Please leave your name, postal address and indicate "Gaza Response" at the back of your cheque.
Notes:
Donations to overseas efforts are not tax-deductible.
In the event that donations exceed the expenses incurred by Singapore Red Cross in this specific disaster response, any surplus or unspent money, after three years from the date of inception of the fund, can be used to prepare for and serve communities affected by other disasters or may be used to complement or to sustain projects undertaken by SRC in helping the vulnerable in areas affected by disasters.
Appeal period: 16 October 2023 to 31 January 2024