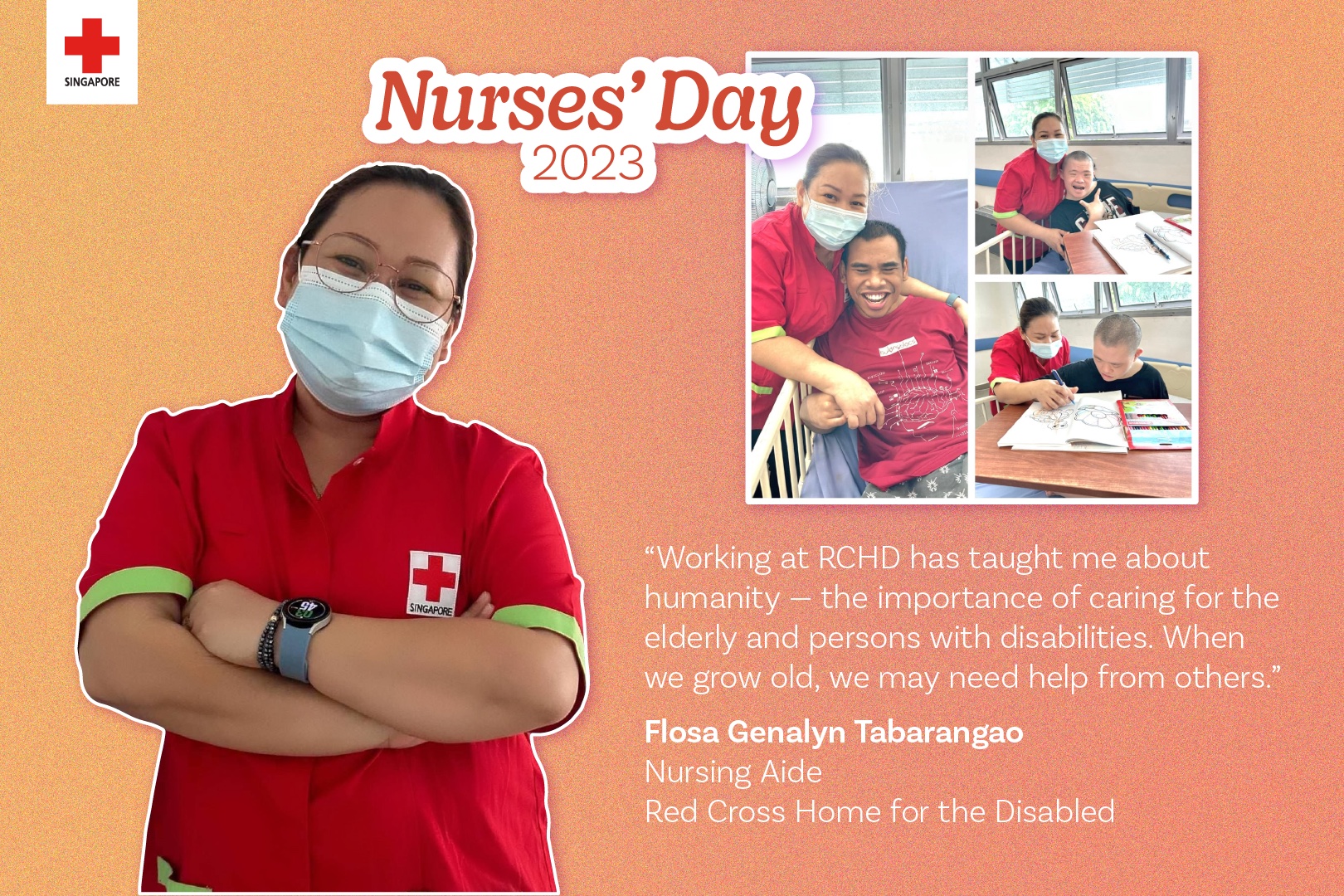 As we commemorate Nurses' Day, we pay tribute to the nurses in our midst. Her mother's ill health spurred Flosa Genalyn Tabarangao to pursue a nursing course in the Philippines. Following her graduation, she worked in the Philippines, Dubai and Singapore. In her job as a Nursing Aide at the Red Cross Home for the Disabled, she initially found it challenging to understand the needs of persons with disabilities as they do not communicate verbally. However, she has learnt to understand their gestures and needs over time. She finds fulfilment in seeing the radiant smiles of the residents.
Recounting her younger years, Flosa Genalyn Tabarangao, the youngest of seven children, shared that her beloved father had passed on in 1986, succumbing to a sudden illness when she was just six years old. Following her father's untimely demise, Genalyn's mother courageously assumed the role of the sole breadwinner of the family. Despite the challenges, Genalyn's mother tirelessly took it upon herself to single-handedly bring up the family's seven children, ensuring they had a roof over their heads, access to education, proper meals and health care.
As the years went by and her mother aged, Genalyn witnessed her mother's health deteriorating, resulting in complications. Motivated to care for her mother, Genalyn pursued a nursing course in college. Following her graduation from the nursing course, Genalyn, then aged 22, worked at a hospital in her home country, the Philippines, from 2004 to 2006. She tied the knot, was blessed with a daughter and continued working in the Philippines.
Keen to earn more to support her family and enable her mother to lead a comfortable life, she ventured to Dubai to work as a Medical Receptionist from 2013 to 2018. Unfortunately, things took a turn for the worse when her mother passed away in 2016, while Genalyn was still working in Dubai. Genalyn felt a tinge of regret at not being able to return to the Philippines in time to see her mother in her final moments. Her mother's passing took a massive toll on her emotional well-being. Yet, she channelled her grief towards her work, exemplifying her resilience and fortitude in the midst of adversity.
After working in Dubai, she was offered the opportunity to work at a nursing home in Singapore in 2018. Subsequently, an agent told her there was a vacancy for a nursing aide at the Red Cross Home for the Disabled (RCHD). Having learnt about RCHD's commitment to caring for persons with disabilities, she felt it was a golden opportunity to join RCHD in uplifting the lives of the less fortunate. She submitted her résumé, and RCHD offered her the position of a nursing aide in 2018 when she was 38, a role that would enable her to fulfil her mission to help others. Her passion for her job was evident in her zestful vigour as she spoke about her work.
"I was very grateful and excited about being selected for the job!" she quipped.
As a nursing aide, Genalyn attends to the residents' daily activities under the supervision of trained staff nurses. Besides ensuring the residents' physical well-being and hygiene by showering, grooming and dressing them, she also feeds them, while taking into account the food they can consume and the way they prefer to be fed. In addition to that, she also ensures compliance with standard operating procedures and monitors the general health and vital signs of the residents. She reports the well-being of the residents to the staff nurses, who keep a log for their own records. Genalyn feels that she has fulfilled her aspirations by becoming a nursing aide.
Overcoming Challenges to Find Fulfilment
Genalyn recalls one of the key challenges she faced when she first joined RCHD.
"Initially, when I first joined, I found it challenging to understand the needs of our residents, as they could not communicate verbally. As time went by, I learnt how they communicate their needs through gestures. I communicate with them by signalling and using words that they are familiar with. Now, I can understand our residents' needs simply by looking at them," she said.

Despite the initial communication challenges, Genalyn loves and deeply cares for each resident. Her dedication and compassion for them is evident when she talks about them.
"I love putting smiles on their faces. Seeing the residents happy is the most rewarding experience. It motivates me to keep going," she said.
Working in Singapore meant that Genalyn had to leave her family behind, which was a huge sacrifice. There were several instances when she could not celebrate special occasions, such as birthdays and festive occasions, with her family. However, RCHD nurses could fly home for the holidays on a rotational basis. Hence, she would fly back home to celebrate special moments with her family at a later date.
Although she missed her family, Genalyn is thankful to have found a new family at RCHD. She is thankful for the strong teamwork and camaraderie among her fellow caregivers, employees and nurses. They have become close friends, having spent much time bonding over meals, outings and special occasions in Singapore. They are a pillar of support for each other emotionally and financially. They have forged close bonds, akin to siblings.
Having worked as a nursing aide with the RCHD for five years, Genalyn, now aged 43, has gleaned invaluable life lessons, one of which is to become more empathetic towards others while bolstering her expertise in gerontology - the study of ageing and seniors. This exemplifies her commitment to her professional development.
Genalyn believes that it is only right to care for those in need.
"Working at RCHD has taught me about humanity — the importance of caring for the elderly and persons with disabilities. When we grow old, we may need help from others," Genalyn said.
Genalyn inspired her daughter, aged 15, to volunteer at RCHD when the latter came to Singapore for a visit.
"My daughter had a glimpse of my work at RCHD. Besides meeting the residents, she learnt about our work and the care that my colleagues and I provide to the residents. This experience provided her with exposure to the medical sector. I appreciate the opportunity that was given to her," Genalyn said.
Paying Tribute to Nurses
She hopes that more people will join the medical sector as there is always a need for more doctors and nurses. For those considering a career as a nursing aide, she feels that the qualities that would help them on the job are dedication and passion to care for patients wholeheartedly.
As we commemorate Nurses' Day, Genalyn has a message for all nurses.
"To all nurses, you are the greatest warriors, particularly during the height of the pandemic. COVID-19 is still in our midst. We are continuing the battle to keep the community safe. Nurses play key roles in ensuring and maintaining a healthy community," Genalyn said.
We pay tribute to all the nurses in our community on Nurses' Day. Nurses bring joy and uplift the lives of those they care for with their loving kindness, compassion, patience and unwavering dedication. At the height of the COVID-19 pandemic, nurses and nursing aides stood by their patients. They are the heroes in our midst who work quietly behind the scenes to brighten the lives of others. They are an inspiration to many.
By Nico Basalamah, Intern
Copyedited by Michael Bernardo Gutierrez, Volunteer Copyeditor
| | |
| --- | --- |
| | Inspired to join our humanitarian movement? Check out our career and volunteering opportunities. |