Retired couple found meaning in volunteering as befrienders for an elderly living alone.
It was 5.30am when Molly Chew received a call from an elderly beneficiary, whom she and her husband regularly visited, informing Molly that she was sick. Without a moment's hesitation, Molly rushed to her flat immediately. This is despite the fact that her husband was hospitalised during that period.
As the beneficiary had vomiting spells earlier, Molly cooked oats for her to satiate her hunger. Unfortunately, the beneficiary was unable to keep the food down and regurgitated everything she consumed. Molly then sought the help of a neighbour to bring the beneficiary to a clinic. She ended up only leaving at 11 am after bringing the elderly safely home and making sure that everything was in order.
Molly, 70 and her husband, Shoo How Beng, 69, a former pastor, volunteer with SRC's ElderAid programme. Their volunteering journey came about rather unexpectedly. At a health check conducted by SRC's Community Health on Wheels (CHoW) in Sembawang in 2018, they learnt that SRC required volunteer befrienders conversant in Hokkien who could bond with elderly beneficiaries. They then seized the opportunity and have not looked back since.
As community befrienders, they visit their assigned elderly beneficiary every fortnight. It wasn't easy at first but upon their third visit, the elderly beneficiary started opening up and shared some of her challenges. More than just offering a listening ear or sharing words of encouragement, what Molly and How Beng bring is the precious gift of friendship, all while helping to keep the elderly beneficiary's loneliness at bay.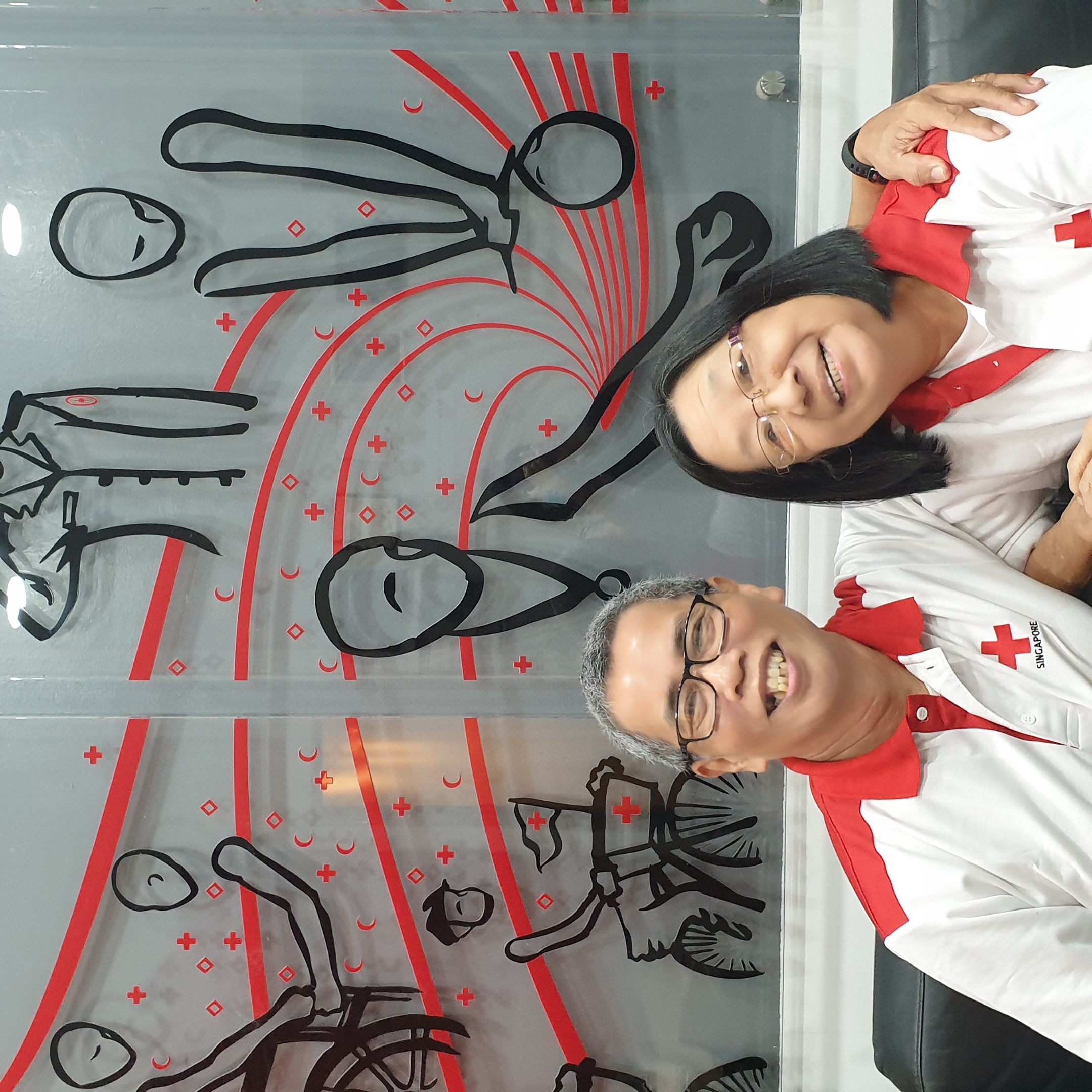 Molly Chew and Shoo How Beng at a recent visit to Red Cross House with elderly beneficiaries.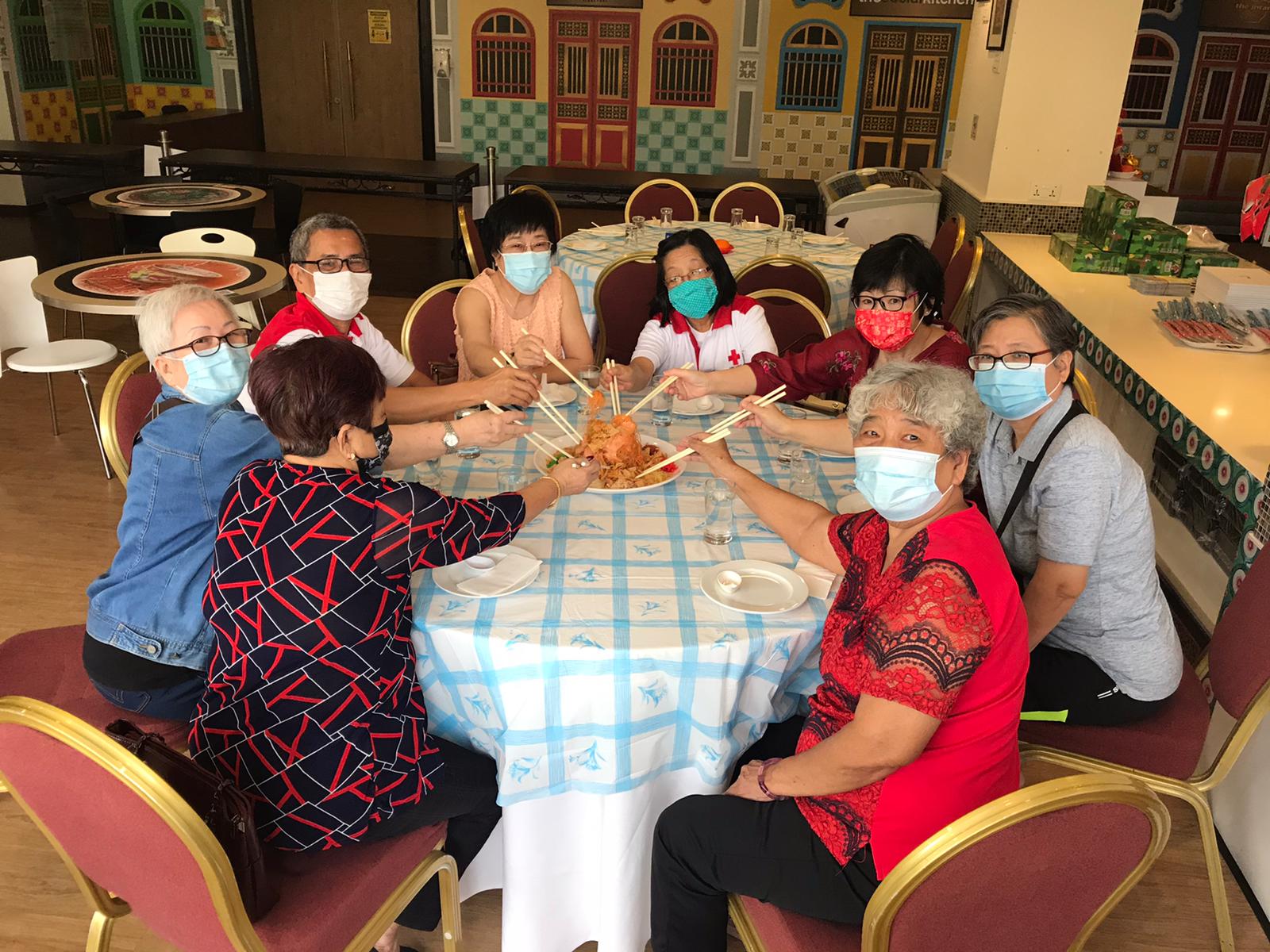 The couple with ElderAid beneficiaries at a lunch sponsored by The Social Kitchen.
Besides making regular visits to the elderly beneficiary's home, there were memorable moments too, such as when the couple brought her out on an excursion to the Gardens by the Bay in 2018.
"It is good to see that (she) is more cheerful than before. The beneficiary appreciates our visit and her appreciation keeps us going. Though we started out as a beneficiary and volunteer relationship, we have become friends," said How Beng.
ElderAid plays an indispensable role in the community, with Singapore's ageing population and the increasing number of seniors living alone in the community.
"As ElderAid volunteers, we allay the elderly beneficiaries' concerns that they are neglected. We make them feel loved and cared for, so they will step out of their negativity and embrace a more positive attitude towards life," underscored How Beng.
Molly and How Beng with ElderAid beneficiaries on a visit to Red Cross House.
How Beng encourages more retirees to volunteer with SRC's ElderAid.
"Volunteering in ElderAid is beneficial for both the beneficiary and the volunteers. While the elderly beneficiaries benefit from our companionship, volunteers derive the intrinsic satisfaction that they can exercise their empathy to brighten the lives of the elderly as they contribute to society," he accentuated.
By Sondra Foo, Corporate Communications
Photos by Manu Joy, Volunteer, James Wong, Community Resilience, Sondra Foo, Corporate Communications
| | |
| --- | --- |
| | Singapore Red Cross' ElderAid engages seniors in befriending and wellness programmes that reduce their vulnerability and enhance their resilience. Keen to bring joy to the elderly through the gift of friendship? Volunteer with us. |