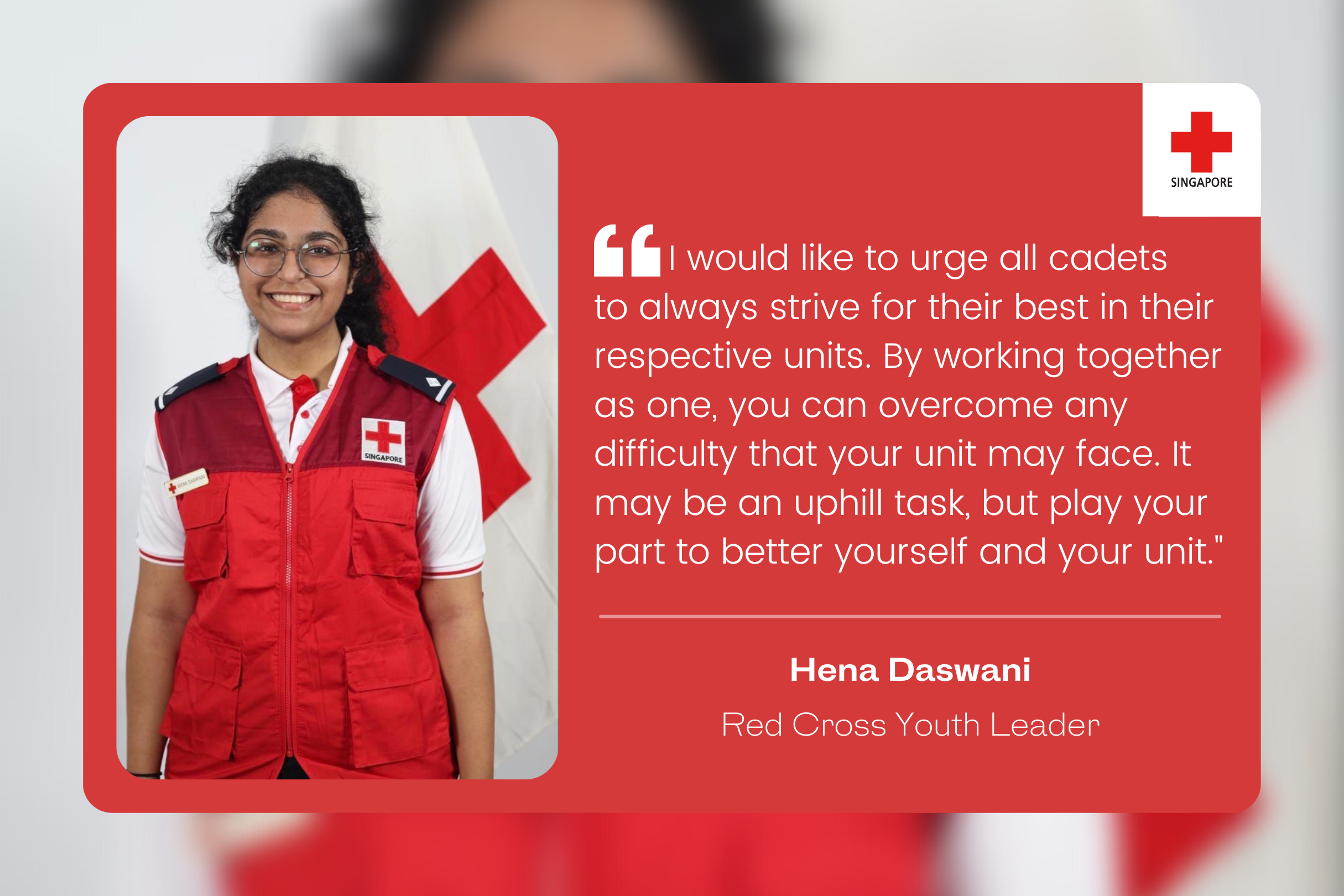 Hena Daswani joined the Red Cross Youth after her older sister made a similar decision some years earlier. Hena's own journey eventually led her to becoming one of six outstanding RCY leaders who received the prestigious President's Red Cross Youth Award in 2021.
Hena Daswani joined the Red Cross Youth (RCY) unit in Raffles Girls' School in 2017 when she was 13, as her older sister's RCY experience a few years earlier had piqued her curiosity and sparked her interest. To her, RCY did not merely involve serving the school community, but also enabled her to contribute to society on a wider scale through community service. With her sister's encouragement, she became an RCY Volunteer Instructor for Batch 22/21.
During her time as a volunteer instructor, Hena and her fellow cadets were involved in a Values In Action (VIA) campaign 'The Wild Side', to raise funds for floods in Indonesia and wildfires in Australia in 2020. Hena and her unit raised funds through a donation drive in their school.
"It proved to be a challenge, as our academic schedules clashed with the donation shifts. Fortunately, the cadets rallied together, carrying sandwich boards and donation tins during recess and lunchtime to raise awareness and inspire people to donate," Hena said.
Not only did they manage to raise around $1,200 for the cause, but the school population became more cognisant of the small steps they could take to make a positive difference in the world.
Hena had also been the Training Head in her CCA Executive Committee. To achieve the Excellent Unit Award, she planned training agendas and arranged lessons throughout the year for the RCY unit in RGS. Along with another training head, Hena spent her end-of-year holidays scheduling the subject lessons for every CCA training so the cadets could meet the criteria to earn their RCY badges. Over the years, she compiled various accreditation reports detailing each cadet's subject proficiency and the overall achievements of the unit. After a gruelling year, under the guidance of Hena and another training head, the unit managed to clinch Gold for the Excellent Unit Award (EUA) in 2019 . It was not easy managing these responsibilities while juggling her academic pursuits. She is thankful for the guidance of her seniors and cooperation of her teammates.
Hena and her unit also achieved the Gold award in the Disaster Risk Reduction Championships (DRRC) in 2019.
"The journey to the finish line was a tough one. As a team leader, I realised that responsibility, ideation and time management were crucial. My team and I hope to impart our experiences to the next batch," she said.
Rising up to the Challenges
Hena considers her third year with RCY to be one of her most challenging, as she had to juggle different responsibilities such as leading the team for DRRC as well as being the flag bearer for the 2019 National Day Celebration. As she had learnt in the past, friends and mentors are invaluable assets.
The COVID-19 pandemic introduced a different set of challenges. The lack of face-to-face interaction threatened to dampen the RCY spirit. Traditions such as enrolment and training camps as well as the end-of-year chalet for bonding had all but disappeared. The true essence of the Red Cross Youth as a CCA - the camaraderie, team spirit, youthful vigour and vibrancy - seemed to be wanting.
But that did not stop Hena. She and her team leveraged social media platforms to post updates regarding training sessions and held inter-batch game sessions to bond online. Though these activities could not replicate the camaraderie of face-to-face interactions, it brought some semblance of what it would have been like to be a cadet.
Inspiring the Youth
Hena's tireless efforts and contributions over the years did not go unnoticed. She was one of six outstanding Red Cross Youth leaders who received the prestigious President's Red Cross Youth Awards from the President of the Republic of Singapore, President Halimah Yacob, Patron of the Singapore Red Cross (SRC) at the SRC Awards Ceremony held in November 2021.
Hena said she hopes to be an inspiration to other cadets.
"I am extremely grateful and honoured to have been awarded the President's Red Cross Youth Award. Now, I have the opportunity to inspire cadets to work hard. With their passion for serving, they can make a difference in RCY and in the community," she said, on receiving the award.
"I would like to urge all cadets to always strive for their best in their respective units. By working together as one, you can overcome any difficulty that your unit may face. It may be an uphill task, but play your part to better yourself and your unit," she said.
By Michael Masim, Volunteer
Copyedited by Keval Singh, Volunteer