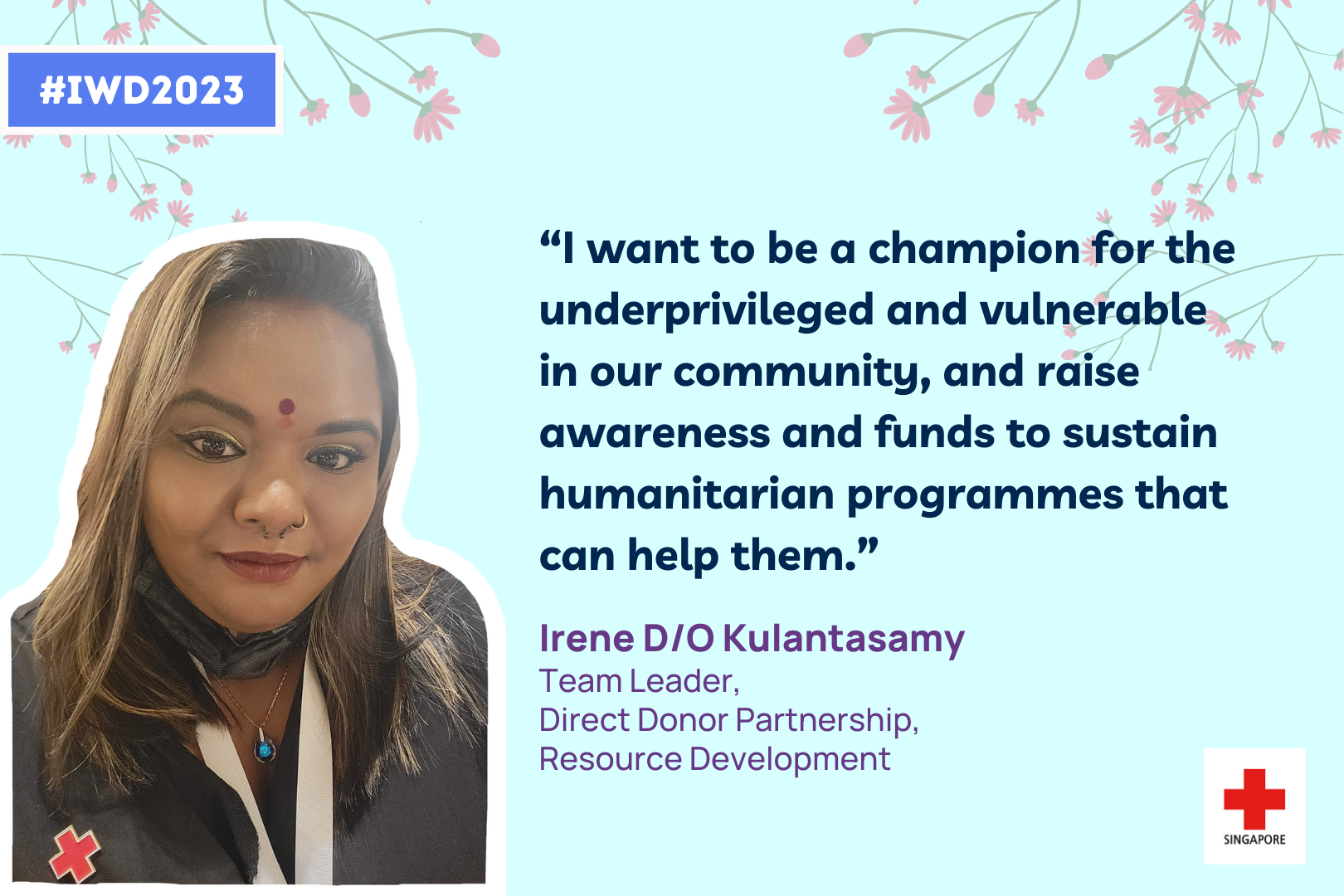 As we commemorate International Women's Day, we celebrate women who have made a difference through their contribution to Singapore Red Cross' (SRC) humanitarian efforts.
Having cared for her sister since her secondary school years, Irene D/O Kulantasamy was passionate about helping the vulnerable in need, but health issues prevented her from continuing her career as a nurse after five years. She made a career switch to become a fundraiser with the SRC's Direct Donor Partnership (DDP) team. Irene, now aged 34, has been with the DDP team for the last four years. In her current role as the team leader since May 2022, Irene shares her challenges and motivations while fundraising for the SRC.
Irene D/O Kulantasamy discovered early in life that she found joy in helping others.
"My older sister, Sagayamary, was born premature. Her hands and legs were not fully formed at birth. I helped my mother to care for my sister, and found that it was very meaningful to take on the role of a caregiver. " she explains.
Caregiver from a young age
From her primary school years, Irene had been accustomed to seeing her mother and sister going in and out of hospitals for surgery. When Irene was in secondary school, her sister had to undergo amputation for one of her legs.
At this point in their lives, Irene's mother had become the sole breadwinner of the family of four. Irene supported her mother by helping out with household chores and caring for her sister.
One of Irene's tasks as a caregiver was to bring her sister outdoors in her wheelchair, for evening strolls.
"I felt the intense gaze of strangers on my sister when we spent time outdoors together. I felt that they viewed her differently because she was physically different. I told myself and my sister that she is special in her own way." says Irene.
"I always offer a listening ear to her and whenever she feels down, I assure her that I would always be there for her," she adds.
That became the turning point in Irene's life. It strengthened her resolve to care for those in need.
Her passion as a caregiver led her to pursue her ambition to become a nurse at the Health Management International (HMI) Institute of Health Sciences, where she obtained her healthcare certification in Nursing. She worked in a day surgery centre for five years. However, health issues prevented her from continuing her vocation as a nurse.
Passion for a good cause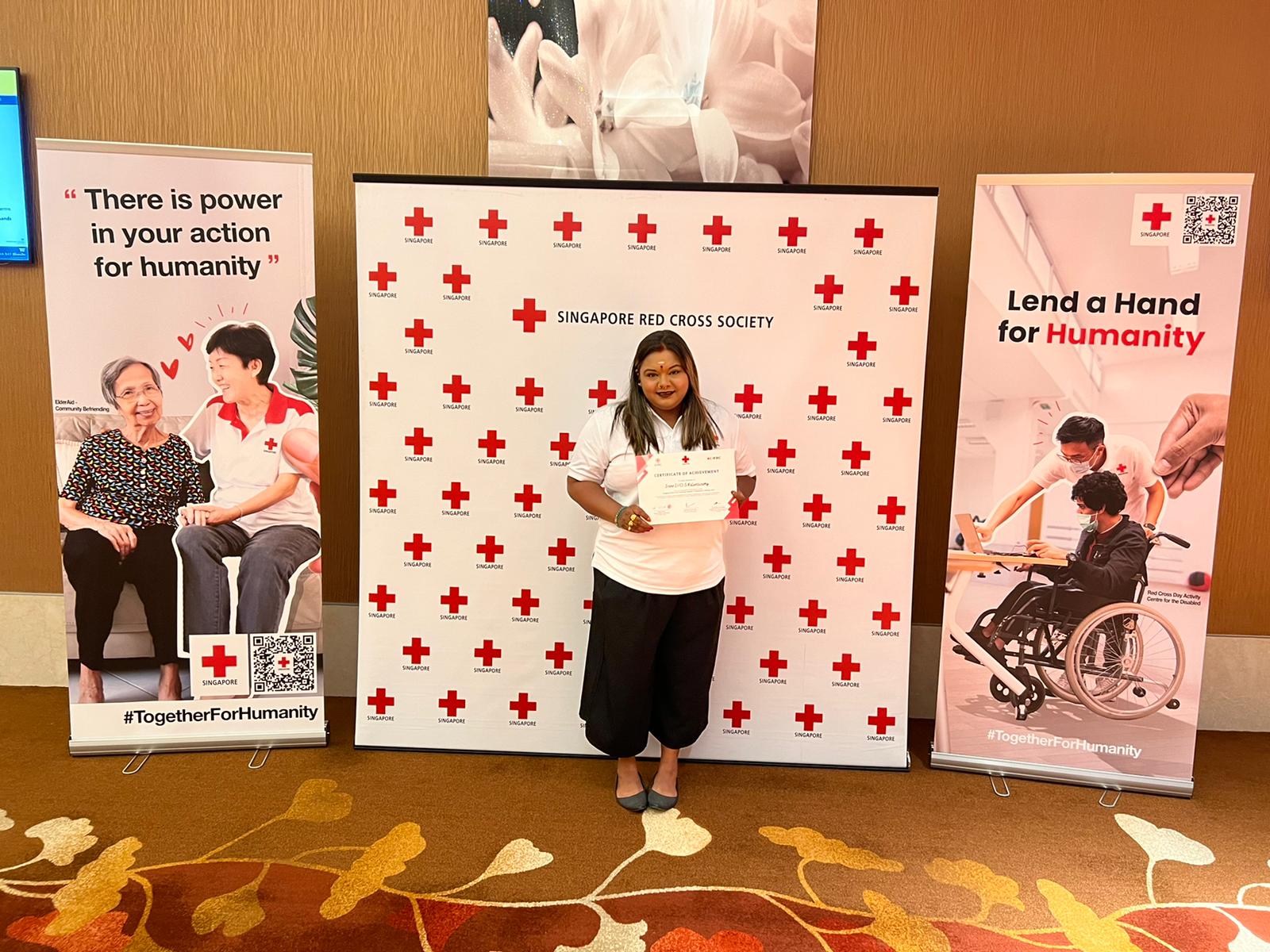 When a family member first shared about the Singapore Red Cross (SRC)'s fundraising efforts, Irene was intrigued. She wanted to contribute towards uplifting the lives of the vulnerable. She joined SRC's Direct Donor Partnership (DDP) team, which solicits monetary support from the public for SRC's local humanitarian causes and advocates the SRC's missions.
In her initial days, Irene found fundraising to be very challenging, as it was an uphill task convincing people to donate.
"Daily rejections, suspicions of authenticity and even occasional abuse from members of the public were disheartening and challenging to handle. That said, my husband, Letchmanan, kept encouraging me. His assurance gave me the strength to continue every day," she says.
With time, Irene found that her passion for the cause empowered her to fundraise for the vulnerable in spite of the challenges.
"I am overjoyed whenever someone contributes to the SRC. I feel that my labour of love is worthwhile as my efforts will uplift the lives of our beneficiaries. I never lose sight of the fact that every dollar we fundraise each day goes towards helping the residents of the Red Cross Home for the Disabled, the elderly, youth and children from vulnerable families and migrant workers. It gives me a sense of belonging and purpose," she shares.
The DDP team plays a significant role in educating the public about SRC's humanitarian work in the local community.
"We inform the public that the funds they contribute will enable the SRC to continue serving the elderly by providing them with companionship, transport and security. We share how we care for persons with disabilities, alleviate the financial burden of families in challenging circumstances and enhance literacy while bolstering the knowledge of science and technology among children from less privileged backgrounds," says Irene.
Fundraising challenges amid restrictions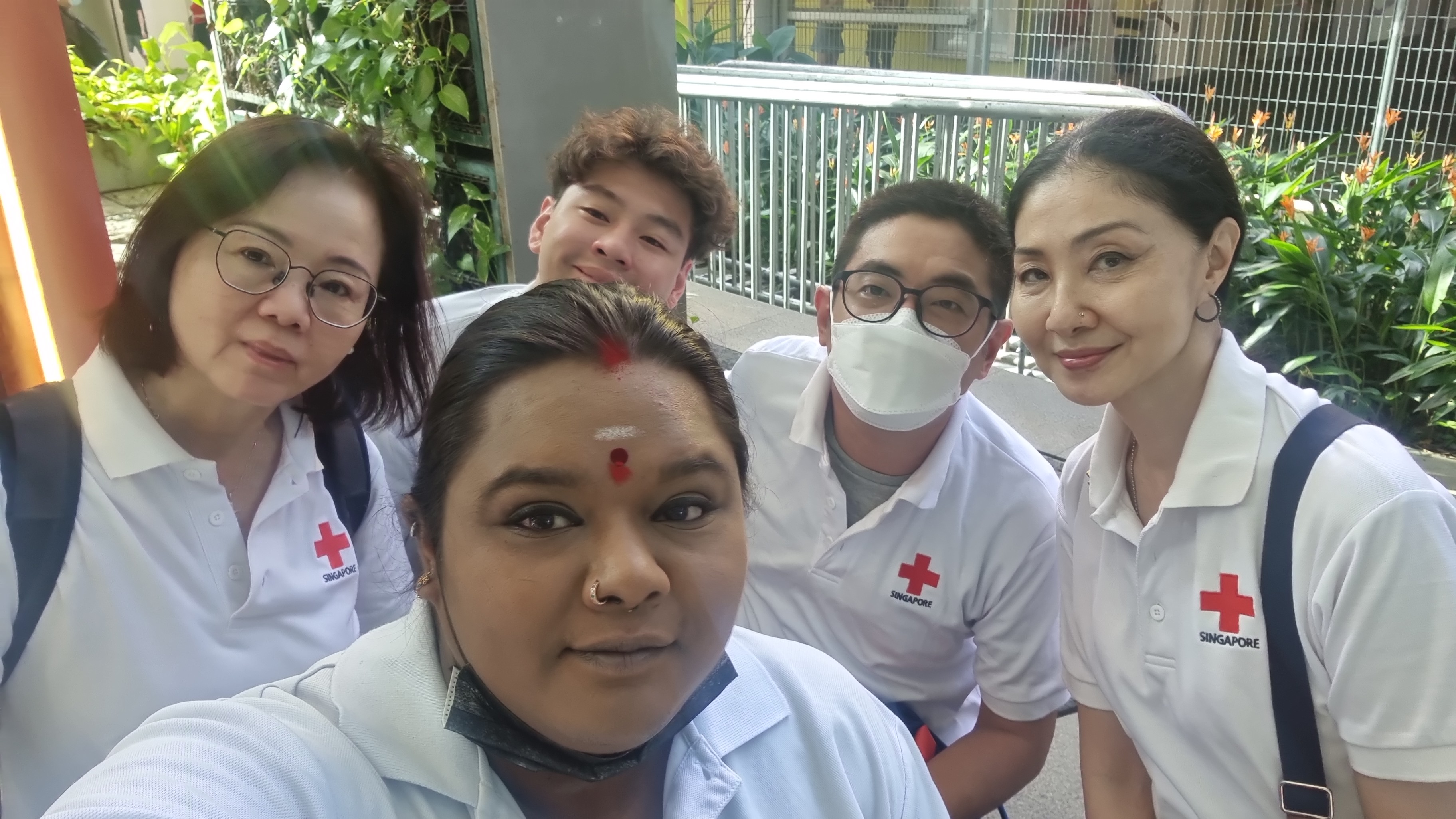 The onset of the COVID-19 pandemic and the ensuing regulatory restrictions brought additional challenges to the DDP team.
The team switched to tele-calls, overcame suspicions of scams, and validated the authenticity of their donor requests. These efforts brought in critically needed funds during the height of the pandemic.
The DDP team regularly visits the residents of the Red Cross Home for the Disabled (RCHD) to bond with the residents through frequent interactions, conversations, meals and games.
"These visits remind us of the important role that we play as part of DDP. The funds we raise ensure that the residents and clients of the RCHD and Day Activity Centre for the Disabled will continue to receive the professional care they need for their physical, emotional, and social well-being. We assure residents that we are there for them. I have always treated them like my own family. The DDP team has forged a rapport with the residents through our interactions, particularly when we bond over games. That keeps us motivated in their day-to-day efforts," shares Irene.
The DDP team makes it a point to visit the Home at least once or twice quarterly.
Motivation to raise awareness and the 'gift of giving'
Irene is proud of her team and her co-team lead, Yvonne Chua. They regularly plan different strategies to achieve their fundraising targets together.
"Each team member shares his or her unique perspective. We are united in our common goal to help the vulnerable in our community. During our training and sharing sessions, we share the lessons learnt, concerns and the challenges encountered. As a team, we work towards overcoming the obstacles faced," elaborates Irene.
Irene is happy to be a part of a giving and joyful team that stays together when the going gets tough. She says that her supervisor, John Tan, is very supportive of the team. He motivates them, particularly when they experience challenging times.
Irene shared that her sister is doing well and is working remotely from home.
"My sister has never stopped encouraging me to do what I like, as that will motivate me to keep going even when things get tough . I know my sister will always have my back," she said.
On her aspirations for her future at SRC, Irene says, "I hope to raise awareness of SRC's efforts to support the underprivileged and vulnerable in our community through the humanitarian programmes we have in place. With greater awareness, I believe that more people will support and donate generously to our cause."
Irene's motto has always been, "When you give joy to others, you will receive joy in return. It is a huge privilege to give. Not many people realise this. By giving generously, you will receive more happiness than you can imagine!"
By Selina D'Souza, Volunteer
Copyedited by Ruth Lee, Volunteer
| | |
| --- | --- |
| | Inspired to join our humanitarian movement? Check out our career and volunteer opportunities. Keen to join the passionate, enthusiastic, zealous and kindhearted Direct Donor Partnerships team as a fundraiser? Contact Human Resources at humanresources@redcross.sg. |