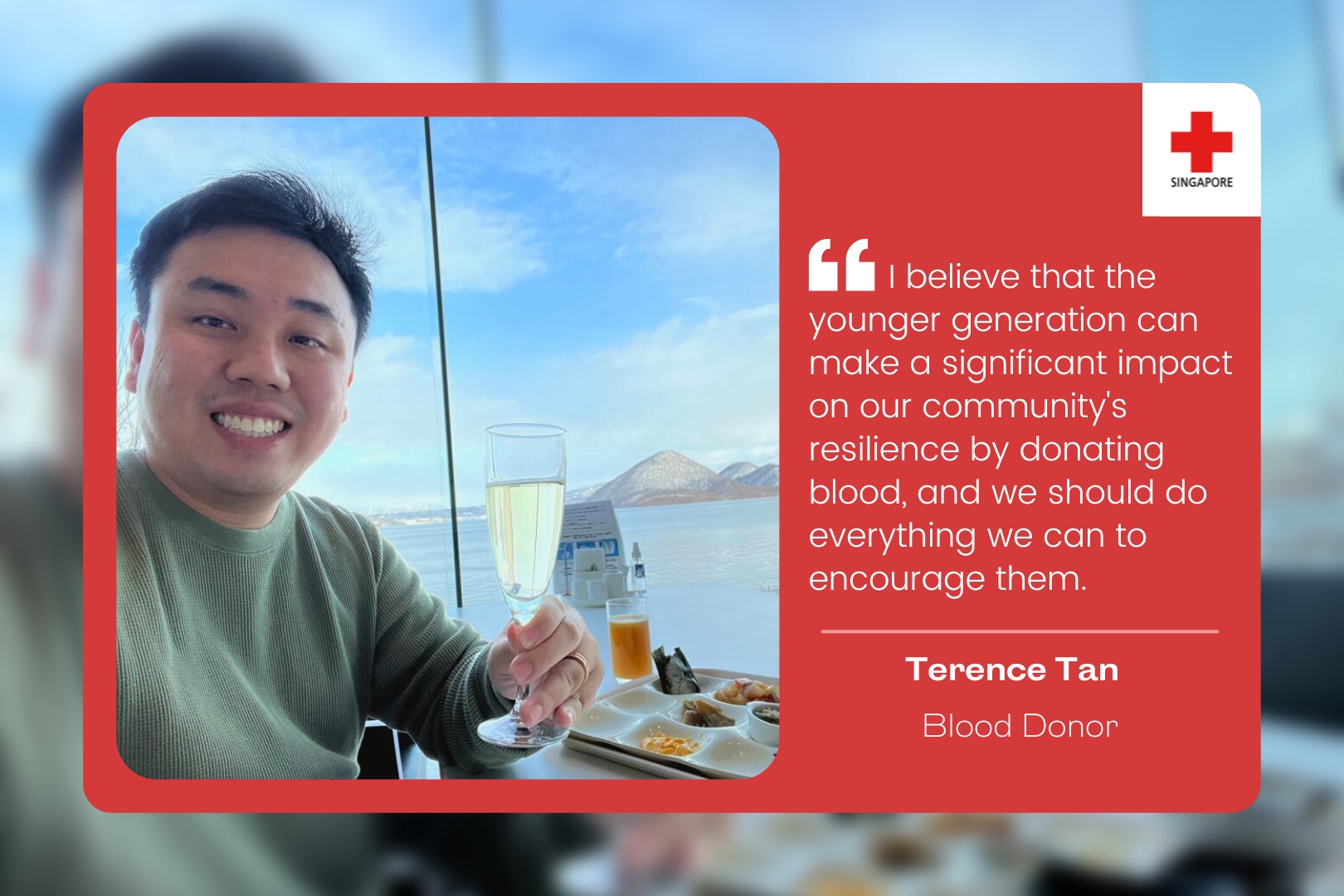 Terence Tan, 34, a teacher, shares how recognition for hitting blood donation milestones motivates him to ace the 'game' of blood donation.
What inspired you to donate blood and what was your first donation experience like?
I have always understood the importance of donating blood, but it was only when I saw how committed my friend is to blood donation that I decided to take the leap myself. My friend frequently goes out of his way to make blood donations, even commuting to different locations to do so. His commitment made me realise that the process was not as challenging as I had perceived it to be. After donating blood, I was pleasantly surprised to be offered my favourite combo of Milo and Oreo, making the experience even more enjoyable.
How many times have you donated blood?
I have donated blood 10 times, and I'm looking forward to making many more donations.
We heard that you donate blood with your wife! What is it like giving blood together?
Yes, I donate blood with my wife Alicia, who is a nurse. Blood donation centres are at convenient locations, such as Dhoby Ghaut and Woodlands Civic Centre, and we often include it into our daily activities. For example, we might donate blood while we are on a date together or donate blood while we are out running errands. During the donation process, we get to catch up on each other's lives and just relax, making it a great bonding experience.
What do you think are the reasons people do not donate blood if they are healthy? Are there any misconceptions you feel should be addressed?
One of the most common reasons people avoid donating blood is the fear of needles. But I want to dispel this misconception. The process includes a local anaesthetic to numb the area, so you don't feel any pain. The whole process only takes around 30 minutes, so it's not very time-consuming. I think that more education and awareness campaigns will help to address these misconceptions and encourage more people to donate.
Have you roped others in to donate blood with you?
Absolutely! When I plan to donate blood, I usually reach out to friends or colleagues to see if they would like to join me in donating blood, and going out for a meal afterwards. Including blood donation into my social plans not only helps me achieve my goal of donating blood, it also makes the blood donation experience more enjoyable for me and my friends. I'm grateful to have friends and colleagues who are willing to join me in my impromptu plans to donate blood.
What would you say to inspire more people to donate blood?
I think we can leverage social media and other technologies to raise awareness and encourage more young people to participate in blood donation. We need to make it easy and convenient for them to donate blood, by location the blood donation with centres in accessible areas. We also need to create more engaging campaigns to inspire and motivate them to donate. I believe that the younger generation can make a significant impact on our community's resilience by donating blood, and we should do everything we can to encourage them.
What do you think can be done to encourage more people, including youth, to donate blood?
I like how the blood donation centres track my donation milestones and present them as achievements that push me up a ladder of recognition levels. It is almost like a game that motivates me to reach the next milestone donation, so I can earn the next level of recognition. I think this approach can be especially effective for the younger generation, who are familiar with the concept of gaming, where they receive recognition and rewards for their achievements.
By Sondra Foo, Marketing Communications and Partnerships
Copyedited by Dr Nguyen Kien Truc Giang, Volunteer, & Adele Tan, Marketing Communications and Partnerships
| | |
| --- | --- |
| | Keen to donate blood or organise a blood drive? Click here. |