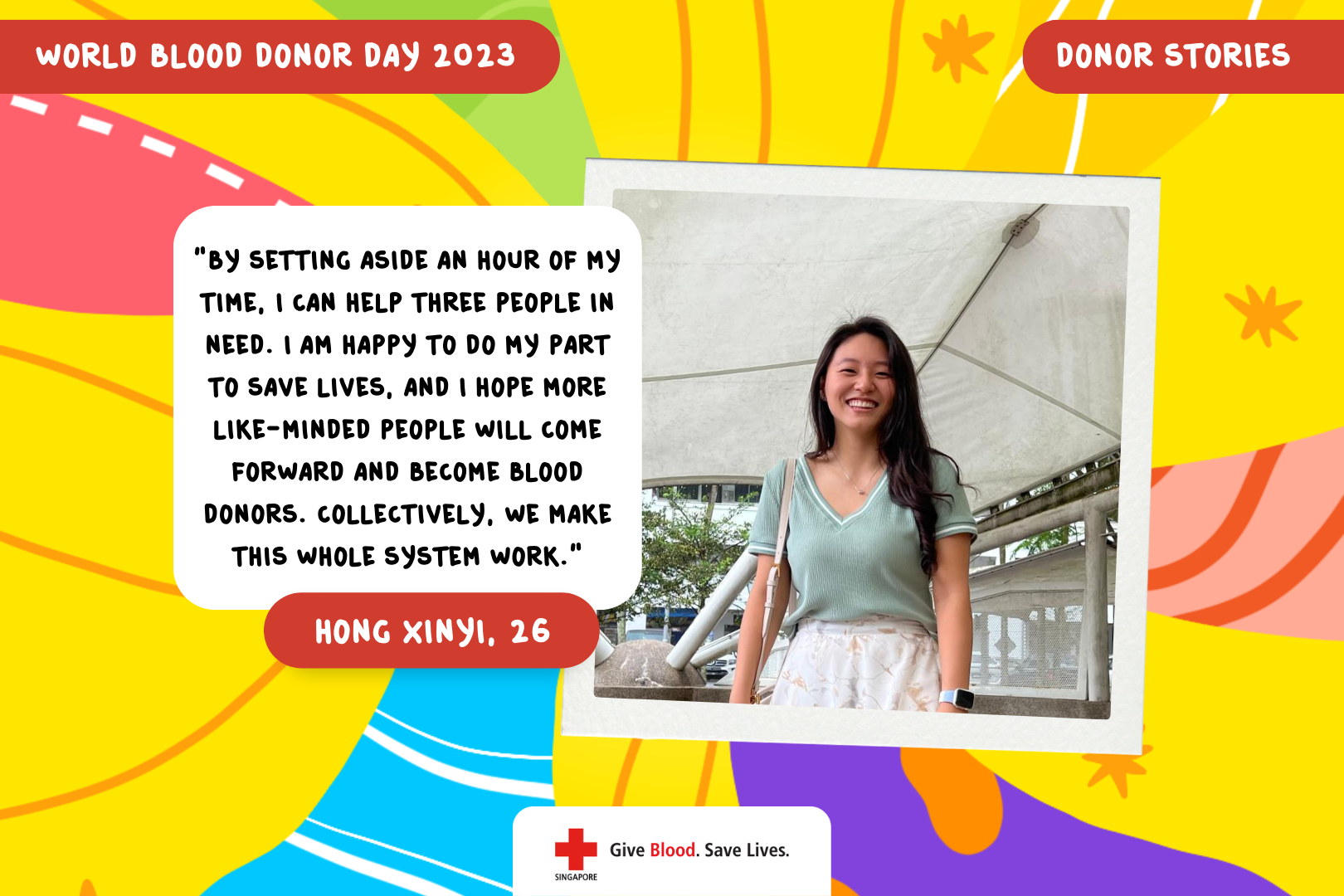 Hong Xinyi learnt about the importance of blood donation through TV shows and advertisements. She made her first blood donation after stumbling upon a blood donation drive at a community club when she was in secondary school. Over the past 10 years, she has been making regular blood donations, and encouraging her family and friends to donate blood. As a result of her efforts, she will be receiving the Bronze Award at the upcoming World Blood Donor Day, for having made more than 25 blood donations.
"I was inspired to donate blood when I learnt how blood donation plays an important role in saving lives, through TV shows and advertisements." explained Hong Xinyi, a 26-year-old manager at a startup health technology company.
Xinyi first donated blood when she was 16 years old, and in secondary school. While walking through a community centre with a friend, she came across a blood donation drive and decided to donate blood and save lives, together with her friend.
Recounting her first few experiences of donating blood, she said, "I was fearful of the needle insertion. Thankfully, the nurse was very reassuring and skillful. I told myself that there was nothing to be afraid of. The small prick is worthwhile if it can save the lives of people who are in much greater pain." said Xinyi.
Committed Blood Donor
Over the past decade, Xinyi has been donating blood every quarter, or bi-annually.
To ensure that she doesn't miss any of her blood donation appointments, she schedules them in advance and puts the dates on her calendar. In addition to making herself available for blood donation, she keeps herself physically fit by running and swimming and consuming healthy foods.
"When we are fit and healthy, we can donate blood regularly without feeling weak or tired," she said.
On occasions when her haemoglobin levels did not meet the required levels for blood donation, she would boost her haemoglobin levels by consuming iron-rich food and avoiding caffeinated beverages.
Xinyi feels that her efforts are worth it because it saves lives.
"By setting aside an hour of my time, I can help three people in need. That to me is a fantastic use of my time. I am happy to do my part to save lives, and I hope more like-minded people will come forward and become blood donors. Collectively, we make this whole system work," said Xinyi.
In June, Xinyi will receive the Bronze Award for having donated blood more than 25 times.
"I'm grateful for the award. I am glad that I can continue to give to those who need blood through my small contribution," she said.
Advocating Blood Donation
Constituting merely 1.8 percent of the residential population, blood donors shoulder the blood needs of the entire population in Singapore. Hospitals require consistent supplies of blood to continue saving and sustaining lives. However, every year, there are 600 fewer blood donors in Singapore due to age or illness.
As part of her efforts to advocate blood donation, Xinyi has shared her blood donation experiences and successfully encouraged seven to eight of her family and friends to join her in making regular blood donations.
"The blood donation process in Singapore is comfortable, from the registration to completion of the process. We need more regular blood donors to ensure that our blood stocks are sufficient to meet the needs of our community. For those who are unable or fearful of donating blood, they can support the cause by helping out at blood donation drives," she shared.
Xinyi hopes that more people will join her in making blood donations a regular part of their lives, to secure the stability and sustainability of Singapore's blood supply, which is a key part of our country's resilience against disaster or pandemic.
To motivate more people to embrace blood donation as a part of their lives, she encouraged, "If you are healthy and can contribute, you can consider donating blood. By keeping ourselves healthy, we can continue to contribute to people in need. Let's keep this going together."
By Ajay Kumar, Volunteer
Copyedited by Nitisha Venkatachari, Volunteer
| | |
| --- | --- |
| | Keen to donate blood or organise a blood drive? Click here. |