Every year, about 9% of Singapore's blood usage goes into haematology (blood disorders). Patients who have inherited blood disorders may need blood transfusions to improve the quality and length of their lives.
In celebration of World Thalassaemia Day, we share about the inherited blood disorder that affects up to 4% of Singapore's population (not all require blood transfusion, except for those with severe thalassaemia) and the story of a particular patient who receives your donated blood regularly.
Where your donated blood goes: Thalassaemia Patients
The Singapore National Thalassaemia Registry was set up in 1992 by Prof Ivy Ng. It provides free counselling and heavily-subsidised screening for affected families with thalassaemia. Currently, there are 45,717 individuals registered with thalassaemia in the registry*. You might not realise this, but someone you meet may carry this gene that is silent and invisible to the naked eye.
Thalassaemia is an inherited blood disorder caused by an abnormal gene. A person with thalassaemia is unable to produce normal, functioning haemoglobin in the blood. Haemoglobin carries oxygen from the lungs to all parts of the body. When the body is not able to produce normal, functioning haemoglobin, the affected person suffers from anaemia. A person with Thalassemia Major requires regular blood transfusions every 3 or 4 weeks to lead a normal life. Thalassaemia patients may experience fatigue and weakness.
(*Stats provided by the National Thalassaemia Registry. Click here to learn more about thalassaemia.)
"I'd like to thank all the blood donors and unsung heroes – you sustain my life on a regular basis and enable me to move forward." – Blood Beneficiary, Goh Chun Hui (31)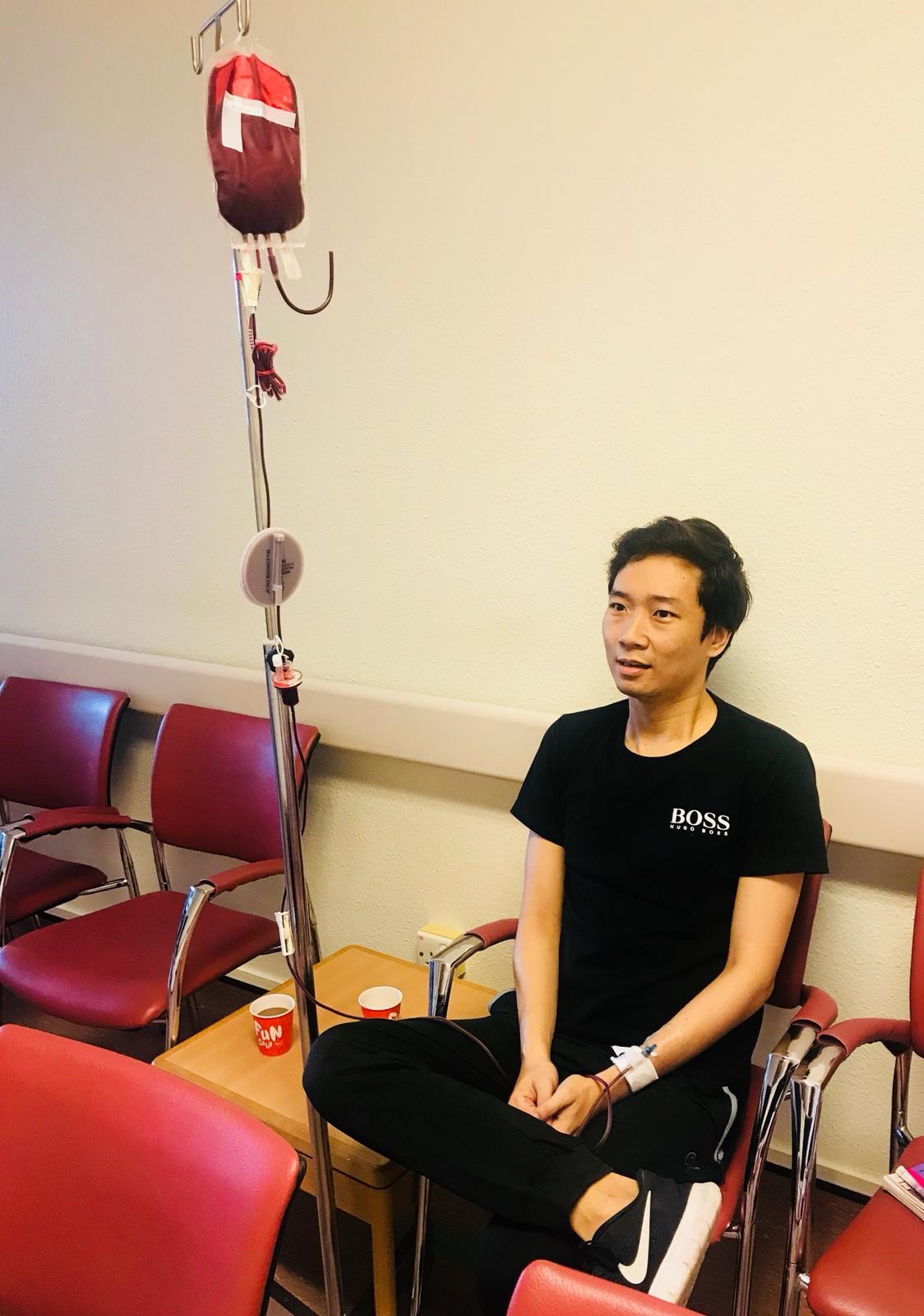 Meet Goh Chun Hui. He was diagnosed with Thalassaemia Major at a tender age of three and has been receiving blood transfusions since he was seven. That's 24 years of regular blood transfusions!
Hi Chun Hui! Could you share with us a bit more about yourself and your daily life since our last interview with you?
Hello! Today, I'm 31 years old and currently work as an administrator executive. In terms of my daily life, I enjoy being able to work, travel and swim. I'm Blood Type O+ and have been receiving blood transfusions every three weeks since I was 7 years old.
Wow, that's a lot of blood thanks to the support of blood donors! So what happens if you're unable to get your blood transfusion at the scheduled interval?
If I don't get the transfusion within the scheduled intervals and my haemoglobin levels are low, I'm usually unable to think clearly and feel fatigued. I also need to be careful to not overwork or do too intensive workouts.
"I remember once when I ran low on blood, things became very tough. For example, just crossing a road seemed like I was running 2.4km. Or climbing a simple flight of stairs seemed like I was scaling a mountain." – Check out this video about the stories of blood beneficiaries with Thalassaemia, like Chun Hui and Marc
How does one receive blood transfusions? Could you share with us what the process is like?
My blood transfusion sessions usually take 6-7 hours. The first thing I do when I arrive to the ward is to register, before a nurse takes my blood pressure and temperature. Next, I am ready to set the plug for my transfusion. Soon after, the first bag of blood arrives and nurses will double check my particulars. Once the blood is ready, it will be hung up and ready to be transfused into me.
The same process will be repeated for my second and third bags of blood. At the end of my transfusion, the nurse will then remove the plug on my hand and I'm done for the day. After blood transfusion, my mind and body feel more awake.
That's great! Is there anything else you'd want to share with our blood donors?
I want to take this opportunity to thank all blood donors who have selflessly helped by giving blood regularly. Your blood donations are helping the everyday lives of myself and all patients in need.
Did You Know?
The National Thalassaemia Registry at KK Women's & Children's Hospital hosts annual blood drives every World Thalassaemia Day. Visit their upcoming blood drive on 8 May 2019 (Wed), Training Centre (Level 1), Women's Tower. Click here to check if you're eligible to donate blood!