The Singapore Red Cross protects the community by providing first aid coverage at national and community events. We also provide training as part of our mission to protect lives and respond to emergencies.
"Those critical minutes can make a big difference in saving a person's life before advanced medical care arrives. By volunteering in Community FirstAid, we can save lives."
Mr Elias Ye
"Volunteering as a first aider keeps us abreast of the first aid techniques and enhances our confidence in delivering the skill to patch up the wounded. Whenever we bring smiles to others, we know our efforts are all worthwhile."
Mr Michael Lim
First Aid coverage for events
Social enterprise solution for event organisers!
Let the Red Cross First Aiders keep your event participants safe.
Secure your community events by engaging us for First Aid coverage. Through the Community First Aid programme, we mobilise First Aid volunteer teams for events ranging from the National Day Parade, Chingay Parade and Istana Open House to community sports events, family day carnivals, and more.
"Singapore Red Cross (SRC) can be relied upon for a great communication and medical team. SRC covered our inaugural Haw Par Junior and Youth Athletic Meet 2021. I would recommend their service and professionalism."
Mr. Faisal Suptu, Chairman, Technical Officials & Sports Classification, Para-athletics Singapore

WHY US
Subject expert providing First Aid training for more than 5 decades
Safeguarded 300+ events over the past 5 years
We help the elderly, disabled, children and vulnerable families in our community. By engaging our services, you'd be supporting them indirectly!
Engage a team of 4 First Aiders for $100!*
Reserve a Medical Transport (safety vehicle) for $250!**
*First 8 hours of coverage, includes a team of 4 qualified and trained first aiders, between 0800hrs to 2200hrs
**First 3 hours of coverage, includes 1x driver (trained Standard First Aider), 1x medic (Emergency Medical Technician), between 0800hrs to 2200hrs
Additional charges apply for extra hours and night-time charges. Talk to us about your needs!
Download our brochure, send us an email, or call us at 6664 0500 to find out more.
First Aiders on Wheels

WHAT WE DO

Our First Aiders on Wheels patrol popular park locations at East Coast Park, Pulau Ubin, Jurong Lake Gardens and Sentosa on weekends and public holidays, to provide first aid to those in need.
WHO WE HELP
We help parkgoers by attending to their physical injuries, providing assurance and comfort or calling an emergency ambulance in case of need.
While most casualties do not face life-threatening situations, they benefit from having their wounds and sprains properly bandaged. More often than not, it is our presence in which the community finds assurance.
HOW YOU CAN HELP
Get first aid trained and serve with us at national and community events or join as a First Aider on Wheels! If you are looking for a CSR activity that marries team bonding, healthy living and direct aid – with direct benefits (first aid skills) to your organisation – this is the choice programme!
If you are a first aider, you can enrol directly in the First Aider on Wheels programme and serve with us!
Donate and help us train volunteers to serve the community. $90 subsidises 1 volunteer to be first aid ready and respond to emergencies in the community.

Contact us if you require community first aid support.
Civil Emergency Response
The Singapore Red Cross works to enhance community preparedness and strengthen resilience, to reduce the vulnerability during emergencies. During peacetime, we support civil and blood emergency exercises.
During emergencies, we play an auxiliary role to the Singapore government in response to disasters. We mobilise first aiders and blood donors to support government health services.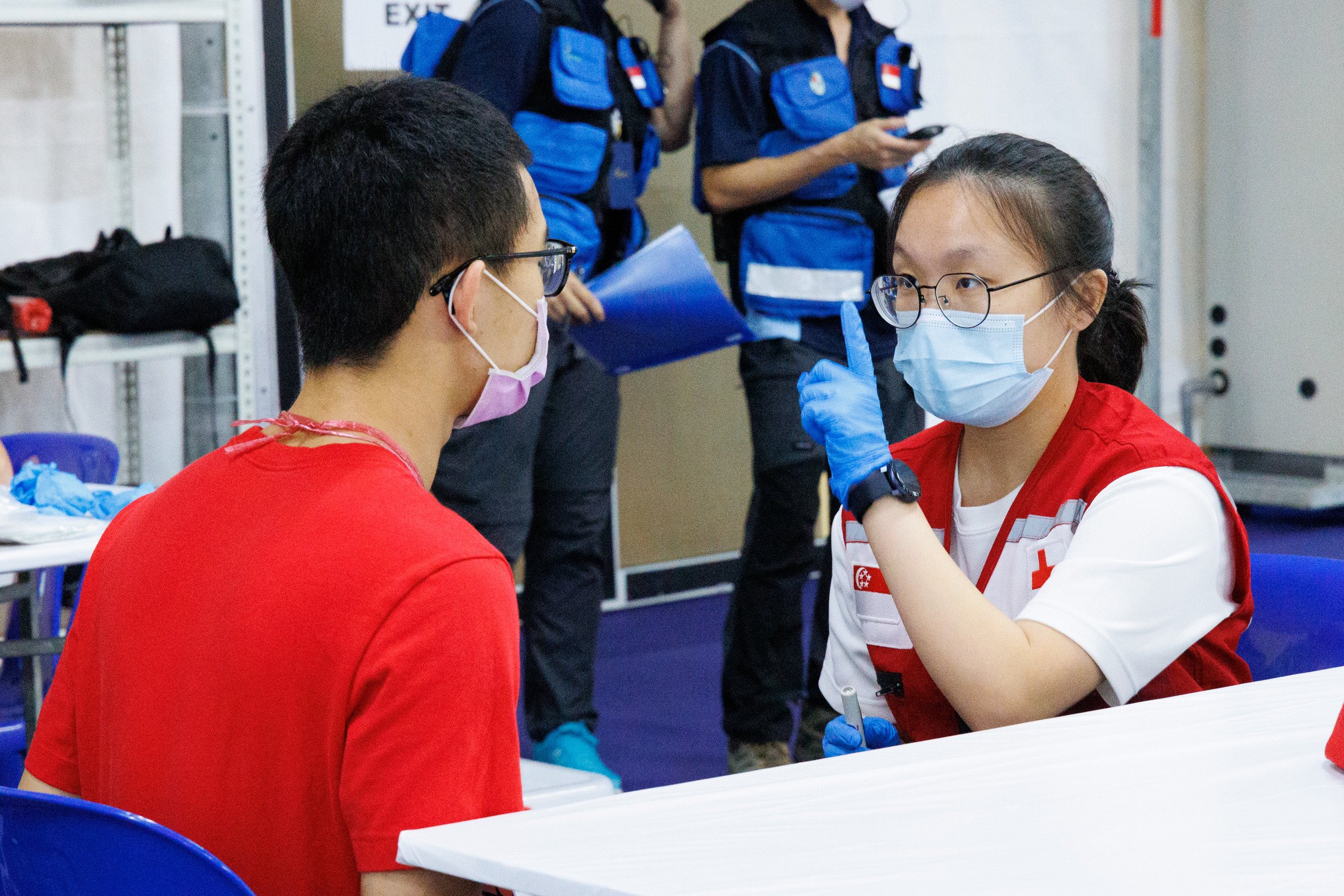 For enquiries or more information:
Contact us or call us
Be first aid ready and respond to emergencies in the community: