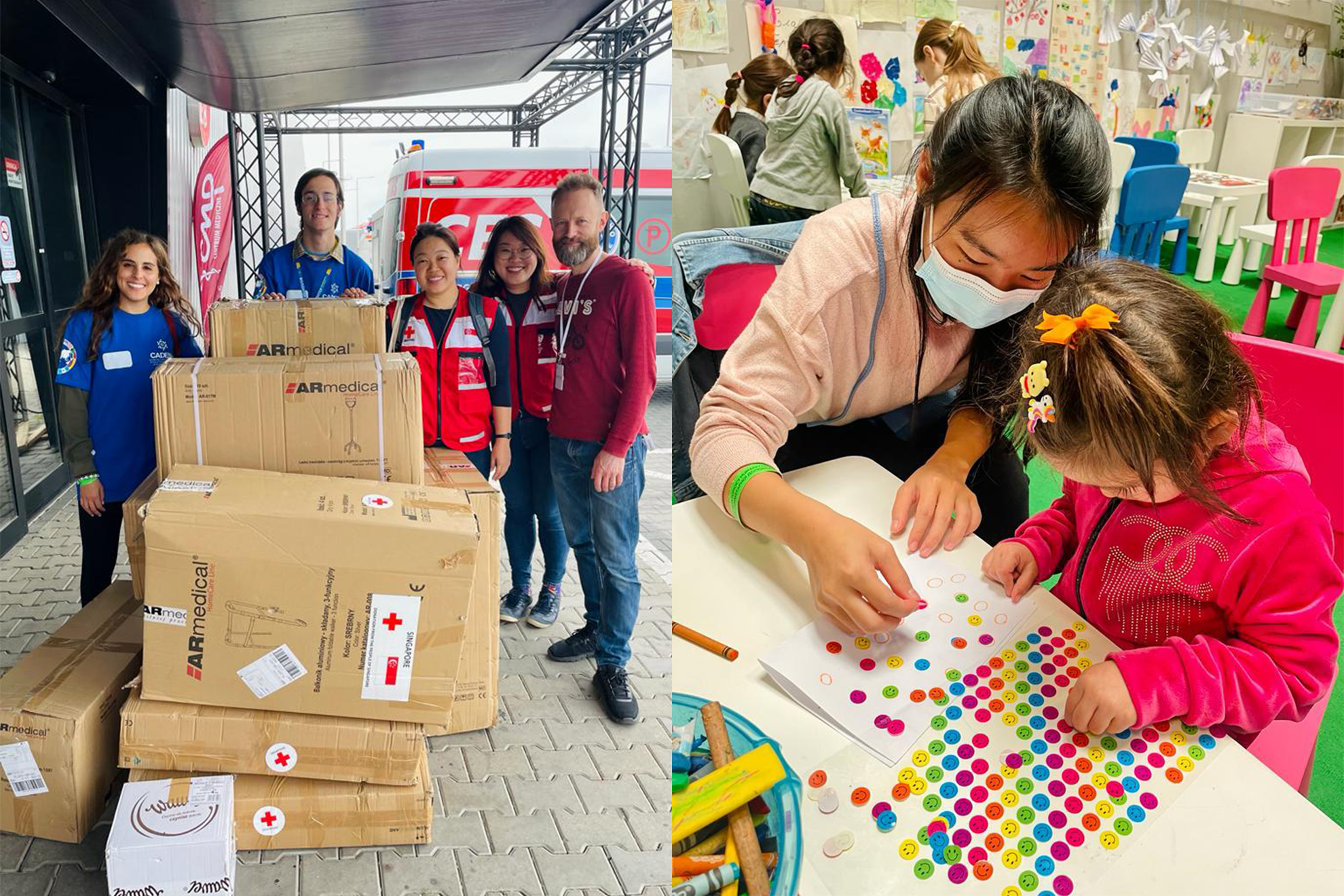 SRC team in Europe provide relief to children, mothers and communities. Funding support for medical equipment in children's hospital; persons with rare diseases; and refugees.
Over S$7.4 million donations raised in Singapore for humanitarian response
Singapore, 6 June 2022 - As the armed conflict in Ukraine crosses the 100-day mark, the Singapore Red Cross (SRC) presses on to deliver targeted assistance in its relief efforts for Ukrainian communities: vulnerable children, persons living with rare diseases and refugees. The homegrown humanitarian organisation shares this update, along with reflections from partners and volunteers (Annex A).
Psychosocial support to mothers, children
Over the past three weeks, SRC deployed two psychosocial support responders to Poland's largest assistance centre, PTAK Humanitarian Aid Centre, to support the Child Safe Space. The two Singaporeans engaged mothers and children in psychosocial support activities such as sports, art therapy, and more. The team also distributed childrens' shoes and 350 child care packs consisting of notebooks, crayons, children's toothbrush and toothpaste, and stress balls. Additionally, they distributed 100 walking aids and 340 trolley bags to the other refugees staying at the Humanitarian Aid Centre, to support them in their continuing journey.
Medical equipment for Ukraine's largest children's hospital
"Our sincere appreciation to the Singapore Red Cross for their consistent support in bringing humanitarian aid and relief to those in need in Ukraine. Children are always extremely vulnerable in wartime. This generous donation to the Okhmatdyt hospital is yet another proof that a friend in need is a friend indeed. This help will allow Ukrainian doctors to protect and save the most precious thing that we have and stand for – the lives of our children, the future of our nation." - Kateryna Zelenko, Ambassador of Ukraine to Singapore
SRC will also fund diagnostic equipment, including two ultrasound machines and an intraoperative neuromonitoring system for spinal surgery, for Ukraine's largest children's multidisciplinary hospital «Okhmatdyt». It used to serve over 300,000 patients annually, with neurosurgeons and other specialists performing more than 7,000 operations of various levels of complexity. While many of the patients have been evacuated, the hospital continues to care for the most critical patients and the wounded.
Support for displaced persons from Ukraine living with rare diseases
Singapore Red Cross and EURORDIS (Rare Diseases Europe and the Razem z Ukrainą coalition) will collaborate to support 500 Ukrainian families living with rare diseases with appropriate emergency housing, specialised equipment (e.g. wheelchairs, medical supplies) and psychological support. Ukrainian patients have been severely impacted and no longer have access to supplies and to medical professionals they have been used to.
SRC and DEBRA (Dystrophic Epidermolysis Bullosa Research Association) International, with the support of DEBRA Singapore, are collaborating to procure and supply the most critical medical needs such as specialised dressings, medical equipment, medicines, specialised nutritional products, and other urgent needs for 120 families living with congenital epidermolysis bullosa, a rare skin condition that in its most severe forms affects all of the body's linings, the skin, the linings of the mouth and oesophagus, and even the eyes. In more severe cases, patients need to be wrapped completely in protective foam dressings secured by tubular bandages. In many cases, gastrostomy tubes are required for nutrition input.
Distribution of Relief Goods and Care packs to refugees arriving in Poland
The Singapore Red Cross deployed disaster response volunteers to the Medyka Border Crossing. This is the busiest border crossing in the Polish-Ukrainian border. Humanitarian organisations have set up a makeshift tent-city, offering a variety of relief items and services to refugees crossing the border such as hygiene items, SIM cards, meals, and health services. Przemyśl train station is where refugees can continue travelling to larger Polish cities like Warsaw and Krakow free of charge. From there, connecting trains and buses can take them to other European countries. The team was active in both the Medyka border crossing and the Przemyśl train station. They conducted activities such as the procurement and distribution of hot meals, hygiene items (toothbrush, tooth paste, sanitary pads, diapers, and more), 250 blankets, trolley bags, and food items to be sent across the border into Ukraine. The team has also procured educare packs for children, containing crayons, soft balls/ toys, small towel, toothbrush, and toothpaste.
Since 25 February 2022, SRC's mission to Ukraine's neighbouring countries has covered Hungary, Lithuania, Poland and Romania to oversee the humanitarian response and aid distribution contributed by the People of Singapore to SRC's humanitarian response to Ukraine, and to identify partners with whom we can expand our operations.
In its latest tranche of humanitarian aid to support Ukrainian refugees, SRC has committed another S$2 million in medical and first aid kits, medical equipment and medicines for rare diseases, hygiene and essentials. The latest commitment follows SRC's earlier tranches of aid worth approximately S$4 million, which have been disbursed (Details in Annex B). This brings the total commitment to S$6 million.
In Singapore, at least 120 individuals and groups have stepped forward to raise funds in support of the SRC's public fundraising appeal, in aid of affected communities in and around Ukraine. To date, more than S$7.4 million has been raised, since the start of the appeal on 25 February.
Ukraine Humanitarian Crisis Response
1) Make an online donation - Giving.sg, DonorBox, Donation Portal, iRaiser, Benevity
2) Fundraise for SRC
Register as a third party fundraiser and email us the completed form.
Or
Set up an online fundraising campaign on Giving.sg.
3) PayNow
Go to "PayNow" > Click "PayNow to UEN" > Key in "S86CC0370EFR2" > Key in the amount you would like to donate > Input "Ukraine Crisis" under Bill Reference.

Or

Go to "Scan & Pay" > Scan QR Code below > Key in the amount you would like to donate > Input "Ukraine Crisis" under Bill Reference.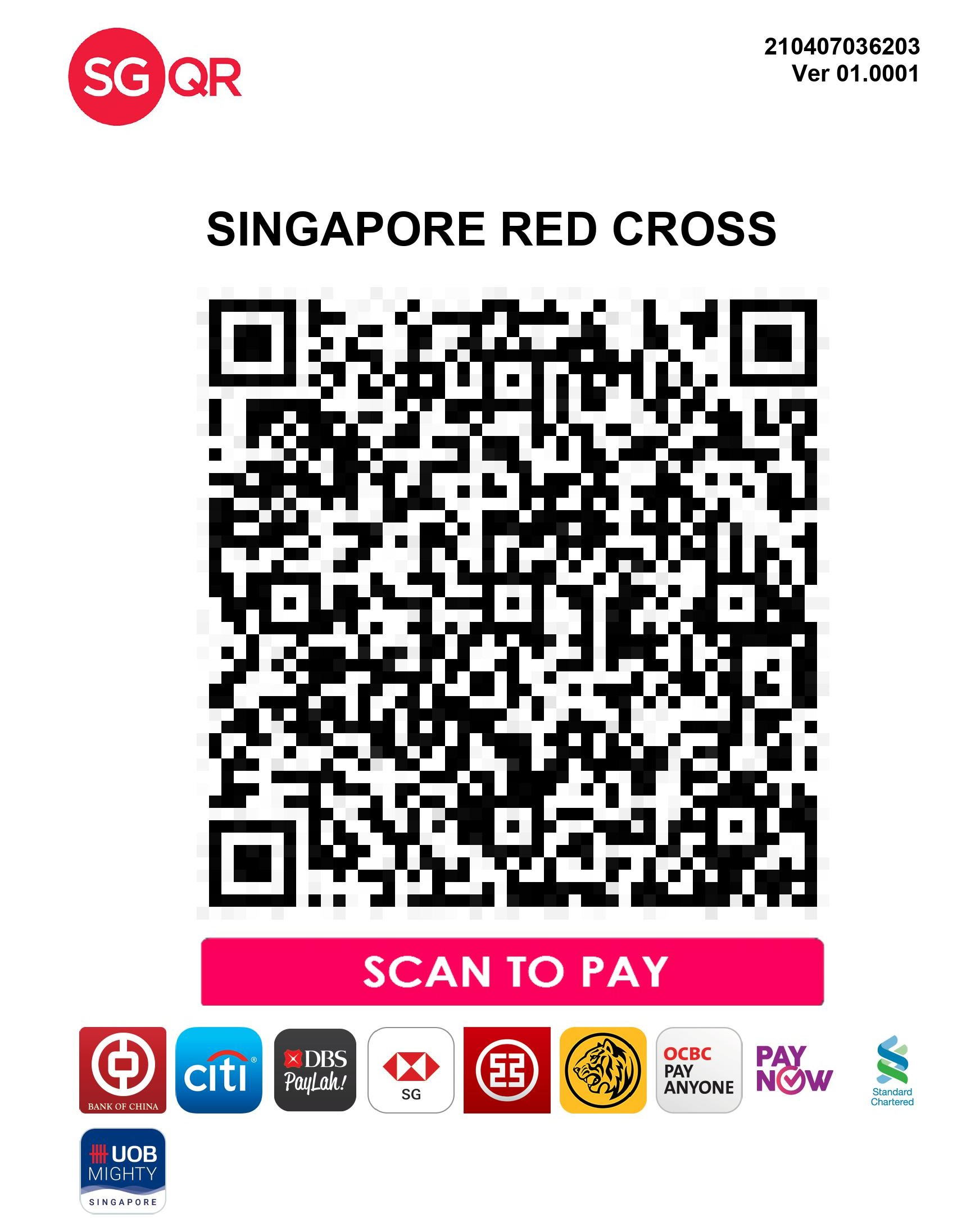 4) Fund Transfer
Select "Transfer Money" > Go to "One-Time Transfer" > Click "To other bank" > Key in "SINGAPORE RED CROSS" > Select "HSBC (Corporate)" > Enter account no. "142038546002" > Key in the amount you would like to donate > Input "Ukraine Crisis" under Comments.
5) Cheque donation
Please make cheque payable to 'Singapore Red Cross Society', to be posted to Red Cross House, 15 Penang Lane, Singapore 238486. Please leave your name, postal address and indicate "Ukraine Crisis" at the back of your cheque.
6) Revolut
If you're a Revolut Singapore customer, you can make a one-off donation or round up your spare change and have it automatically donated, via the Donations feature in-app.
Notes:
Donations to overseas efforts are not tax-deductible.
In the event that donations exceed the expenses incurred by Singapore Red Cross in this specific disaster response, any surplus or unspent money, after three years from the date of inception of the fund, can be used to prepare for and serve communities affected by other disasters or may be used to complement or to sustain projects undertaken by SRC in helping the vulnerable in areas affected by disasters.
Appeal period: 25 February to 30 November 2022
Annex A
Quote Sheet
Remarks by SRC Partners
"We are grateful for Singapore's donation and Singapore Red Cross's support to Okhmatdyt, the largest children's hospital in Ukraine. The hospital keeps working and provides emergency assistance to heavily injured children, whose parents were killed, but also adults, as well as regularly scheduled treatments. The new medical equipment will allow us to fully function and improve the quality of medical services."
- Volodymyr Zhovnir, Director General of the National Children's Specialized Hospital "Okhmatdyt"
"The MOC between Debra International and SRC for critical medical and nutritional needs of Ukrainian EB patients is a recognition of the extreme vulnerability of those with rare disorders. This partnership not only spotlights the big heart of our little red dot but also puts rare disorders on the humanitarian map for the very first time."
- Dr Ritu Jain, lecturer at NTU Singapore and president of Debra International
Reflections from Singapore Red Cross members deployed for mission
"During this trip, we visited a Ukrainian family who has a child with a rare disease (EB) who are living in temporary accommodation that was hosted by a good hearted Polish family. It is obvious that this child was in a lot of hardship yet he tried to smile at us when we visited him. Both the parents were equally in a lot of distress, yet they displayed warmth and resilience, and a "never give up" spirit. They withstood a long journey with challenging terrain and carefully transported their child ensuring that the journey did not further worsen his condition and injure his fragile skin. Another car transporting as many as possible the necessary medical consumables such as dressing and medications as they were unsure whether they would be able to obtain these items in Poland. I cannot imagine the hardship they went through. Yet it never deterred this parent to help other families living with EB who are still in Ukraine, coordinating to send medical supplies to them. These are common modes of support provided by most Patient Organizations (such EB Ukraine) that are championed mainly by parent support groups."
- Sahari Bin Ani, Singapore Red Cross Senior Director & Team Leader of SRC Ukraine Response Team
"While distributing goods and assisting passengers bound to Ukraine in the Przemysl train station, I was approached by a tall middle-aged Ukranian lady. She was observing from afar and I was struck because she did not accept any of the goods I offered but she came over and told me, 'I appreciate all the things that you are doing here'. While I did not mention that I am from Singapore, she must have noticed that we and other volunteers came from other parts of the world to help in any way we can."
- Chian Kuan Yew, Singapore Red Cross Disaster Response Volunteer
"While manning the food truck in the Medyka border crossing, I saw an elderly lady struggling to carry two supermarket tote bags and luggage. She smiled with a sign of relief when I came over to help her. I was surprised how heavy they were and how she was able to carry them from the bus drop-off. It seemed like it contained milk and other food provisions. The border control towards Ukraine was around 500 metres away and she was talking in Ukrainian while we were walking towards the border. Though I did not understand most of the things she said, she seemed to be happy in bringing home the goods and rushing to get home. Someone must be waiting for her on the other side of the border. I hope that people going back to Ukraine is a good sign that the situation there is getting better."
- Geraldine Aggarao, Singapore Red Cross Disaster Response Volunteer

Annex B
Singapore Red Cross' Humanitarian Aid to Support Ukraine & The Refugee Crisis Timeline of Singapore Red Cross' Response
25 February 2022

SRC pledges humanitarian aid worth US$100,000 to support communities affected by the humanitarian crisis in Ukraine.

SRC launches a public fundraising appeal from 25 February to 31 August 2022 to raise more funds to aid the expected massive humanitarian operations.

SRC also activates its "Restoring Family Links" service to assist Singapore residents to locate their immediate family members affected by the crisis with whom they have difficulty in contacting.

4 March 2022
SRC's first tranche of aid, valued at US$100,000, arrives in Ukraine, to be distributed by the Ukrainian Red Cross Society (URCS) and the International Federation of Red Cross and Red Crescent Societies (IFRC), as part of their ongoing response.
10 March 2022
SRC commits its second tranche of aid, valued at $2.4 million, to assist Ukrainians in-country and across six neighbouring countries - Poland, Hungary, Lithuania, Slovakia, Moldova and Romania. This was deployed by the Red Cross Movement Partners and Red Cross National Societies receiving refugees from Ukraine, who are spearheading relief efforts to the affected communities.
5 April 2022

SRC commits its third tranche of aid worth S$1.12 million, in medicines and medical supplies to assist affected Ukrainians.

3,000 NATO standard medical kits
Medicines, first aid kits, medical devices incl dressings, and medical equipment
Medication, wound dressing and nutritional supplies for rare diseases
Hygiene products incl shampoos, gels, soaps, diapers for children and adults, etc
Necessities for Ukraine refugees




SRC has committed another tranche of US$ 100,000 to the Ukrainian Red Cross, to support its response to the affected communities, including the distribution of medicines, first aid kits, food, hygiene products.

SRC deployed a 2-person mission to Ukraine's neighbouring countries: Hungary, Lithuania, Poland and Slovakia, to oversee the humanitarian response and aid distribution contributed by SRC.