We commemorated International Volunteer Day with 150 volunteers at a virtual Volunteer Appreciation Ceremony on 4 December 2021! Themed "You are our Hero", the event also paid tribute to 355 awardees for their tireless contributions in 2019 and 2020.
Addressing the volunteers in a pre-recorded opening speech, Chairman of the Singapore Red Cross Mr Tan Kai Hoe thanked volunteers for their tireless and selfless contributions.
"I would like to recognise and thank each of you for your time and effort, your talent and wealth, and your partnership and leadership, all of which you have freely and generously given towards our humanitarian endeavours over the past years.
In line with the theme this year 'You Are Our Hero', volunteers can give themselves a pat on the back as they "are truly heroes in the eyes of the individuals, families and communities who look to the Red Cross for help and hope."

During the event, Singapore Red Cross Council Member and volunteer Mr Dennis Mark also shared exciting developments that will shape the future of volunteer engagement. Some of the interesting initiatives include the revamped Volunteer Management System and the new Volunteer Portal. He also gave a glimpse into a mobile app the Singapore Red Cross is developing to enhance connectivity and engagement among volunteers.
"To be conferred with an award is a great way to begin another chapter. I hope it would energize you to go for a higher level of contributions and recognition. At the same time, you should path the way for many to join your footsteps in gaining such recognition. Award winners are pathfinders and leaders we celebrate today. Heroes come in all shapes and forms and can be defined as people who have noble qualities or have made sacrifices for a greater cause," said Mr Dennis Mark.
Volunteer Sharing Sessions
Several volunteers were also invited to share about their volunteering journeys with the Singapore Red Cross.

Global Engagement volunteer Mr Victor Ng, who joined the inaugural Overseas Disaster Response Team (ODDT) training in 2016, and has since embarked on local and regional training, and disaster response.
"Every volunteer has the potential to make a difference; no contribution is too small or insignificant. Every professional brings with him/her different lenses to the operation. Volunteering exposes volunteers to segments of society they may not have otherwise encountered. I hope volunteers will listen more, remain hungry to learn, do more, always be ready, and keep updated so they are better equipped to serve and contribute their skills and knowledge. I encourage people with the heart to volunteer to take the step forward as they can forge friendships by engaging in humanitarian work as volunteers can build one another up for a greater good; capacity-building and resilience."
Ms Siyona Saini, volunteer fundraiser under the FR Catalyst programme. Despite being merely 11 years old, Siyona has already raised $40,000 in support of the elderly. She hopes to do more such campaigns in future.
"The experience with the Singapore Red Cross for me has been truly fulfilling...The volunteers and staff here are always on the ball, on their feet, just ready to help the underprivileged communities. There is a quote I would like to share with you, "the best exercise for the heart is to reach down and pick someone up." That is what the Red Cross helps us to do. Singaporeans are helping Singapore stay together, be united, and be stronger. In this COVID-19 time, Red Cross has truly made a difference by helping those in need and by providing healthcare supplies. I feel like I have become a better person. It taught me several values like resilience and discipline. I am truly grateful to everyone who has helped me along the way and the Singapore Red Cross."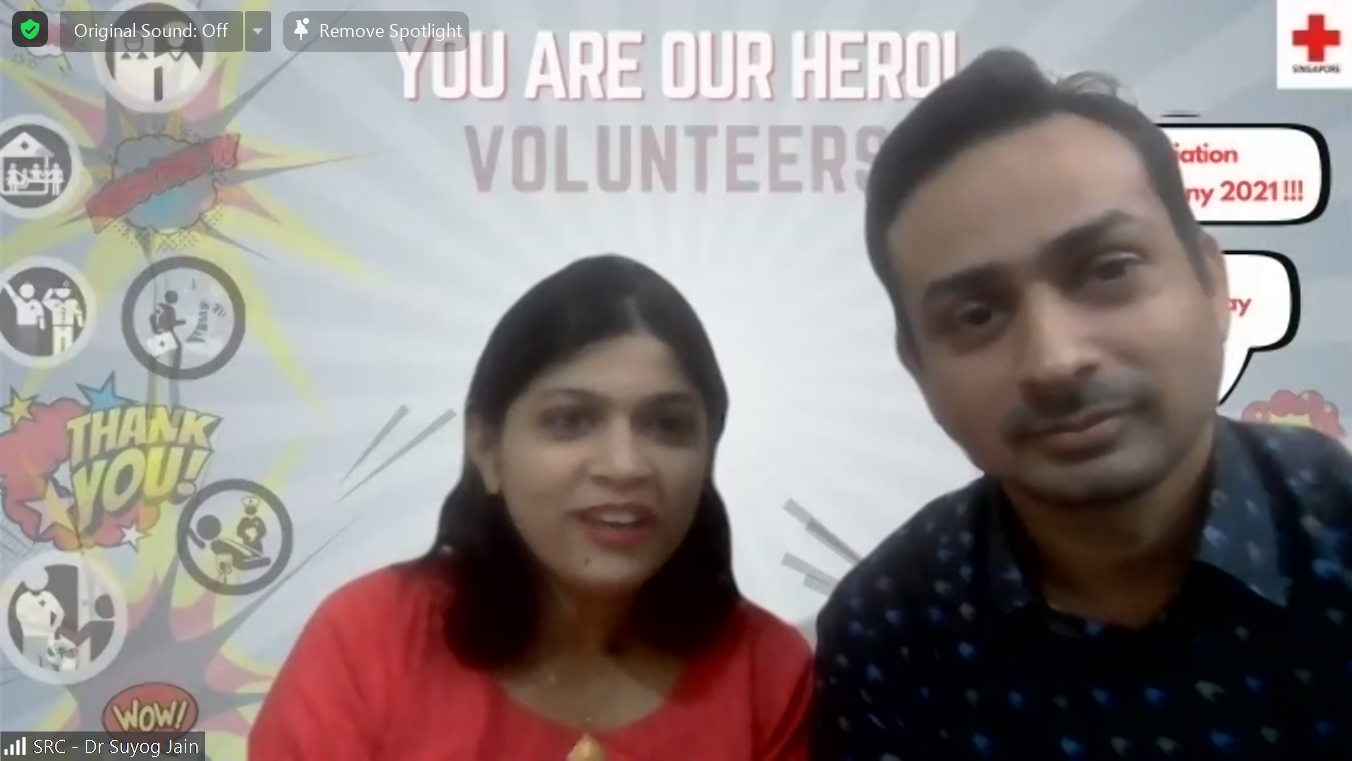 Dr Suyog Jain & Mrs Punisha Jain, Blood Donor Programme volunteers blood donation advocates. They help ease new donors into the blood donor process at roadshows, blood banks and blood drives, share tips and experiences, and provide comfort to donors who require additional support.
"Volunteering has been a very fulfilling experience for both of us as we could see the impact we made. We would like to encourage people, both young and old, to consider volunteering in the area of their interest. Though it could be a challenge finding time to volunteer while juggling work and family, ultimately you will make it."
Dr Carol Loi, a Singapore Red Cross volunteer turned employee who has been volunteering in different capacities with SRC for more than 30 years; with the Singapore Red Cross Academy, Community Health on Wheels, and Family LifeAid. She embarked on her maiden overseas volunteer mission in Nepal in 2018 as part of SRC's medical mission team.
"If one is sincere in helping others, he or she will ultimately find great joy and satisfaction in doing so. Ultimately, volunteering is about giving back to the community. I hope that more youth volunteers will step forward to volunteer in areas they are interested in and passionate about, as that will bring true happiness to them."
Talent Showcase
To show our appreciation to our volunteers, several SRC employees came together to put together a talent showcase.
Ms Rebekah Lim, Acting Head of International Services, belted out the song 'One Call Away', by Charlie Puth, with musical accompaniment by her husband. Thank you, volunteers, for always being "one call away".
Mr Muhammad Sidik Bin Kamaruddin, Project Coordinator of Resource Development engaged the volunteers in an upbeat dance that got their adrenaline pumping!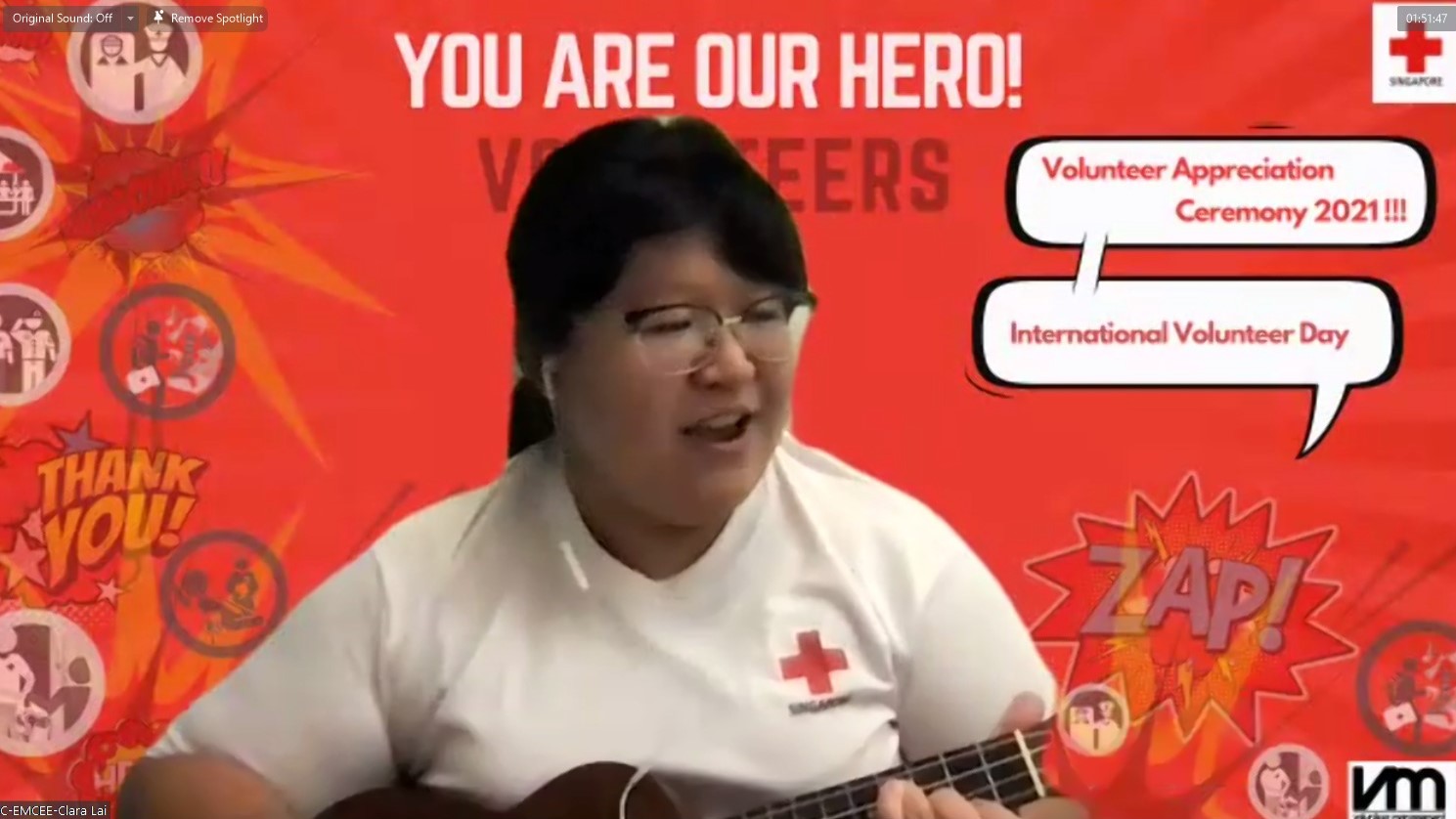 Emcee and volunteer, Ms Lai Si Ying Clara played her ukulele and crooned to the catchy song 'Count on Me' by Bruno Mars.
A touching video featuring heartfelt words of appreciation from beneficiaries was also presented.
This was followed by a dance performance by SRC employees from different departments.
Thank you, Volunteers!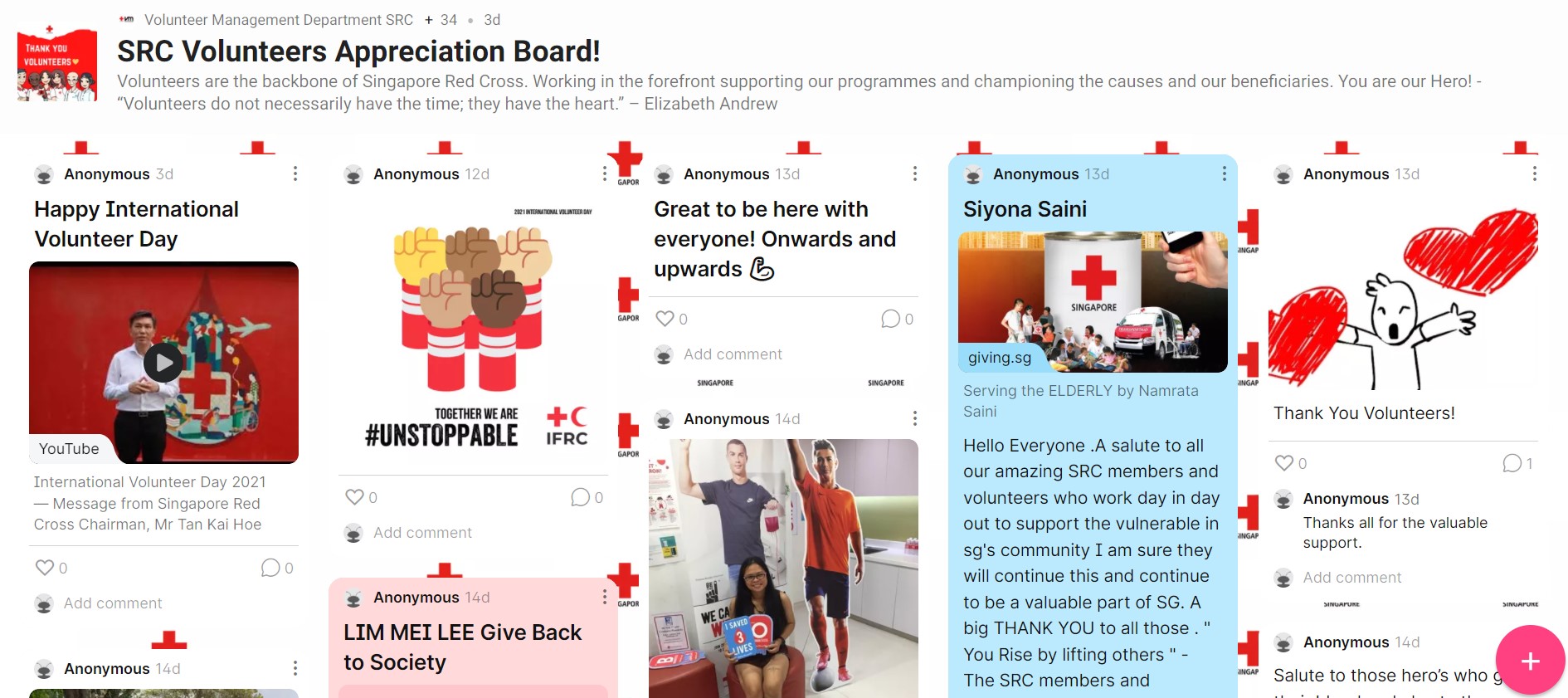 We are deeply appreciative of the unwavering commitment and contribution of our volunteers, many of whom lent their time, talent and treasure to our cause. Check out our Volunteer Appreciation Board for more heartwarming messages of thanks from SRC staff.
Special Thanks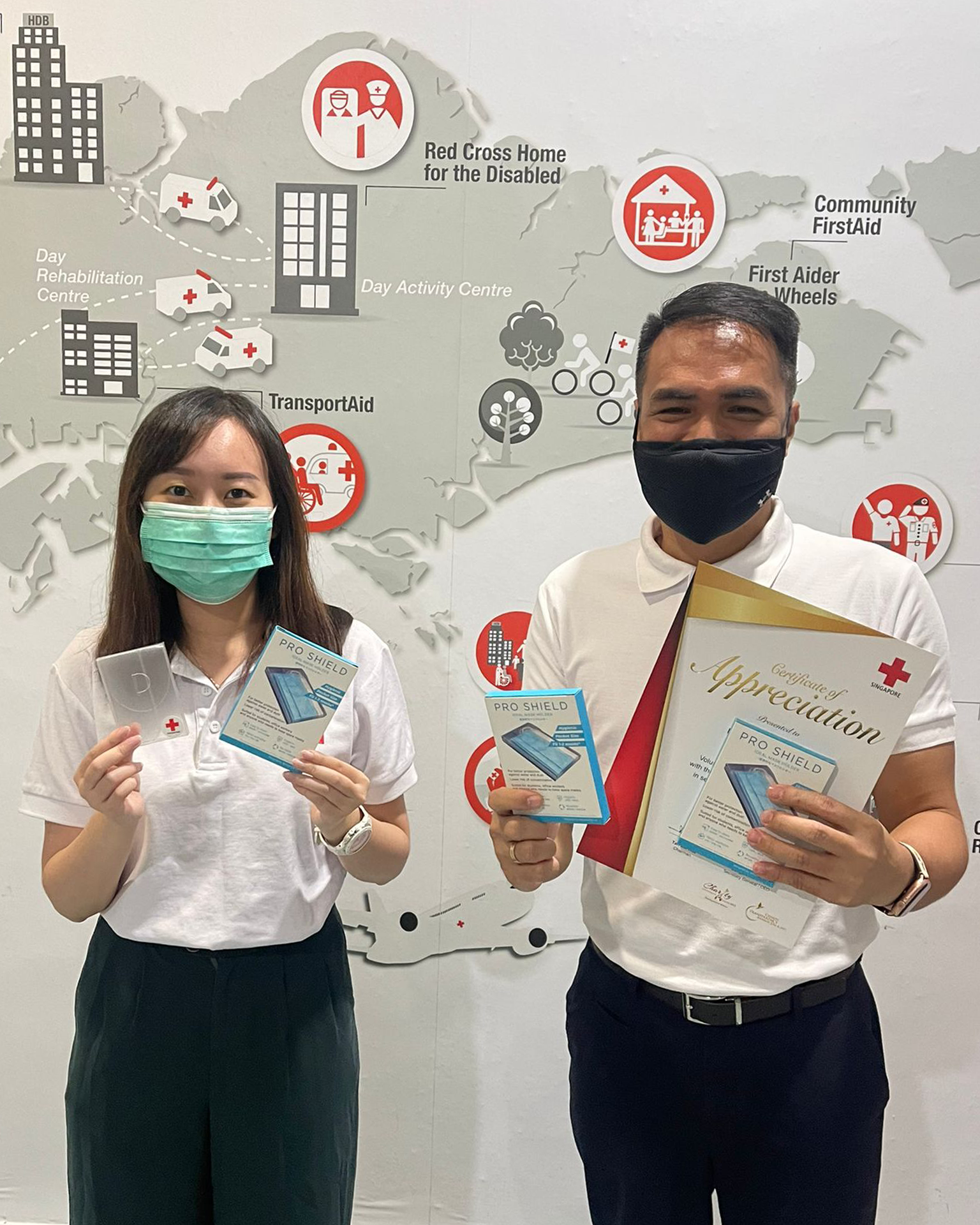 We would like to thank Xenium Pte Ltd for sponsoring 500 Proshield Masks. We appreciate the kind gesture, as that keeps everyone safe during the celebrations!