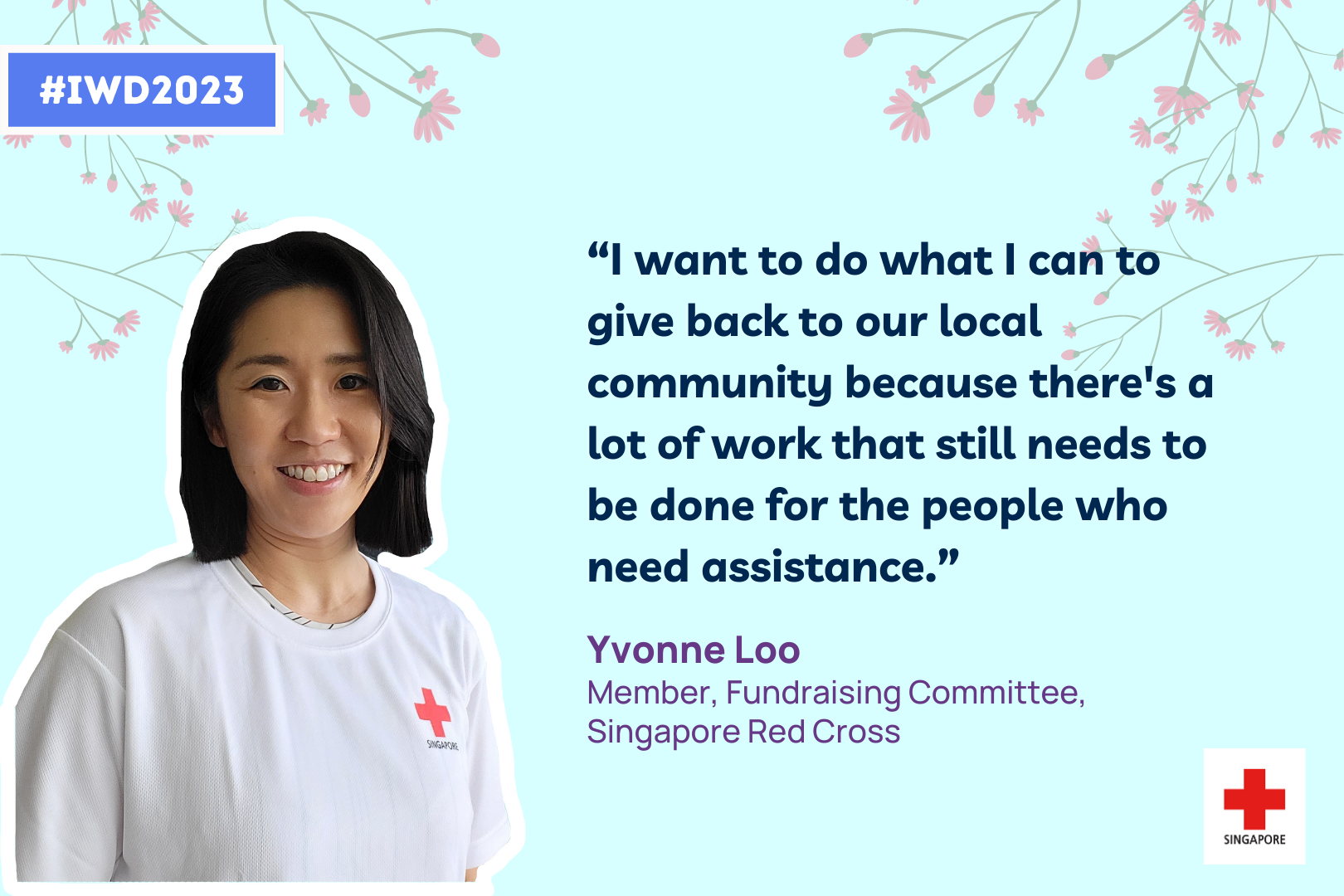 As we commemorate International Women's Day, we celebrate the women in our midst who have made a difference through their contributions to Singapore Red Cross' (SRC) humanitarian work.
Yvonne Loo is a young mother, an accomplished artist, and a successful businesswoman. During the COVID-19 pandemic, she learned about SRC's local humanitarian work and became interested in fundraising to support SRC. Learn how Yvonne Loo is making a difference through her art and fundraising.
"I've always wanted to do more charity work and contribute back to Singapore. Learning about the Singapore Red Cross' (SRC) humanitarian work for the local community sparked my interest to find out what I could do, whether by contributing funds or by volunteering my time and experience," says Yvonne, who is a company director of a medical device company, where she oversees the operations, sales, and distribution of innovative medical devices.
Leveraging Her Experience and Network for Support
With her management background, expertise, and experience, Yvonne was a natural fit when SRC was looking for someone to publicise its Golf For Humanity event, which raises funds for its local humanitarian programs.
"Besides spreading the word about the charity golf event to my friends who play golf, I invited and encouraged them to purchase tickets to the event.We raised about $10,000 through my network, ," she said.
Working with the event organizers piqued her interest in fundraising, and Yvonne considered other ways she could contribute to SRC.
"As a woman, I was interested in helping with the Women in Red fundraising drive. I raised about $3,400, which surpassed my initial target," she shared.
Driven by her passion for fundraising, Yvonne became a member of SRC's fundraising committee. She enjoys tapping on her work experience to enhance SRC's fundraising efforts.
"I was able to draw on the knowledge and expertise gained from my healthcare background, and experience from running a company, to automate some of SRC's fundraising processes to enhance efficiency while facilitating a good customer service experience," she said.
Tapping on Her Artistic Flair for Good Causes
Besides managing a company and fundraising for charity, Yvonne is also a talented acrylic paint artist. She has been selling her art pieces to fundraise for charity for over five years.
"I have loved painting and creating art pieces since I was young," said Yvonne.
But her parents wanted her to choose a career in business rather than art.
"My results were good enough for me to pursue a career in business, so I decided to fulfill my parents' wishes. Art has always been a pastime for me. I picked it up in a more serious way when I entered adulthood. After painting a few art pieces, I decided to do something meaningful with them and see if people would buy them for charity," she said.
About five or six years ago, Yvonne held her first art exhibition, a solo exhibition opened to her friends and family. As her exhibition was well-received and people were supportive, she donated the proceeds of her art pieces to charity in honour of her late grandmother.
Aside from selling her art pieces for charity, Yvonne has also leveraged her creative flair for another purpose.
Her recent visit to the Red Cross Home for the Disabled (RCHD) sparked another initiative.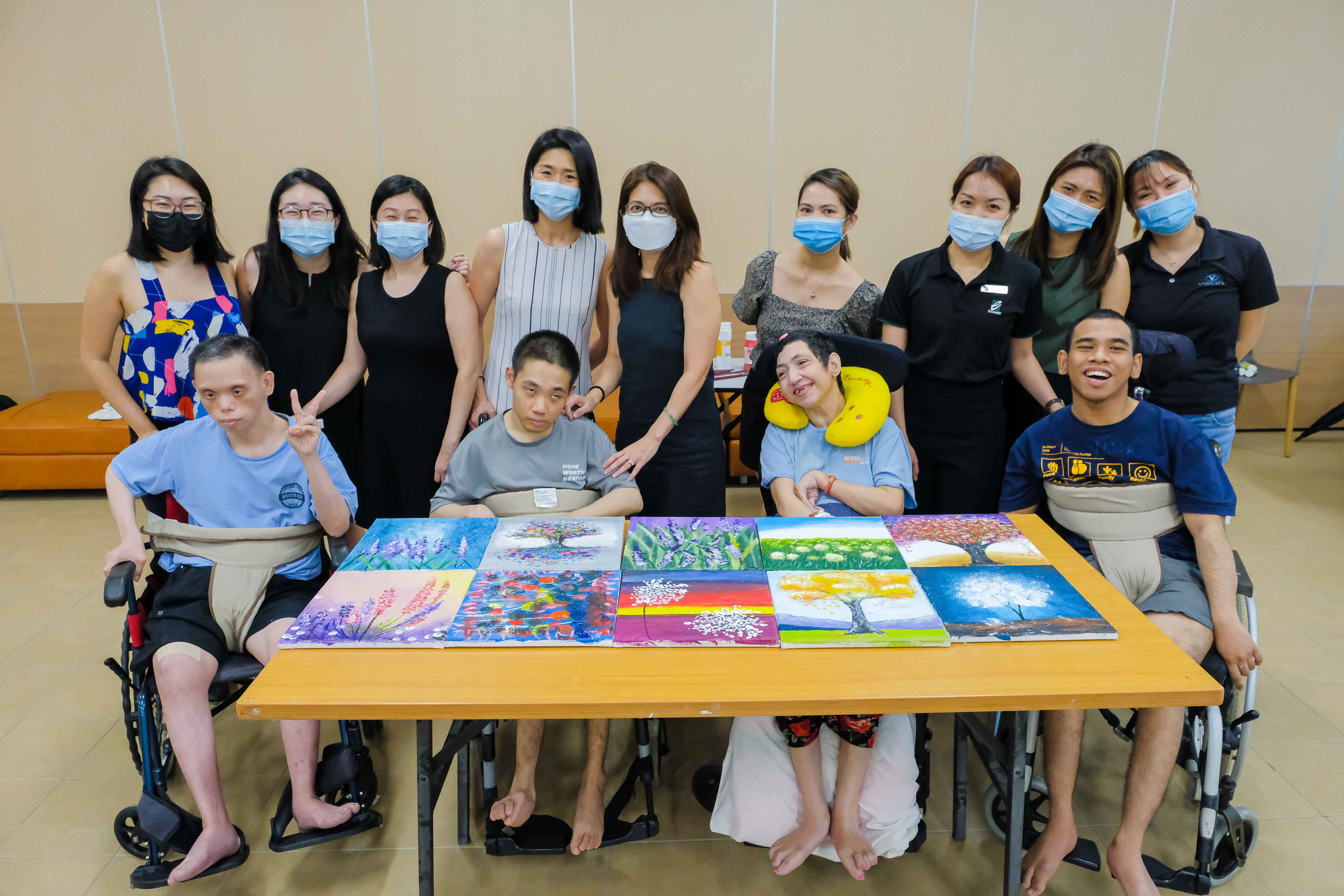 "After visiting the RCHD, I thought that the residents could benefit from some interaction. I was inspired to engage the residents in art therapy," she said.
Consequently, she encouraged her colleagues to volunteer their time engaging the RCHD residents in art therapy over a two-hour event as part of their corporate social responsibility.
The event entailed some preparation.
"We had a canvas preparation workshop, where I taught my colleagues the basic skills to prepare the canvas background. We brought the canvases to RCHD, where the residents decorated the art pieces," shared Yvonne.
Following in Her Mother's Footsteps - Embracing Kindness
Yvonne says her inspiration for fundraising comes from her mother.
"My mother is someone whom I look up to. She is a true giver in every sense. She has made several sacrifices for our family. Although she was not very highly educated, she has always been kind-hearted. My mother ensures that everyone around her is well taken care of. I learned a lot about kindness and giving from her," Yvonne shared.
Having been brought up to count her blessings and not take things for granted, she said, "Now that I am financially independent, I keep thinking about what I can do to give back to the vulnerable who may have been overlooked by society."
Overcoming Misconceptions that the Singapore Red Cross is 'Rich'
Yvonne shared that the biggest hurdle she had to overcome when fundraising for SRC, was the misconception that the SRC is 'rich.'
"The public may hear a lot about the SRC's fundraising efforts for international appeals; disasters, or humanitarian crises overseas. We need to ensure that the public understands the difference between the funds raised for international efforts and the funds raised for the SRC's local humanitarian efforts," she said.
She highlighted that there are people who have fallen through the cracks of Singapore's social safety net and these people still need help.
"As Singapore is an affluent country, some people may perceive that there wouldn't be people in impoverished circumstances who need assistance. But that's not the case. There are people struggling to make ends meet just to put food on the table for their families. There are the elderly, persons with disabilities, and young children from less privileged families who need help. I want to do what I can to give back to our local community because there's a lot of work that still needs to be done for them," Yvonne shared.
By Illka Gobius, Volunteer
Copyedited by Nitisha Venkatachari, Volunteer
| | |
| --- | --- |
| | Be our champion for humanity, donate and support our local humanitarian efforts. |