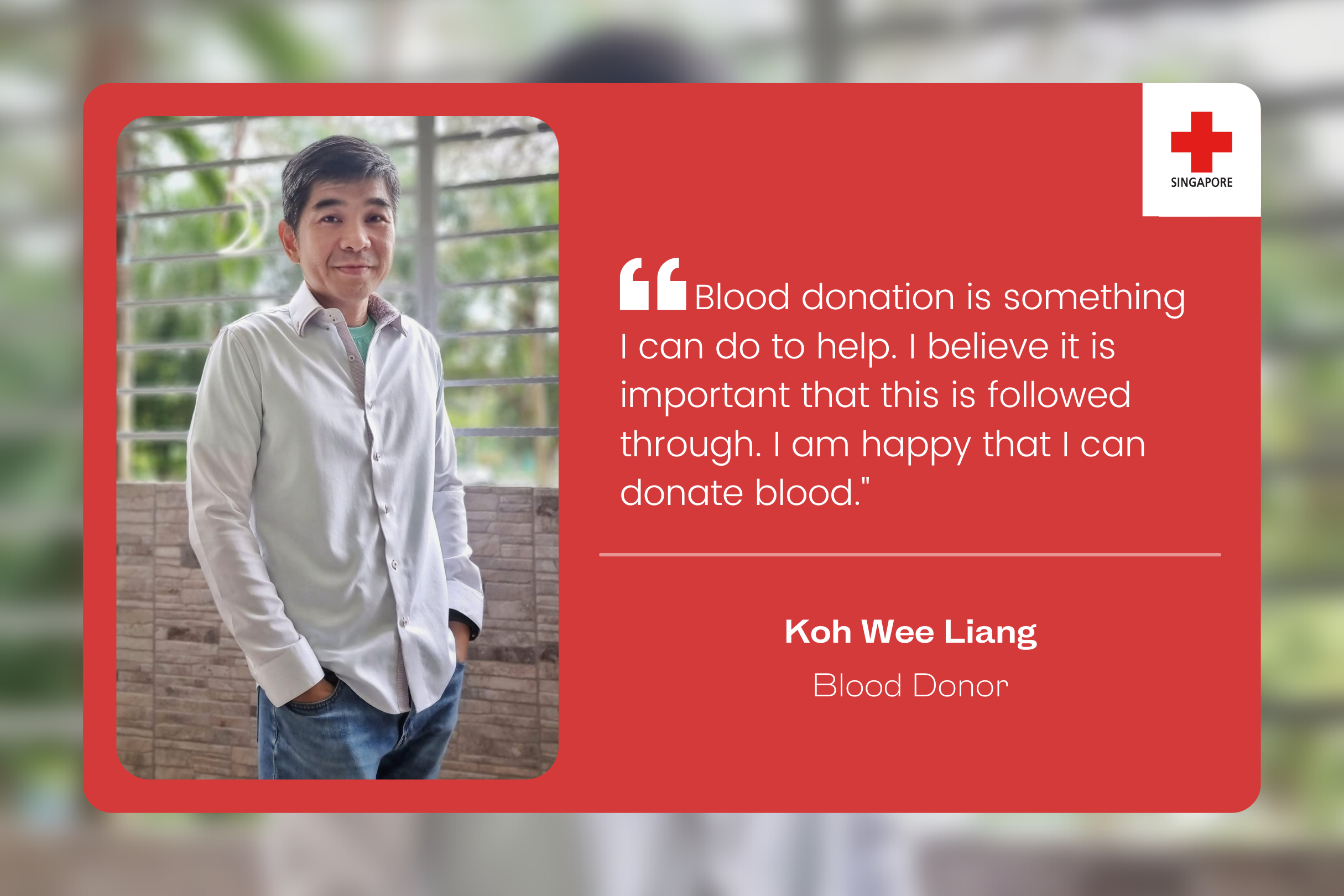 Two reasons motivated Koh Wee Liang to donate blood. First, his classmate succumbed to a blood disease before their scheduled blood donation. Second, he came across a casualty who was bleeding profusely when he was deployed to a rescue mission, as part of a helicopter aircrew. However, his work commitments, part-time studies and family responsibilities put his blood donation on hold. When he finally made the decision to donate blood when he was 28, he was diagnosed with hypertension that made him ineligible for blood donation. When he recovered from hypertension 16 years later, donating blood was one of the first things on his mind. Now, he spreads the message of blood donation to his children and his network.
Two unforgettable experiences spurred Koh Wee Liang to embark on his blood donation journey. In 1997, Wee Liang's polytechnic classmate was diagnosed with a rare blood disease which required blood platelets. Due to the critically urgent situation, the classmate's mother called for blood donors to step forward to donate blood. Unfortunately, the blood donation was delayed and arranged after their final exams. His classmate succumbed to the illness before the scheduled blood donation. In hindsight, Wee Liang believed that his classmate's life could have been saved if there had been sufficient blood supplies.
From 1998 to 2011, Wee Liang was deployed to several rescue missions, as part of a helicopter aircrew. In one of the rescue missions, the casualty was bleeding profusely and had to be stabilised before being conveyed to the hospital.
Witnessing these life and death situations, Wee Liang realised the crucial importance of blood supplies. With strong determination, Wee Liang vowed to himself that he would become a blood donor.
Overcoming Personal Challenges
Wee Liang's determination, however, took a back seat as he was juggling with work commitments, part-time studies and family responsibilities in his early to mid-20s. When he finally decided to donate blood at the age of 28, he was diagnosed with hypertension, which made Wee Liang ineligible for blood donation.
Undeterred, he kept a positive outlook to overcome the challenge. In January 2022, Wee Liang, now aged 45, conquered his hypertension and is no longer on the medication.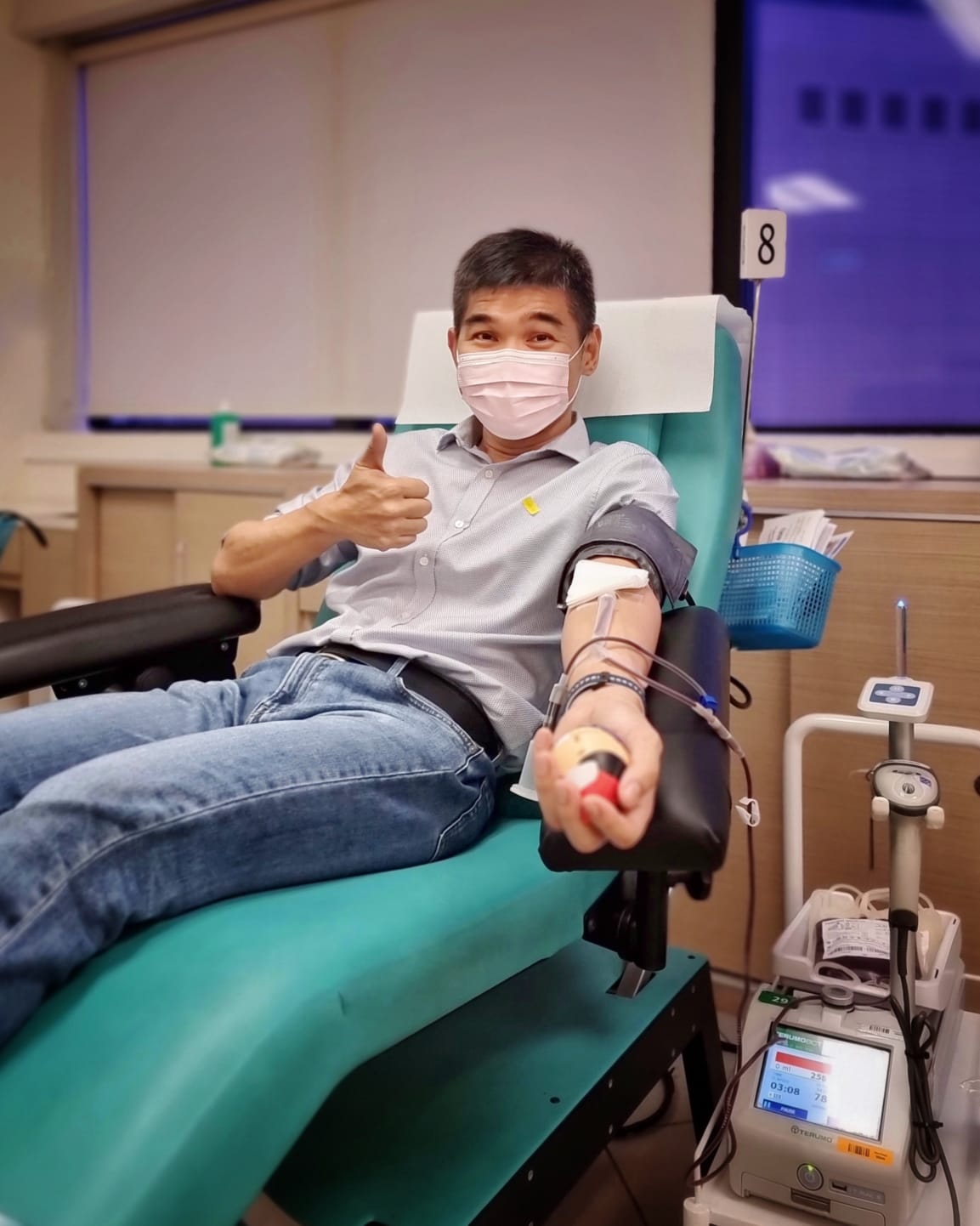 "Having recovered from hypertension, blood donation was one of the first things I wanted to do," he recounts with joy.
Inspiring the Younger Generation to Donate Blood
It is imperative that our younger generation understands the significance of blood donation.
To set a sterling example for his children, Wee Liang brought his 10-year-old son along when he made his maiden blood donation at Joo Chiat Community Club.
"Blood donation is something I can do to help. I believe it is important that this is followed through. I am happy that I can donate blood. The blood donation process was swift and efficient. The nurses were very friendly. They kept my son occupied with snacks!" he shares.
On his second donation, Wee Liang roped in his two daughters, aged 15 and 17, and son, along to Whampoa Community Club for the blood donation.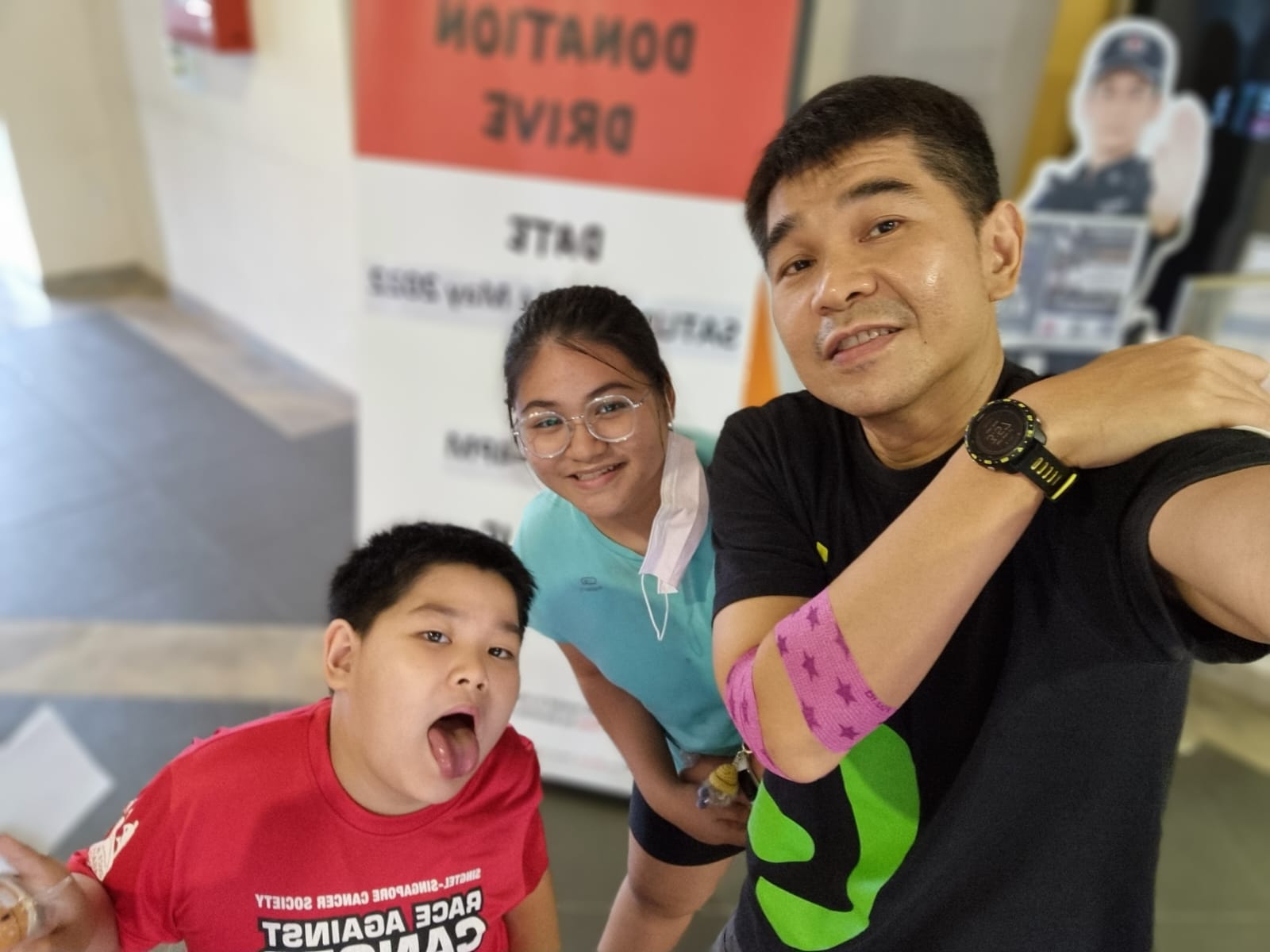 "It was a good experience, and I am glad I can expose my children to blood donation. It alleviates their fears and apprehensions about blood donation. They witnessed many people donating blood and their dad is one of them," explains Wee Liang.
Expressing gratitude towards our nurses and volunteers, he said, "We are blessed in Singapore that the nurses and volunteers are very helpful and patient. They make the blood donation process seamless and relaxing. I look forward to the establishment of a blood donation centre in the eastern part of Singapore for greater convenience."
Meanwhile, his children had an enjoyable time at the blood drives.
"They were happy with the ice creams offered and stress ball that I brought home!" he quips.
Wee Liang feels that the younger generation needs to understand the raison d'être of their decision to donate blood to save lives, and take pride in that decision.
To motivate his children to voluntarily embrace blood donation in the future, he tells them, "When a casualty is conveyed to the Accident and Emergency (A&E) department of a hospital, or when a patient undergoes an operation, they may not necessarily walk out of the hospital alive. Sometimes, blood supplies can make the difference."
Indeed, someone's spouse, parent, or child is still alive because of the selfless blood donors who dedicated time and effort to donate blood. Consistent blood supplies from regular blood donors save lives and sustain the lives of those who require blood transfusions or surgeries.
Wee Liang's blood donations addressed and clarified his earlier misconceptions. Initially, he perceived that the blood donation would be time-consuming. Yet, his experience proved otherwise. It took merely 15 minutes. He was also concerned that he may experience dizziness or require more time to recoup before resuming his daily routine. However, he headed back to the gym two days later after consuming nutritious food.
Spreading the Word about Blood Donation
Given the reach and multiplier effect of social media, he goes the extra mile to leverage social media platforms to spread the word about blood donation to inspire others to give the gift of life. It gives him immense satisfaction to see people in his circle stepping forward to donate blood.
Concluding, he says, "We raise awareness of the reality and the need for blood among the younger generation. I am glad my friends joined me in this delightful journey."
By Aashish Sharma, Volunteer
Copyedited by Dr Nguyen Kien Truc Giang, Volunteer
| | |
| --- | --- |
| | Keen to donate blood or organise a blood drive? Click here. |