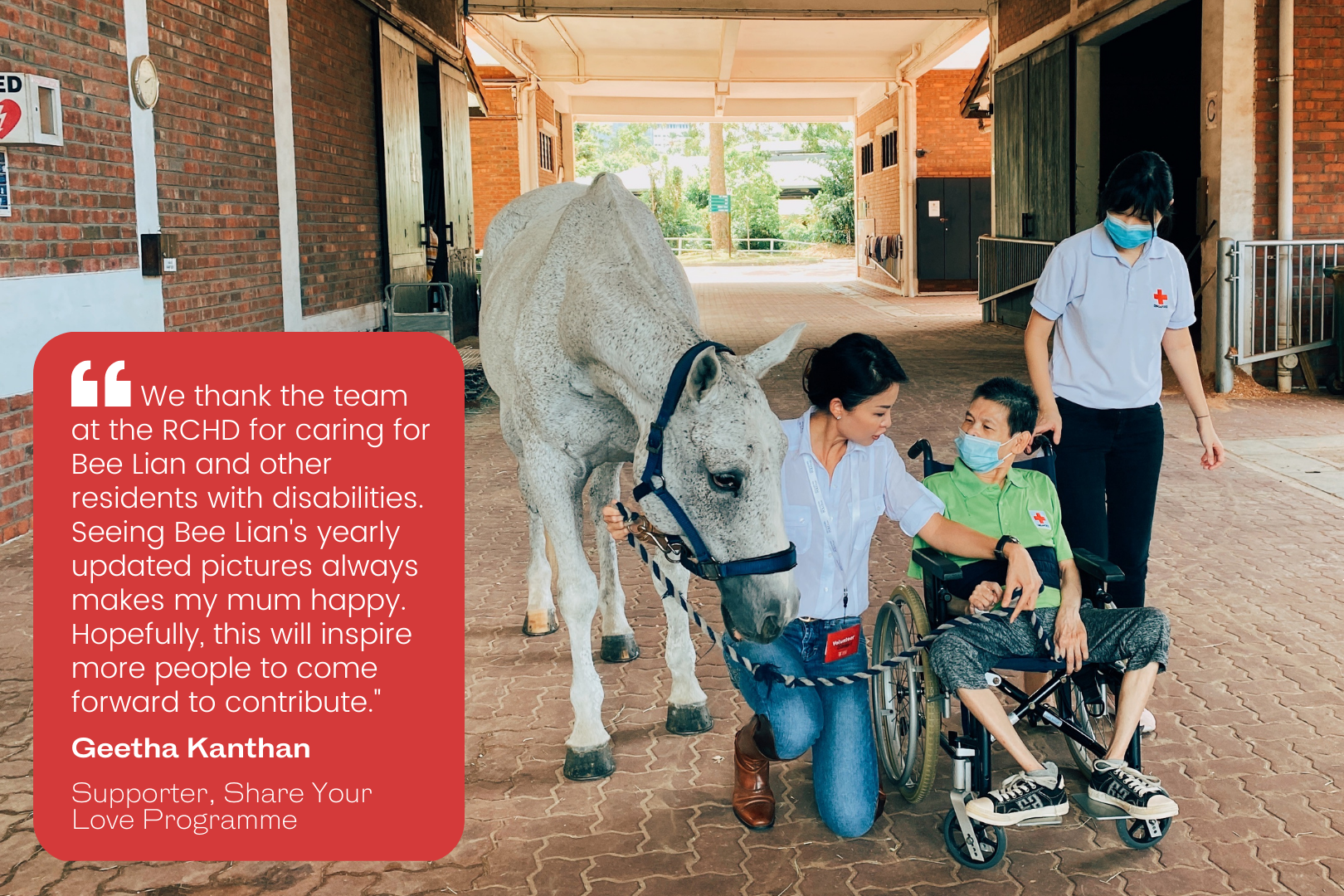 Diagnosed with cerebral palsy, 60-year-old Lim Bee Lian has been receiving professional care at the Red Cross Home for the Disabled (RCHD) for 29 years. An outgoing individual, Bee Lian would always put on her best smile when volunteers visit her. She loves interacting with volunteers and going on outings. Bee Lian has many volunteer friends around the world and stays in touch with them through video calls and letters. She is currently supported by the RCHD Residents Adoption Programme, which allows corporates and individuals to contribute to the care of RCHD residents.
Cared for By Different People
When Lim Bee Lian was six months old, she was given away for adoption. Diagnosed with cerebral palsy, she was placed under the care of a foster mother in 1974. After her adoptive parents passed away, she was admitted into the Red Cross Home for the Disabled (RCHD) in February 1994 as her foster mother was too old to care for her.
At RCHD, a team of dedicated nursing professionals, therapy and healthcare aides, physiotherapists, occupational and speech therapists provide quality care to Bee Lian and other residents with severe and multiple disabilities.
In 2017, Geetha Kanthan and her family adopted Bee Lian under the RCHD Residents Adoption Programme, which allows corporates and individuals to contribute to the essential expenses of RCHD residents, thereby easing the financial burden on the residents' families. Geetha's family has been donating annually with the aim of inspiring others to do the same.
"We came across the RCHD serendipitously, on our way to church, and learnt about RCHD's adoption programme. With my mum's encouragement, we've adopted Bee Lian and have been donating annually to the programme since 2017. We hope to continue to do so, as long as we can. We thank the team at the RCHD for caring for Bee Lian and other residents with disabilities. Seeing Bee Lian's yearly updated pictures always makes my mum happy. Hopefully, this will inspire more people to come forward to contribute," says Geetha.
Determined to Communicate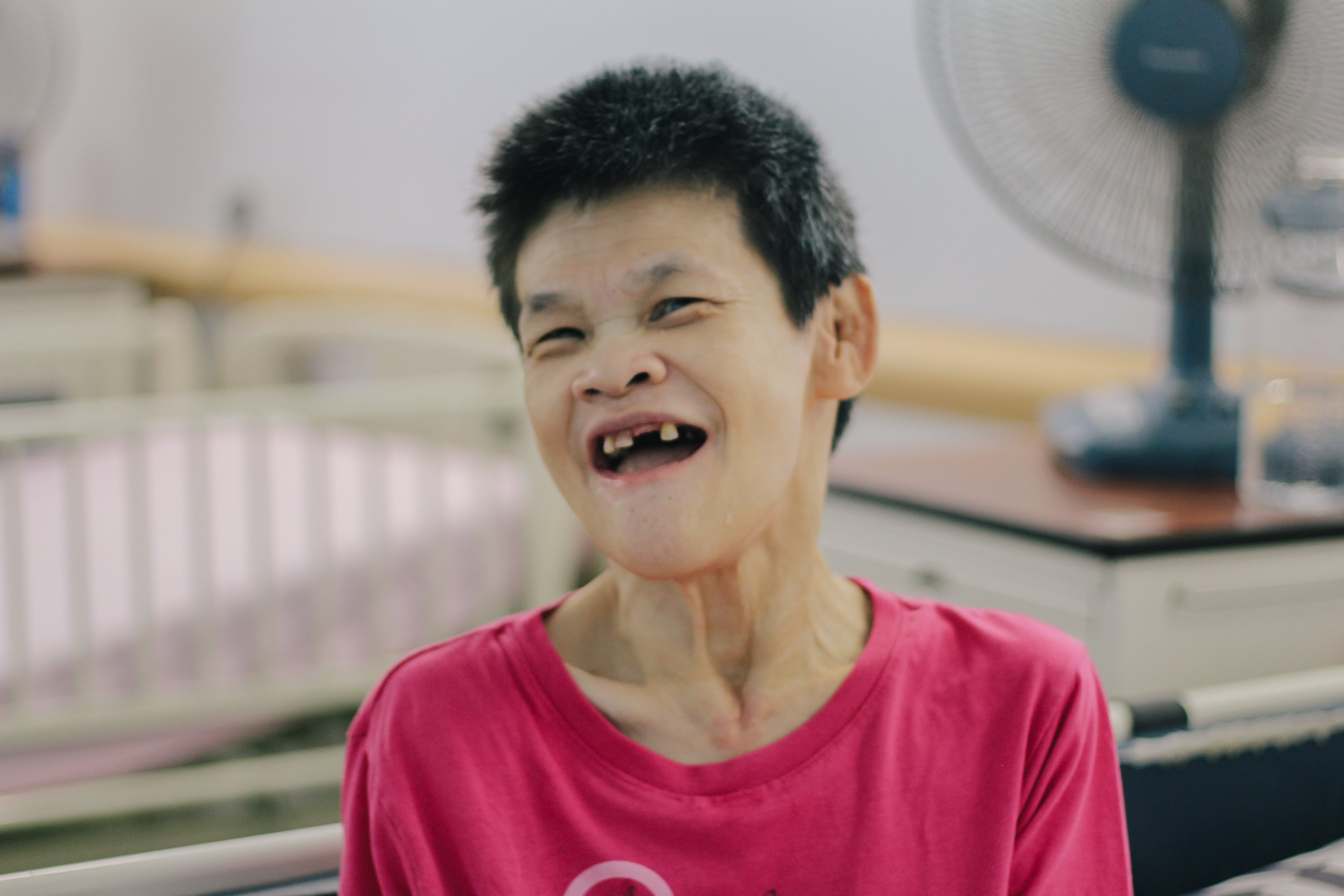 Those who meet Bee Lian for the first time may not understand her due to the way she talks. However, she never fails to greet her visitors with a big smile.
"Bee Lian would repeat herself until one understands her, demonstrating her determination and patience. She would conceive different ways to communicate," says Alessandra De Long Villiers, 45, one of Bee Lian's close friends.
Another close friend, Stefan Smola, 65, has found different ways to better communicate with Bee Lian.
"My wife, Jutta, and I would ask some 'yes/no' questions to find out what she wants to tell us. If we still could not understand her, we would ask the kind nurses who understand her better for help," said Stefan.
A Jovial Personality
Despite the challenges in her life, Bee Lian always maintains a positive attitude and enjoys interacting with others. She appreciates having someone to talk to and loves listening to their life stories and jokes. Over the years at RCHD, Bee Lian has forged countless friendships with several volunteers, visitors and nurses who have set aside time to care for and interact with her. Some of her friends, who hail from other parts of the world, stop by Singapore to visit her while awaiting their next flight to their destination country.
"She is one of the most cheerful people at RCHD, as she is always very smiley and happy," says Alessandra.
Johanna Mendoza, 46, a Staff Nurse at RCHD, echoes that sentiment. "Bee Lian enjoys communicating with others."
With a playful and jovial disposition, Bee Lian would occasionally play pranks on others to have a hearty laugh while making them smile.
"On a couple of visits, Bee Lian would hide somewhere and scare me from behind, which I found so funny," quipped Alessandra.
Close friends of Bee Lian would also describe her as an appreciative person who enjoys the company of others.
Vedina Goyena, 39, a Senior Nursing Aide at RCHD and long-time caregiver of Bee Lian, shared, "When you give her small gifts or your time, she is very grateful and will thank you non-stop."
Stefan spoke about Bee Lian's honesty and outspokenness.
"She is forthright with what she says and does so with a big smile," says Stefan.
Yet, there were times when Bee Lian would refuse to eat or sit in her wheelchair.
"We would patiently reason with her, and she would smile and comply. Caring for Bee Lian is easy, as she understands and would listen to us," said Vedina.
Finding Joy in Connecting with Others
Like the majority of Singaporeans, Bee Lian loves good food. A big fan of spicy food, Bee Lian would often gesture to ask Stefan to bring some chilli oil on their next visit.
Stefan explained, "I think it's absolutely alright for her to ask me for it as she is unable to go to the shop to buy it by herself. When she gets the chilli oil from me, she is very thankful for it."
Besides her love for good food, Bee Lian keeps a special phone book with the names, photos, addresses and phone numbers of all her friends.
"Despite being illiterate, Bee Lian remembers the exact page my name is on in her phone book. With the help of the nursing aides, she would call me to remind me to visit her. The phone book is about 25 years old with hundreds of names in it," shares Stefan.
At times, Bee Lian enjoys writing letters to friends, albeit with some help.
"Bee Lian also loves writing letters to her friends, who used to visit her and have left Singapore. She would ask me to bring some paper, cards, envelopes, and stamps. We would write to her old friends together," recounts Alessandra.
Bee Lian looks forward to going out on outings and attending celebrations. During a Christmas party last year, Bee Lian received gifts and watched a performance, where Johanna witnessed her "smiling throughout the day, even after she returned to the ward."
"It's easy to bond with her and I love her. Even as a nurse, I do not treat her as a patient nor a resident. I treat her as one of my family members," said an enthusiastic Vedina.
Just like anyone else, Bee Lian thrives on good food, yearns for companionship and enjoys celebrations. With the help of regular donations and support through the RCHD Residents Adoption Programme, others like Bee Lian can benefit greatly from your contribution.
By Julian Kam, Marketing Communications & Partnerships Intern
Copyedited by Heidi Boon, Volunteer