Adopt a Resident through the 'Share Your Love Programme'
The Red Cross Home for the Disabled (RCHD) provides quality 24/7 care to about 100 residents with multiple disabilities to ensure their physical, mental, emotional and social well-being.
Every year, Singapore Red Cross (SRC) needs to raise over $4.45 million ($3.77 million for RCHD and $680,000 for the Day Activity Centre for the Disabled) to effectively run the operations of RCHD and the Day Activity Centre. The funds are used for expenses including the purchase of milk, diapers and wheelchairs, particularly for residents whose families are unable to pay for these items.
To alleviate the financial burden on the families of RCHD residents, we invite corporates and individuals to adopt RCHD residents through the 'Share Your Love Programme'. Adopters can select from three tiers, according to their budget.
"The financial assistance will help the families of RCHD residents to channel their limited funds to other essential needs," explained Glynn Maung, Operations Manager, Red Cross Home for the Disabled.
Beyond providing financial aid, this programme also aims to address the emotional and psychological needs of the residents.
"The programme hopes to enable RCHD residents to cultivate long-lasting friendships with their adopters. Although many volunteers visit our residents, they may not be the same volunteers every time. We encourage adopters to visit the resident they are supporting regularly, to be a dedicated friend in whom our residents can confide in and connect with. This will make our residents feel happier". explained Glynn.
There is a one-year commitment period to ensure the sustainability of the support pledged. To find out more about adopting a resident, please call the Red Cross Home for the Disabled at 6762 1029 or email fundraising@redcross.sg.
"To give back to the community that has always supported us, we adopted Teo Chyi Lin, a resident of the Red Cross Home for the Disabled (RCHD). We provide financial support for his daily necessities, including toiletries, clothing, milk powder, thickener and diapers. We are thankful for the opportunity to support people in need and bring smiles to their faces. Our interactions with them when we visited in December 2022 were very heartwarming and memorable."
— Chloe Hwang, Founder of ToppingsKids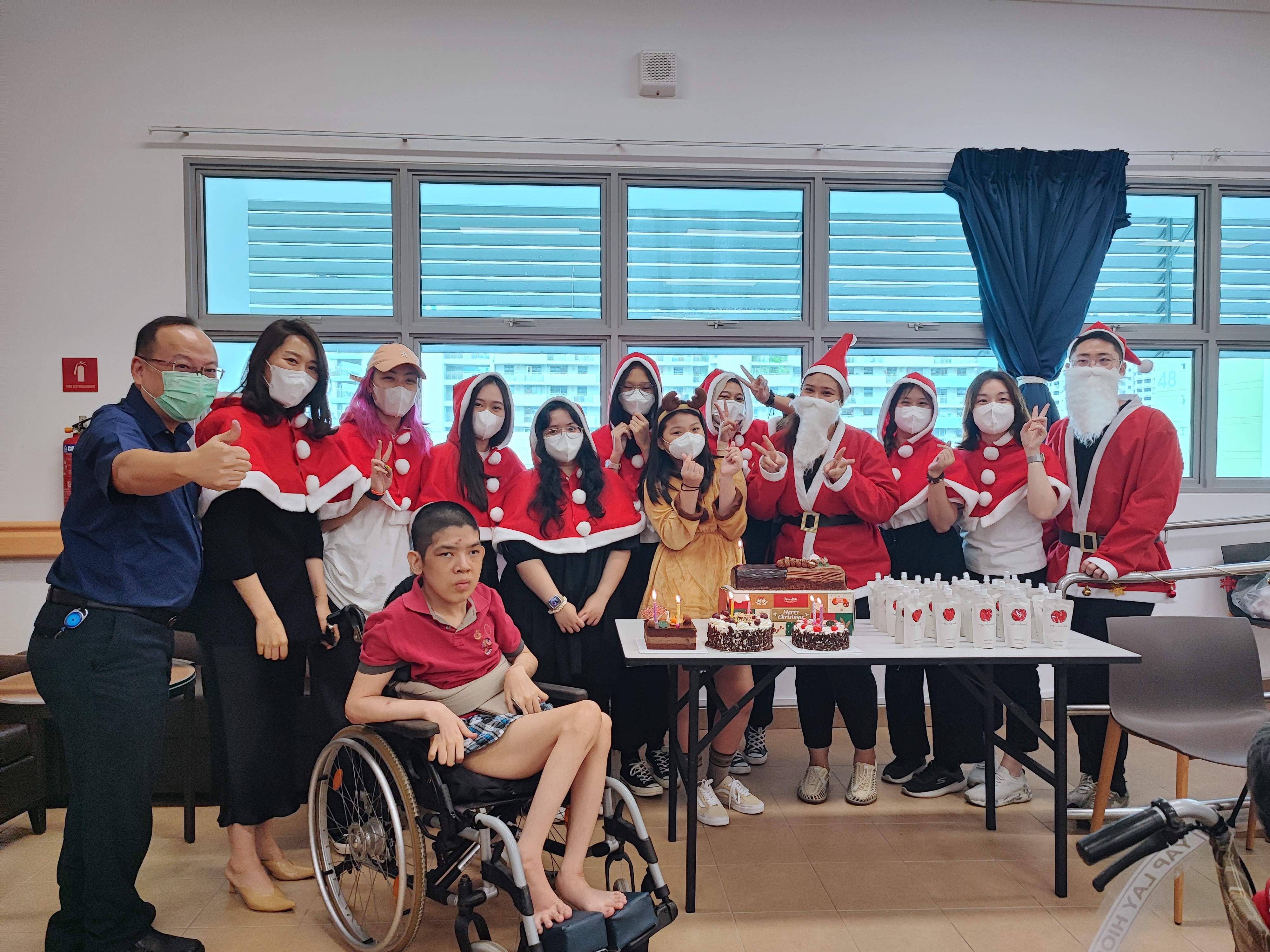 Geetha Kanthan and her family adopted Bee Lian with the aim of inspiring others to do the same.
"We came across the RCHD serendipitously, on our way to church, and learnt about RCHD's adoption programme. At my mum's encouragement, we've adopted Bee Lian and have been donating annually to the programme since 2017. We hope to continue to do so, as long as we can. We thank the team at the RCHD for caring for Bee Lian and other residents with disabilities. Seeing Bee Lian's pictures always makes my mum happy. Hopefully, this will inspire more people to come forward to contribute," says Geetha.
Read Bee Lian's story here.