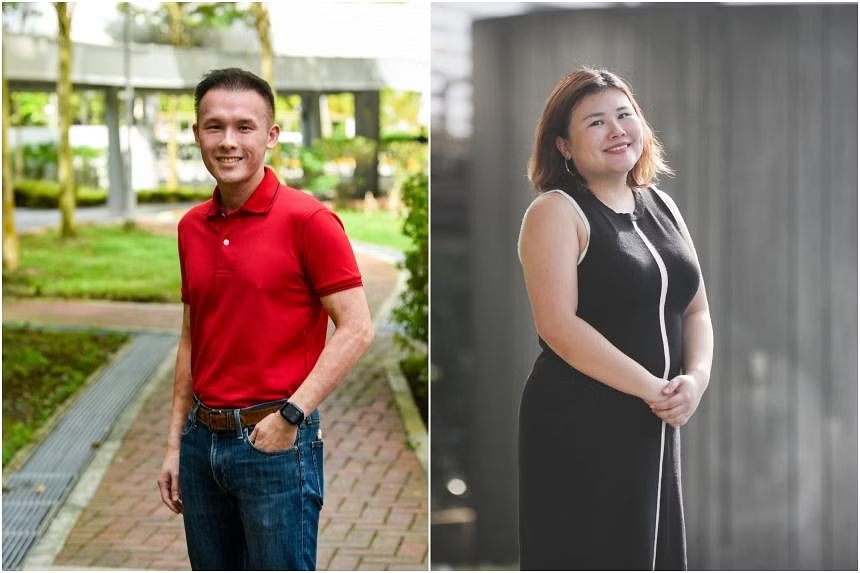 They were both in their 20s and feeling invincible when they found out that they had life-altering illnesses.
One month after she got married, Ms Kristen Soh, then 29, was diagnosed with lymphoma – a type of blood cancer that affects the immune system.
The co-founder of an online beauty publication received the shocking news after a persistent cough, which was initially diagnosed to be pneumonia, did not respond to antibiotics.
Mr Deon Lee was a 23-year-old undergraduate on an exchange programme in the Netherlands when he was diagnosed with leukaemia, another form of blood cancer that develops in bone marrow.
Both of them survived the battle with their illnesses, and they decided to share their stories in conjunction with World Blood Donor Day, celebrated every June 14, as blood transfusions were a critical part of their recovery.
For Ms Soh, chemotherapy left her feeling weak, breathless and unable to get out of bed. This was due to anaemia, or a low red blood cell count.
At her first blood transfusion at the National University Hospital, Ms Soh said she began feeling much better even before the transfusion of two bags of blood was completed.
Over six cycles of chemotherapy across 18 weeks, she received three rounds of blood transfusion, including one for platelets, which help the body to stop bleeding, before her lymphoma was considered to be in remission.
Such transfusions were also crucial for Mr Lee, who is today a people development executive at a local hospital.
As his body did not respond well to anti-leukaemia medication, his doctor suggested a stem cell transplant.
He was fortunate that his younger brother was a 100 per cent match, and the transplant brought his leukaemia into remission.
But it also changed Mr Lee's body, resulting in nausea, skin rashes, a loss of strength and an episode of bladder infection.
He said: "We were just hoping every week that my body was going to adapt to the donor's cells enough that I could start manufacturing my own red blood cells."
During his six-month recovery, Mr Lee underwent weekly blood transfusions at the Singapore General Hospital, each time involving either one or two bags of blood, to raise his red blood cell count.
"Immediately after each transfusion, I felt a lot better and stronger. But after about a week, my blood level would have dropped again and I would feel weaker," he said.
"That's when I would head back to the hospital for another round of transfusions."
Both Ms Soh and Mr Lee said they were immensely grateful to the strangers who had donated the blood, as it was a big help in their darkest days.
"Before this, I'd never thought much about how blood donations would help the person on the receiving end," said Ms Soh. "To the blood donors, I would like to thank them for their generosity."
The difference before and after each transfusion was also apparent to her mother.
"Once, she told me, 'Today I'm going to pray for these people who donated blood to my daughter'," added Ms Soh.
Knowing that Singapore's blood banks are adequately stocked was a source of comfort during his recovery, said Mr Lee.
"There was always a feeling of security that, when I needed blood, there would be blood," he said. "It's because of all these donors that make this sort of consistency possible."
Both Ms Soh and Mr Lee said their journeys have given them new perspectives on life.
Mr Lee, now 27 and married, said he feels like he has been given a second chance at life.
Ms Soh, now 38 and a mother of two boys, said she has become more mindful of any changes in her body.
She had volunteered regularly for five years, working with hospital patients, until the birth of her second son in 2021.
She also alerts her friends and family whenever she sees social media posts by the Singapore Red Cross on low blood stocks, in the hope that donors would respond.
Mr Lee said: "Being there to receive and to see other people receive transfusions, I can see how important this is.
"You're basically giving strength, energy and life to someone else."
Source: The Straits Times @ SPH Media Limited. Permission is required for reproduction.