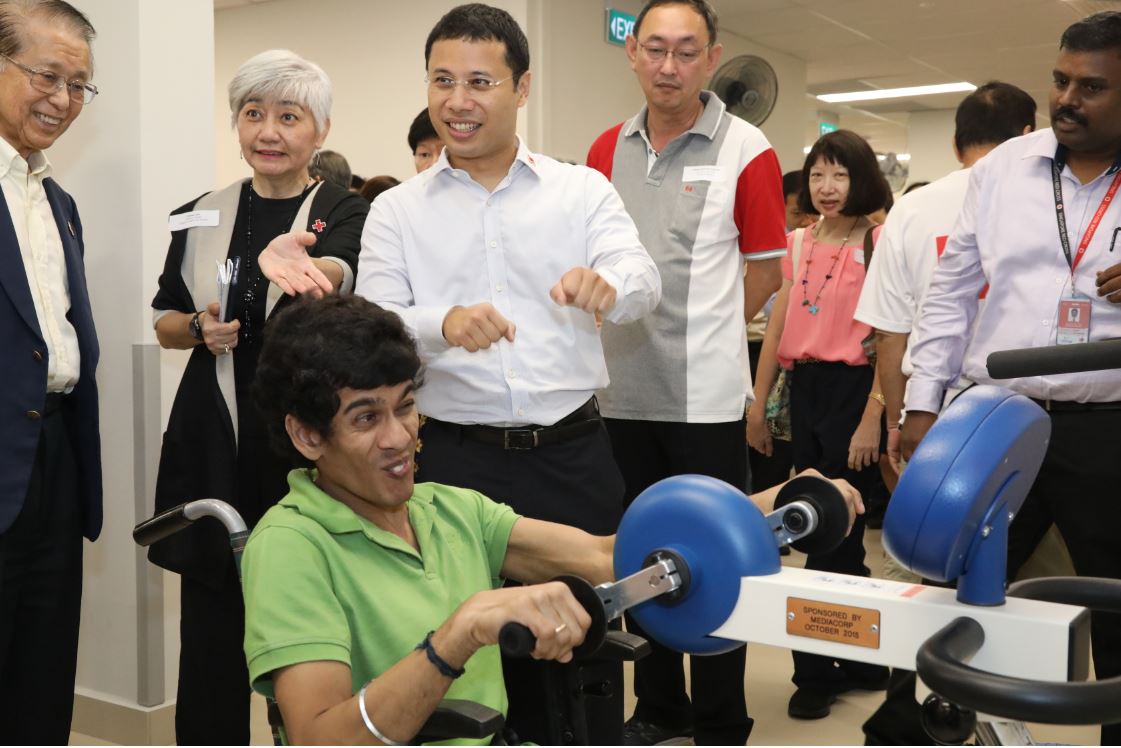 Singapore, 9 April 2019 - Homegrown humanitarian organisation Singapore Red Cross (SRC) today opened a Day Activity Centre (DAC) in Jurong West, for persons aged 16 and above with physical, neuro-muscular, intellectual or multiple disabilities. Mr Desmond Lee, Minister for Social and Family Development, Second Minister for National Development and Adviser to Jurong GRC Grassroots Organisations, officiated the launch.
Offering full-day and half-day daycare options, the Red Cross DAC can accommodate up to 39 clients. Equipped with advanced therapy tools and a mechanical hoist system, the DAC offers a holistic programme designed to engage persons with disabilities in daily and community living skills, in turn to maximise their independence. Over and above the specialised services run by qualified occupational therapists, clients can also enjoy regular recreational activities, such as art & craft, meal preparation, baking and gardening.
Speaking at the launch, Minister Desmond Lee said, "Aside from helping persons with special needs to build up the skills that they need in their daily lives, the Red Cross Day Activity Centre will support caregivers by giving them the assurance that their loved ones are cared for. I am also heartened that the Day Activity Centre will be bringing new opportunities to donors and volunteers who are generous with their time and resources in their desire to help others. Together, we can build a caring and inclusive Singapore, and I encourage many more to step forward to make a difference."
The Singapore Red Cross has seven decades of experience in caring for persons with disabilities, and continues to run the Red Cross Home for the Disabled at Family Link@Lengkok Bahru. This Home remains Singapore's only home for persons with severe physical and intellectual disabilities. The Home opened a DAC when it relocated its residential and respite services in 2010. The 464-sqm facility at Jurong West is its first dedicated DAC.
Singapore Red Cross Chairman Mr Tee Tua Ba shared the story of Nurul Syazwani, 23, who has a rare type of Cerebral Palsy, "You couldn't have guessed that Nurul was once prone to mood swings and tantrums when you see her cheerful and calm self today. Her mother, Mdm Nakia, credits our DAC for the change and often sings praises of our staff for their quality of care. Nurul has looked forward to coming to our DAC every day, for the past six years."
"It is imperative for players within the current disability landscape in Singapore to constantly review and evolve with changing needs, to meet new challenges that come with an ageing society," remarked Mr Benjamin William, Secretary General and CEO at Singapore Red Cross. "Like society as a whole, persons with disabilities are living longer and it is critical for them to receive quality care and be able to live an enriched life. At the same time, ageing caregivers may find it harder to take care of their grown-up children and themselves. With the Day Activity Centre, family members can go about their daily chores, with the peace of mind that their loved ones are safe and meaningfully engaged."
In Singapore, 30 Day Activity Centres provide long-term care support for 1,300 adults with disabilities, equipping them with skills to live as independently as possible, at home and within the community. This is in line with the Ministry of Social and Family Development's ongoing efforts to better support persons with disabilities at different stages of their lives; including enhancing their quality of life, supporting caregivers, and building a more inclusive Singapore where more persons with disabilities can realise their potential and become integral members of our society.