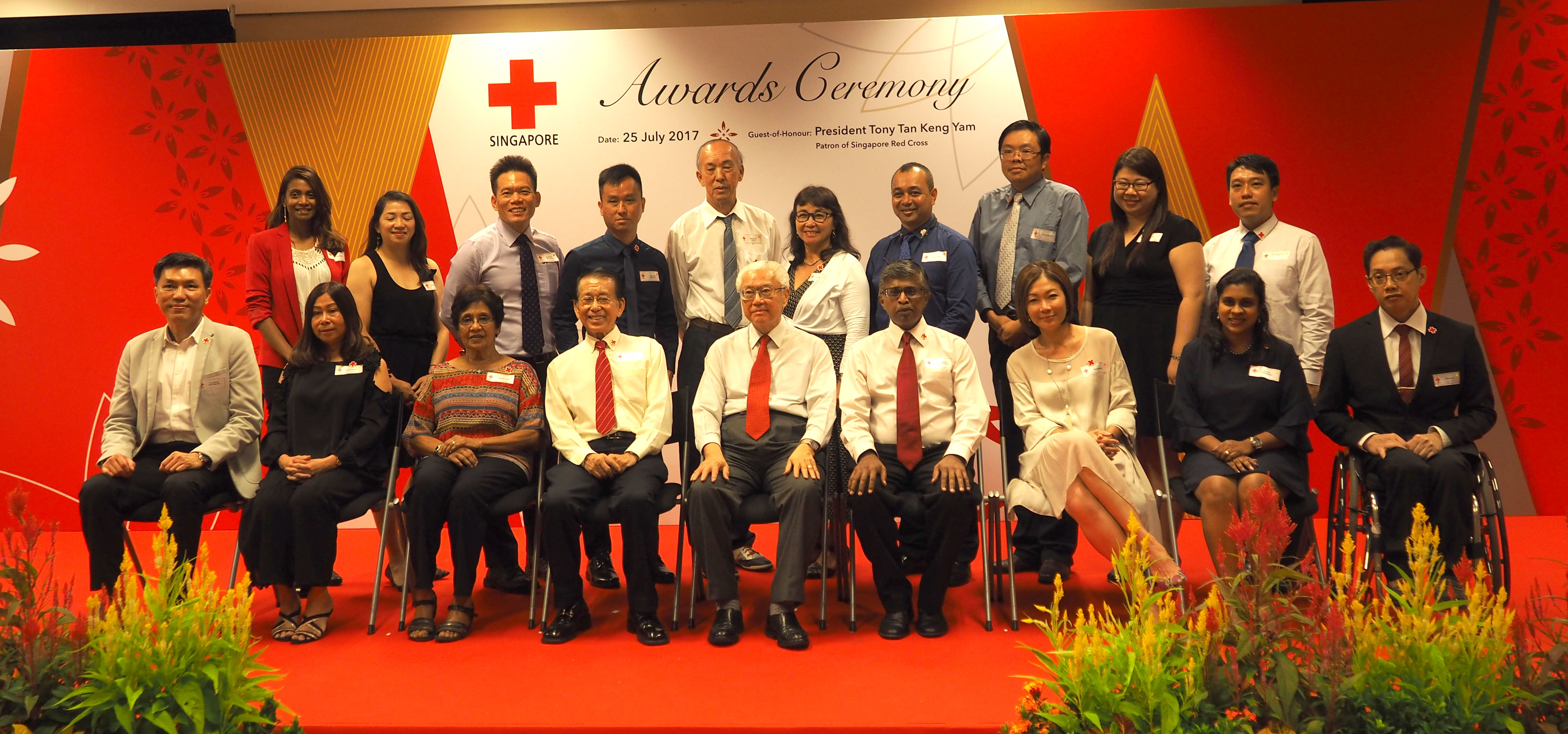 Celebrity ambassador, youth leaders, skills-based volunteers amongst 36 winners
Collective humanitarian efforts enhance Singapore's resilience
Singapore, 20 July 2017 – Singapore Red Cross' (SRC) patron President Tony Tan Keng Yam and SRC Chairman Tee Tua Ba will on 25 July 2017 present awards to 28 individuals and eight organisations at the 5th Singapore Red Cross Awards, for their dedicated humanitarian service.
"For 68 years, the Singapore Red Cross has promoted philanthropy and volunteerism in Singapore. The deeply-rooted volunteer culture has led to many passionate individuals serving on its various committees and advisory panels, leading service teams and breaking new ground on community projects. I am heartened to see more people and organisations contributing to the community through the Singapore Red Cross. I am confident that such efforts will go a long way in helping to build a more caring and resilient Singapore," said President Tony Tan.
The award recipients are actively involved in the full spectrum of community causes championed by the homegrown humanitarian organisation in and outside of Singapore – these include the national blood programme, community first aid, food aid, transport aid, elder aid, home and day activity for persons with disability, and disaster response. The involvement of the recipients span between 3 to 35 years. Their commitment range from weekly to yearly, from in-kind contributions to strategic partnerships, and from programme-involvement to mentorship, advocacy and skills-based volunteerism.
SRC Chairman Tee Tua Ba explained, "The diversity of our volunteer corps and corporate partners attests to our inclusive culture, and is a reflection of the multi-faceted services we deliver to people-in-need every minute, every day and every month. I am proud to serve alongside 11,000 Singapore Red Cross volunteers to uplift lives and strengthen resilience in Singapore and abroad."
Skills-based volunteering has become more prevalent in Singapore over the last five years. About 40 percent of SRC's volunteer base contribute specialised skills, up from 19 percent two years ago. The trend is in line with corporate organisations partnering the SRC in Corporate Social Responsibility (CSR) efforts that are aligned with their business interests. This year, a record eight organisations will receive the 'Friend of SRC' award.
"We are seeing more people volunteer their professional skills or personal passions such as IT consultancy, editing, photography or even event emceeing. Channeling their skills and talents into volunteer work gives them an additional sense of purpose, and the impact on the lives of the people they serve is immense and manifold. This creative volunteering form can translate to cost-savings for specific projects, or through mentorships, and even inspiring the youth to do likewise," shared SRC Secretary General and CEO Benjamin William.
What started as The Body Shop's CSR project at the Red Cross Home for the Disabled grew from resident-feeding assistance and ward decoration to a three-year programme that culminated in the ever-popular pampering wellness treats with their in-house skincare products, to appreciate the nursing aides for their efforts.
Actor, Author and Producer Edmund Chen is amongst three Outstanding Service Award recipients - the highest honour in this year's ceremony. In his nearly three decades in the media and entertainment industry, Edmund has served as the SRC's celebrity ambassador for the past eight years. He has helped raise funds, spread awareness of the importance of blood donation, and rally goodwill towards Project RICE - an annual youth initiative that helps put food on the table for low income families. His work reflects his "unwavering belief in social good - in cultivating a greater sense of sharing, helping one another, and doing charitable deeds for the greater good of society."
In addition, six youth leaders aged 15 to 35 will receive the SRC President's Youth Award. They were selected from over 800 Red Cross Youth cadets and mentors based on wide-ranging criteria that included leadership qualities, global perspectives, excellence in academics and service to RCY.
President's Tour of Red Cross Home for the Disabled: Garden Therapy
President Tony Tan was presented with an iconic Red Cross bear by beneficiaries and volunteers, in appreciation of his six years of patronship to the SRC. He also interacted with volunteers and partners at an exhibition of their recent humanitarian efforts.
After the ceremony, President visited the "Garden Therapy" space of the Red Cross Home for the Disabled and met with residents with severe and multiple disabilities. He received a pot of rosemary and basil, specially planted by residents of the Home. Every week, a different group of six residents would tend to the garden through seeding, watering and repotting, guided by an occupational therapist and a therapy aide. Gardening therapy is a therapeutic activity that gives the residents the opportunity to enjoy nature and social interaction, experience new stimuli and improve sensory awareness and enhance their sense of achievement and boost self-esteem during different stages of the gardening activity.
Speech by Singapore Red Cross Chairman Mr Tee Tua Ba.