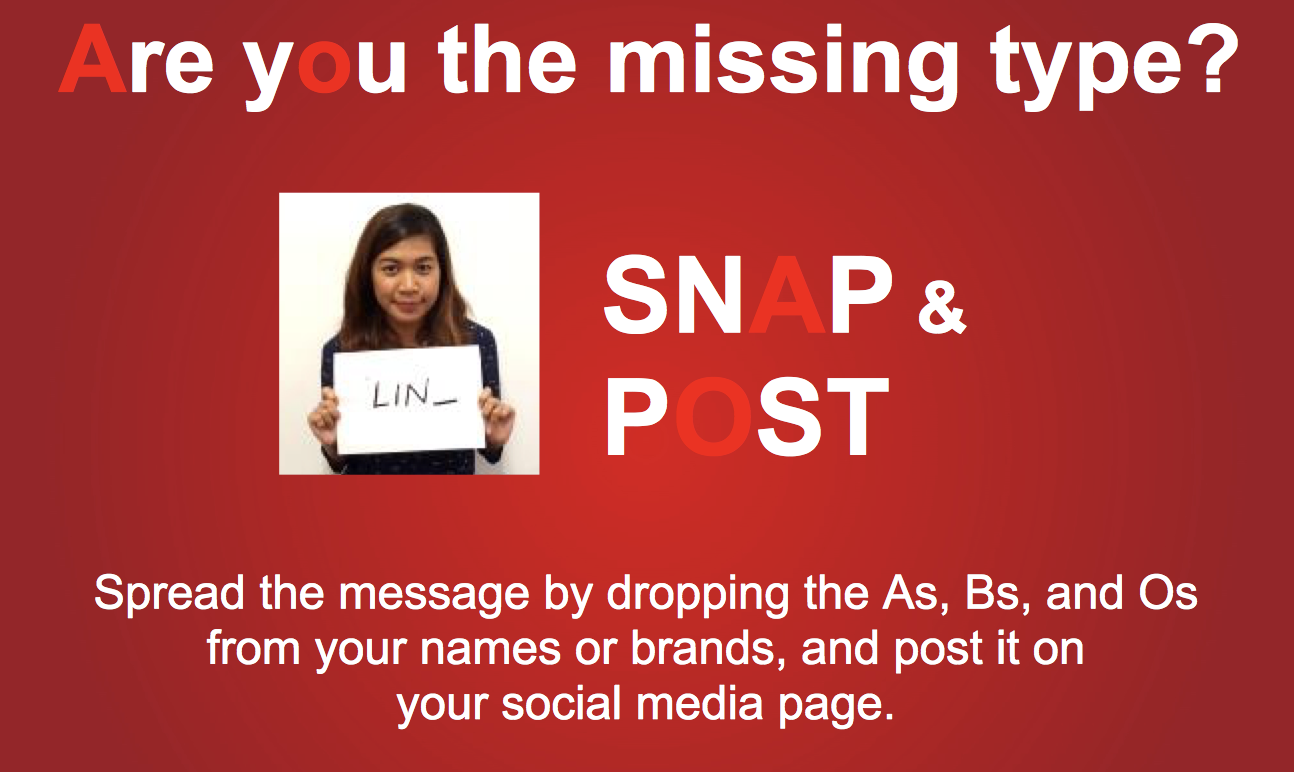 Singapore, 3 July 2017 – The Singapore Red Cross (SRC) and the Health Sciences Authority of Singapore (HSA) announced the launch of the 'Missing Type' campaign today. The 2017 Missing Type Campaign has elicited stronger support from a broad range of organisations, including government agencies, hospitals, schools, media, local brands and retailers participating to raise awareness on the importance of blood donation.

More than 50 organisations will support the campaign by removing the blood type letters 'A', 'B' and 'O' from their signage and branding from 4 July to 9 July. This is an increase from last year's inaugural campaign, which started with support from 33 organisations. (Refer to Annex A for this year's participating organisations and upcoming blood drives)

Notable local brands like BreadTalk IHQ, Carousell and The Soup Spoon are participating in the campaign for the first time. The Singapore Botanic Gardens will remove the blood type letters from their physical signage while Swiss Cottage Secondary School will cover the letters on their physical signage. SRC will also cover the blood type letters on its TransportAid fleet. Organisations such as Tan Tock Seng Hospital, Ministry of Culture, Community and Youth, Mount Elizabeth Hospitals and Nanyang Polytechnic are organising blood drives, as a call to action following the campaign.

The Missing Type campaign is part of the efforts by SRC and HSA to expand the blood donor pool in tandem with the blood usage, which is growing at a rate of 3 to 5 per cent annually. The blood donor pool stands at 1.87 percent of Singapore's residential population. Singapore's ageing population adds to the urgency of the situation, as some 600 regular donors stop donating due to age-related illnesses every year.

Mr Benjamin William, Secretary General of SRC said, "The Missing Type campaign generated significant interest and buzz last year, leading to a 16 per cent increase in blood donations in the launch month, when compared to the same period the year before. In addition to getting more people to come forward to donate blood, we hope that current donors can donate more regularly. Last year, 60 per cent of our blood donors only gave blood once. By bringing the Missing Type campaign back, we hope that it not only serves as a reminder for donors to make a second trip to the blood bank, but also acts as a catalyst to start the conversation about blood donation and motivate new donors to action."

In addition to attracting more new donors and nurturing more regular blood donors, HSA and SRC also aim to cultivate more blood donation advocates through the campaign, which will engage individuals to champion blood donation in a simple yet novel way - by posting and sharing photos of their ABO-covered names on social media pages.

Dr Mimi Choong, CEO of HSA said, "Blood donations are critical to Singapore's healthcare system because they save and sustain the lives of 30,000 patients every year. Everyone can contribute to this life-saving cause, by helping to raise awareness and advocate the importance of blood donation. The Missing Type campaign provides the ideal platform for doing so. I am heartened that the participating organisations share the same view and many which took part last year have supported us again this year.
HSA and SRC invite individuals and organisations to get involved in the campaign by:
Taking a photo of themselves with their ABO-omitted names.
Posting the photo on their social media pages with 'I've dropped my [As/Bs/Os] to support the #MissingTypeSG campaign.
You can do the same too and help spread the word about blood donation: redcross.sg/missingtypesg' and encourage their friends or followers to do the same.