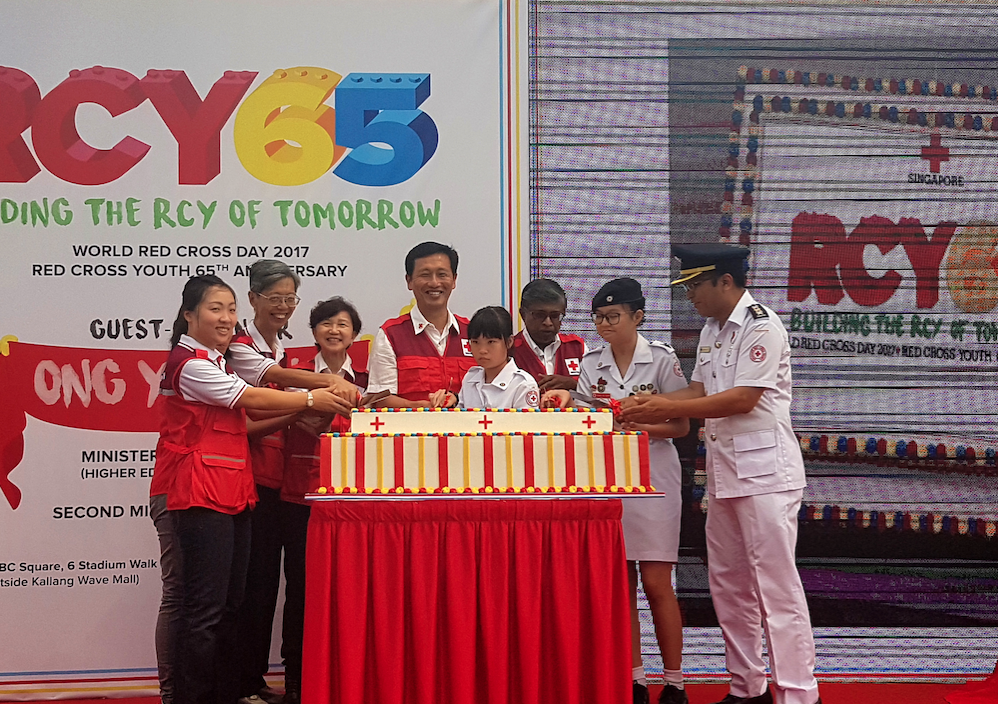 Singapore, 25 March 2017 - The Singapore Red Cross (SRC) today launched a new initiative to increase the level of community first aid their youths perform. Today, 6,000 of the 10,000 Red Cross Youth aged between 9 and 35 learn first aid in their curriculum in RCY. SRC hopes to see a 20 percent increase in the number of youth providing first aid in the community this year.
Mr Ong Ye Kung, Minister for Education (Higher Education and Skills) and Second Minister for Defence, launched the initiative - Resilient Youth@Community, as the Guest-of-Honour at RCY's World Red Cross Day celebrations at the Sports Hub.
Minister Ong said, "Through the Red Cross Youth, our young learn first aid and disaster management skills, and experience the spirit of humanitarianism. These are valuable lessons that will guide their development as caring and responsible citizens."
The new initiative will see Red Cross Youth providing first aid to the community on three weekends every month. SRC will provide a basic first aid course and three first aid workshops throughout the year to equip youths with the necessary lifesaving skills.
The youths will start providing first aid to the community through First Aiders on Wheels, an SRC Community FirstAid programme where first aid trained volunteers patrol parks on bicycles on weekends and public holidays, to render first aid to those in need.
Mr Benjamin William, Secretary-General/CEO of the Singapore Red Cross, said "The Red Cross Youth have firmly established themselves as competent leaders for first aid and disaster preparedness in their schools. Their knowledge and experience will also be useful for dealing with injuries and emergencies in the community.
"It is our hope that the programme will encourage them to embrace community service as a lifelong journey, pressing on even beyond school life. They can also inspire other youths to get involved in community service."
The Singapore Red Cross Youth also celebrated their 65th anniversary at the event, with a cake cutting ceremony officiated by Minister Ong. 1,000 new Red Cross Youth members also participated in a welcome ceremony where their parents or teachers pinned the Red Cross badge on them. Awards for the most outstanding Red Cross Youth cadets and units were also presented at the event.
Speech by Mr Benjamin William, Secretary General Singapore Red Cross