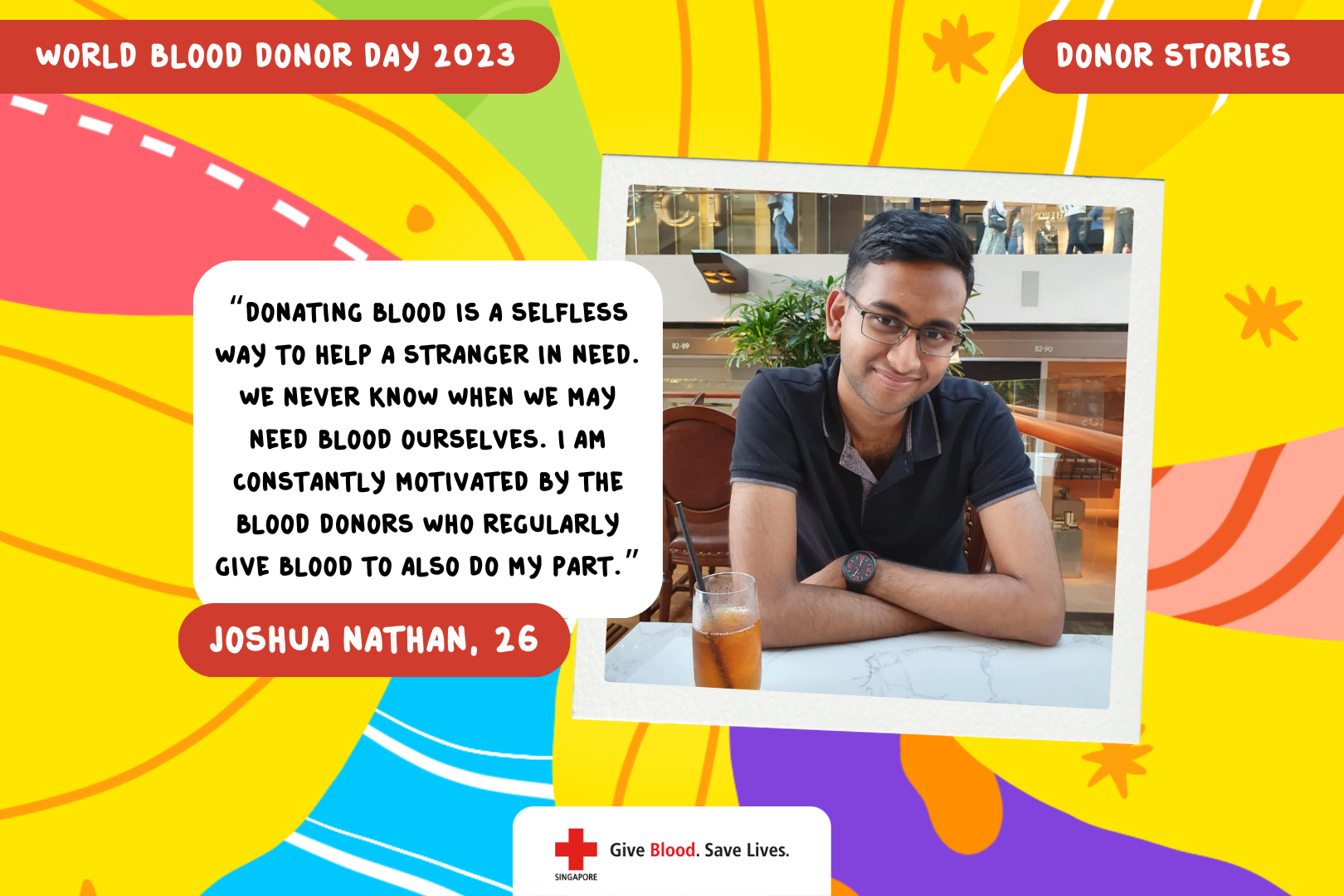 Joshua Nathan made his first blood donation at a mobile blood drive in 2014 when he was 17. Despite encountering some obstacles during his first blood donation, he remained undeterred and became a regular blood donor. Now, at the age of 26, Joshua is set to receive the Bronze Medallion in recognition of his remarkable achievement of donating blood at least 25 times.
When Joshua recounts his first blood donation experience, he describes it in one word: "Unforgettable". It was unforgettable not only because it was his first time donating blood, but because an incident occurred during the donation process.
In 2014, the Singapore Red Cross (SRC) organised an impromptu mobile blood drive at Joshua's church in Tampines. As he felt compelled to save lives, 17-year-old Joshua actively participated in the blood donation drive.
Upon arrival, a healthcare professional guided Joshua through the process, which started with a questionnaire on his medical history . She then conducted a brief physical examination, measuring his blood pressure, pulse, and temperature. To ensure his hemoglobin levels met the necessary standards for blood donation, a finger prick test was performed. Once Joshua passed the hemoglobin test, a nurse administered a local anaesthetic to minimise any potential discomfort during the donation. After sanitising a spot on his arm with an alcohol swab, the nurse gently inserted a needle to collect the blood.
Joshua's enthusiasm for blood donation made the experience an eventful one.
"I squeezed the stress ball so quickly that the entire blood collection process was completed in four minutes. However, upon standing up, I immediately felt so lightheaded that I fainted!" he recounted.
Fortunately, the healthcare professionals on standby promptly attended to him. When Joshua regained consciousness, they offered him a hot beverage and refreshments. It was then that Joshua learnt the importance of allowing the blood to flow at a natural pace to avoid a sudden drop in blood pressure for the donor's well-being.
Becoming a Regular Blood Donor
The experience did not deter Joshua. On the contrary, it fueled his motivation to donate blood on a regular basis.
"Blood donation doesn't demand much time or effort from me. The benefits far outweigh any inconvenience! Besides, there's the added perk of free food!" he quipped, emphasizing the positive aspects of his commitment to give blood.
The unwavering patience and compassion of the healthcare professionals, especially the nurses, at the Blood bank and blood drives also influenced Joshua's decision to donate blood regularly.
"I've witnessed their exceptional patience and care towards all blood donors. I remember observing a nurse at a Bloodbank spending an entire hour comforting a first-time donor, easing her fears. The nurses consistently engage donors in conversations and share lighthearted jokes to create a pleasant and stress-free experience," he recalled.
Spreading the Word about Blood Donation
Joshua will be recognised at this year's World Blood Donor Day for donating blood at least 25 times.
"I am deeply honored to receive the medallion even though it is not my primary motivation for giving blood. Knowing that my blood can make a difference to the lives of others makes every contribution meaningful. None of us can predict when we might find ourselves in need of blood, and I hope that someone will give blood to help me, should I ever need blood. "he said.
Besides donating blood, Joshua is also a blood donation advocate who raises awareness on blood donation among his friends and family.
"I would encourage them to donate blood, as a way of giving back to society," said Joshua.
However, he felt that some people may be fearful of the needle or lack awareness about the donation process and the purpose of donated blood.
"The fear of the unknown inhibits people from taking the first step," he noted.
To encourage more people to come forward and give blood, Joshua urges individuals to ask questions about blood donation to clarify their doubts.
"People often have questions about the frequency of blood donation, potential side effects, and the recovery time for the body," Joshua explained. "Healthy individuals can donate whole blood every 3 months and up to four times a year. Information regarding possible side effects of blood donation can be found online. Personally, I would rest a day or two by eating healthily or sleeping more to aid my recovery from the blood donation," he said.
By encouraging individuals to seek information and address their doubts, Joshua aims to empower them with the knowledge needed to make informed decisions and actively contribute to the life-saving cause of blood donation.
He added that people may be too preoccupied with their work or school commitments to make time for blood donation. As a university undergraduate and part-time Grab driver, Joshua has a busy schedule, but still prioritises blood donation by dedicating time to donate blood on Saturday, often while he is on his way to meet friends.
Joshua's commitment to blood donation has not wavered, even at the height of the COVID-19 pandemic. He did his part to ease the shortage of blood during the pandemic by steadfastly donating blood after the circuit breaker. During this time, the Bloodbanks implemented rigorous preventive and safety measures to ensure the well-being and safety of donors. Social distancing protocols were put in place, providing Joshua with a sense of assurance. His dedication to donating blood, even in the face of adversity, demonstrates his unwavering commitment to helping others in need.
"Donating blood is a selfless way to help a stranger in need. We never know when we may need blood ourselves. I am constantly motivated by the blood donors who regularly give blood to also do my part," he said.
By Tracy Lam, Volunteer
Copyedited by Dr Nguyen Kien Truc Giang, Volunteer