International Services Programme , WASH, PSS and RFL
by Stephanie Hayag Gascon, volunteer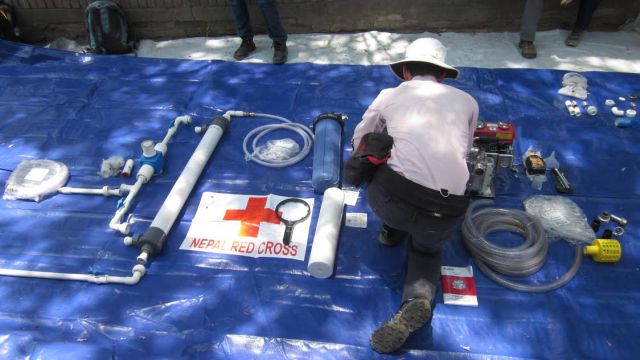 Mr Carlo Heathcote was still in Nepal on secondment to the IFRC as a water sanitation delegate when the second earthquake struck.
"It was lunchtime, and we were only three metres from the door out to the carpark," he recalled.
"But when we ran out, everyone else was also running out of the hotels and businesses. Many Nepalese, who had obviously survived the earthquake 20 days earlier, were jumping onto motorbikes and into cars, not to get away, but to get home to their friends and families."
Mr Heathcote is currently SRC's Programme Executive, International Services. He first joined as a volunteer in 2013, but became a staff member in 2014 to help manage over 80 reconstruction projects in the Philippines after Typhoon Haiyan.
In Nepal, he and his colleagues were responsible for the provision of clean water for over 18,000 people. After locating springs and streams, they transported the water in 5,000­litre tanks by truck, then treated it with chlorine. "An emergency water sanitation team doesn't necessarily rebuild mass infrastructure, our first response in most cases relies on the use of simple technology to deliver water on a large scale," he said. He was also a specialist logistician for the IFRC headquarters in Kathmandu, where he managed and procured 'WASH items' such as water pump components.
"If a camp needs supplies like food, it's easy to understand. But WASH items can get neglected because you need specialists. I would help source the items locally when possible, and internationally if not," he said.
Though aid workers from several countries were involved, the Nepal Red Cross was the backbone of the response. "I like to liken the host national society to a smartphone. It's very capable of lots of things, but when there's a disaster it can run low on power. When we come in, we're not a new smartphone, we're the power bank so it can be on for longer," he said.
Mr Heathcote returned to Singapore from his month­long stay in Nepal on 2 June 2015. He was satisfied by his experience both professionally, since it was his first time officially putting his water, sanitation, and hygiene promotion training into practice, and personally.
"I was running on adrenalin, but beneficiaries are often extremely gracious and respectful, and show genuine appreciation. It's a privilege to be a conduit for humanitarian aid. It's humbling, but empowering," he said.
One sight that struck him was a woman walking down a three­storey high pile of rubble in the Nepalese town of Chautara, northeast of Kathmandu, while some nearby buildings were still largely intact.
He realised the buildings that had better withstood the tremors were made from reinforced concrete. Traditional low cost stone and mud structures quickly fell apart. "If you have money to build this way, you can live. That was eye­opening, and scary," he said.
Mr Heathcote has previously worked for the International Committee of the Red Cross (ICRC). In 2001, the ICRC posted him to Afghanistan for a year. The photos he took there were exhibited at the French Parliament and Afghan Embassies in Paris and Australia. His photojournalism was also featured in the Singapore Red Cross' exhibition for the 2004 Indian Ocean Tsunami's 10th anniversary.
Though he never thought he would be doing this job, he loves it for "selfish reasons".
"I feel like I'm making a difference," he said, "And making a difference feels good. It gives me clarity of who I am as a person, and my place in society. I couldn't do it every day if I didn't enjoy it most of the time."