By Tan Yong En, Intern, Corporate Communications
Photos by Nur Ain Syuhadah & Nur Adli Syahadat
Siblings Nur Ain Syuhadah and Nur Adli Syahadat step forth to volunteer in the SGUnited Buka Puasa initiative amid the COVID-19 circuit breaker.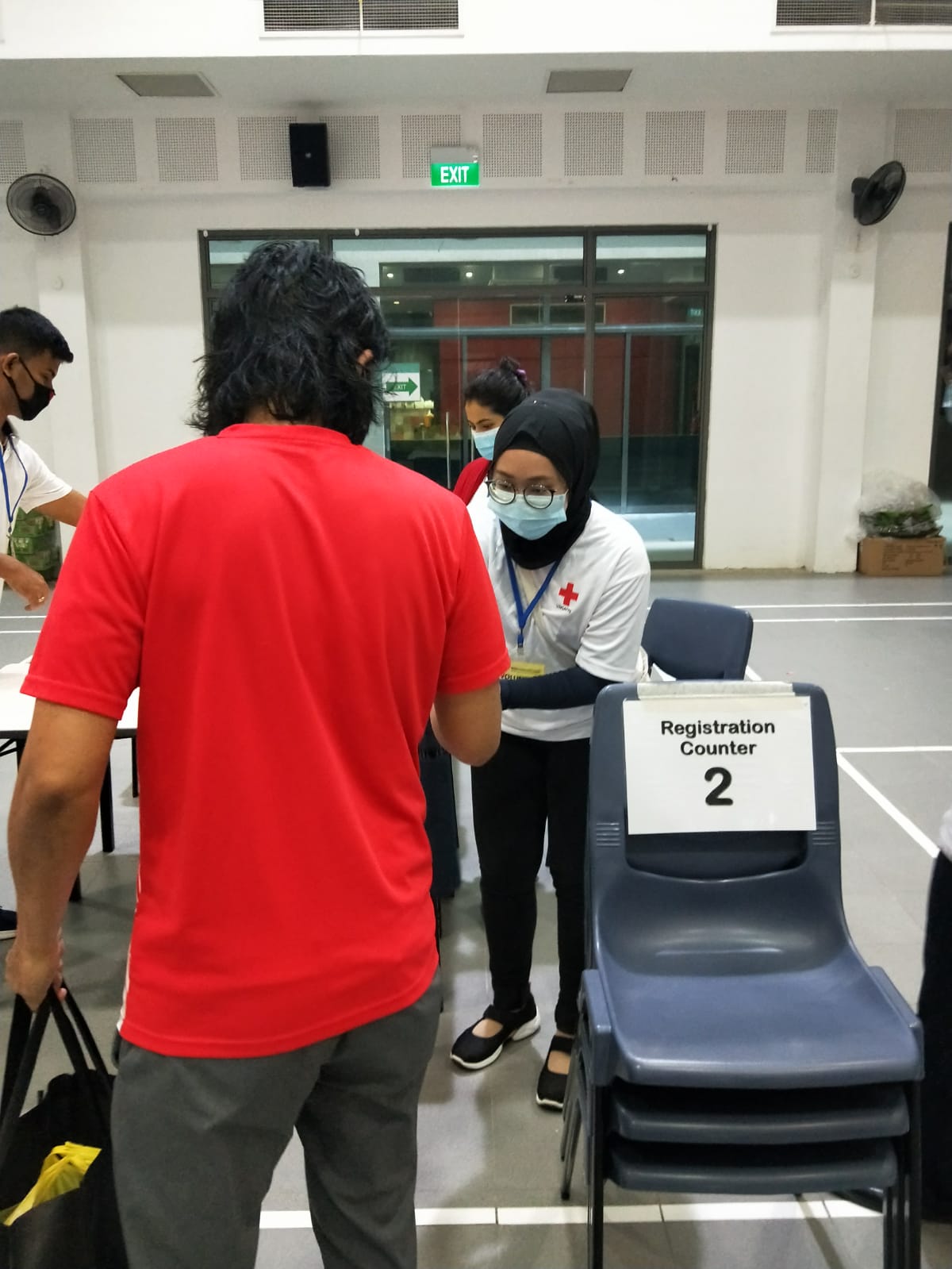 Higher calling: "Due to the pandemic, there are people who are significantly affected by the outbreak. I personally feel that despite the fears of COVID-19, being able to help these people has given me a sense of gratification that is indescribable," shares Nur Ain Syuhadah
Volunteering runs in the Mohammed Anas's family. The siblings' father Mohamed Anas Bin Hj. Mustapha and mother Noryati Binte Mohamed Yatim used to volunteer with the Singapore Red Cross Club @ South West District.
They wanted to volunteer for the SGUnited Buka Puasa Initiative but were asked to stay home, so as they were both aged above 50 and considered more vulnerable to COVID-19.
With their blessings, their teenage children Nur Adli Syahadat and Nur Ain Syuhadah stepped forth to volunteer for the community project, aimed at providing 20,000 free meals daily to healthcare workers, their families and those in need during Ramadan.
While Adli first learnt about the SGUnited Buka Puasa initiative from an email to RCY Volunteer Instructors (VIs), his sister Ain got to know about the community effort online. The siblings volunteered, as they wanted to show appreciation to the frontline workers and offer a helping hand to people in need.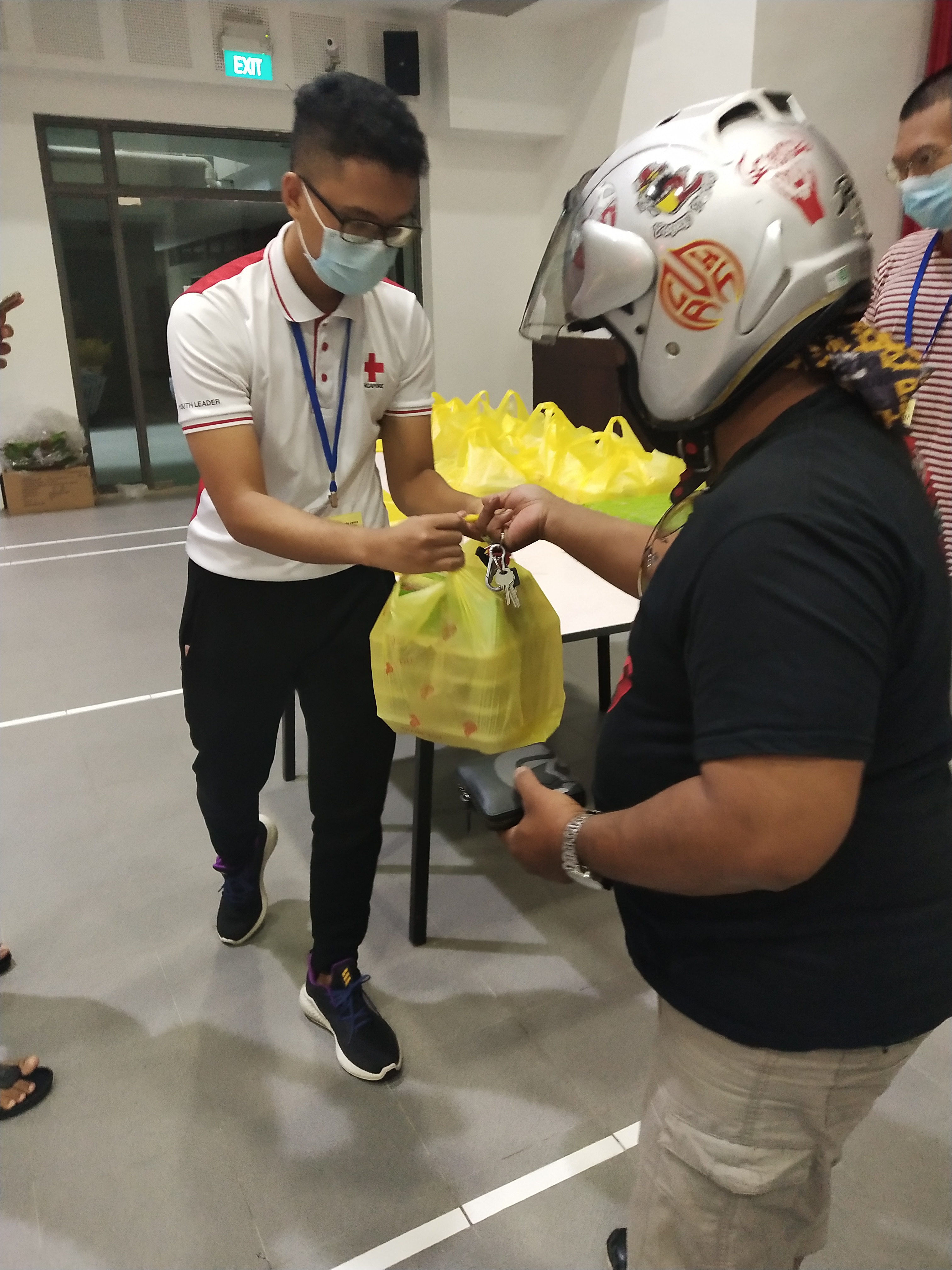 Helping others in need: "I feel great knowing that my actions are helping others who are in need during this outbreak. The SGUnited Buka Puasa initiative helps those in need break their fast without worrying they will not have food," shares Nur Adli Syahadat.
Brother-Sister Volunteers
Adli and Ain were amongst 110 Red Cross volunteers who turned up across five community centres to distribute food. Ain, who was a RCY Cadet in her secondary school days, confided, "There are people who are significantly affected by the pandemic. By distributing food to them, we ease their worries."
The siblings were deployed for service on 11 and 21 May at Bedok Community Centre. Adli felt it was safe volunteering amid COVID-19 as precautionary measures were in place to ensure the safety of all beneficiaries and volunteers. He was also happy to see the neighbours finally getting the opportunity to meet and greet each other after spending several weeks at home.
During their volunteering sessions, Ain experienced a sense of gratification when the beneficiaries gratefully accepted the meals that they distributed to them. She shared, "I was pleased to see the people receiving the food packets with smiles in their eyes. It showed me that even small acts of kindness can make a difference to others."
"Through SG Buka Puasa, I was elated to see volunteers of different races and religions coming out to help. This showed how united Singaporeans are,'' said Ain.
She added, "Volunteerism brought joy, not only to the people who benefited from the initiative but to us as well. It was heartening to see how small acts of giving food to those in need, lightened up their mood."