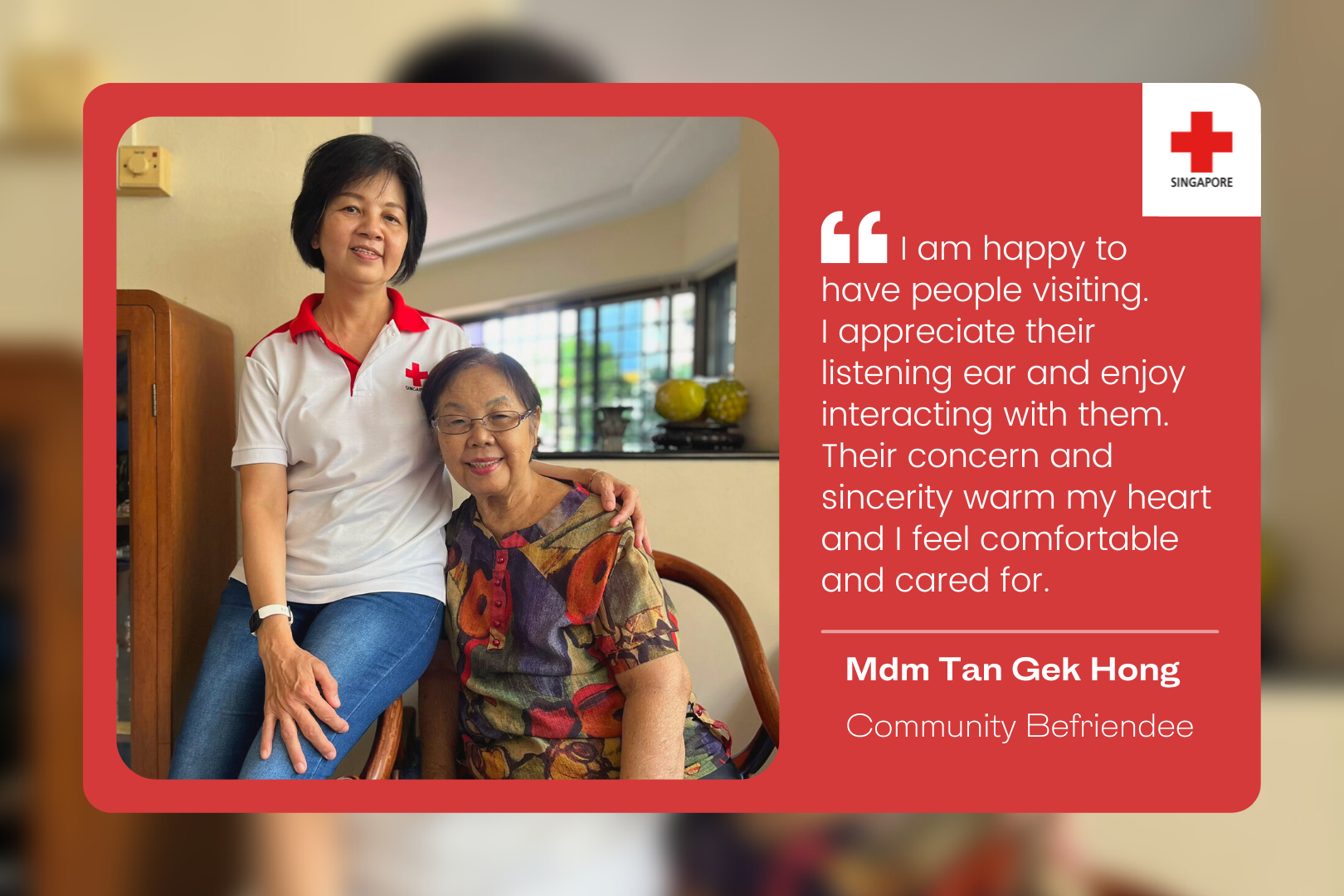 A single mother, Mdm Tan Gek Hong juggled three jobs to support her children. After retirement, her ill health hampered her mobility, leaving her confined at home. With a child with special needs and another working the night shift, Mdm Tan often felt lonely and yearned for someone to share her thoughts with. A social worker introduced her to the Singapore Red Cross (SRC) Community Befriending service. Since then, SRC volunteers have been visiting Mdm Tan fortnightly, bringing her immeasurable joy by lending a listening ear and sharing the gift of genuine friendship.
A Tough Life
Mdm Tan Gek Hong, now 77, got married when she was 27. Unfortunately, her rocky marriage ended in divorce when she was 33, leaving her to single-handedly bring up three children, who were then between the ages of eight months and five years. Times were tough. To feed her family, she worked at a factory in Eunos making char siew pau (steamed pork buns) in the mornings. In the afternoons, she worked as a kitchen helper at a hotel. In the evenings, she made kueh (glutinous rice cakes) for sale. As her children grew older, she roped them in to help make kueh too. Even when times were challenging, she refused to borrow money from anyone, and persevered with three jobs.
When she found out that working at the hotel full-time would provide her family with sufficient income, she gave up her morning and evening stints to concentrate on her job at the hotel. She rose through the ranks in her thirty-year-long career to become the head chef whose signature dishes were dim sum. Despite the long hours, the dynamic work environment, her love for food and compliments from esteemed guests kept her going. Even after her retirement in 2007, Mdm Tan still finds joy in whipping up home-cooked dishes for her family.
Unfortunately, Mdm Tan's ailing health has taken a toll on her. She was diagnosed with diabetes and cardiovascular disease in her silver years, and kidney failure has also hampered her mobility. She now walks with the aid of a walking frame and a helper, and is mostly confined at home.
A New Lease of Life
As two of her children have moved out, Mdm Tan now lives with her son with special needs. She often felt lonely and yearned for the company of someone to confide in. A medical social worker introduced Mdm Tan to the SRC Community Befriending (formerly ElderAid) service.
Since enrolling for the service, Mdm Tan has been receiving visits from SRC's community befrienders every fortnight. They offer a listening ear and the precious gift of friendship. Mdm Tan looks forward to these visits.
"I am happy to have people visiting. I appreciate their listening ear and enjoy interacting with them. Their concern and sincerity warm my heart and I feel comfortable and cared for. I would like to thank the volunteers for their tireless contributions," she said.
One of the volunteers Mdm Tan has befriended is Mdm Jin Ye, with whom she has shared her life story.
"Mdm Tan is an affable person and I look forward to visiting her," said Mdm Jin Ye.
Besides the meetings with volunteers at her home, Mdm Tan has also participated in SRC's activities.
"As I often stay at home, I enjoy these outings to explore new places. I look forward to participating in the activities organised by the Singapore Red Cross and socialising with others. It gives me a sense of belonging in the community," she shared.
Her outgoing personality belies her age and ill health.
"It is a pity I am older now, or I would have loved to volunteer with the Singapore Red Cross!" she quipped with a laugh.
By Hilarie Foo, Volunteer
Copyedited by Michelle Tan Mizi