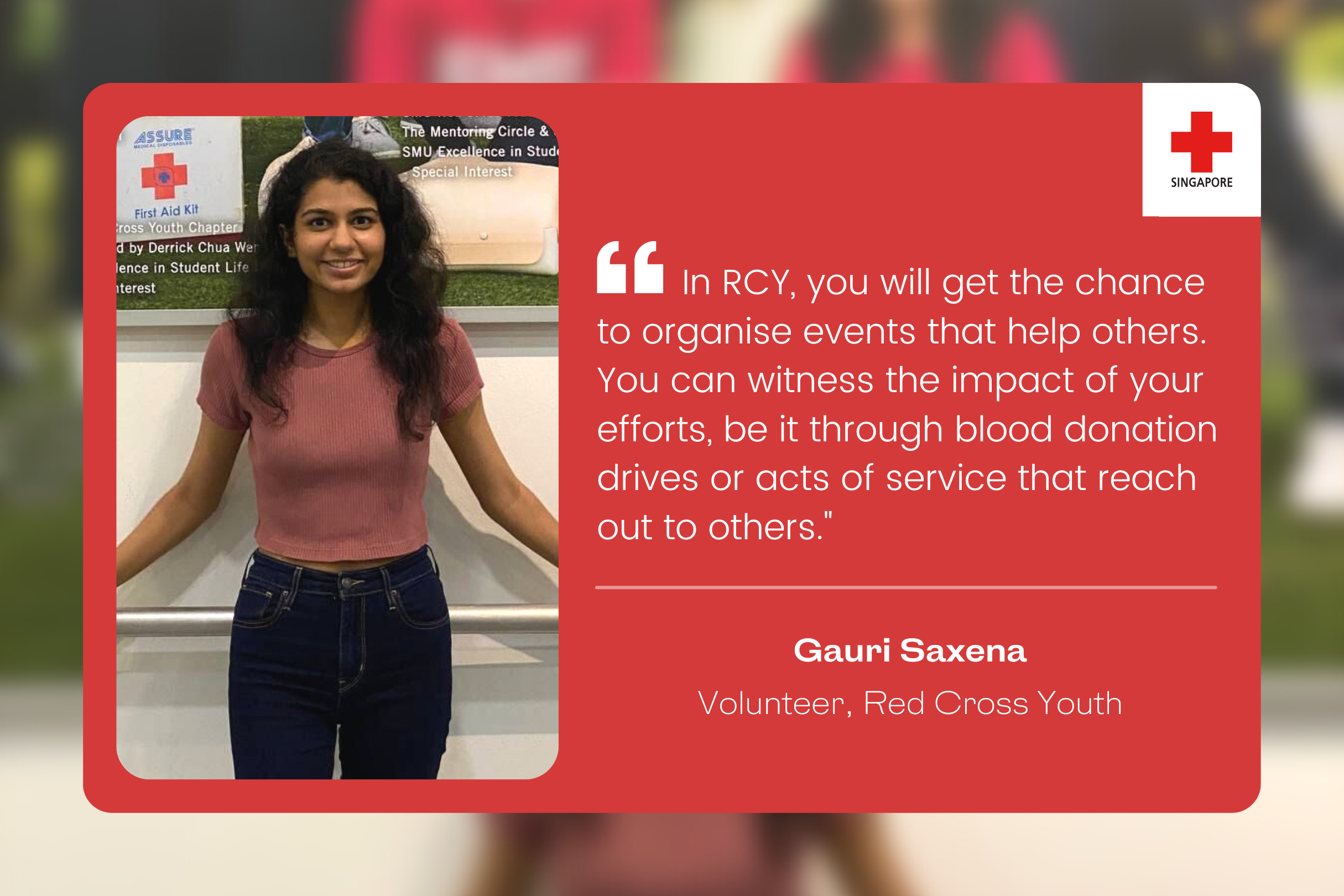 Gauri Saxena beams with enthusiasm whenever she speaks of her experiences in Red Cross Youth (RCY). She was the second term President of RCY - Singapore Management University (SMU) Chapter, and is currently a Year 4 Business and Social Sciences undergraduate. Gauri hopes her experiences will inspire others to embark on a journey of growth and find their passion for healthcare and helping others, just like she did.
Back in her secondary school days, Gauri Saxena, 22, was tasked to check in on her friend who was often in long sleeves and might be going through a tough time. It was then that Gauri first truly understood the importance of mental health. Journeying by her friend's side, Gauri, who majors in Psychology, realised the significance of mental health support and resources. From then on, mental health has been a topic close to her heart.
Her innate desire to help others led her to join the Red Cross Youth (RCY) - Singapore Management University (SMU) Chapter. As part of RCY - SMU Chapter, Gauri raises awareness and contributes to public health advocacy through blood donation and first aid.
Overcoming the Fear of Needles to Save Lives
Gauri confessed that she was fearful of needles.
It was only after she had organised a blood donation drive that she realised that it was not as intimidating as she had imagined. When things were put into perspective, the inconvenience and fear were insignificant in comparison to the pressing demand for blood.
"Donating blood can save three lives!" She quipped.
Organising the Blood Donation Drive
Organising the Blood Donation Drive 2021 in SMU was the most challenging but also the most rewarding part of Gauri's Red Cross journey.
One of the numerous hurdles the team faced was the rejection of the event proposals, which was a blow that dampened the team's morale.
Even as COVID-19 restrictions gradually eased in 2021, the team had to adapt to abrupt changes, such as shifts in venue and a smaller scale blood donation drive that was closed off from the public. She was featured in a video on the blood donation process on SMU's Instagram page.
Yet, it was heartening when the team pooled their efforts together in hopes of bringing things to fruition. They crafted social media posts every day, put up posters around the school, and even negotiated their way through clashes in booking on the spot. It was through such circumstances that Gauri and her team developed resilience and stood their ground in the face of adversity. The team later learnt that they had collected 160 bags of blood. They were surprised as they had surpassed previous physical iterations, even without the public's donation!
"Stay committed to the cause and feel for it. Be so determined that you don't see challenges as obstacles but as opportunities," Gauri shared, as she recounted her journey organising the blood donation drive.
First Aid Skills Come in Handy
Working closely with her team, Gauri, aged 22, also spearheaded numerous other projects, such as Project DC (Developing Community) and Project AC (Advancing Community). These projects raised awareness about first aid among the young and the elderly, respectively.
"When my grandmother had a mini-stroke, her face drooped. Some of my relatives wondered if it was necessary to go to the hospital or if it would go away. But luckily, I spotted the signs and symptoms of stroke, and insisted that she received treatment immediately," Gauri shares.
Gauri's story encapsulated the profound impact of learning first aid. She believes that being well-equipped with first aid knowledge is critical for everyone. If a loved one were to face a health emergency, one would be prepared if they had been equipped with basic first aid skills. Beyond RCY projects in SMU, Gauri also enjoyed being part of First Aiders on Wheels, a Singapore Red Cross initiative that provides first aid coverage to park-goers at East Coast Park and Pulau Ubin during weekends. She hopes to go for more of such volunteering sessions and continue exploring opportunities with the Singapore Red Cross to impact the wider community.
Appreciating Frontline Workers
Besides engaging in first aid coverage, Gauri was also involved in Project Acts of Kindness (AOK). Spearheaded by RCY, Project AOK was aimed at engaging youth in acts of kindness towards essential frontline workers at the peak of the COVID-19 pandemic.
"Their appreciation of our efforts motivated our RCY - SMU chapter to continue the spirit of engaging in acts of kindness throughout the outbreak through a chapter-organised Instagram tag!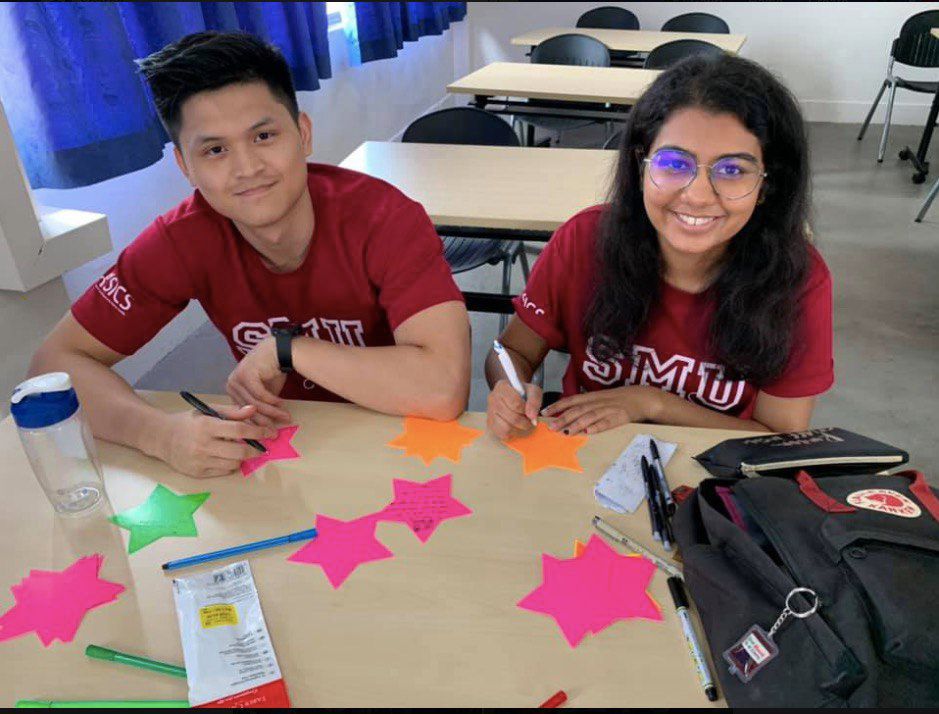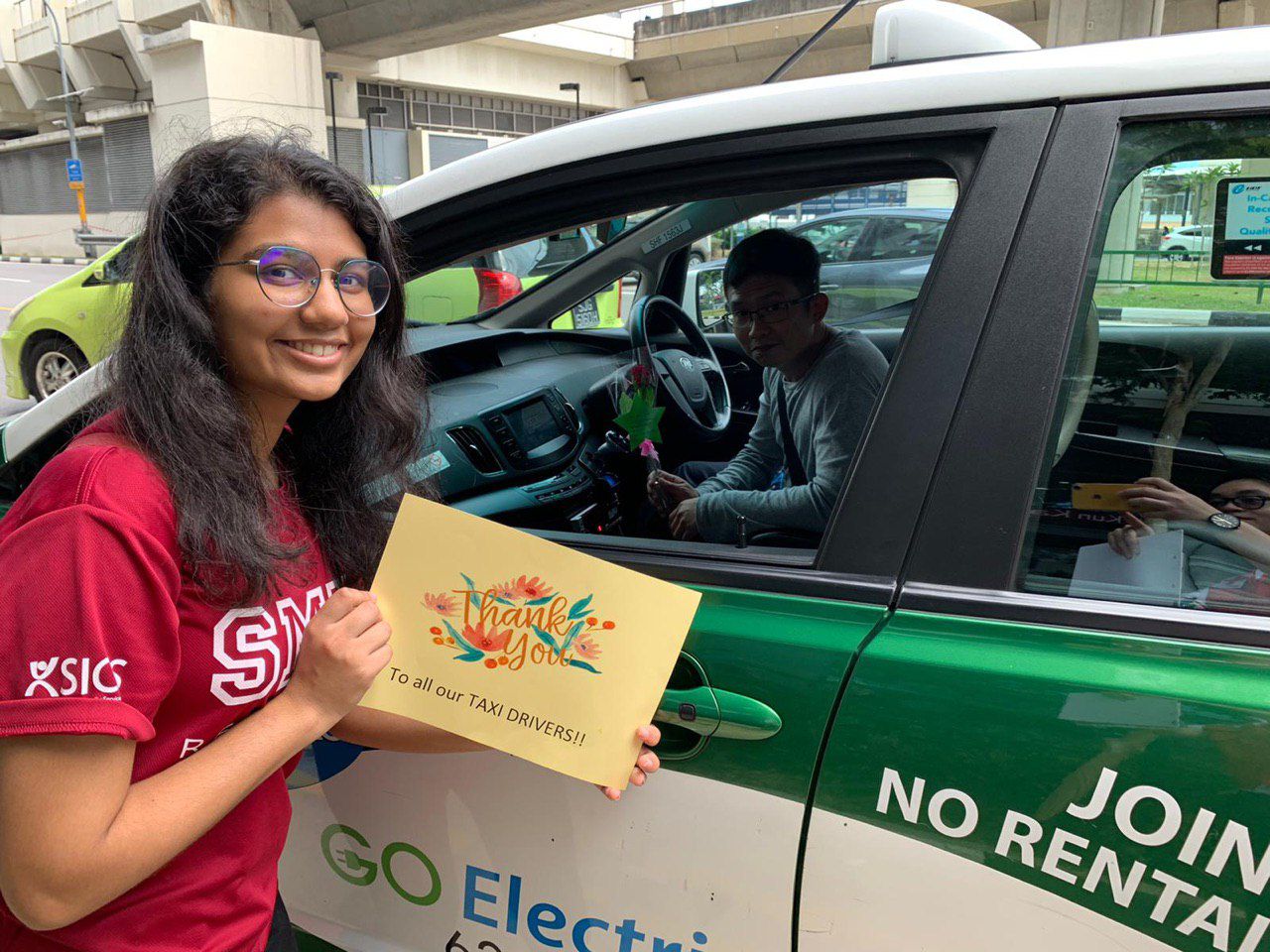 Three reasons to join RCY
Gauri's journey in RCY has been nothing short of empowering and enriching. For those people considering whether to join RCY, Gauri gives three reasons why one should.
First, one will help people directly.
"In RCY, you will get the chance to organise events that help others. You can witness the impact of your efforts, be it through blood donation drives or acts of service that reach out to others," she says.
Second, one will find like-minded peers.
The people Gauri met in RCY are some of her closest friends as they share a lot in common, including similar values. While it could be difficult to meet genuine friends at the university with limited in-depth interactions, RCY offers a platform for deep connections to be forged.
Third, one will learn important skills.
"Be it big or small accidents, first aid skills are vital in providing help to those injured. In RCY, you will learn and apply these first aid techniques, as well as empower others to do the same," Gauri says.
Continuing in the Healthcare Sector
Through RCY, Gauri has achieved personal growth while making a positive impact on the community.
Her short stint interning in a business strategy role in the healthcare sector and her major in Psychology honed her interest in pursuing further studies in medicine in the future.
Looking ahead, her passion for healthcare only grows from here, and she aims to continue making a difference to the health and well-being of others in ways that she can.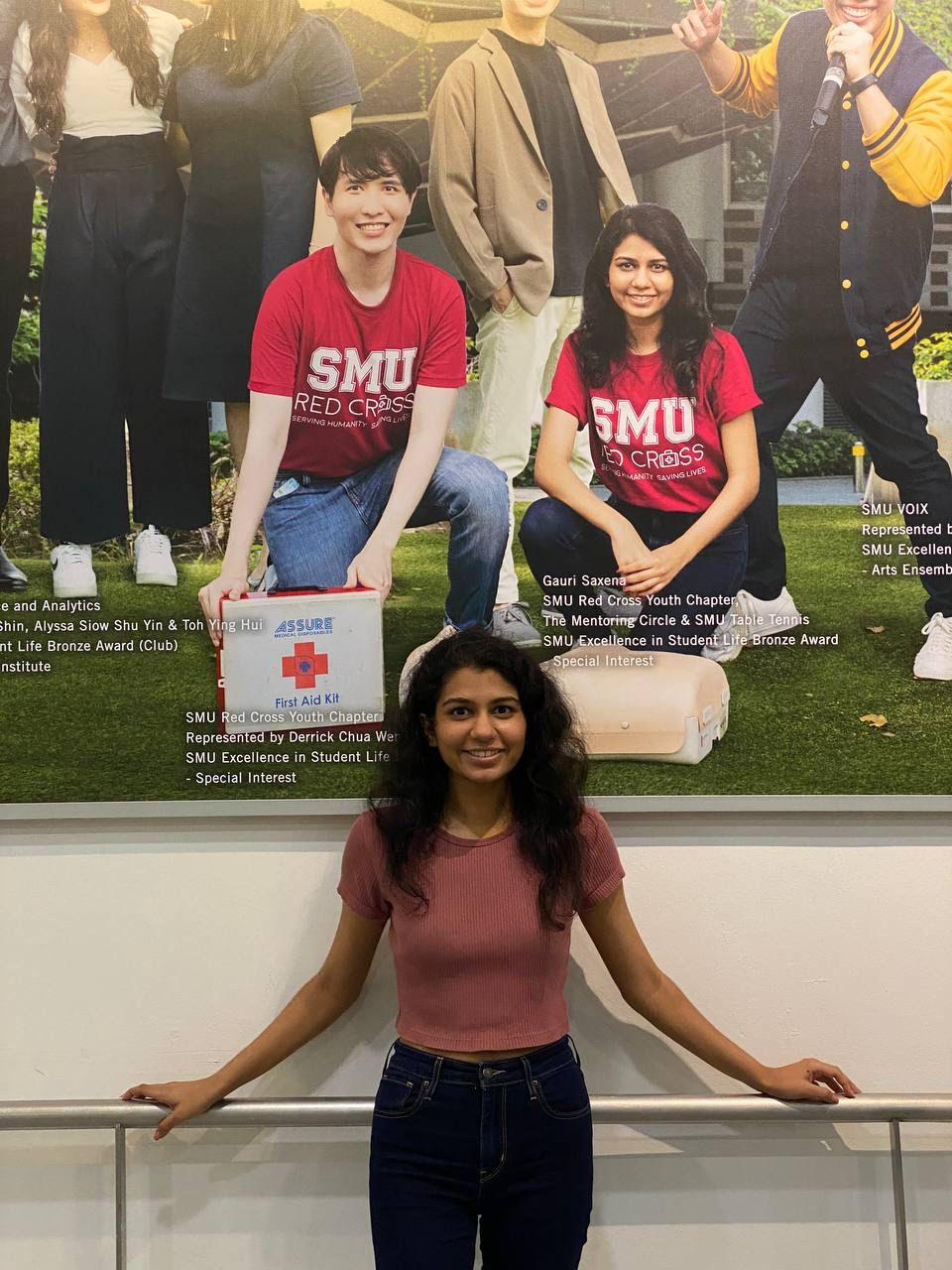 By Charlein Ho, Volunteer
Copyedited by Jolyn Lee, Volunteer