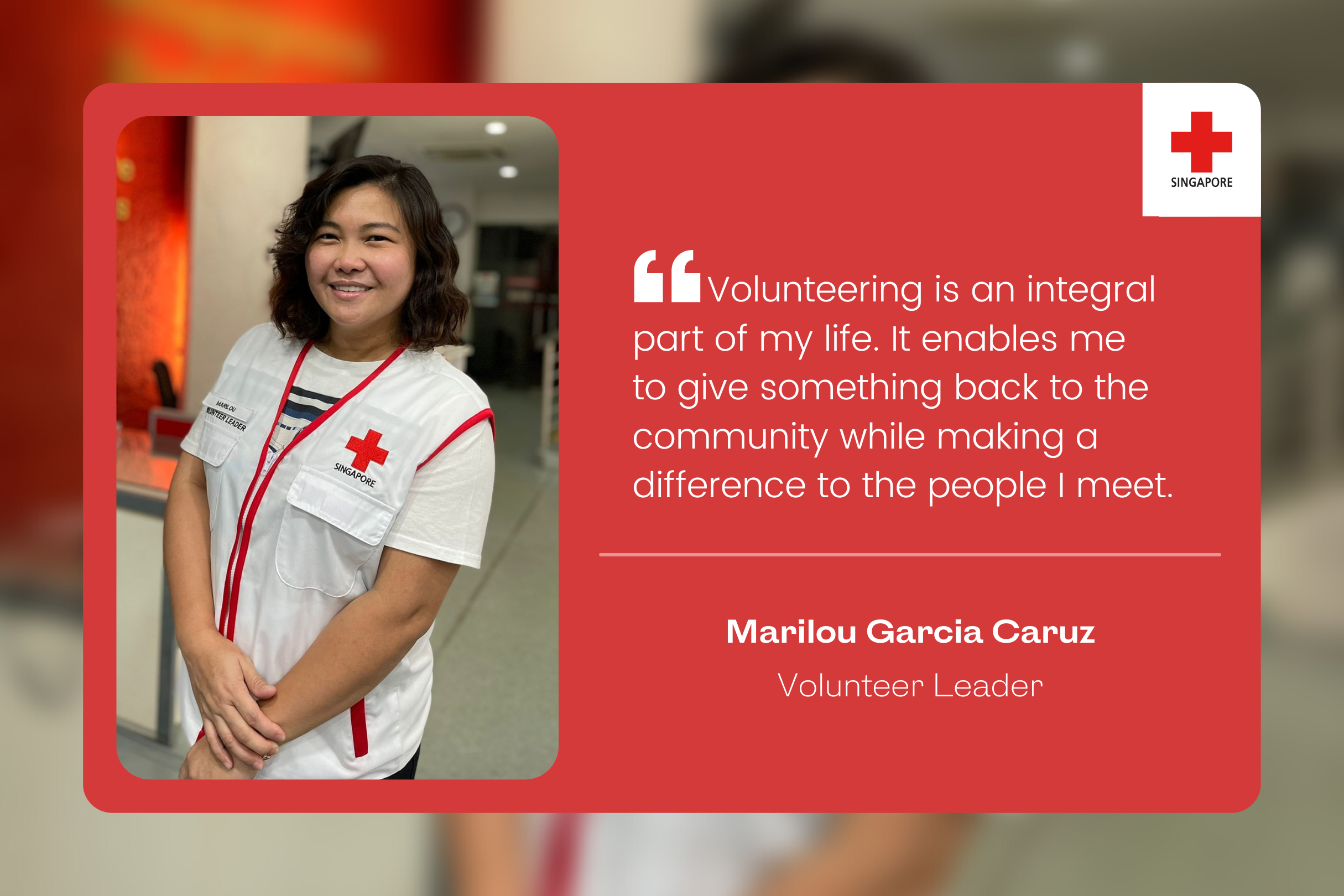 Inspired by a family who came together to help the less fortunate, Marilou Garcia Caruz began volunteering at the Singapore Red Cross (SRC), where she imparts her skills to fellow volunteers and inspires them. Generous with her time, Marilou has also been a regular blood donor, and is happy to make a positive difference in many lives.
By chance, Marilou Garcia Caruz and her friend stumbled upon a show three years ago that featured a family volunteering together to prepare food for families in straitened circumstances in Singapore. Watching the show sparked Marilou's interest in volunteer work in order to give something back to the community she lives in. Her friend, a SRC employee and volunteer, encouraged her to sign up with the SRC in December 2019.
One Door Closes, Another Opens
Amid restrictions curtailing visits back to her homeland in the Philippines in the early days of the COVID-19 pandemic, Marilou put her time to good use by volunteering with the Blood Donor Programme (BDP).
As a BDP volunteer, Marilou contacts blood donors who have achieved their milestone blood donations. She is also involved in the packing and delivery of milestone medallions to these blood donors.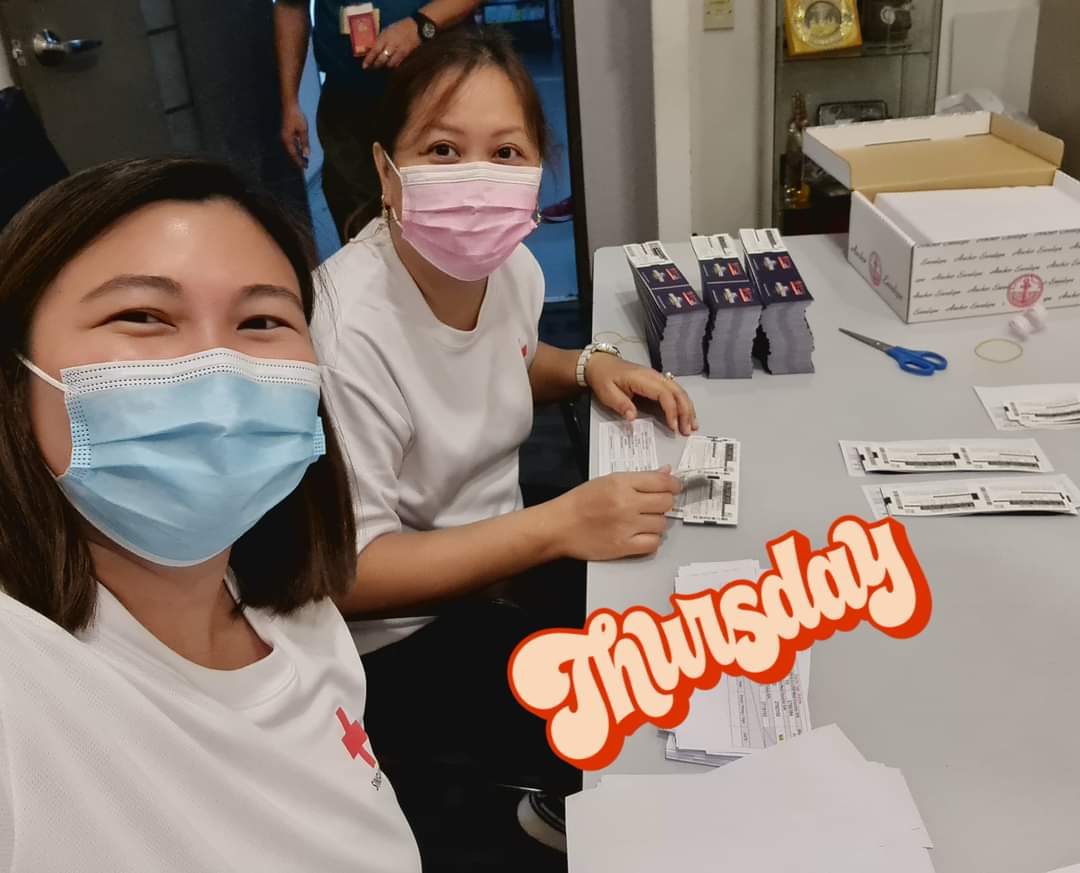 Besides phone calls and logistics, she also helps to raise awareness about blood donation and recruits blood donors for the programme. In addition, Marilou handles administrative duties such as handling calls from potential blood donors, and scheduling blood donation appointments for them.
"Before engaging in volunteer work, I remind myself to be kind and bring joy in my volunteer work. This creates a positive environment for others," said a cheerful Marilou.
Giving Blood, Saving Lives
Before joining the BDP as a volunteer, Marilou was a regular blood donor.
Recounting her first time donating blood at Bloodbank@HSA back in 2012, Marilou shared her concerns about how her body would respond to the blood-donation process. With moral support from a friend and the determination to do good, her anxiety faded fast away.
The blood-donation process went smoothly, with little discomfort, and Marilou felt a warm sense of accomplishment. That same year, she made a second, life-giving blood donation.
"I would definitely encourage others to donate blood. One bag of blood can potentially save three lives," she noted.
The Gift of Life
Several months later, Marilou was blessed with a precious 'gift of life' of her very own. Her pregnancy, however, put the brakes on her blood-donation journey.
After recovering from the birth of her son in 2014, Marilou wanted to resume donating blood but could not do so as her haemoglobin levels did not meet the required levels. She continues to take iron supplements to this day, determined to donate blood again in the future.
A passionate advocate of blood donation, Marilou sets aside time during the weekends and days off from her full-time job as an Information Technology (IT) Help Desk Technician at a bank for her volunteer work with the BDP.
"Volunteering is an integral part of my life. It enables me to give something back to the community while making a difference to the people I meet," added Marilou, who is in her 40s.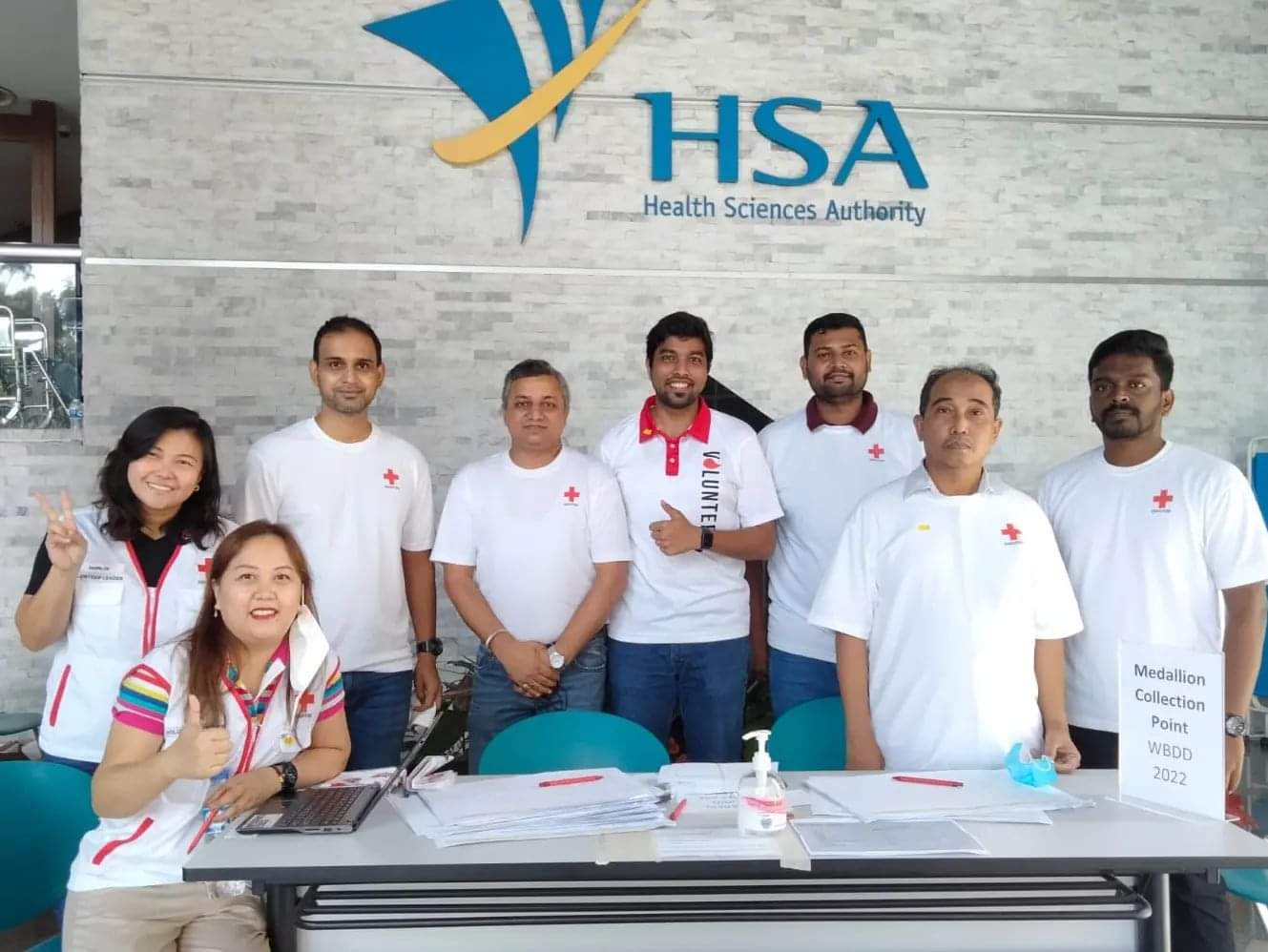 A job that enables her to work remotely suits Marilou's rather introverted, soft-spoken nature. Since volunteering with SRC, however, she has benefited from the increased human interaction, enjoying a wider social network with people from all walks of life.
A Leader in the Making
Marilou's volunteer work has helped her build strong interpersonal skills as well, and highlighted her leadership qualities.
At a BDP event held in 2021, Marilou's group leaders took note of her consistent volunteering efforts and encouraged her to take part in the Volunteer Leader programme. She completed the three-month programme in January 2022.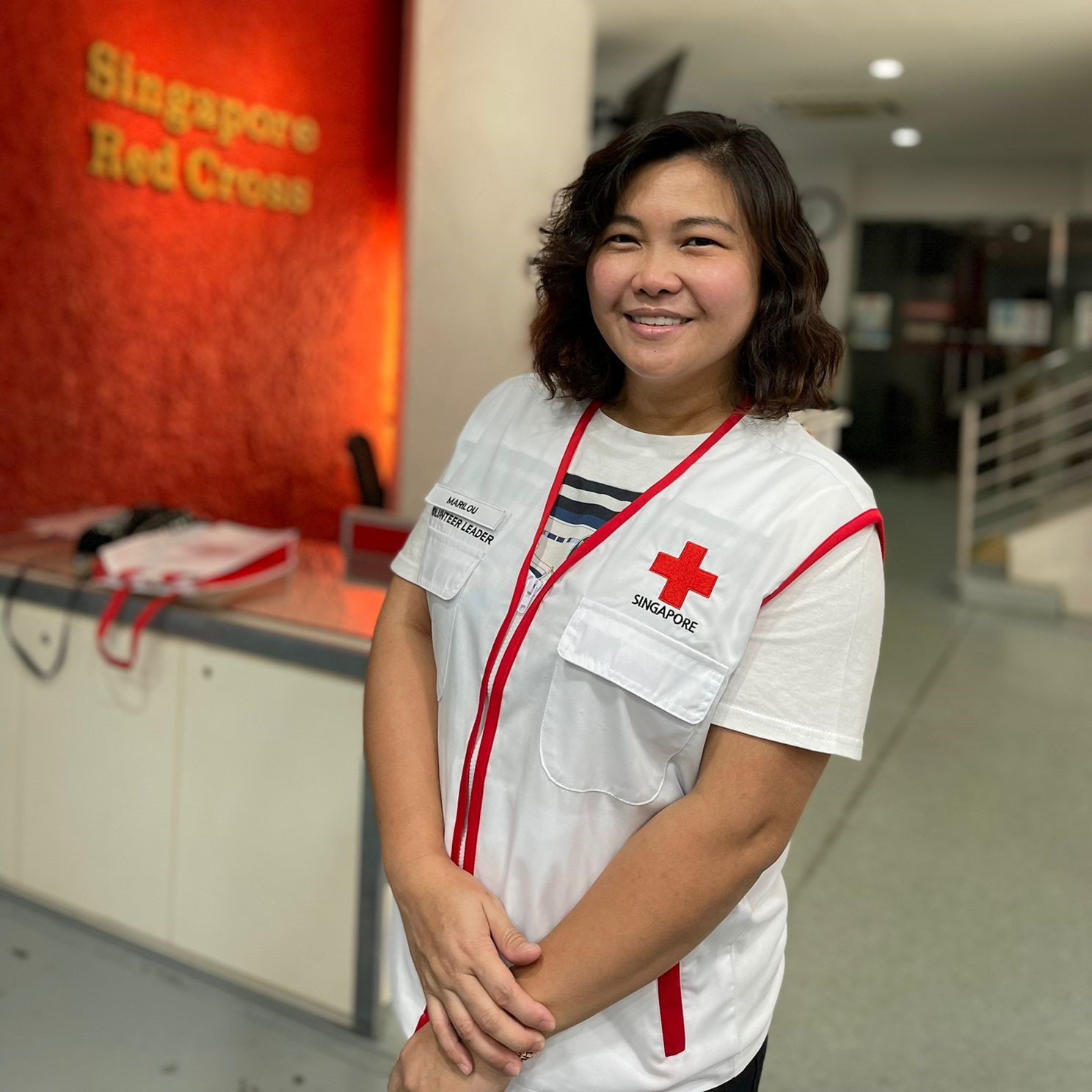 Apart from interacting with fellow volunteers, Marilou also enjoyed learning more about the various programmes and services offered by the SRC.
"It is nice to see others actively volunteering, giving their time and skills to help others," she said.
Marilou strongly believes that volunteering plays a crucial role in society, and encourages others to free up just one day to volunteer.
"You never know – once you experience the joy of serving others, you might find the motivation to continue volunteering. I love nothing more than inspiring others to give back and reach forward," Marilou said, all smiles.
By Daeshni Preethi, Marketing Communications & Partnerships Intern
Edited by Lisa Kong, Volunteer
| | |
| --- | --- |
| | Inspired to join our humanitarian movement? Check out our volunteer opportunities. Keen to donate blood or organise a blood drive? Click here. |