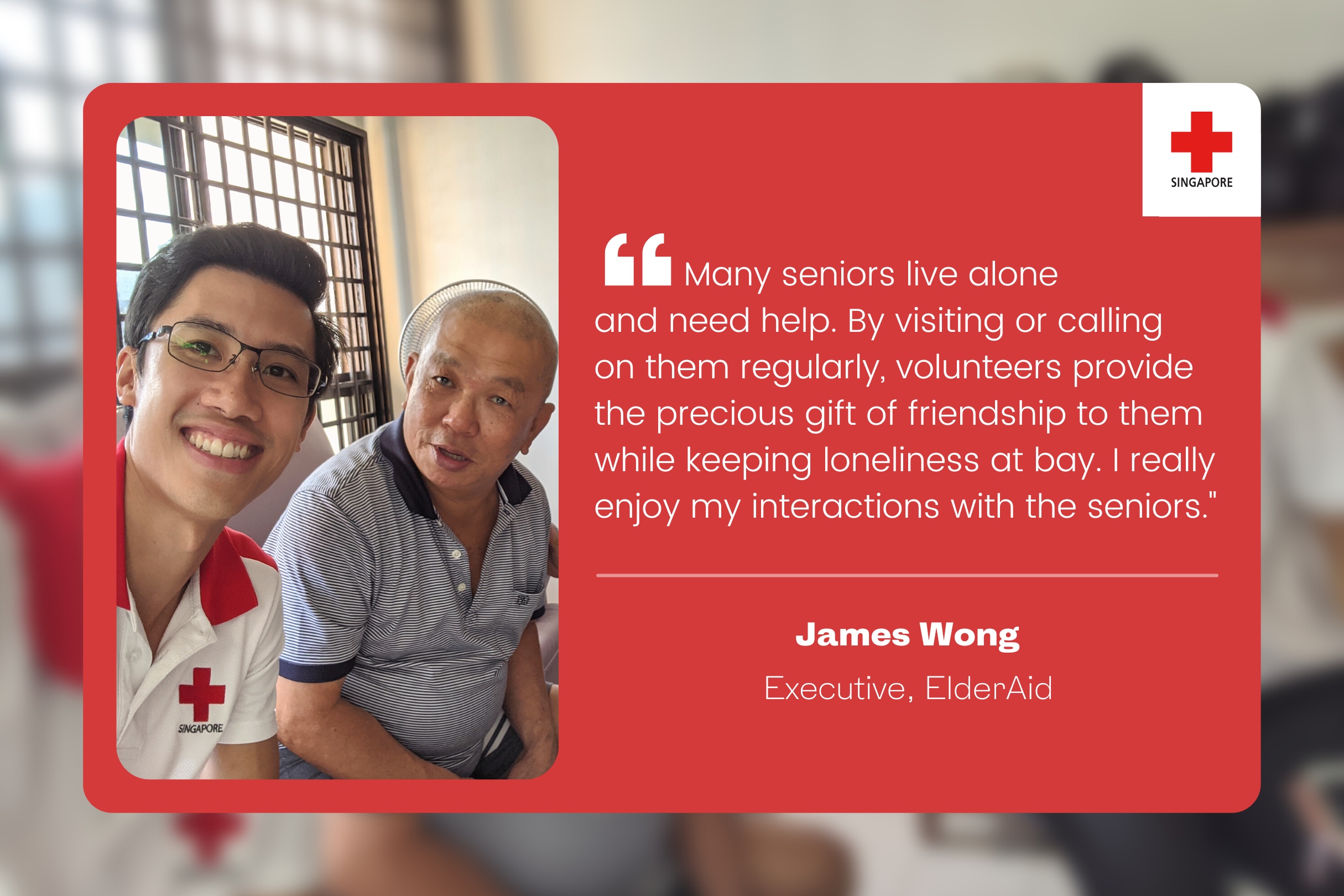 James Wong, 36, worked as a barista and a job coach before changing gears to join the Singapore Red Cross (SRC) in 2018. Starting out as an Executive with Red Cross Youth (RCY), he planned and organised events for youth while overseeing the Cadets, Volunteer Instructors and Youth Officers; and providing administration and logistics support. After almost a year, James joined SRC's Community Resilience department's ElderAid programme, which allowed him to connect directly with the beneficiaries. Besides working with volunteers who befriended isolated seniors, he organised activities, birthday celebrations and outings for the seniors; to achieve community ageing-in-place.
James worked as a barista at a coffee joint and job coach at a special school. After stumbling upon a job vacancy for the position of an Executive of Singapore Red Cross' (SRC) Red Cross Youth (RCY) online, he seized the opportunity by applying for the position. He secured the job in 2018. His natural flair for forging rapport with people and compassionate nature inspired him to join the SRC.
"Besides my passion for interacting with people, I find it meaningful helping people. SRC is a natural progression for me as its core value - compassion - resonates with me. I strongly believe in the tenet of treating each other with care and respect. That forms the basic building block of humanity and attests to a responsible society," he says.
As an Executive of RCY, James planned and organised events for youth while overseeing the Cadets, Volunteer Instructors and Youth Officers and providing administration and logistics support.
Offering the Priceless Gift of Friendship to the Elderly
James' innate desire to touch the lives of beneficiaries directly spurred him on to join SRC's Community Resilience department's ElderAid programme in 2019.
His daily responsibilities include house visits and needs assessments.
"Many seniors live alone and need help. By visiting or calling on them regularly, volunteers provide the precious gift of friendship to them while keeping loneliness at bay. I really enjoy the interactions with the seniors," he shares.
Besides working with volunteers who befriend and interact with the isolated seniors, he organises activities, birthday celebrations and outings for the seniors, to achieve community ageing-in-place.
"I also organise monthly excursions for the elderly beneficiaries. In 2022, we brought them to the Gardens by the Bay and the LKY Musical where performers re-enacted Lee Kuan Yew's life experience, from his student days in 1941 to Singapore's independence in 1965. These outings were much anticipated and very well-received. It's an open secret that the seniors love Universal Studios!" James quipped.
Apart from befriending the elderly, James shared that SRC also offers HoME+ (Home Monitoring and Eldercare), a non-intrusive system to monitor seniors, and provide them with help from first aid-trained responders if alerted by the HoME+ system. SRC also runs the TransportAid service that shuttles the elderly and persons with disabilities to and from their life-sustaining medical appointments at medical institutions.
"We do our utmost to meet the seniors' needs and requests. If their requirements go beyond our expertise, we also refer them to other agencies or social workers who are better suited for their specific needs," he says.
Overcoming Challenges
Despite the rewards, James faced challenges in his work. One of these was stoked by the COVID-19 pandemic.
"To mitigate infections among the seniors, we kept in touch by calling them instead of visiting them. The seniors without phones were most affected. Yet, there was a silver lining as the seniors picked up new skills by familiarising themselves with social apps and video calls. The outings were put on hold for a protracted period. As seniors had mobility issues, we conducted a survey to determine their needs, and we provided them with customised care packages catered to their needs," says James.
Another challenge that the department faces is recruiting the right volunteers who could commit to caring for the elderly beneficiaries for a medium to long-term period, as attrition is a perennial issue.
"While any help makes a difference, medium to long-term commitment makes the programme more effective. Many of our existing volunteers are actually seniors themselves. We want more youth or young adults to come forward to volunteer for a better balance, while enhancing our capability to manage people with a varied set of needs. The bonds strengthen and become more meaningful only after continued interaction, when the volunteer forges a rapport with the seniors and the seniors open up," James shares.
Offering a Listening Ear
James' experience interacting with the seniors has been fulfilling.
"I've witnessed seniors breaking down while sharing their stories and problems with people whom they trust. For me, it's sad to learn about their painful experiences and problems faced. However, I realise I can provide them with the avenue to share and lighten their emotional burdens. The seniors appreciate our patience in listening to their experiences and issues. While their appreciation may be muted, they attest to the difference I have made in someone's life. Befriending the seniors makes me feel that I am the best version of myself."
James is appreciative of the commitment of the team.
"We are a very small and closely knit team. It's easy to communicate and conceive new ideas and share experiences. We aspire to reach out to more people who need help, while raising awareness of SRC's humanitarian services, so that people who require support can reach out to us," he says.
Parting words from James for the younger generation, "We welcome volunteers, whether it is to organise outreach programmes for the elderly, distributing care packages or administrative work. I encourage people to come forward to make a difference to people's life and the larger community. Even the smallest contributions add up, whether it's time or monetary support."
By Sourik Sinha, Volunteer
Copyedited by Sondra Foo and Stella Lim, Marketing Communications and Partnerships
Inspired to join our humanitarian movement? Check out our career and volunteer opportunities.

Be a Hero, donate and support our local humanitarian efforts.