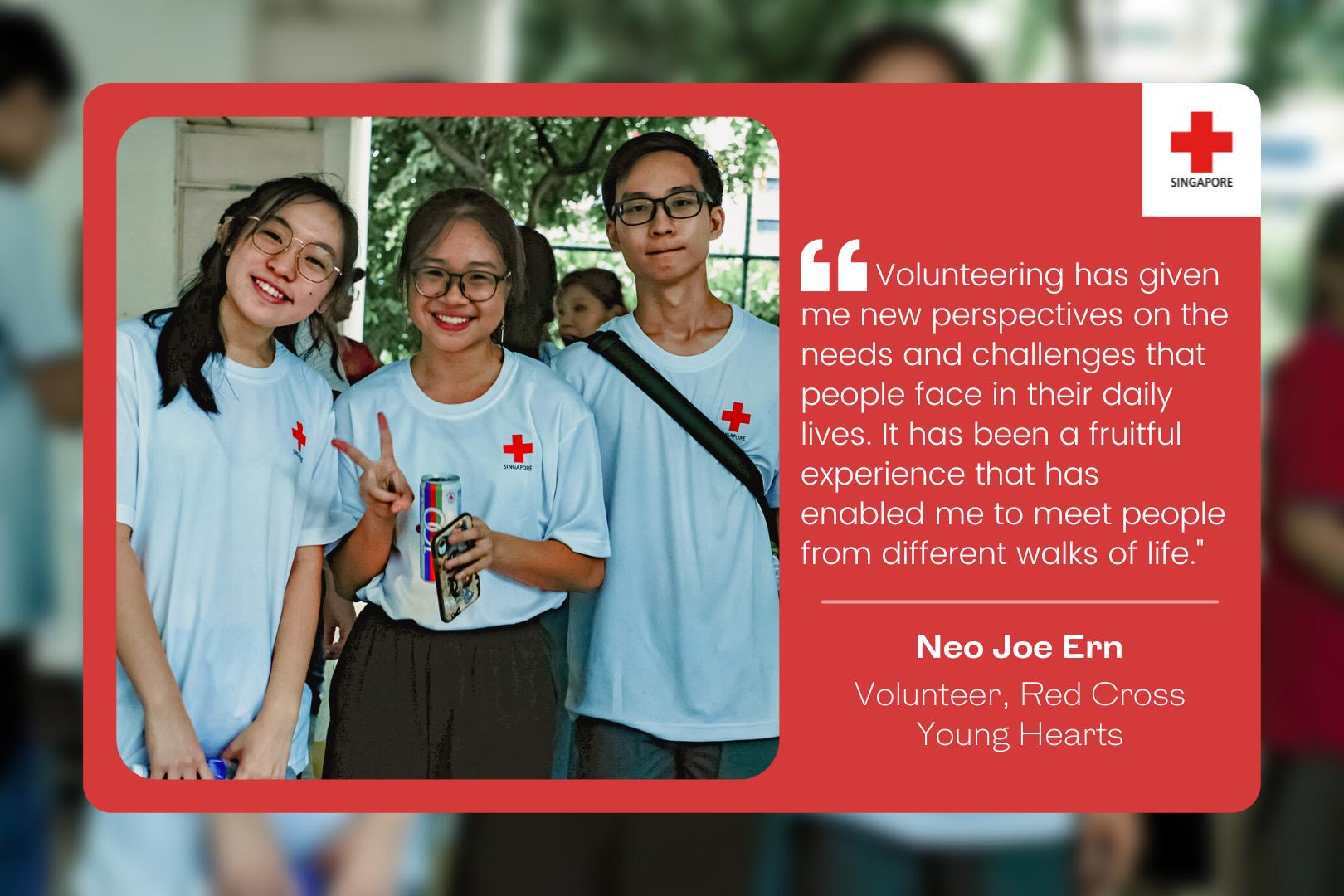 Volunteers serving at the Christmas block party at Nee Soon discover new perspectives by learning about the needs of different communities in Singapore.
[Photo by Shayene Gilflores Winfred]
Back in December 2022, a pool of dedicated volunteers found a meaningful way to spend the holidays. They assisted with organising a Christmas Block Party at Nee Soon East in partnership with the residents who were also part of the planning committee. Besides interacting with the families and children living there, the volunteers found joy in distributing essentials and ensuring the residents were handed sufficient rations for their daily use. It was heartwarming for the volunteers to see the community bonding together and enjoying themselves at the event.
Volunteers Chloe Liow, Neo Joe Ern, both 16, and Kaemoh Koh were among 15 volunteers at the Christmas block party at Nee Soon East's rental flats on 17 December 2022. The party provided a platform for residents to celebrate the festivities at the end of the year while children celebrated the end of their school term. Throughout the event, the volunteers were touched by the residents' hospitality, warm welcome and radiant smiles.
"The community here is closely-knit. Everyone knows everyone," Joe Ern shared.
Residents staying at the rental blocks bonded over food and mini carnival games. The children who lived at the rental flats laughed and frolicked at the nearby playground.
It was heartwarming to witness the residents and the children helping the Singapore Red Cross volunteers distribute the daily essentials such as milk powder and food items to the fellow residents.
The camaraderie among the neighbours was evident. Being well-acquainted with one another as neighbours, residents helping out in the distribution understood each resident's needs. They instinctively knew the items their neighbours required and handed it over to them.
Joe Ern and Chloe, volunteers of the Young Hearts programme, shared that volunteering in community events such as these, will not only shape one's worldview, it will also deepen one's understanding of the needs of different communities.
"Volunteering has given me new perspectives on the needs and challenges that people face in their daily lives. It has been a fruitful experience that has enabled me to meet people from different walks of life," says Joe Ern.
By Shayene Gilflores Winfred, Volunteer