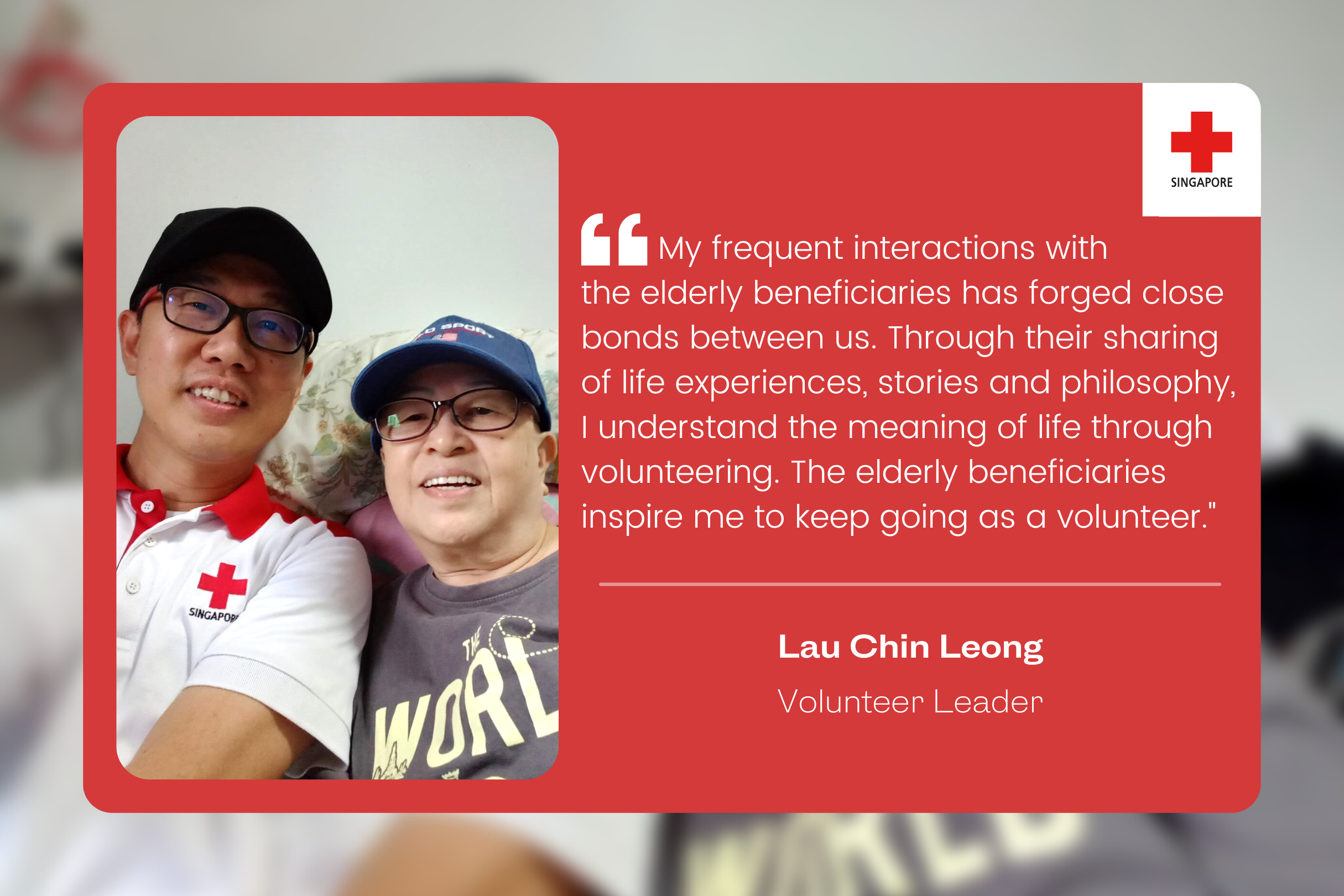 Lau Chin Leong started his volunteering journey with the Singapore Red Cross' ElderAid programme in 2018. He provides the precious gift of friendship and company to seniors living alone. Chin Leong appreciates that the Singapore Red Cross (SRC) trains new volunteers in psychological first aid and CPR+AED, which enhances their confidence to undertake their roles and responsibilities as an ElderAid volunteer.
Growing up, Lau Chin Leong looked up to his mother as a positive role model who taught him the spirit of giving through her acts of kindness, generosity and care towards people.
In 2018, a former employee and a neighbour introduced Chin Leong to the Singapore Red Cross' (SRC) ElderAid programme, which was being initiated in the northern part of Singapore.
Inspired by his late mother's selfless giving, Chin Leong embarked on his volunteerieng journey as a befriender at the age of 44.
Befriending the Seniors
After coming on board as an ElderAid volunteer, Chin Leong was trained in psychological first aid and cardiopulmonary resuscitation and learnt how to use the automated external defibrillator alongside other ElderAid volunteers. This training equipped Chin Leong and other volunteers with the confidence to undertake their roles and responsibilities as ElderAid volunteers.
Over the past five years, Chin Leong has been visiting the elderly beneficiaries regularly. Cycling from his home in Canberra, he visits four elderly beneficiaries who live in Yishun and Sembawang fortnightly, providing them with a listening ear and companionship. Besides the fortnightly visits, he also regularly calls on the elderly beneficiaries or gets updates from their domestic helpers.
Patient and thoughtful, Chin Leong always looks forward to these visits. Conversing with the seniors in Mandarin, their conversations delve into topics ranging from well-known local figures to the history of Singapore.
"My conversations with the seniors have been engaging and meaningful. They are inspiring as they remain curious about the people around them and society. Besides being knowledgeable about Singapore's history, they also contribute to the community with thoughtful feedback on services at healthcare facilities such as polyclinics and hospitals. They establish good habits to maintain a healthier lifestyle, and read newspapers daily to keep abreast with the news and current affairs. Through my regular interactions with them, I learnt that staying curious is the key to maintaining physical and mental well-being," he says.
One of his beneficiaries is 97-year-old Mdm Tan, who remains as sharp as a whip and takes pride in her impeccable manners. Chin Leong shares that Mdm Tan has taken it upon herself to teach Mandarin to the Myanmar domestic helper engaged by her family.
Chin Leong also often visits another Mdm Tan who is diagnosed with cancer, and has to undergo chemotherapy. Besides being enrolled in SRC's ElderAid programme, Mdm Tan also relies on SRC's TransportAid programme, which provides specialised transportation for the elderly or persons with disabilities to get to and from their medical appointments.
"Mdm Tan would often share her appreciation of the Medical Chaperone and the TransportAid team's thoughtfulness and care. A medical chaperone would accompany her on the journey to and from the hospital and throughout her chemotherapy sessions, ensuring she is well taken care of while she receives her treatment," Chin Leong says.
Learning from the Seniors' Fortitude
In his interactions with Mdm Tan and the other seniors, their courage and stoicism stood out and left a deep impression on Chin Leong.
"The beneficiaries demonstrated resilience. Though they are advanced in age and suffer from physical aches and pains, they rarely complain. They accept their afflictions as part and parcel of ageing. They also speak candidly about death and are not afraid of dying," he says.
Chin Leong feels that the seniors' sharing has enriched his outlook and philosophy in life.
"When my mum was alive, she told me that volunteering is beneficial not only to beneficiaries but to volunteers and their families too. After joining as a volunteer, I realise that what she said is true. My frequent interactions with the elderly beneficiaries has forged close bonds between us. Through their sharing of life experiences, stories and philosophy, I understand the meaning of life through volunteering. The elderly beneficiaries inspire me to keep going as a volunteer," he says.
Showing up as Promised
Having volunteered for five years, one of the challenges Chin Leong often faces is scheduling visits on the corresponding dates and times with his buddy volunteer. To ensure quality of care, ElderAid requires volunteers to work in pairs for the home visits. As a full-time tutor, his working hours, which are on weekday mornings and afternoons, are more flexible than most. However, most volunteers are typically only available on weekends. Once, a buddy volunteer pulled out from a home visit at the last minute due to an emergency. Despite this, Chin Leong decided that he would still press on and kept to the appointment.
"I believe that showing up as promised is of the utmost importance. It is the bedrock of a meaningful volunteer and beneficiary relationship based on trust," he says.
Appreciated for Staying the Course
Throughout his journey as an ElderAid volunteer, particularly during the Covid-19 lockdown, Chin Leong has stayed the course.
It has been five years since Chin Leong started volunteering. For someone who only started volunteering later in life, Chin Leong has proven to be a passionate and exemplary ElderAid volunteer who thoroughly enjoys his volunteering experience.
His tireless contributions are not only appreciated by the beneficiaries, they were also recognised when he received a Commendation Award at the SRC Awards (2020-2021). The award was a testimony of his dedication and unwavering contribution to advance SRC's humanitarian efforts by befriending isolated seniors.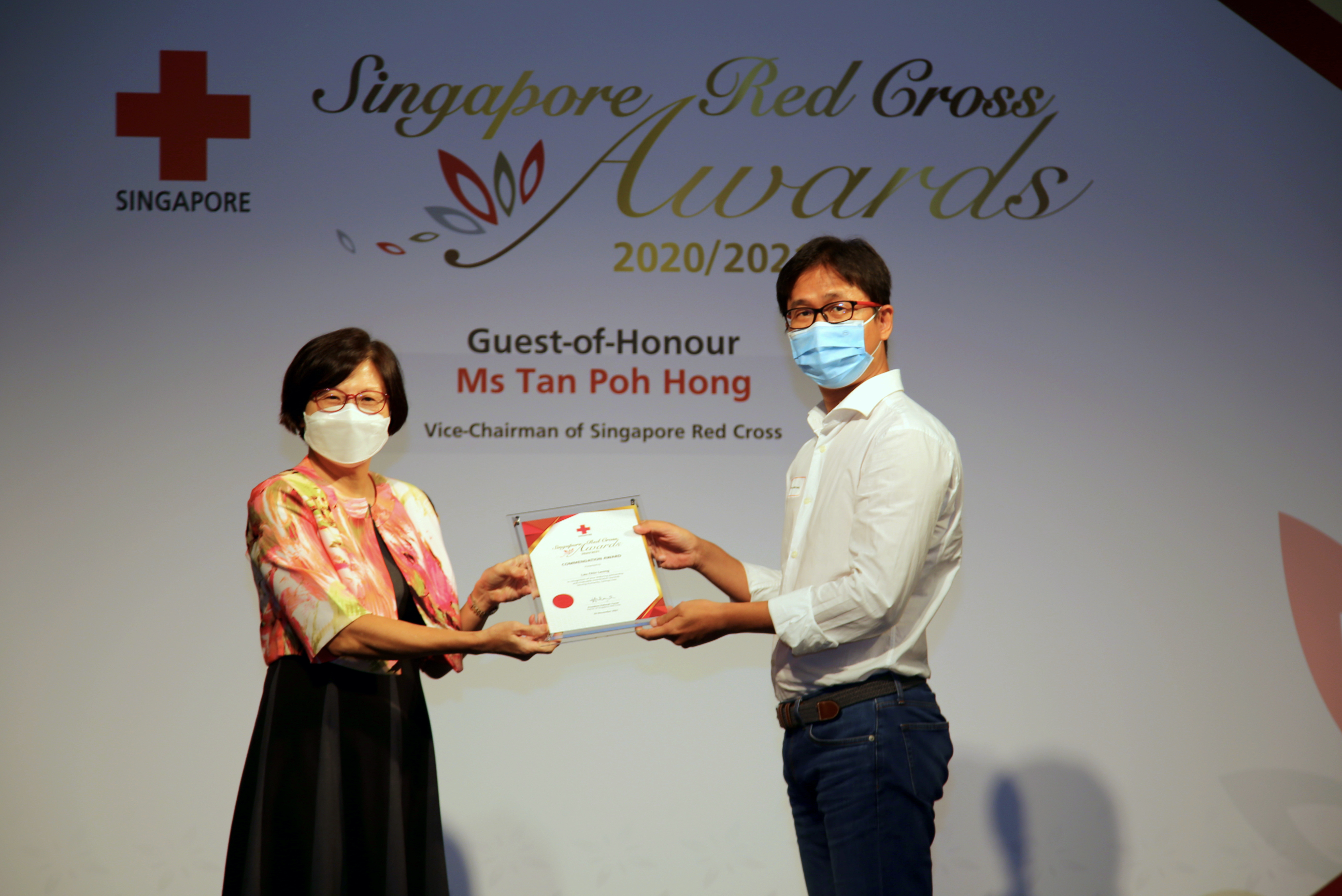 "I am honoured to receive this award and would like to share this award with my four elderly beneficiaries and my fellow volunteers. I am grateful for SRC's acknowledgement of our contributions," he says.
Besides forging rapport with elderly beneficiaries, Chin Leong's enthusiasm and warmth have also brought him closer to the volunteers.
He was nominated to undergo the Volunteer Leadership Programme held from July to October 2022. Now a Volunteer Leader, he provides guidance to new volunteers in the ElderAid programme.
"I will let new volunteers know that they are not alone, that they are part of a team, together with the SRC employees. With SRC's training in first aid and psychological first aid, they will be well-equipped to care for the elderly," he says.
Apart from providing guidance to volunteers, Chin Leong often shares his volunteering experiences with his family and has brought his teenager along to one of the home visits. Chin Leong feels that this helps with family bonding, while encouraging his family to also think of others and give back to the society.
"I hope more people will step forward to volunteer their time and effort to brighten the lives of the elderly," he says.
By Tracy Lam, Volunteer
Copyedited by Ruth Lee, Volunteer