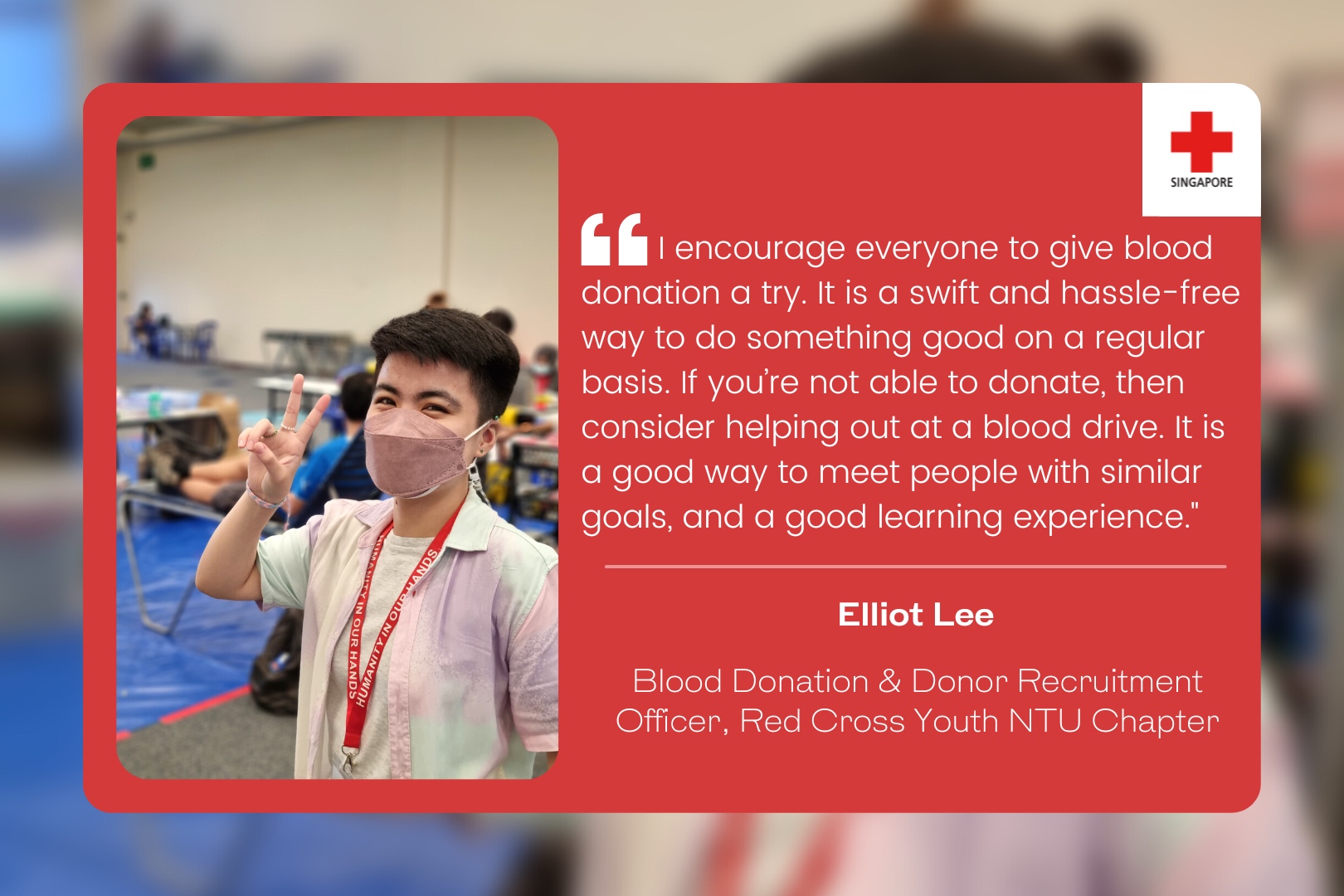 Elliot Lee, 21, is not eligible to donate blood due to low iron levels, but he has remained undeterred in the cause of saving lives. He volunteered at the Red Cross Youth (RCY) Nanyang Technological University (NTU) Chapter's blood drive. The experience was so fulfilling that he joined as RCY NTU Chapter's Blood Donation and Donor Recruitment Officer. He shared about his role in organising a blood drive at NTU and the important role that blood mobile organisers play in shoring up national blood stocks.
As a child, Elliot had accompanied his mother, a regular blood donor, on her blood donations. Inspired by his mother's commitment to donating blood, Elliot was determined to donate blood when he turned 16, the minimum eligible age for blood donation. However, despite multiple visits to the blood bank, he was ineligible to donate blood due to his low iron levels.
Contributing to the Blood Bank Doesn't Stop at Blood Donations
Undaunted, Elliot sought other ways to help ramp up the blood stocks.
"When I joined Nanyang Technological University [NTU], I learnt that the Red Cross Youth [RCY] - NTU Chapter organises a blood drive every semester. I volunteered at one of the blood drives, and found the experience to be rewarding and meaningful, as I could contribute to the life-saving cause of blood donation, even if I personally could not donate blood," he said.
Keen to do more for the cause of blood donation, Elliot joined the RCY NTU Chapter as a Blood Donation and Donor Recruitment Officer.
Blood Donation Advocacy
In 2022, Elliot was tasked with organising a blood drive in October. He started preparations two months prior to the blood drive, in August.
"I coordinated a video interview with a young regular blood donor on his motivations for embarking on and continuing his blood donation journey, and shared his words of encouragement to spur others to donate blood. We shared the blood donor's quotes on social media platforms to raise awareness of blood donation and the blood drive," said Elliot.
To raise awareness and interest in blood donation, the RCY - NTU Chapter also held Physical Advocacy Week at on campus, a week prior to the blood drive.
"Besides putting up posters, distributing informational pamphlets and publicising our blood drive through our RCY - NTU Chapter's social media platforms, we also shared information about blood donation, fun facts and quizzed participants on their knowledge of blood donation at a booth. In addition, we leveraged communication channels such as the NTU Student Union newsletter and public display screens to drive awareness of the importance of blood donation and the blood drives," shared Elliot.
Dispelling Misconceptions
Yet, those efforts alone did not suffice. He had another obstacle to surmount: the challenging task of dispelling misconceptions about blood donation.
Elliot asked his friends about their reluctance to donate blood.
"Some friends were fearful of needles or were concerned that it would be a painful process. To overcome their fear of needles, we explained to them that the only thing a blood donor feels is the injection of the anesthesia," shared Elliot.
Enhancing Convenience
Other friends shared that it was too inconvenient to commute to the blood banks.
"My friends were also concerned that the blood donation process could be time-consuming, particularly as the blood drives were held close to their examinations. In response to their feedback, we brought the blood drive to them by organising it at Nanyang Auditorium, one of the largest venues in NTU. This made it convenient for the NTU community to donate blood," said Elliot.
Their efforts to change mindsets by dispelling the myths and misconceptions about blood donation, sharing the blood donation process and motivating people to register for the blood drive paid off.
"Approximately 345 people registered for the blood drive!" Elliot quipped with pride.
Group Effort to Ensure Success
The success of the blood drive did not merely hinge on the advocacy efforts.
"I learnt about the amount of work that goes behind the scenes to organise a blood drive. Besides the publicity efforts, blood drives also entail logistics and administrative efforts. It could not be done in silos. It was a group effort," he shared.
Even though organising blood mobile drives can be challenging, particularly while juggling their coursework as well, Elliot believes that it is worth it.
"It is for a good cause. It is one way I can help to save lives," he said.
A Message To All Youth
The blood banks are always in need of blood donors.
"I encourage everyone to give blood donation a try. It is a swift and hassle-free way to do something good on a regular basis [quarterly]. If you're not able to donate, then consider helping out at a blood drive. It is a good way to meet people with similar goals, and a good learning experience," Elliot shared.
By Dawna Chan
Edited by Michael Gutierrez, Volunteer
| | |
| --- | --- |
| | Keen to donate blood or organise a blood drive? Click here. |