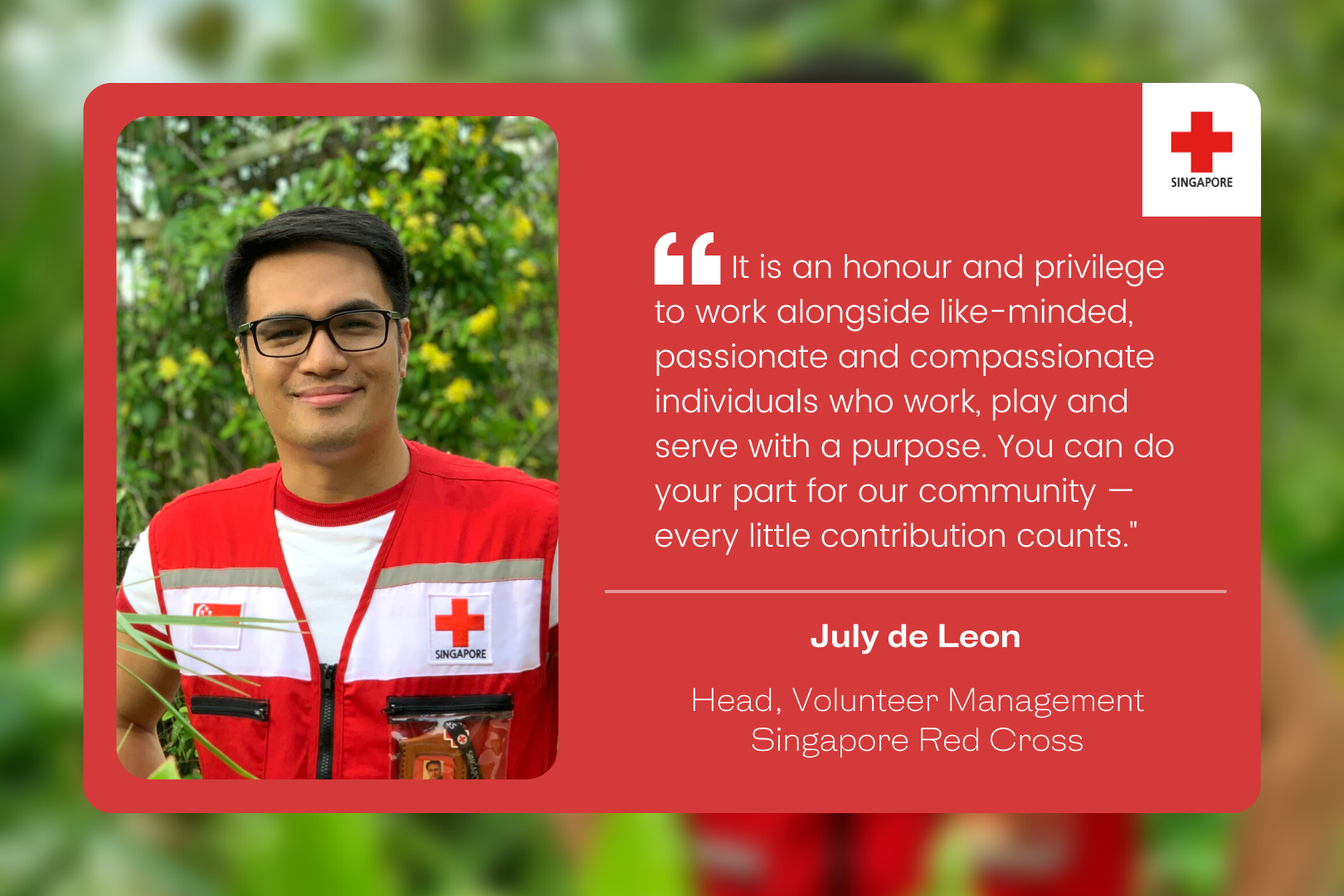 July de Leon, 44, first joined the Singapore Red Cross (SRC) as a Human Resource Executive. Having been trained in disaster preparedness and management, he was deployed on a few overseas missions, which spurred his interest in volunteer management. Since taking the helm as the Head of Volunteer Management (VM) in SRC, he has launched the Volunteer Management System, the volunteer pathway and development, strengthened the resources at VM, and worked together with other departments to conceive creative ways to engage and retain volunteers.
Embracing a Noble Cause to Help the Vulnerable
Prior to working for the Singapore Red Cross (SRC), July de Leon had extensive experience as a Human Resources professional in various sectors, including Logistics and Recruitment in the Philippines from 2000 to 2007 and IT Consulting and Engineering in Singapore from 2007 to 2013.
After stumbling upon a job advertisement on an online career portal, he applied for the position of an executive with the Human Resource (HR) department of the Singapore Red Cross (SRC).
"I chose to forego higher positions and remunerations in the private sector to work with the SRC. It was not merely for the brand that people recognise and trust, but also for the greater mission of helping the vulnerable in the community through its varied humanitarian programmes," said July.
As an HR Executive, July was involved in recruitment, payroll, training, employee engagement and HR policies.
Broadening Horizons Beyond Local Shores
Though July was initially engaged in HR work, he is thankful he had the opportunity to be trained in disaster preparedness and management, which enabled him to go on overseas missions.
In 2015, July was deployed in Nepal as part of the medical team providing relief response for the Nepal Earthquake. He was also mobilised as a member of the assessment team for the Myanmar Floods, and was involved in a Youth-Training facilitation deployment in Brunei and the Philippines under SRC Red Cross Youth and IFRC.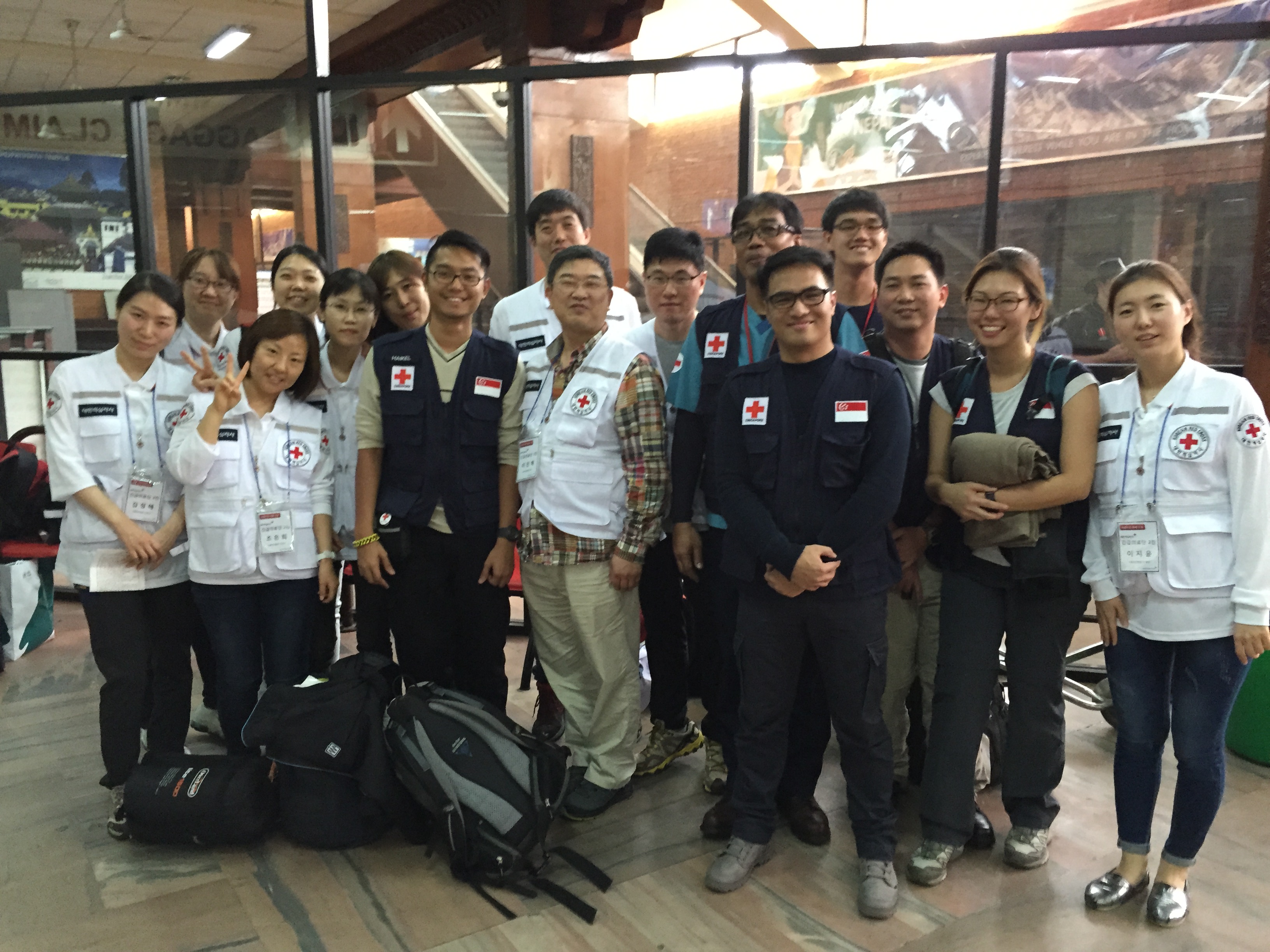 Nepal medical mission, 2015
"The internal training and exposure to overseas missions broadened my horizons and cemented my passion for volunteer work," he said.
In 2018, July also had the chance to document rebuilding efforts in the Philippines five years after Typhoon Haiyan and recently participated in the Red Cross Red Crescent Youth Forum / Leaders Meeting in Brunei Darussalam in October 2022.
Developing Volunteers
Having found his passion for volunteer work through his overseas deployments, July was presented with the opportunity to helm the Volunteer Management Department (VM) in 2019. He seized the opportunity, taking it as a challenge to bolster the volunteer management system at SRC.
As the Head of VM, July oversees the overall volunteer needs of the SRC, providing volunteer training, development and deployment opportunities, all while organising recognition and appreciation events for volunteers.
His team works closely with Programme and Volunteer Managers, Volunteers and Volunteer Leaders in ensuring a positive volunteer engagement and journey.
Finding His Footing
As it was July's first time managing a team, he encountered some challenges at the onset.
"I sought to find my footing while balancing my expectation of the role. As it was a new portfolio, I had to learn the scope, identify the gaps in the existing processes and programmes while managing the dynamics between the team members and the stakeholders. I had to secure the support of other departments in the introduction of new initiatives or potential collaborations," July shared.
July gave himself time to reassess his expectations, adjust his work approach to be more open to feedback and collaboration.
"I shifted my perspective and adapted to the new role while forging the rapport with colleagues and volunteers. Fostering good professional working relationships and presenting new ideas as win-win situations enabled us to achieve the end-results. It is heartwarming to see the camaraderie among the employees, volunteers and beneficiaries," he said.
Supporting Volunteers
Volunteers are indispensable to the Singapore Red Cross.
"Volunteers are the backbone of the Singapore Red Cross. We cannot deliver our humanitarian programmes that uplift the lives of our beneficiaries and enhance the community without them. Our department provides volunteers with guidance, training and recognition throughout their volunteering journey with us. We empower volunteers by leveraging their strengths and expertise and embracing them as partners. My team works closely with internal departments to ensure that volunteer management structures and systems are in place," said July.
Engendering Creativity in Volunteer Management
Over the past few years, the COVID-19 pandemic had put several events at a standstill due to regulatory restrictions, but it did not deter VM from coming up with creative ways to engage and develop volunteers.
"The COVID-19 pandemic taught me to be adaptable and creative. We focused on what we could do with the uncertainty, limited resources, and changing regulatory restrictions. Though it was challenging, it was a good learning experience for us. For the safety of our beneficiaries, clients, employees, and volunteers, we halted all physical engagements. While our employees and volunteers conceived creative ways to engage beneficiaries, we focused on process improvements. We launched our Volunteer Management System (VMS) in mid 2020 and pivoted our engagements; Volunteer Orientation and Volunteer Leadership on video conferencing platforms," he shared.
Passion for Collaboration
Beyond VM's role of developing the VMS system and organising volunteer engagements, VM also liaises with other departments.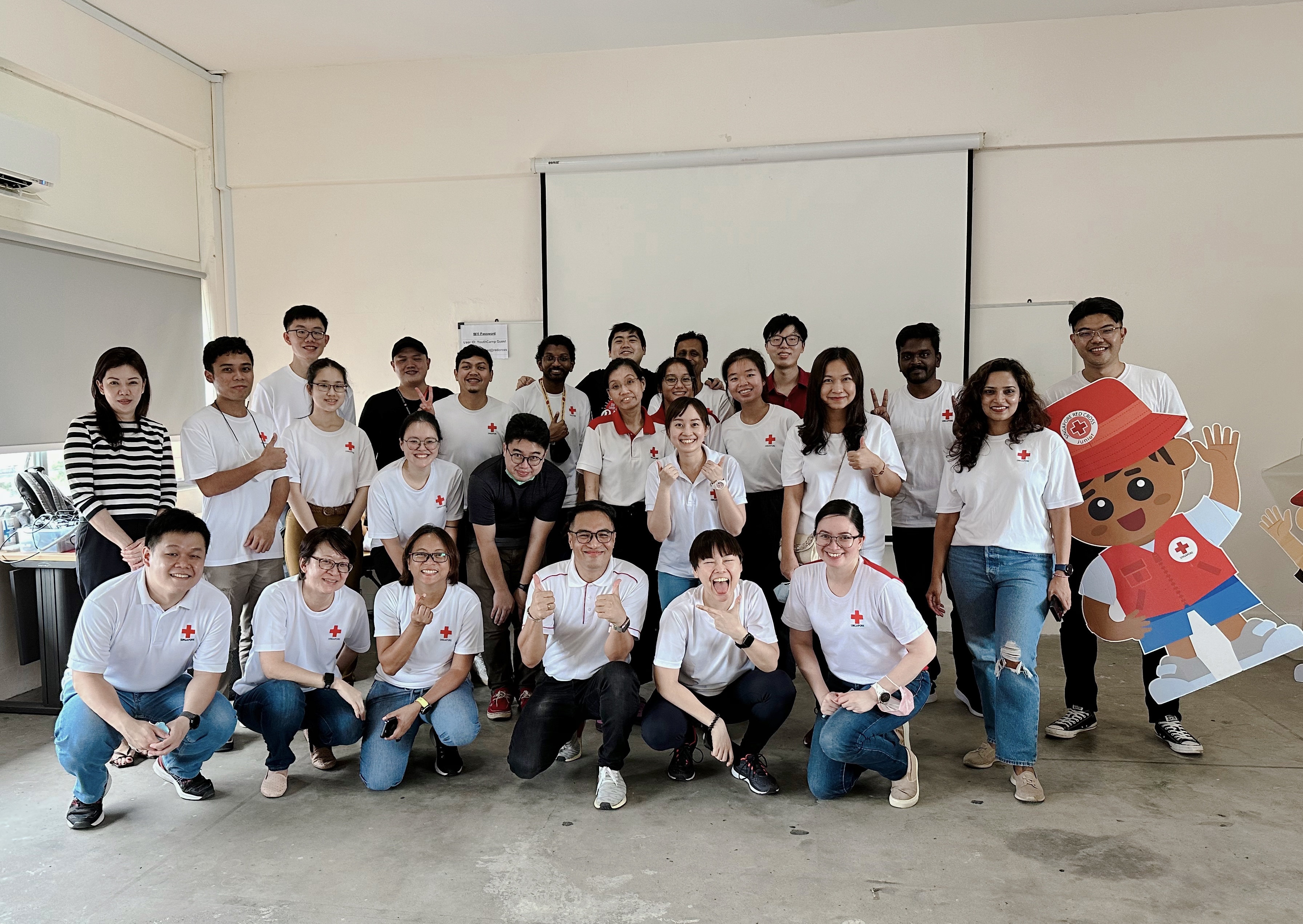 Volunteer Induction Workgroup, 2022
"Collaboration with other departments is critical. Managing thousands of volunteers is not solely a VM effort, but SRC as a whole. An employee who deals with volunteers is a Volunteer Manager regardless of the department he or she is in. Volunteer Managers take full accountability and ownership in managing volunteers with the support of our VM team. We work closely with Volunteer Managers to explore creative ways to engage, motivate and retain volunteers who have joined us through word-of-mouth or through their knowledge of SRC's humanitarian work in the community. That is a win-win solution for all," he added.
Besides working with volunteers, July finds joy in working with employees united by a common humanitarian cause.
"It is an honour and privilege to work alongside like-minded, passionate and compassionate individuals who work, play and serve with a purpose, fuelled by the common mission of relieving human suffering, protecting human lives and dignity and responding to emergencies. It is enjoyable to work in an environment where employees and volunteers alike are accommodating and generous in contributing their knowledge, time, expertise and resources to a good cause. It is inspiring to see their commitment and selflessness," July said.
A Decade of Gratitude and Fulfilment
Ten years have passed since July first joined the SRC.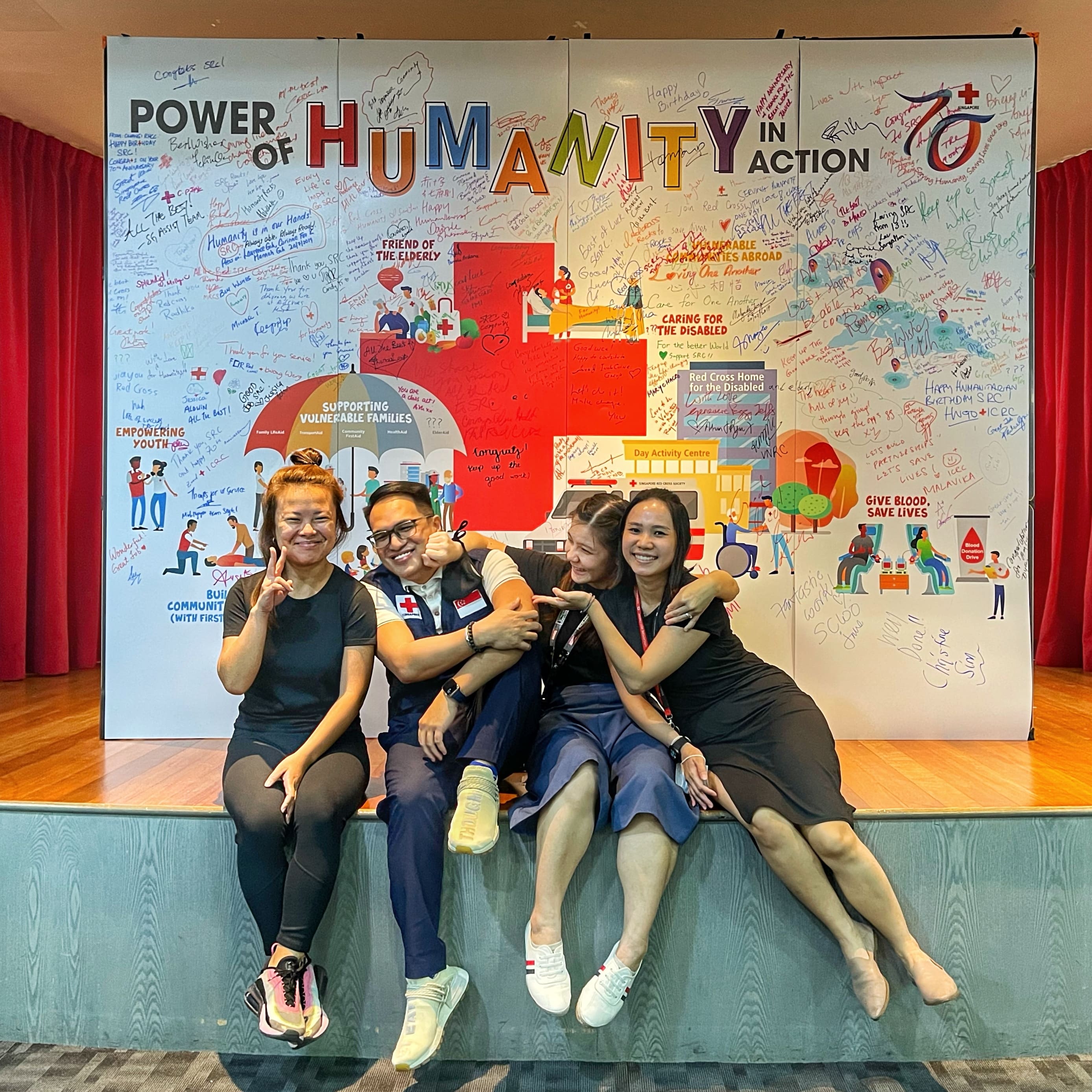 Volunteer Managers Training Workgroup, 2021
"It does not feel like I have been with the SRC for 10 years. The adage 'time flies when you're having fun' rings true. I am grateful and fulfilled," he said.
"Knowing that the role I play in the SRC contributes to a greater purpose and goal keeps me going. The ideas we conceived and the changes we implement will bring joy to the vulnerable or ease their suffering, while positively impacting the volunteers and colleagues," he added.
Future Dreams and Aspirations
July has some aspirations for his department.
"We will continue to focus on advocating the organisation, its programmes and volunteers in the implementation of initiatives and programmes. Besides adapting and meeting the needs amid the dynamic volunteer landscape, I hope VM will continue working with other departments, organisations, and seasoned volunteers and Volunteer Leaders as partners to bolster volunteer management as an important aspect of the SRC. For my team to see the value of our work and the impact that we bring through volunteer initiative and positive engagements," he said.
He hopes that people with the heart to serve will consider working with or volunteering with the SRC.
"You can do your part for our community. Every little contribution counts," said July, who believes in developing people, whether they are employees or volunteers.
By Lee Kher Shing, Volunteer
Copyedited by Sophia Thomson, Volunteer
| | |
| --- | --- |
| | Inspired to join our humanitarian movement? Check out our career and volunteer opportunities. |