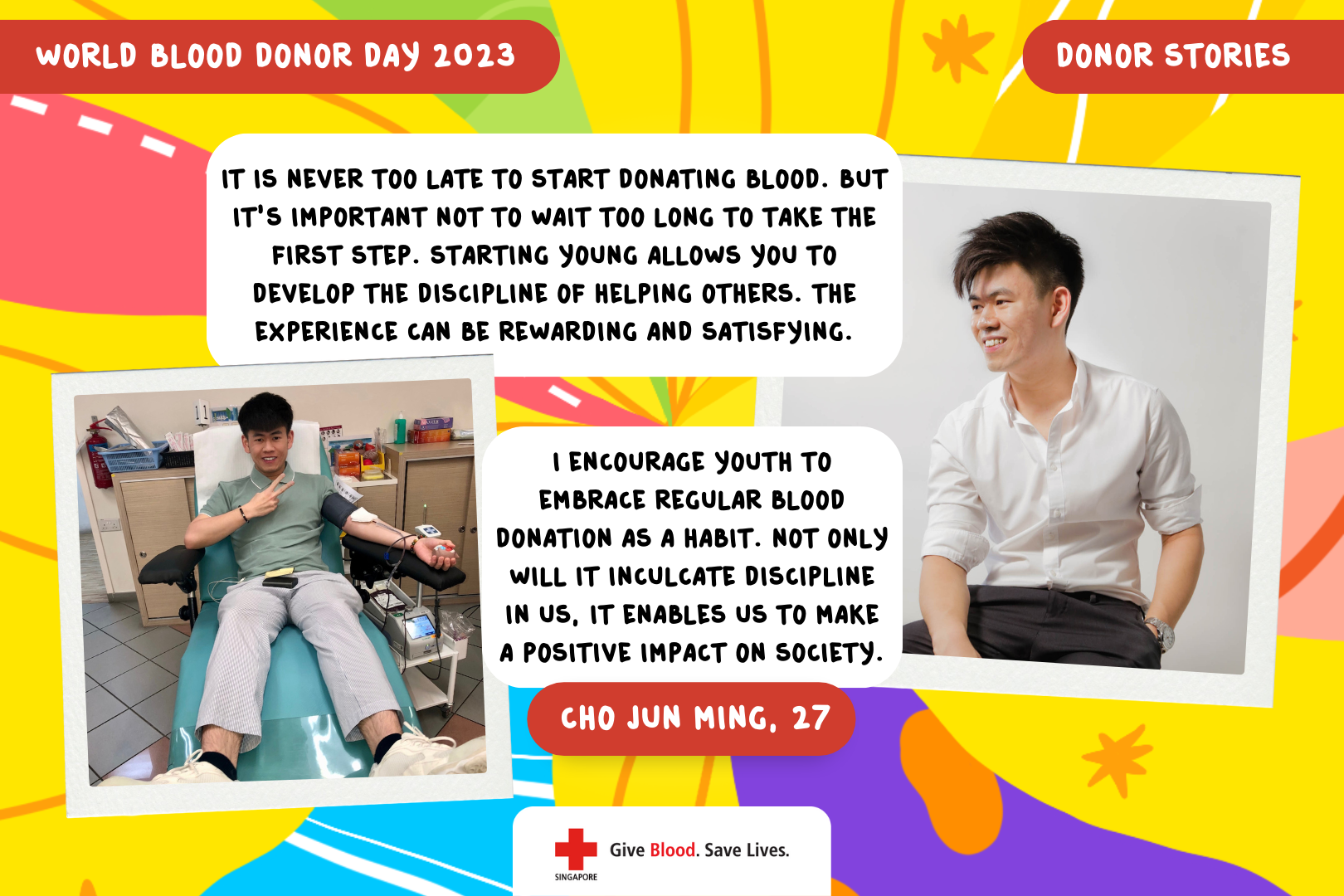 Cho Jun Ming was inspired to become a regular blood donor after witnessing his late father undergoing dialysis and blood transfusions. As a filmmaker, he produces socially responsible films, on meaningful topics such as the importance of blood donation. When he was warded following a major accident in 2021, he saw how blood was critical to saving lives while he was in hospital, and it reinforced his conviction to donate blood. He will be awarded the Bronze Medallion on World Blood Donor Day this year, for having made more than 25 blood donations. He hopes to inspire more youth to step forward and embrace blood donation as part of their lifestyle.
"If I don't do it, who will?" says Cho Jun Ming, 27, a filmmaker and a blood donor.
Blood donation is an act of kindness that saves lives. Blood donation is a cause that is close to Jun Ming's heart as his late father was a blood recipient.
"As a child, I watched my late father undergo dialysis and receive blood transfusions first-hand. Witnessing the positive impact that blood donors had on his life and our family inspired me to start donating blood at the age of 18. If I can help others to save their loved ones, I would like to do my part. This is my motivation for donating blood. Now, I have embraced blood donation as a habit, and it has helped me to develop discipline in my life," Jun Ming said.
Besides donating blood, Jun Ming goes the extra mile by using his filmmaking and production skills to raise awareness of blood donation.
"As a filmmaker, I produce some socially meaningful films that highlight the importance of blood donation. I hope it encourages more people to save lives by donating blood regularly." Jun Ming says.
His passion for saving lives and contributing to society has been recognised. He will be receiving the Bronze Medallion at this year's World Blood Donor Day, for making more than 25 blood donations in 2022.
"Although the medallion is not why I donate blood, it is nice to receive recognition and appreciation for my blood donation efforts. It serves to motivate and inspire more people to give the gift of life," he said.
A Worrying Trend: Declining Proportion of Youth Blood Donors
Currently, only 1.8 percent of the residential population in Singapore are blood donors. This downward trend is concerning. The number of youth donors has declined by 10 percent in 2022. Every year, around 600 blood donors can no longer donate blood due to age or illness. However, the demand for blood is expected to keep rising. Blood is essential for saving and sustaining lives, making the need for more youth donors even more critical.
Yet, there are many reasons for people to avoid donating blood. Some may be afraid of needles and the discomfort.
"For those hesitant to donate blood due to a fear of needles, I want to assure them that it is natural to feel nervous or anxious. A local anaesthetic will be used to ensure that you feel minimal pain during the donation. However, I believe saving lives is worth a few moments of discomfort. You can overcome your fear by focusing on how your blood donation will help to save someone's life." he said.
Making Blood Donation His Priority
Some people may find it a challenge to set aside the time and effort to donate blood regularly. For Jun Ming however, blood donation is his priority.
"My understanding is that several people in Singapore are keen to donate blood. However, they struggle to find the time or motivation to do so. For me, I prioritise saving lives above other obligations. Allocating an hour to donate blood is a small sacrifice to make when I think of the lives that can be saved," he said.
Jun Ming shared why he prioritises blood donation above other commitments. In 2021, he was involved in a major accident. When he was warded, he saw the number of patients who required blood transfusions in hospital. That experience reinforced in him the importance of blood donation and giving back to society.
In addition to that, he recounted a conversation with a fellow donor whose family member's life was saved by blood donors with negative blood types.
"Recipients with negative blood types cannot receive blood from donors with positive blood types. Individuals with negative blood types can donate blood to help those in need. Every contribution helps to save more lives, and every blood donor makes a difference," he says.
That conversation strengthened his conviction to commit to the noble cause of blood donation.
"It was a powerful reminder of the positive impact that blood donation has on others. Every time I donate blood, I am reminded of my late father, who underwent dialysis. Just as other blood donors selflessly and tirelessly donated blood to sustain my late father's life, I want to donate blood to help others," he says.
Encouraging the Youth to Embrace Blood Donation as a Habit
He believes there is a pressing need to enhance awareness on blood donation. He has spread the word on blood donation among his friends.
"I encouraged my friends to donate blood by sharing about my late father and the many ways that blood donation saves lives. Some of my friends have made more than 20 blood donations, while others have joined me after seeing my social media posts," he said.
He hopes that more youth will embrace blood donation as a habit.
"It is never too late to start donating blood. But it's important not to wait too long to take the first step. Starting young allows you to develop the discipline of helping others. The experience can be rewarding and satisfying. I encourage youth to embrace regular blood donation as a habit. Not only will it inculcate discipline in us, it enables us to make a positive impact on society," said Jun Ming.
Appealing for more youth to step forward to donate blood, Jun Ming said, "Blood donation is a simple act that can make a huge difference in someone's life. With just an hour of your time, you can save up to three lives. Imagine the joy and relief you can bring to a family whose loved one is saved because of your blood donation."
By Sheetal Singh, Volunteer Writer
Copyedited by Michael Gutierrez, Volunteer
| | |
| --- | --- |
| | Keen to donate blood or organise a blood drive? Click here. |