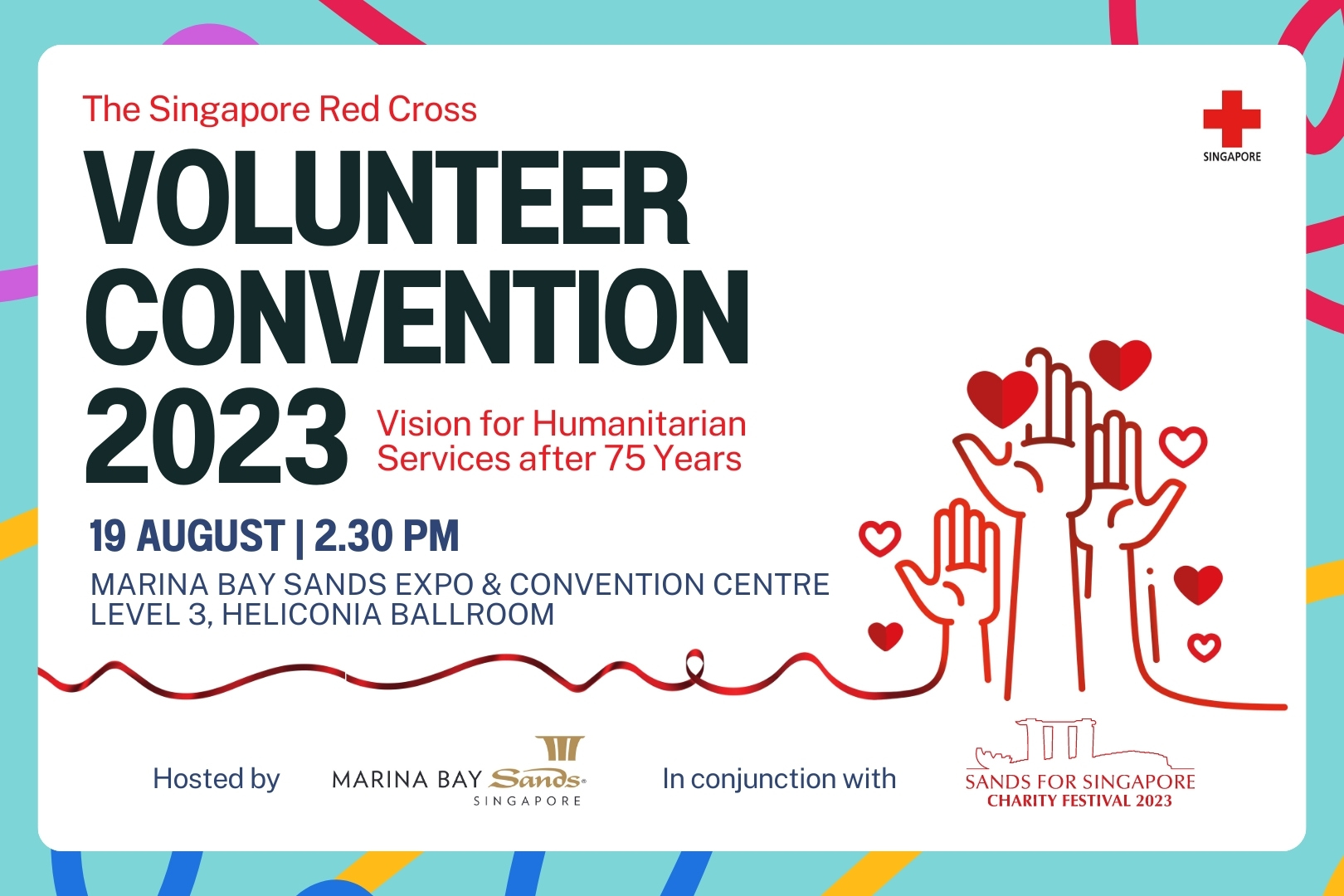 Join us at the highly anticipated Singapore Red Cross Volunteer Convention 2023, as we come together to celebrate and recognise the extraordinary contribution of our dedicated volunteers in 2022.
EVENT DETAILS
Date: Saturday, 19 August 2023
Time: 2.30pm - 5.30pm
Venue: Level 03, Heliconia Ballroom - Sands Expo and Convention Center
There will be an interesting panel discussion, and an exciting fair with games lined up!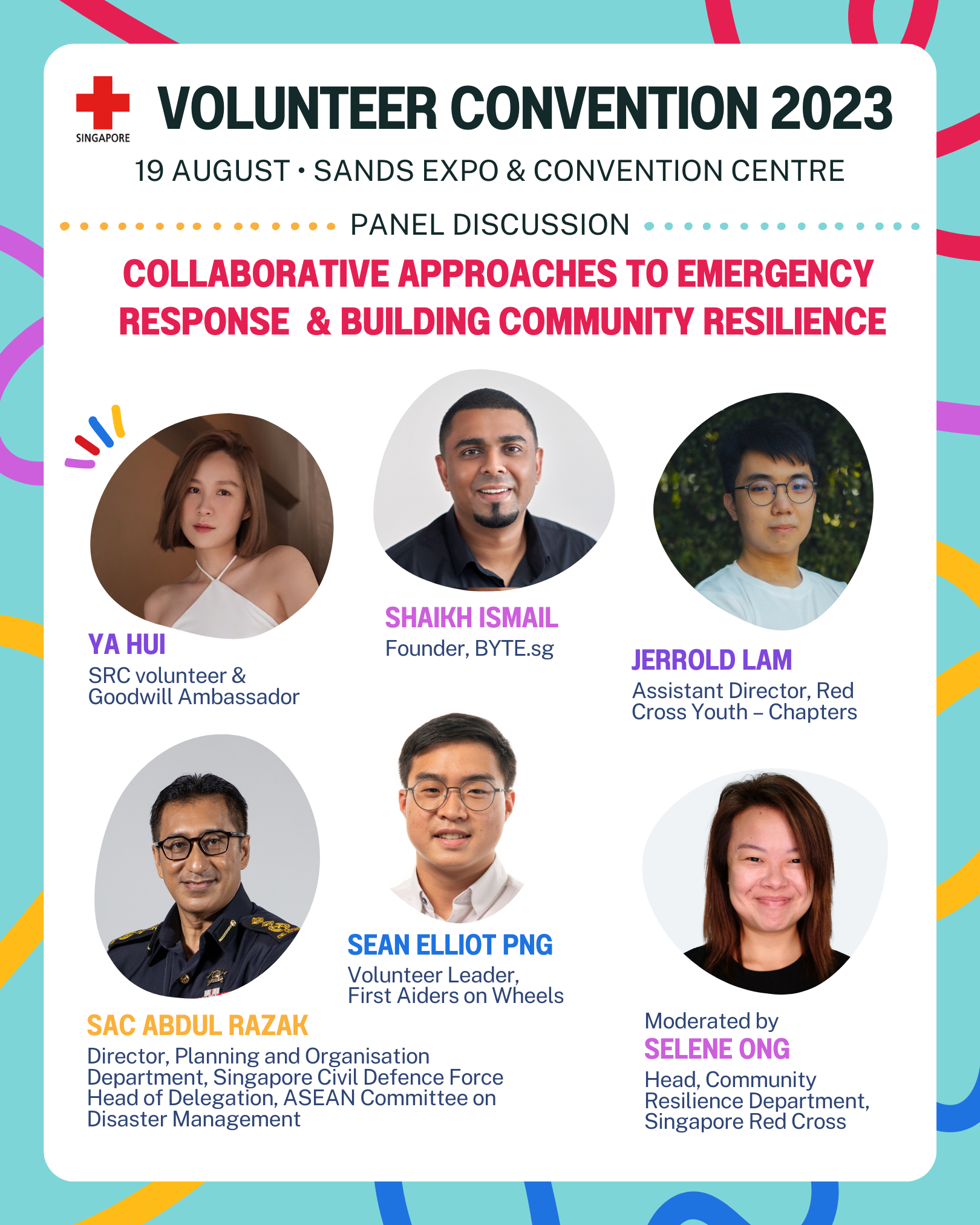 Meet the panelists: Collaborative approaches to emergency response and building community resilience
Ya Hui has been a Singapore Red CRoss Goodwill Ambassador since 2017, and is a passionate volunteer and advocate. She organises and supports fundraisers for the SRC, and is the face of several campaigns to rally support for humanitarian causes. She volunteers actively, bringing joy to children, youth, elderly and persons with disability served by the SRC.
A veteran with 28 years of service, SAC Abdul Razak Bin Abdul Raheem has held various command positions in the Singapore Civil Defence Force (SCDF). He also served as the Director of Volunteer and Community Partnership Department, overseeing community outreach programs and promoting community first response. Additionally, he has played an active role in disaster management in the region, participating in the ASEAN Committee on Disaster Management and holding co-chair positions in various working groups and project steering committees. He was a Council Member of Singapore Red Cross and is currently involved in other local organisations such as the National Fire and Emergency Preparedness Council, and the Singapore Road Safety Council.
Director of the Clinical Specialty Domain at Synapxe, Shaikh Ismail works with various stakeholders to drive technology and digitalisation initiatives across our public healthcare ecosystem. With more than 18 years of experience in technology delivery and sales, he enjoys helping clients transform their businesses and services. Apart from his professional role, Shaikh is deeply committed to community service and co-founded BYTE, a non-profit that empowers lives through technology and design. He also sits on the board of the Institute of Technical Education (ITE) and has served on a number of social and government advisory committees.
Currently a Volunteer Leader with Community First Aid, Sean Eliot Png leads SRC's First Aiders on Wheels (FAoW) Programme. He is also actively engaged in the Home Monitoring and Eldercare (HoME+) programme as a Crisis Responder and workgroup member. Additionally, he holds the role of Field IC for the SRC' National Day first aiders deployment. Outside of his involvement in SRC, Sean also contributes as a Lifesaving Instructor in the Singapore Lifesaving Society and serves on their RESCUE Committee.
Jerrold Lam is an accomplished leader and community advocate, serving as the Assistant Director of Red Cross Youth (RCY) - Chapters. He spearheaded Project R.I.C.E.+, distributing grocery bundles to disadvantaged households. Jerrold's tenacity and mentorship inspire youth and promote positive impact through community service.
Moderated by Selene Ong, Head, Community Resilience Department, Singapore Red Cross