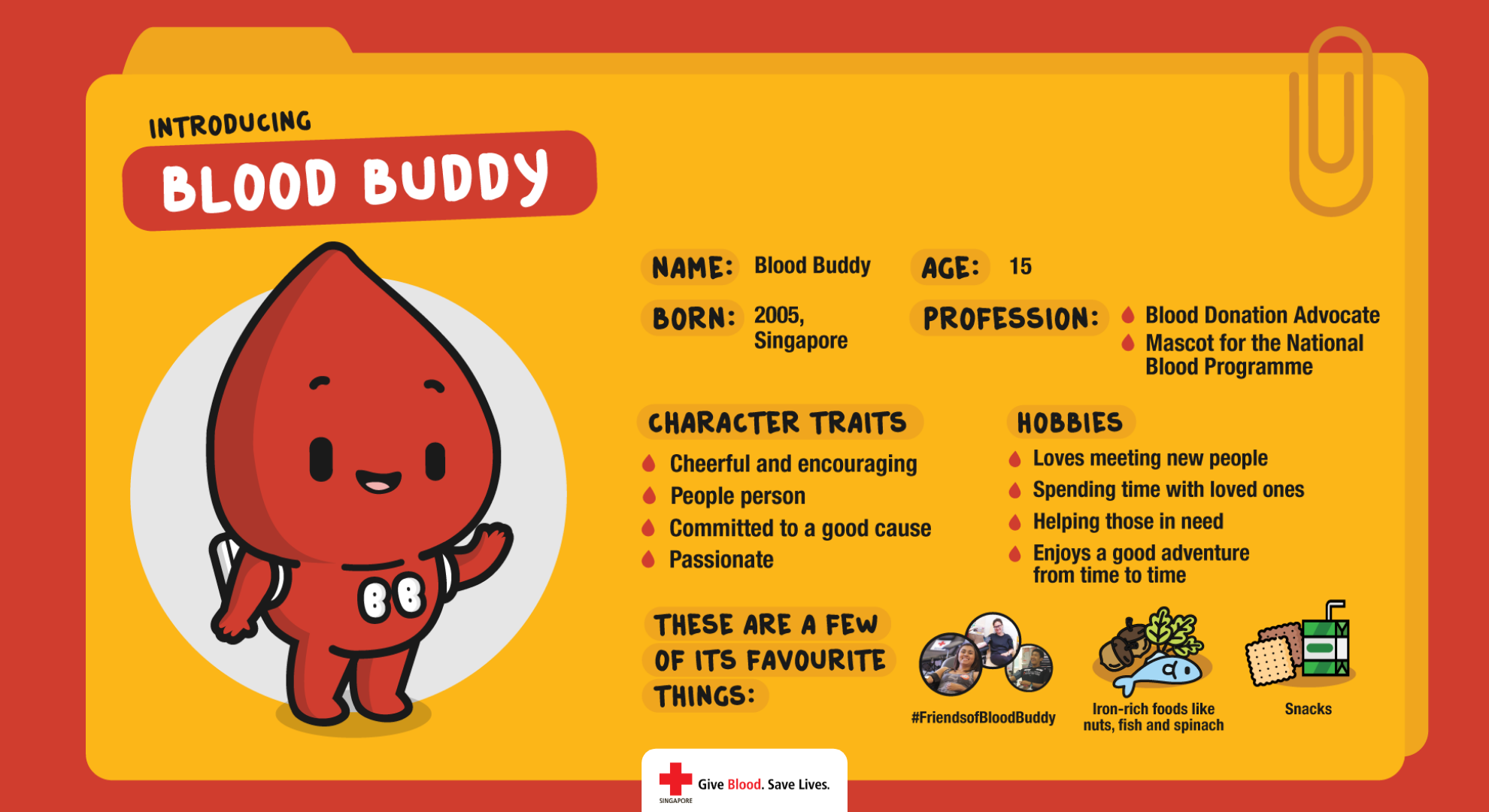 The iconic mascot will serve as the face of the new 'One More Step' campaign, to encourage individuals to take the next step in their blood donation journey
SINGAPORE, 25 JANUARY 2021 – The Singapore Red Cross (SRC) today launched a refreshed look for Blood Buddy, its official blood donation mascot. Affectionately known as 'BB', Blood Buddy aims to reach and appeal to a younger generation of blood donors with a more modern and adorable image, and will be rolled out on public buses island wide as well as across social media platforms.
First introduced in 2005, Blood Buddy has traditionally been recognised as a physical mascot at malls, mobile blood donation drives and outreach activities run by SRC.
The rebranding comes off the back of the growing need to engage and advocate blood donation among today's youth with a consistent brand voice. With a refreshed image that reflects its adorable, lively personality, Blood Buddy is well-positioned to connect with young and potential donors who are at the very beginning of their blood donation journey.
This is also in line with the launch of the 'One More Step' campaign by SRC, which encourages potential donors to take small, incremental steps towards the eventual goal of being a regular blood donor who donates at least twice in a year. As an advocate of 'One More Step', Blood Buddy serves to empathise with the physical and emotional concerns all blood donors have, and to showcase the small steps one can easily take to give blood and help save lives.
The role of Blood Buddy has now evolved to become a voice of encouragement for people to take the next step in their blood donation journey.
"Over the years, we've observed that many potential blood donors are deterred by prevailing misconceptions towards blood donation. Through One More Step, and with the help of Blood Buddy, we want to dispel these concerns and at the same time remind people of the power of their individual actions. Each of us can contribute in our own way to create a culture of good, by taking the next step in our blood donation journey," said Mr Prakash Menon, Director of the Blood Donor Programme, Singapore Red Cross. "We also recognise the importance of inculcating the habit of giving blood from a young age, and we hope to encourage youth to adopt blood donation as a lifestyle. This is where Blood Buddy will be a lively and relatable voice of encouragement for those getting started on their blood donation journey."
'One More Step' is a reminder to the community that every step counts towards making a difference - be it doing an eligibility test, booking an appointment, sharing a social media post or even holding a blood drive. As part of the campaign, a series of activations including videos and comic strips will be introduced to engage potential donors on social media. Members of the public will also stand a chance to win exclusive Red Cross memorabilia by participating in a giveaway between 8 February to 7 March. To take part in the giveaway, they will be encouraged to submit photos of Blood Buddy spotted on buses island wide to Singapore Red Cross' Facebook page.
More information on 'One More Step' and Blood Buddy can be found here.