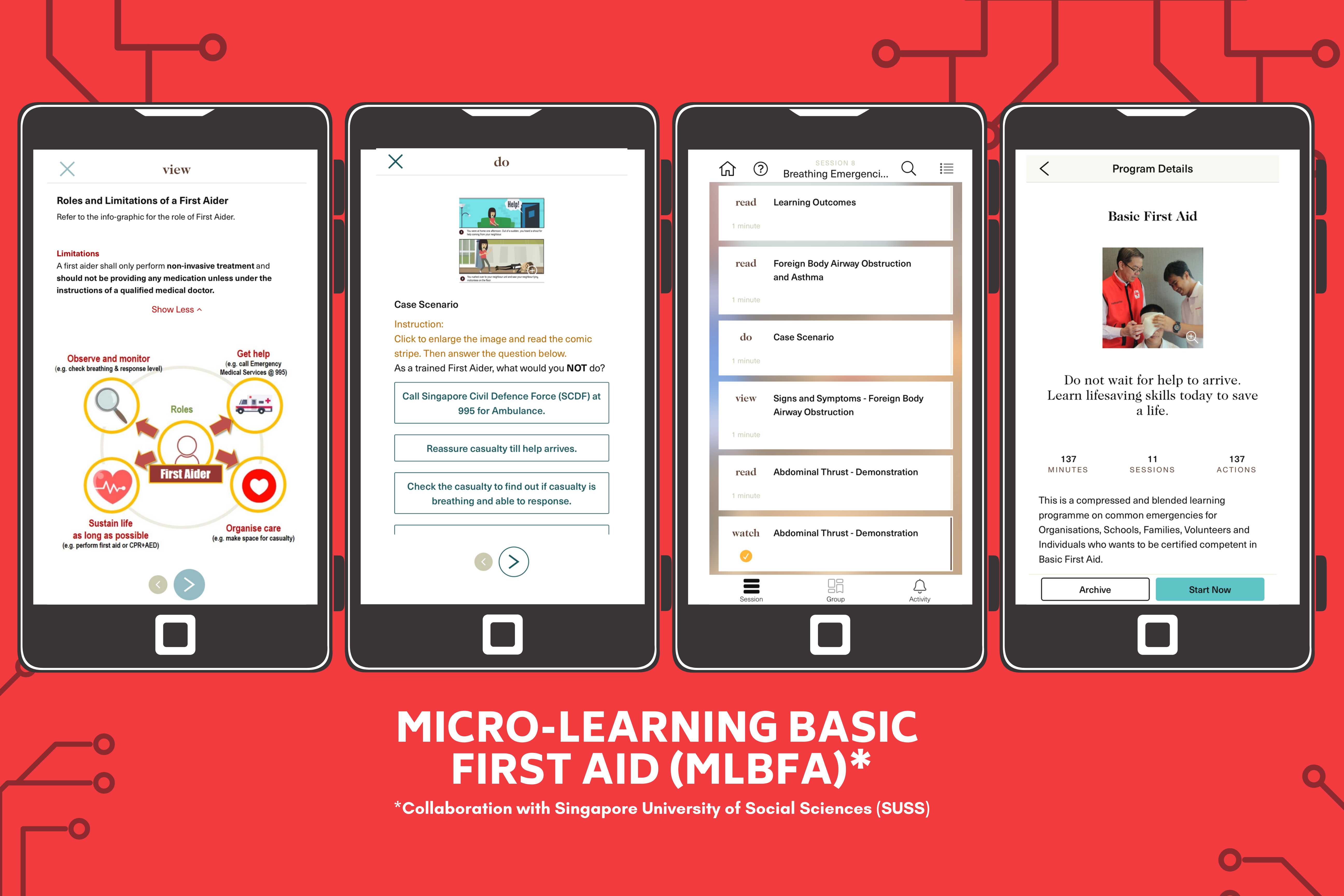 10 September 2020 - To commemorate World First Aid Day in the context of the COVID-19 situation, the Singapore Red Cross (SRC) has partnered the Singapore University of Social Sciences (SUSS) to launch a micro-learning first aid programme for the public. Jointly developed by the Singapore Red Cross Academy (SRCA) and SUSS UniLEARN, an e-learning initiative by SUSS for the community, the programme offers a 4-hour blended learning approach comprising 2-hour online learning and 2-hour hands-on workshop at the SRC Academy.
Addressing the rationale behind the programme development, Mr Benjamin William, Secretary General and CEO, Singapore Red Cross, said, "The Singapore Red Cross Academy is constantly exploring ways to revitalise first aid learning and make it engaging for learners. The uniqueness of the micro-learning programme lies in its interactiveness - with first aid knowledge broken down into bite-sized snippets delivered via an online platform, complemented by a short practical session for learners to practise useful skills. Combining SRC's decades of experience in first aid training and SUSS' expertise in course creation, we hope this micro-learning programme will lead the way in online first aid learning and fuel further innovations in the area."
Associate Professor Lee Wee Leong, Director, Online Learning, SUSS, said, "We are happy to launch our first micro-learning course on the UniLEARN platform with SRCA. SUSS UniLEARN works with partners to co-develop and offer online courses with an emphasis on social concerns, so as to impact lives in the community. We are honoured to use our expertise in e-learning and pedagogy to present first-aid training in this new bite-size interactive format."
Noting the increased risk of household injury, SRC is providing basic first aid knowledge online to prepare as many people as possible to better care for themselves and those around them. The micro-learning programme on Basic First Aid comprises 10 sessions, each covering common emergencies such as choking, bleeding, fractures, and burns. The interactive lessons take participants on a pathway of self-directed learning, complete with infographics, video demonstrations and quizzes. Upon completion of the online lessons, learners can attend the practical session at SRCA, to hone techniques such as bandaging, in the presence of a trainer. Two other courses on CPR (Hands-Only)+AED and Caregiver First Aid for the Elderly, are slated to be rolled out over the next 3 to 4 months.
Learners who complete both the micro-learning and face-to-face practical components would receive a Certificate of Competency issued by the SRCA. Interested participants may sign up for the course via redcross.sg/academy, where more information and course fees details are available.
ADVOCATING HANDS-ONLY CPR IN LIGHT OF THE COVID-19 SITUATION
Engaging youth with interactive instagram filter & lighthearted step-by-step video guide
To engage young digital natives, SRC is launching its first Augmented Reality (AR) filter on Instagram. Developed in partnership with GOWAAA, a local art & technology collective, the AR filter showcases basic cardiac life support in a fun and interactive manner. Through the filter, users are guided through the process of resuscitating a casualty, from performing hands-only Cardiopulmonary Resuscitation (CPR) to activating an Automated External Defibrillator (AED).
"Members of the public may be understandably concerned about performing CPR on a cardiac arrest victim if mouth-to-mouth ventilations are needed," said Mr Sahari Ani, Dean of Singapore Red Cross Academy. "We hope that the AR filter can spark conversations and generate interest in first aid learning amongst the community, especially youth. At the same time, we want to promote the concept of hands-only CPR, which is especially relevant in the current pandemic situation. When performed early, hands-only CPR, without the need for mouth-to-mouth ventilations, has been found to be as effective in increasing a victim's chance of survival as conventional CPR."
The Singapore Red Cross has also produced a hands-only CPR video guide. An in-house production featuring SRCA instructors Mr Ambrose Lee and Ms Michelle Seah, the video not only shows the steps to performing hands-only CPR, but also showcases how not to CPR, pointing out common mistakes in a humorous way.
In an emergency, every second counts. A person who suffers a cardiac arrest can experience death within minutes, with the chances of survival decreasing by up to 10% for every minute that passes by without receiving CPR.
In a separate collaboration, SRC has also partnered with students from Republic Polytechnic's School of Management and Communication to develop a social media campaign. Available on Facebook, Instagram and Twitter, the #NowYouKnow - First Aid Myths series features a collection of first aid do's and don'ts, dispelling common misconceptions in the treatment of various ailments like burns, bruises and bee stings.
Micro-learning Basic First Aid Course

The Singapore Red Cross Academy is offering 2 months' complimentary access to the first 5 sessions of the Basic First Aid course to the first 100 registrants. Registration will start from 12 September 2020, at redcross.sg/academy. Successful registrants will receive an email from SRCA to download the GNOWBE App upon sign-up.

Upon completion of the free trial sessions, learners will be given the option to access the full online course in October (with 10 sessions, an assessment and an e-Certification by SUSS).

To commemorate World Restart A Heart Day, SRCA will offer the full online Basic First Aid course at an introductory price at S$10.70 (inclusive of GST; U.P. S$21.40). The offer is valid from 16 October to 6 November and includes the 10 online sessions, an assessment and an e-Certification by SUSS.

Enrolled learners who have completed the online course may opt to continue their learning with a 2-hour practical session at SRCA, with a top-up fee of S$64.20 (inclusive of GST).

For more information, please contact academy@redcross.sg.