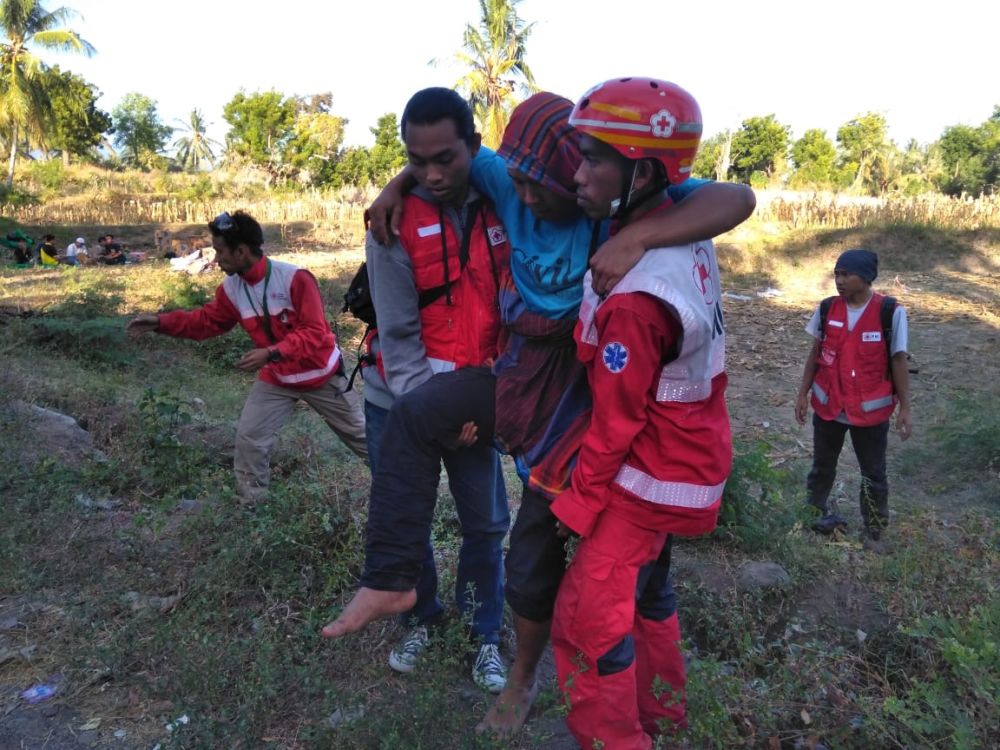 Singapore, 6 August 2018 - In response to the 6.9-magnitude earthquake in Lombok, Indonesia, and the catastrophic floods in Myanmar, Singapore Red Cross (SRC) will, in the first instance, extend S$100,000 in humanitarian aid for the affected communities; $50,000 each to the Indonesian Red Cross (PMI) and the Myanmar Red Cross (MRCS) respectively. The contribution will support disaster recovery efforts and fund the purchase and distribution of relief items, including mats, blankets and household kits.
Lombok Earthquake Relief
SRC has launched a public fundraising appeal to support the affected communities in Lombok, Indonesia. Indonesian Red Cross (Palang Merah Indonesia or "PMI") teams are assisting with first aid and emergency supplies. SRC remains in close contact with PMI and its partners in Indonesia, and plans to deploy a response team to support relief distribution and conduct ground assessments. Separately, SRC's volunteers in West Lombok will distribute medical supplies and blankets in the next few days.
Mr Benjamin William, Secretary General and CEO of Singapore Red Cross, said, "This is the second major earthquake in a matter of days, and the full extent of the devastation is slowly unfolding, with many fatalities and hundreds of collapsed houses and buildings. Some of the affected areas have yet to be reached by rescuers, so the damage and casualties will rise. Our priority is to support the efforts of the Indonesian Red Cross, and to provide them with resources that can help expand their outreach in the affected areas."
Myanmar Flood Relief
SRC will activate a three-person team to Myanmar next week. Comprising experienced Red Cross volunteers trained in disaster management, the team will assist in the distribution of relief items to evacuees. They will also conduct ground assessments to determine the immediate and future needs of the affected communities.
"As the heavy rains persist, there is no sign of respite from the floods for the affected communities in southeastern Myanmar. There is also the high risk of landslides, especially in certain hilly and mountainous regions. The situation in Myanmar remains precarious. The Singapore Red Cross will work closely with our counterparts to deliver timely aid to the affected," Mr William explained.
DONATIONS*
Online donations towards the public fundraising appeal - Lombok Earthquake 2018 - can be made at www.redcross.give.asia/lombok.
You can also make donations towards relief for Lombok Earthquake or Myanmar Floods** by cheque, made payable to 'Singapore Red Cross Society' and posted to: Red Cross House, 15 Penang Lane, Singapore 238486. Please indicate "Lombok Earthquake" or "Myanmar Floods" at the back of the cheque.
Cash donations can also be made at the above address, during office hours (Monday to Friday, 9am to 6pm).
* Singapore Red Cross is not launching a public fundraising appeal for the flood relief efforts in Myanmar at this point, but will accept donations towards this end.
Notes:
Donations to overseas efforts are not tax-deductible.
In the event that donations exceed the expenses incurred by Singapore Red Cross in this specific disaster response, any surplus or unspent money, after 3 years from the date of inception of the fund, can be used to prepare for and serve communities affected by other disasters or may be used to complement or to sustain projects undertaken by SRC in helping the vulnerable in areas affected by disasters.
TRACING SERVICE
The Singapore Red Cross has activated its "Restoring Family Links" (RFL) service to assist Singaporeans, Indonesians and Myanmarese to locate their immediate family members who may have been affected by the disasters, with whom they have difficulty in contacting. Please email rfl@redcross.sg for assistance.
Image courtesy of Palang Merah Indonesia (Indonesia Red Cross)