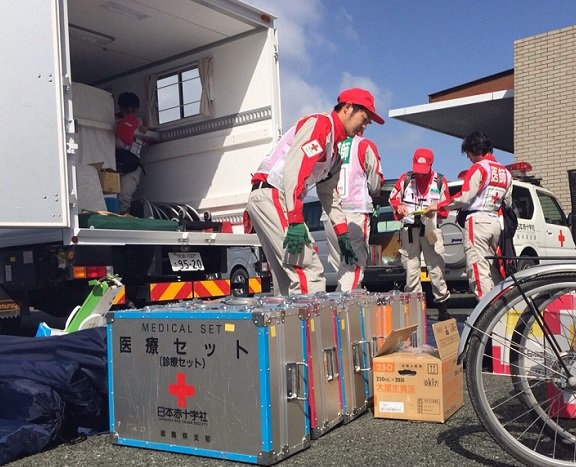 Singapore Red Cross launches public fundraising appeals
Contributes humanitarian aid of USD30,000 respectively, for survivors
in Kyushu, Japan and Ecuador
Singapore, 19 April 2016 – In response to the two major earthquakes over the past few days, the Singapore Red Cross (SRC) today announced the launch of two separate fundraising appeals to help survivors in Japan's Kyushu region and in Ecuador.
To support emergency relief operations following the two disasters, the SRC will contribute USD30,000 respectively through the Japanese Red Cross Society and the Ecuadorian Red Cross for the provision of emergency relief supplies to the survivors. In Kyushu Japan, this will include emergency medical supplies and medical assistance, and the distribution of blankets, family emergency kits, personal hygiene items, sleeping mats and tarpaulins in the evacuation centres. In Ecuador, SRC's aid will support Ecuadorian Red Cross' volunteers in rescue operations, evacuation support, as well as the provision of health care, psychosocial support and telecommunications.
"We are deeply saddened by the destruction and loss of lives caused by the series of earthquakes in the last few days. We are closely monitoring the situation, and working closely with our counterparts in the International Federation of Red Cross and Red Crescent Societies (IFRC) as well as the National Societies in the affected countries. Our Disaster Response Teams have been briefed and are on standby to be deployed on relief missions if the situation calls for it," said Benjamin William, Secretary General/CEO of the SRC.
Donors who wish to contribute to the month-long appeals can visit Red Cross House at 15 Penang Lane Singapore 238486, from 9.30am to 6pm (Mon-Fri), or post their cheque (payable to 'Singapore Red Cross Society') to the above address. Please indicate 'Japan Earthquake 2016' or 'Ecuador Earthquake 2016' on the back of the cheque, along with the donor's name, contact no. and address.
Notes:
Donations made in response to any overseas disasters or humanitarian crisis are not tax deductible.
In the event that donations exceed the expenses incurred by Singapore Red Cross in that specific disaster response, any surplus or unspent money, after 3 years from the date of inception of the fund, can be used to prepare for and serve communities affected by other disasters or may be used to complement or to sustain projects undertaken by SRC in helping the vulnerable in areas affected by disasters.
The Singapore Red Cross recovers on a descending rate of not more than 5% in administrative fees for all fundraising campaigns or public appeals for overseas relief.
Background information
Earthquakes in Japan
The Kyushu region in Japan was hit by two consecutive earthquakes on 14 April and 16 April 2016. Emergency search and rescue is ongoing. The Kumamoto Red Cross hospital has treated more than 1,000 people in Kumamoto area. Local chapters of Japanese Red Cross has distributed 5,000 blankets, 500 family emergency kits containing basic personal hygiene items, 200 sleeping mats and 1,000 tarpaulins to survivors in the evacuation centers.
Earthquake in Ecuador
A 7.8M earthquake hit Ecuador on 17 April 2016. At least 77 people were killed and 578 were injured in the earthquake. A state of emergency was declared in six provinces including Esmeraldas, Los Rios, Manabi, Santa Elena, Guayas and Santo Domingo. The authorities are facing difficulties to reach many affected areas due to landslides. The Ecuadorian Red Cross has deployed 1,200 volunteers to the epicenter, working in areas of search and rescue, evacuation support, and first aid.